Formula One
The Best Motor Sport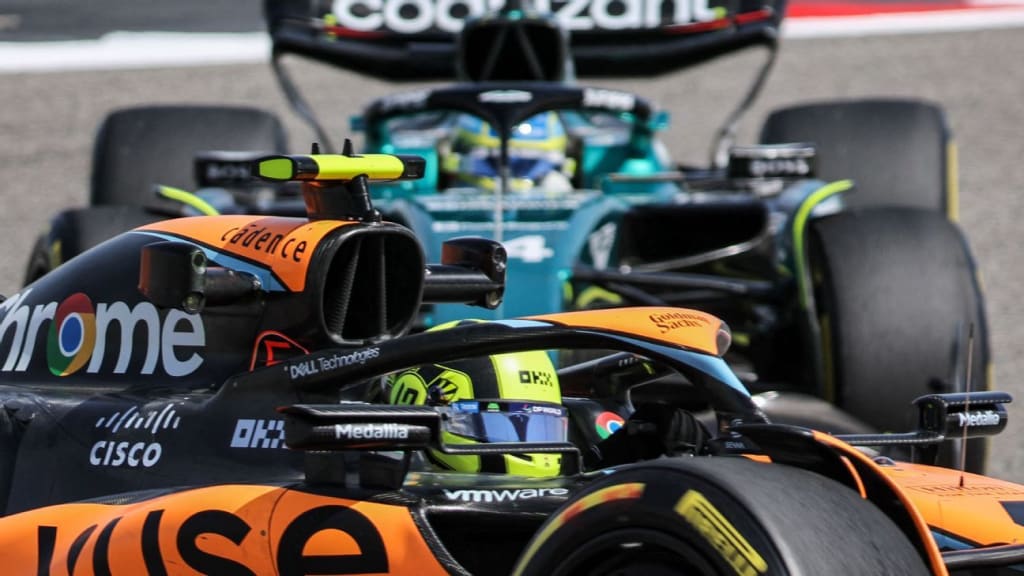 Lando Norris(2023 car)
Formula One, also known as F1, is the pinnacle of international single-seater racing. It is a highly competitive and technologically advanced motorsport that attracts millions of fans from all over the world.
History:
The first Formula One World Championship race was held in 1950 at Silverstone, England. It was organized by the Fédération Internationale de l'Automobile (FIA) and was won by the Italian driver Giuseppe Farina. Since then, the championship has grown to become the most prestigious and lucrative motorsport in the world.
Structure:
Formula One is structured around a series of races, known as Grand Prix, held on circuits around the world. The season typically runs from March to December, with around 20 races held in different countries.
Teams:
Formula One teams consist of two drivers and a group of engineers and mechanics who work together to develop and race the team's cars. The teams compete against each other in a Constructors' Championship, while the drivers compete in a separate Drivers' Championship.
Technology:
Formula One is known for its cutting-edge technology. The cars are designed to be the fastest and most advanced racing machines in the world, with engines that can rev up to 18,000 RPM and produce over 1000 horsepower. The cars are also equipped with a variety of high-tech features, such as advanced aerodynamics, sophisticated suspension systems, and state-of-the-art data logging and telemetry.
Safety:
Safety is a top priority in Formula One, and the FIA has implemented a number of safety measures to protect drivers and spectators alike. These include mandatory safety equipment such as helmets, fire-resistant suits, and HANS devices, as well as safety barriers, run-off areas, and other safety features at each circuit.
Controversies:
Formula One has had its fair share of controversies over the years. Some of the most notable include the "Spygate" scandal in 2007, in which the McLaren team was found to have illegally obtained technical information from rival team Ferrari, and the "Crashgate" scandal in 2008, in which the Renault team was found to have deliberately caused a crash to benefit one of its drivers.
Formula One is a thrilling and dynamic motorsport that combines speed, skill, and technology. With its global reach, cutting-edge technology, and fiercely competitive teams and drivers, it continues to captivate audiences around the world.
F1, is a highly competitive and prestigious motorsport that consists of ten teams, each with two drivers, who compete in a series of races around the world. Here is some information on each of the current Formula One teams:
Mercedes-AMG Petronas Formula One Team: Based in Brackley, United Kingdom, Mercedes is the reigning seven-time Constructors' Champion, having won the title every year since 2014. Their drivers are seven-time World Champion Lewis Hamilton and George Russell.
Red Bull Racing Honda: Based in Milton Keynes, United Kingdom, Red Bull is a four-time Constructors' Champion, having won the title in 2010, 2011, 2012, and 2013. Their drivers are Max Verstappen and Sergio Perez.
Scuderia Ferrari Mission Winnow: Based in Maranello, Italy, Ferrari is the most successful team in F1 history, having won 16 Constructors' Championships and 15 Drivers' Championships. Their drivers are Charles Leclerc and Carlos Sainz Jr.
McLaren F1 Team: Based in Woking, United Kingdom, McLaren is a three-time Constructors' Champion, having won the title in 1974, 1984, and 1985. Their drivers are Lando Norris and Oscar Piastri
Alpine F1 Team: Based in Enstone, United Kingdom, Alpine was formerly known as Renault and has won two Constructors' Championships, in 2005 and 2006. Their drivers are Pierre Gasly and Esteban Ocon.
Scuderia AlphaTauri Honda: Based in Faenza, Italy, AlphaTauri is a sister team to Red Bull Racing and has won one race in its history. Their drivers are Nyck De Vries and Yuki Tsunoda.
Aston Martin Cognizant Formula One Team: Based in Silverstone, United Kingdom, Aston Martin was formerly known as Racing Point and has won one race in its history. Their drivers are Fernando Alonso and Lance Stroll.
Alfa Romeo Racing ORLEN: Based in Hinwil, Switzerland, Alfa Romeo was formerly known as Sauber and has won one race in its history. Their drivers are Valtteri Bottas and Zhou Guanyu.
Haas F1 Team: Based in Kannapolis, United States, Haas has yet to win a race in its history. Their drivers are Kevin Magnussen and Nico Hulkenberg.
Williams Racing: Williams is one of the most successful teams in Formula One history, with nine constructors' championships and seven drivers' championships to their name. They have struggled in recent years but are hoping to make a comeback with drivers Alex Albon and Logan Sargent
Reader insights
Be the first to share your insights about this piece.
Add your insights