Jio Fiber Welcome Offers: Free 4K TV, Free Landline Phone With Unlimited Calls and More
Jio fiber launch date and promotional offers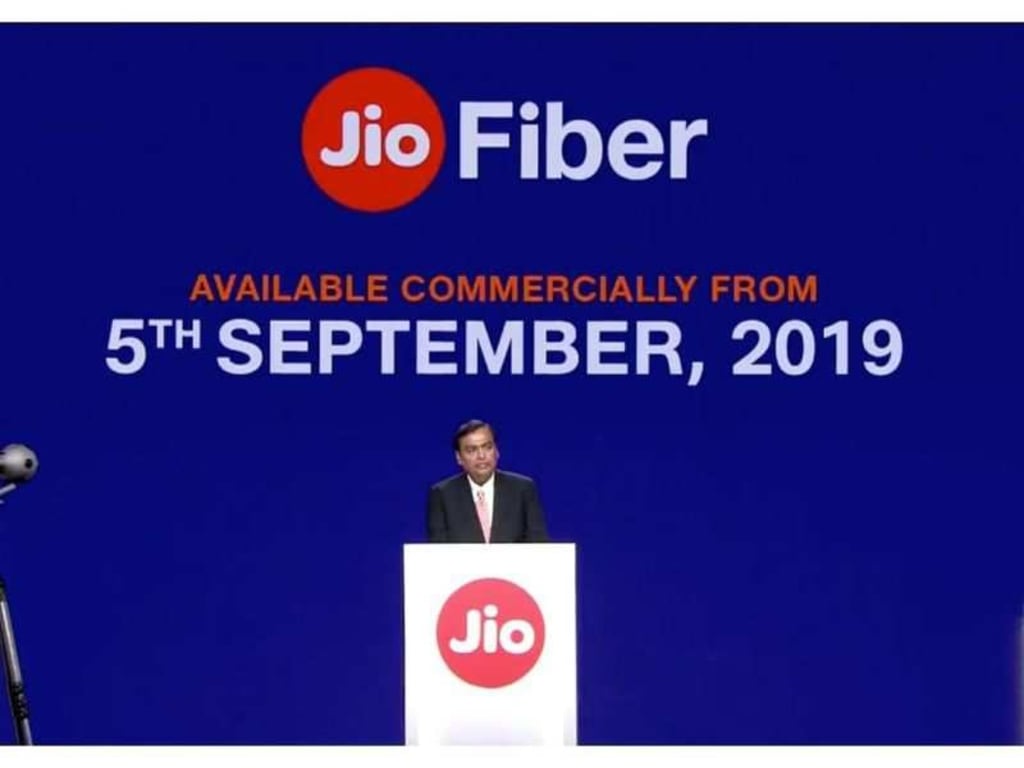 Reliance Industries' chairman Mukesh Ambani unveiled the launch of Reliance Jio high speed broadband service called the Jio Fiber at Annual meeting of Reliance industries. Jio fiber services will be made available for the customers from September 5 onwards.
Offers for Jio Fiber users:
Jio Fiber high speed broadband connection will have subscription plans starting from Rs 700 to Rs 10000, and the internet speed will range from 100 Mbps to 1 Gbps, which Ambani said is higher than the average fixed line speed in US.
Jio's fiber connection will include a fixed landline connection and a set top box. Landlines will have free unlimited call within India and Unlimited International calls to Canada and the US at a rate of Rs 500/month. Jio's set top box will provide access to the largest collection of TV channels.
Free 4K TV offer
Jio customers opting for annual plans will be provided a free 32-inch 4K TV or a Desktop.
Another service to be provided is the Jio Call, which allows users to make multiparty video calls through their TVs (up to 4 people at a time).
Jio will support console gaming with compatibility for all gaming controllers. The Jio set top box will come with a built in graphics card.
Another exciting service which they are planning to launch by 2020 is called the 'Jio First Day First Show,' which allows the premium Jio Fiber users to watch movies at home the same day they are released in theatres.
Jio's set top box will support virtual reality and mixed reality contents in categories like movies, shopping etc. Jio will soon launch their mixed reality headset developed by a startup company in which Reliance industry invested recently. The mixed reality headset, called 'Holoboard,' is aimed at shopping, entertainment and education categories. According to the demo at the unveiling event, it will help the users to create their hologram and try different apparels.
The Jio fiber set top box will feature all the over the top apps bundled with its data pack so that the customers do not have to pay for different platforms and subscription charges (excluding Netflix and Amazon Prime).
Jio fiber has already received more that 15 million registrations for the Broadband Connection from 1600 cities in India. Jio is forecasted to reach 8 million broadband customers by 2023.
Jio postpaid plus
Jio also announced a new postpaid plan for the subscribers. It is called Jio postpaid plus. It is said to be India's first priority SIM set up service at home. This will include family plans with data sharing across all the Jio devices. They will provide phone upgrades at preferential rates.
The main competitor of Reliance Jio is Baharati Airtel. Although Airtel had a tough time when Reliance first launched Jio in 2016, they have made a comeback and are in a very strong position to put up a fight with Jio.
One of the significant advantages which Reliance Jio has over other telecom operators is the presence of an all-4G network which caters to high-speed internet in almost all of India. This along with extensive coverage across the country has impressed the Reliance Jio subscribers. However, Airtel is not far behind as they have started wrapping up their 3G services and are rolling out LTE 900 technology based on the 900 MHz spectrum. Recently, Airtel has rolled out LTE 900 in Assam, Kolkata, and Delhi NCR to name a few. And, with this ongoing network exercise, the telco is bound to create a 4G network that gives Reliance Jio a tough competition, but Jio fiber will pose tough competition for Airtel V- fiber. Currently they offer four plans to the subscribers for Rs 799, Rs 1099, Rs 1599 and Rs 1999. The Rs 799 plan offers unlimited local and STD calls and 100 GB broadband data at a speed of 40Mbps. The premium plan of Rs 1999 provides unlimited broadband data at 100Mbps speed and free 3 month Netflix and 1-year Amazon Prime membership. These offers can't be considered as a competition for Jio fiber welcome offers. In order to compete with Jio, Airtel might slash their plan rates or come up with more flexible plans.