How To Spot AI
A beginners guide.
I know that many writers here on Vocal are concerned about AI, and I'm among them. I strongly believe that AI will never replace art, and you can read more about my feelings on the subject here. Vocal even has guidelines, as new as five months ago, surrounding the topic of AI on the platform, which you can read about here.
The thing that sticks out to me most about Vocal's updated AI guidelines is the fact that AI, if used, needs to be clearly labeled. Whether it's art generated for a cover photo or writing used to compose an article, AI on Vocal needs to be labeled by its creators every single time.
That's all fine and good, and I agree with that rule. I even think AI can be a beneficial tool for content creation, especially when it comes to brainstorming and research for writing. There's just one problem with AI on Vocal, and it's the fact that there is a lot of potential AI that slips through the cracks, and these articles are not being labeled as such.
I'm personally not interested in reading and engaging with stories solely created with AI. I'm sure that many others feel the same as me in that respect. Having worked with AI in the past, I've seen what it can do, and I'd like to offer some beginner tips and tricks for spotting potential AI content.
1. Paragraph Labeling
Something I encountered a lot in my AI freelance work was the labeling of paragraphs. Whenever I see articles with this formatting, it's an immediate red flag to me. This could look like:
Title: [insert title here]

Introduction:

[insert text here]

Body Paragraph 1, 2, 3, etc.:

[insert text here]

Conclusion:

[insert text here]
Or any variation of this format. This happens when prompters ask the AI to spit out an essay of some sort, which is something I did in my work numerous times.
Here is an example from a prompt I fed to ChatGPT: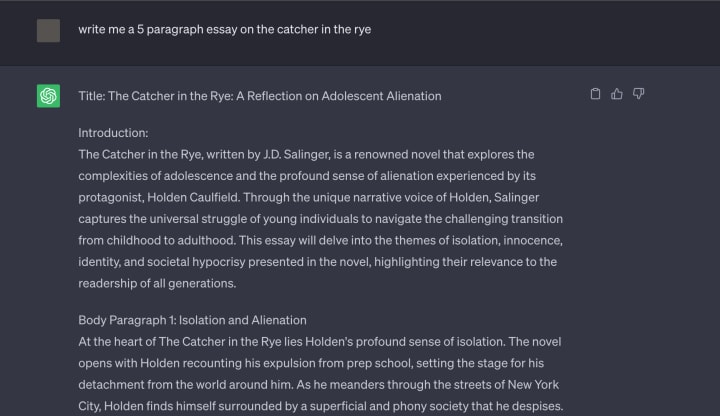 2. Repetition
Now, repetition can certainly be done in an artful form, and it's often used successfully in poetry and short fiction to drive home a point or theme. That's not the kind of repetition I'm talking about.
The AI wants to spit an appropriate length response at you, so even if your question can be answered in one sentence, it might go above and beyond to give you more information, sometimes the same information said in different ways.
Let's take this prompt I input into ChatGPT for example:

The first sentence would have completely sufficed. It answered my question perfectly, however, the bot kept going to be as clear and concise as possible. Instead of using a filler word such as "they" as a replacement for "integers", the AI repeats the key phrase three times in four sentences.
3. Surface Level Content
AI lacks the emotional range that humans naturally possess. They aren't going to understand the nuance of certain arguments, and instead, will just regurgitate surface-level talking points from data sets.
Let's circle back to the essay I had ChatGPT write for The Catcher in the Rye:

To me, this looks like ChatGPT is just regurgitating key points from Spark Notes. Why is Holden yearning for a world that is untainted and genuine? How does Salinger skillfully convey everyone's inevitable loss of innocence? This body of work was released after World War II, and that context, outside of the novel itself, lends to a deeper meaning within the text, but this idea is something that the AI can not pick up.
4. What now?
Those are just a few tips and tricks that I use to determine whether or not content on this platform is genuinely author-written, or, in my opinion, plagiarized by AI. I think these guidelines work pretty well, but obviously, they're not foolproof.
This is a touchy subject because I never want to accuse an actual writer of this act, so I understand that for Vocal and their moderation team, it's probably difficult to regulate this content. We can never really know for a hundred percent certain whether or not a work is AI generated if the author chooses not to disclose it, but we can make pretty educated guesses of the likelihood if we, as readers, know what to look for.
I will also add, the number of unregulated AI content tends to make it difficult for me to enjoy browsing on Vocal. It's clear to me that so many people are passing off AI content as their own work without any kind of warning, which is frustrating.
So, on top of these tips, I found an extension for Google Chrome called Copyleaks, which can help readers even further with alleviating this ongoing problem.
I've just started using this tool, and I've gone to the latest stories published on Vocal. I looked at stories published within the last 20 minutes, posted as I've been writing this text, that looked suspicious to me. I then ran them through Copyleaks... From there, I found four stories that are likely generated by AI with no discernable disclaimer.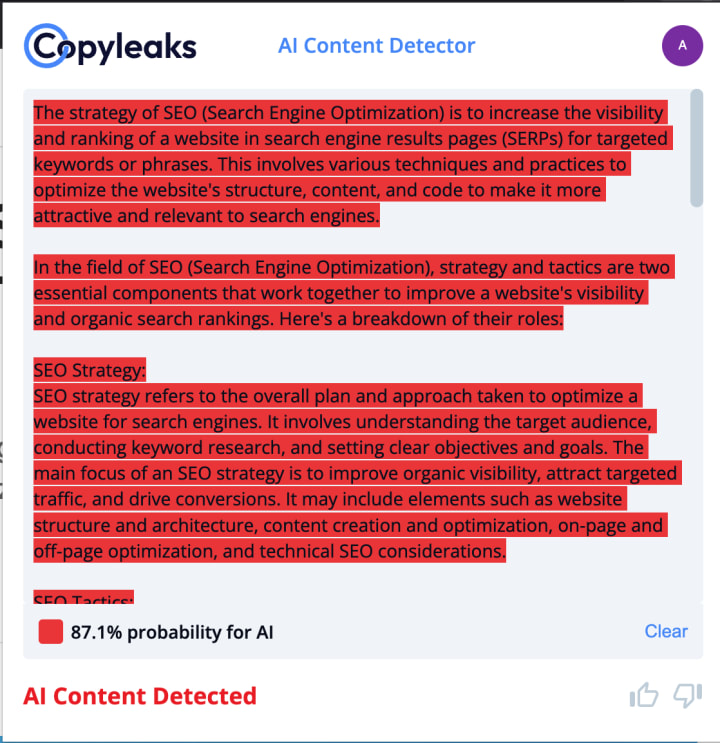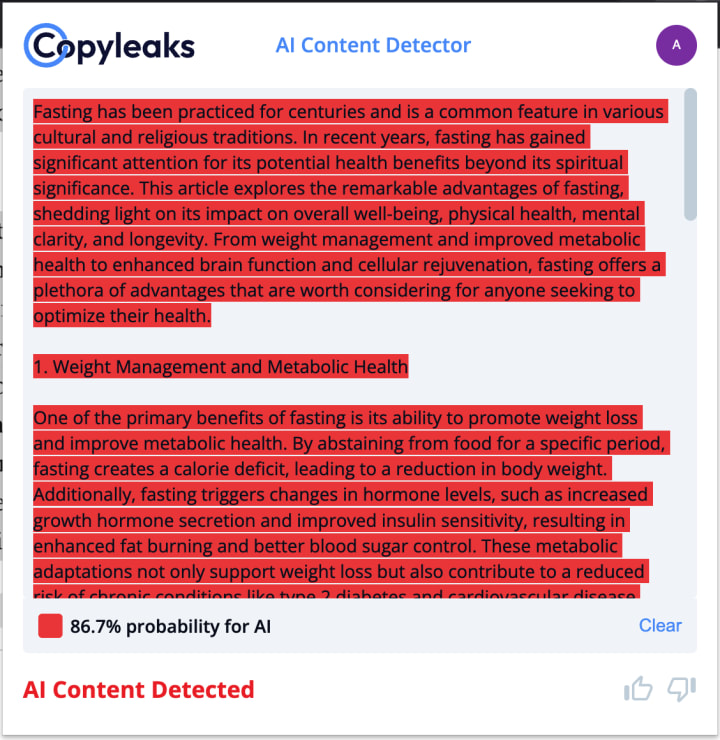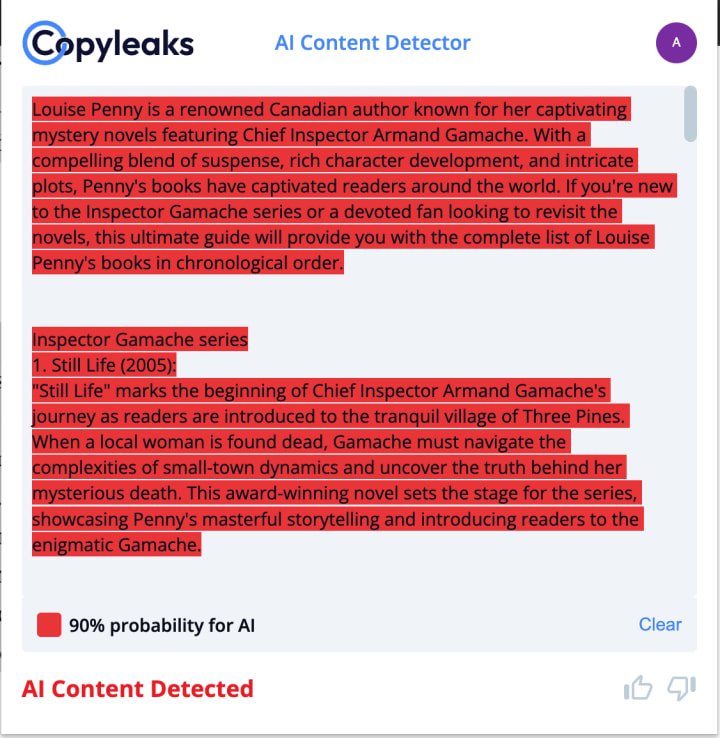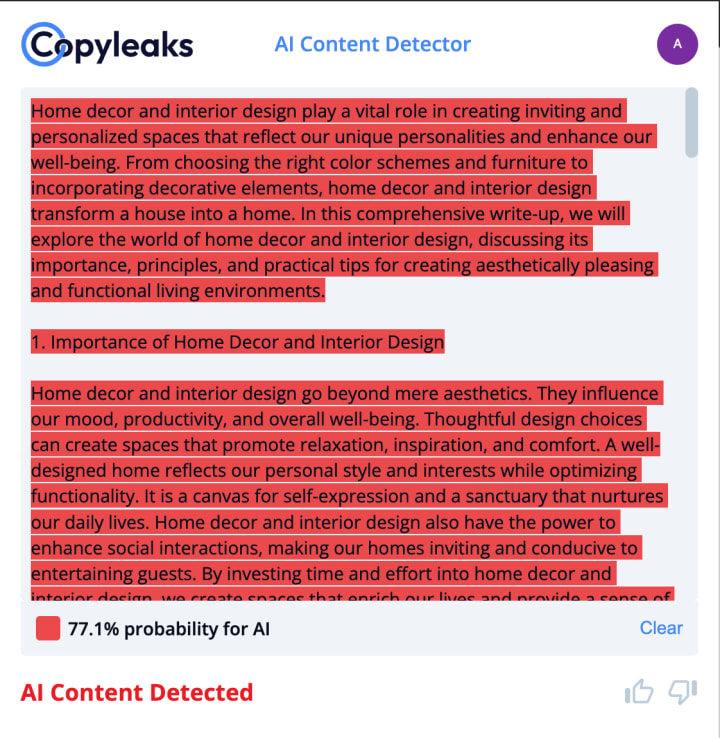 Now, I have left the names of these creators and the titles of their works out of these images, but I did leave their texts in for transparency. This post is not being made in any way to harm people on the platform, I just seek to spread awareness on the issue by providing people with the tools they need to combat it.
Please, if you're reading this and using AI to write your articles; Just put a disclaimer. I don't want to stop you from doing what you want to do with your personal platform, but make Vocal a better place by at least giving your potential readers that knowledge.
If you've gotten this far, I hope you find this information helpful.
I'll leave you with a few questions:
Do you have any tips and tricks to spot AI that I've not mentioned?
Does AI worry you as a creator?
Does Vocal need to do more to combat this issue? If so, what can be done?
Thank you for reading.
Bonus content for funsies! Here is the exact article you're reading right now ran through Copyleaks... See the difference?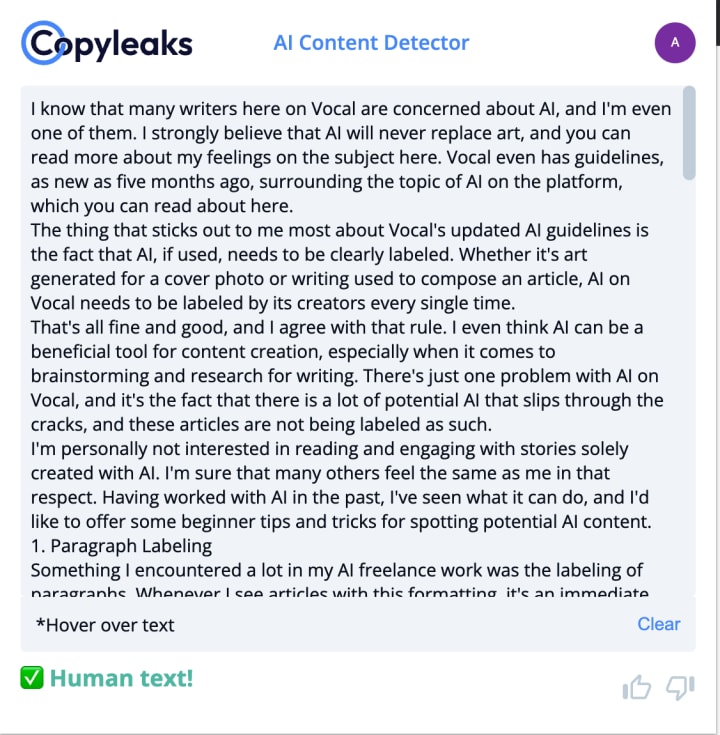 About the Creator
BA and MA in English. Editor by profession, novelist, short story writer, and poet in my free time. I enjoy writing fantastical realism, horror, mystery, and nonfiction.
Reader insights
Outstanding
Excellent work. Looking forward to reading more!
Top insights
On-point and relevant

Writing reflected the title & theme

Easy to read and follow

Well-structured & engaging content

Compelling and original writing

Creative use of language & vocab
Expert insights and opinions

Arguments were carefully researched and presented

Eye opening

Niche topic & fresh perspectives

Heartfelt and relatable

The story invoked strong personal emotions

Masterful proofreading

Zero grammar & spelling mistakes

Excellent storytelling

Original narrative & well developed characters
Add your insights