How to Properly Back Up Your Computer
Most people think it's difficult or tedious to back up your computer. In reality, you can have a system regularly back up your computer automatically with only a few clicks.
Photo: Sergey Zolkin
It's a scene that's played out in homes across America: the toddler spilling water all over your work computer. Or your laptop being swiped at the local coffee shop. Or, the ancient laptop you've been using finally kicks the can and is shut off for good. These situations are often frustrating for users because of their inability to access important files on their computers, like treasured family photos or essential company documents. When these important files on your computer disappear or become inaccessible, it can put you at real risk of losing valuable information to you or your family.
But fear not! There's an easy solution to this problem: setting up a system to regularly back up your computer. Figuring out a way to effectively back up all of your essential files might seem daunting, but in actuality, it's not. With practically no difficulty, the average user can set up a back up strategy that will save all your important files—on both an external hard drive and an online storage system. Whether you're backing up film data, memories, or important data, if implemented properly, this system can help give peace of mind for protection of your data.
Making an Effective Back Up Strategy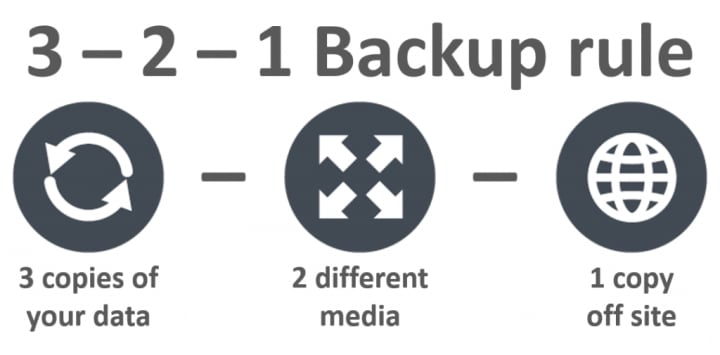 The most consistent back up strategy that experts recommend is the 3-2-1 rule. The rule is simple: you should save three copies of your important files, two copies being on two different local devices, and one copy being outside your local system. In general, this translates to having the original data on your computer, a back up of your system files on an external hard drive or flash drive, and a back up on a cloud back up service. That way, even if the toddler spills water on your computer, or your laptop is stolen, or the Internet disappears (hopefully not all at the same time), your data will be secure.
But the 3-2-1 rule isn't enough by itself. Just because some important files are on a hard drive or flash drive doesn't mean that they are protected. In fact, hard drives often deprecate over time, and flash drives are always getting lost or being destroyed by the washing machine. As a result, a good back up strategy requires having multiple copies of important files.
Back Up Hardware and Software
Based on the 3-2-1 rule, some hardware and software will be needed to have one other local copy and one online copy of your data. After testing numerous cloud back up services and different external hard drives, the following tools are those recommended to ensure the protection of your important files. However, by no means is this the definitive list of items you should use; if you already use a given external hard drive or back up service, you should continue using them (in the interest of saving your time and money). Just make sure that that your cloud storage is secure. But if you're a novice at backing up your computer, then these suggestions are a good place to start.
Most people will need an external hard drive for back ups of important files. Desktop hard drives, like the 4TB Seagate hard drive listed above, should be a consistent place where your data can be saved. Desktop hard drives, while easy to set up, are comparatively cheap for the amount of space they provide.
While desktop hard drives will be fast and consistent when preserving your data, sometimes work demands that you travel often. In this case, a portable hard drive will best suit your needs, as it's a tech accessory suited for a nomad. While they lack some of the storage space of desktop hard drives, they are significantly smaller, so they can be used on the go form a variety of places.
Online Backup by Backblaze
Having local points of storage for data is convenient and efficient for saving data. But that doesn't mean they're fool-proof. External hard drives are still susceptible to being stolen or damaged, which could limit how secure your important files are. That's why an online back up service is so effective. Online back up services will back up your data on their own servers for a monthly or yearly fee. Their software can help you customize your preferences for what to save. In doing so, you can rest easy knowing you can retrieve all the information you've backed up or a just a single file.
Backing Up Your Computer with Backblaze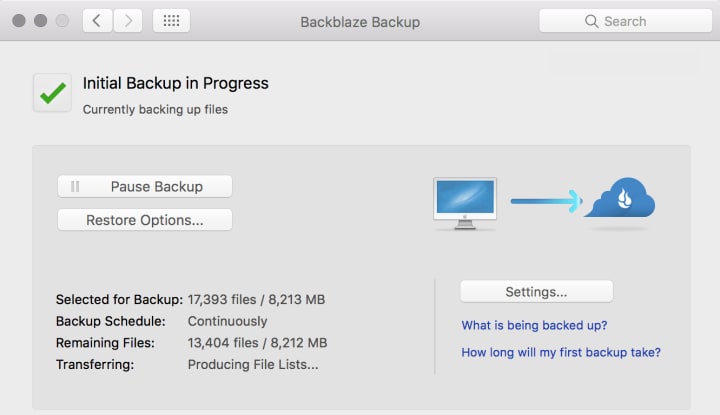 The online back up service we recommend is Backblaze, for a variety of reasons. First is its ease of use: Backblaze runs immediately after being downloaded. The following steps are all it needs to start working:
Use your email and a password to make an account at Backblaze (there is a free 15-day trial available).
Find the downloaded file and run the installer. Follow all prompts so that it will install by default on your computer.
Backblaze will automatically start backing up your files.
Another useful feature of Backblaze is its selectiveness of back ups. When backing up your computer, it's best to optimize online storage space by only saving the important files and content of your computer, like pictures, documents, and User files, rather than other files built into your computer, like the operating system.
The strength of Backblaze is its customization. If there are certain files or folders you don't need to back up, you can exclude them from Backblaze. In Windows, you would click the Backblaze icon, select "Backblaze Control Panel," then "Settings." On Mac, you would open "System Preferences" and click on "Backblaze Backup," then select "Settings." Under the "Exclusions" tab, Backblaze will give you the opportunity to specify which particular files or folders to exclude. You can also customize back up schedules on your computer, setting them for the most convenient times in your workday and establishing regular back ups. Additionally, Backblaze allows you to regulate the performance of the back up process, allowing you to ensure that you can use your computer efficiently while the back up is taking place. This customization is what makes Backblaze such a powerful online back up service!
How to Use File History to Create Windows Back Ups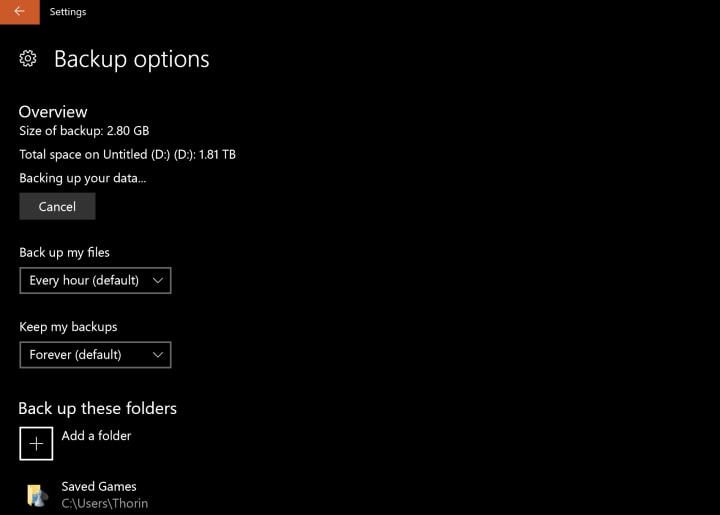 With the arrival of Windows 10 came a great gift to back up users everywhere: File History, which helps back up information onto an external hard drive. The way to create a Windows back up is as follows:
Connect the external hard drive you have to the computer. Most should be compatible right away, but in case it isn't, follow this guide to format it correctly for Windows.
Open the File History and select "Backup."
Select "Add a drive" and select the external hard drive you've just connected to your computer.
Select "More Options" to add or exclude folders, or change other settings.
How to Use Time Machine to Create Mac Back Ups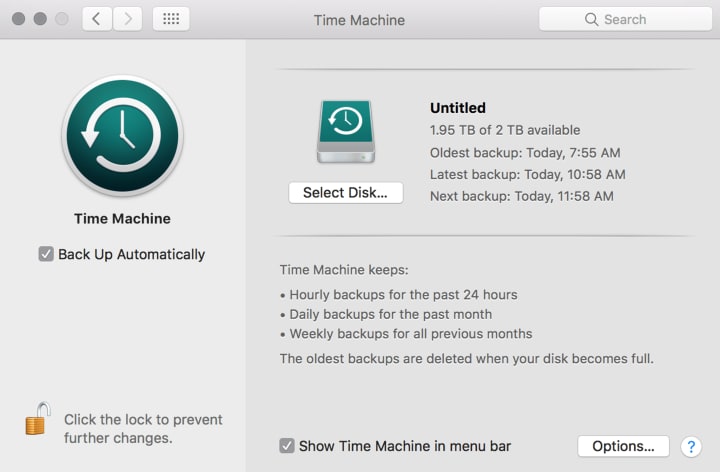 Like Windows, the macOS comes with an application specifically for backing up the Mac's disk contents: Time Machine. Similarly to File History, Time Machine takes a system image of your computer, storing these images on an external hard drive. The process to back up your Mac is as follows:
Connect the external hard drive to your Mac. If you need to format the drive for macOS, then this guide should show you how to correctly do that.
Open "System Preferences," select "Time Machine," click "Select Disk," and choose your external hard drive.
Check the "Encrypt Backup Disk" box, as this adds an extra layer of security to your data on the hard drive.
Create a password for the encrypted back up.
After doing this, Time Machine will run in the background of your computer until it's done backing up.
Restoring Back Ups from Backblaze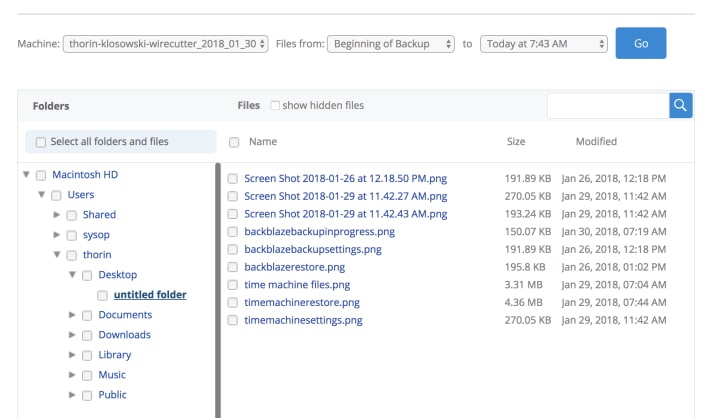 Now, you find yourself in a situation where you need to restore some of your old files from Backblaze. Simple; the task is as follows:
Log into your Backblaze account in a Web browser.
Select and click on "View/Restore Files"
At the bottom of the screen, you will find a folder structure similar to that of your computer. You can select specific files or folders to restore from Backblaze's cloud storage. After you select what you want, click "Continue with Restore."
Restoring Back Ups from File History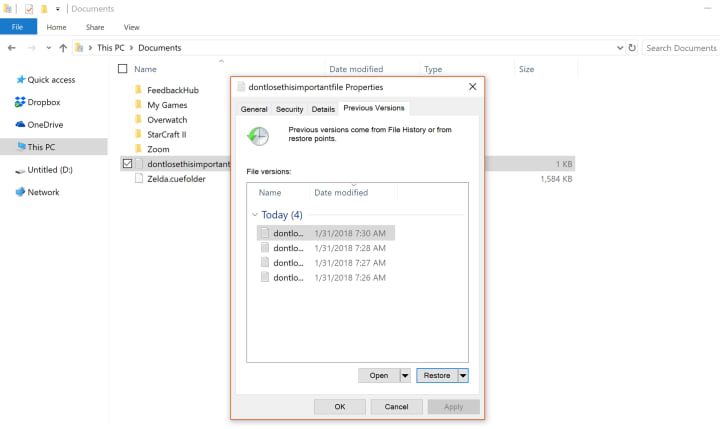 Here's how you restore a backed-up version of a single file:
Navigate to the file you want to explore with Windows Explorer.
Right-click the file you want and choose "Restore previous versions."
Select the previous version you want. Choose "Restore To" and choose a new folder for the backed-up version to be placed in.
Restoring Back Ups from Time Machine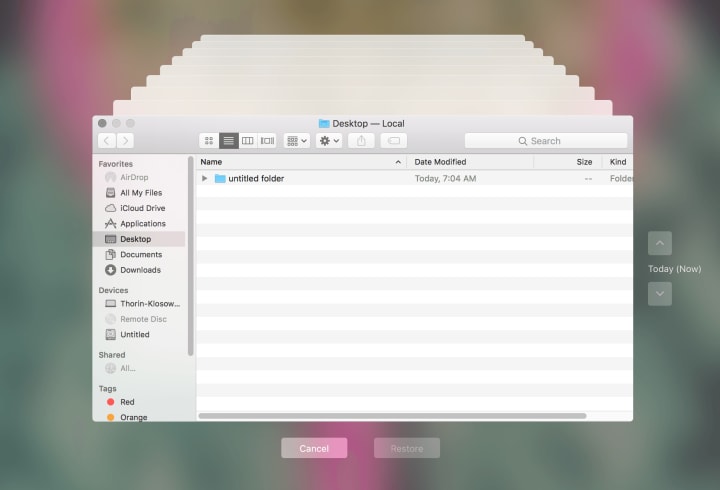 This is how to restore back ups from Time Machine on a Mac:
Click the Time Machine icon, then select "Enter Time Machine".
When you've found the file that you want, use the arrows or nav bar on the right side of the screen to go through the different versions; click "Restore" when you find the version that you want to put back on your machine.
how to
About the author
Mother of two, educator of many. Teaches middle-school biology and chemistry. Always interested in exploring the unknown.
Reader insights
Be the first to share your insights about this piece.
Add your insights