How to Open a US Bank Account From the UK
Opening a US bank account from the UK can be quite tricky when you aren't already a US citizen and can't easily travel to the US to provide documentation or proof of identity.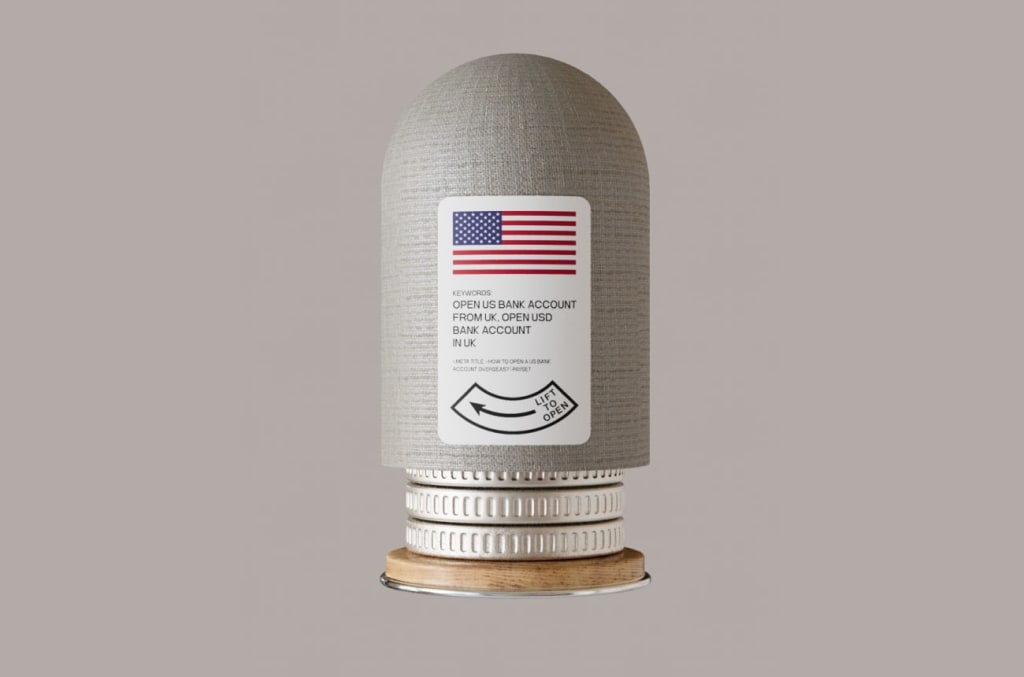 Opening a US bank account from the UK can be quite tricky when you aren't already a US citizen and can't easily travel to the US to provide documentation or proof of identity. However, if you are planning to move to the US or require a US bank account there are some alternative solutions to opening a US bank account within the UK.
There are some real benefits to opening and having a US bank account. The US is well-trusted internationally so having a US bank account can aid you when investing, saving, and even when spending money or sending funds home via international money transfers.
Can I Open a US Bank Account as a Non-Resident?
There are a variety of ways to open a US bank account as a UK resident:
Open In-Store at an International Bank:
Most banks will allow you to open a bank account as a non-resident but if you want to open an account before you move to the US you have two options:
Visit the local branch of an international bank in the UK
Open a borderless account to manage your money until you move.
Apply Online with an ITIN Rather than an SSN:
It is well known that you often have to provide an SSN (social security number) before opening a US bank account regardless of where you currently live in the world.
An alternative to an SSN is an Individual Taxpayer Identification Number (ITIN) which is issued by the Internal Revenue Service (IRS) and can be used to process taxes amongst other things. ITINs are often issued to those individuals who need a taxpayer ID but have not got access to be assigned an SSN.
See if Your Non-US Bank Account Can Help:
If you already hold an account with a bank in the UK it can be worth asking if they have a relationship with a banking institution within the US as this is quite common and can often make it easier to open a US bank account and make the transition to the US.
Open an International or Multi-Currency Account:
One of the benefits of living in a digitalised world is that it is now very simple to access international banking services. One option is to open an account with an international bank or ex-pat banking service in the UK.
Open an Account with Payset:
If what's important to you is to open an account which can hold and exchange USD there are other options and solutions than opening a US bank account. For example, ex-pat and international banking services from the mainstream, high street banks or low-cost, online alternatives such as Payset.
How Much Does it Cost to Open a US bank Account from the UK?
Most US accounts are free to open, but most do come with a monthly maintenance fee. This can often be avoided if you agree to meet certain criteria. For example, depositing a certain amount of money each month or maintaining a minimum monthly balance.
US banks may also charge fees for withdrawing cash from an ATM or in branch. These fees will usually be applied when using an ATM belonging to another banking institution.
There is also the possibility of the bank charging you an additional fee if you wanted to close the account early. There will be a minimum amount of time you need to keep the account open, as indicated in the small print or terms and conditions when you first apply for an account.
Are There Different Types of US Bank Accounts?
There are two main types of US bank accounts and each serves a different purpose and different kind of client:
Personal Account: This type of account is for reaching your personal financial goals. Both current and savings accounts fall into this category. A personal account is the most common type of US bank account and should be the main account you use for your personal expenses and income.
Corporate Account: Opening a business account in the US typically requires more documentation compared to opening a personal account but comes with added bonuses that a business could potentially benefit from in the long term.
At Payset we have a large range of ways to send money to and from the US. If you're in the US you can send money directly home to the UK as long as you have an IBAN account which is what Payset can provide.
What Do I Need to Open a US Bank Account?
For most US banking institutions you are required to have an SSN (social security number), a government-issued ID and a minimum opening deposit amount to activate your account. This can usually be paid via debit or credit card or can be transferred from another account.
You can open a US bank account without an SSN. In some cases, you'll need your passport and visa as additional documentation and proof of residency once reaching the US. You may need to also provide a US address for correspondence purposes, even if you're not yet living there full-time. This is required for both personal and business accounts. You could also be asked to open a business account rather than a personal account. However, it is possible to open a US bank account without an SSN.
What Are Some Other Alternatives to Opening a US Bank Account in Person?
Some international banks provide a service allowing you to open a US bank account before you move to the country. But if you'd rather go down the digital route, you won't be able to open an account with an American bank. However, there is an option that allows you to begin spending money internationally. This would help you to settle in and get the necessary documentation together before opening a US bank account once in the states.
Payset is designed for these situations, it doesn't require an SSN (social security number) and allows you to spend across national borders without paying any foreign transaction fees.
Is it Possible to Open a US Bank Account Online?
It is very common to be asked to open a US bank account in person when dealing with traditional banking methods even if it's an account specifically aimed at non-US residents.
This can mean that you're able to begin your application online. However, often you still need to visit a branch to verify your identification documents and set your account up fully.
If you're thinking about opening an account online you could be better off choosing a specialist account which can hold USD alongside other currencies for a better exchange rate.
These multiple currencies accounts often come from online banking platforms and digital providers which are set up with an easy onboarding process that you can complete from home no matter where you currently live.
A Payset account can help you to manage your finances wherever you are in the world. You can get an IBAN number which will allow you to pay and transfer money just like a US resident.
If you travel or regularly do business within the US you will understand the importance of money conversions at a reasonable exchange rate. With a Payset account, you can convert at the real mid-market exchange rate, this way you will know exactly how much the transfer will cost you with no hidden fees.
If you would like a truly international solution to opening a US bank account from the UK, check out the Payset muti-currency account. It isn't a bank, but it offers many wonderful banking services and features to help you make the most of your money. You can use it to send money for low fees and convert between currencies whenever you need to. Get in touch today and leave your contact details with us to get started.
About the Creator
Founded in 2020 by MrkarthikKN has come a long way from its beginnings in Global. When MrkarthikKN first started out, Blog passion for - Electronic Products and Info" drove them to job,
Reader insights
Be the first to share your insights about this piece.
Add your insights