Where Can You Use a Digital Wallet?
Digital wallets are online payment tools that usually come in the form of an app. A digital wallet will securely store virtual versions of your information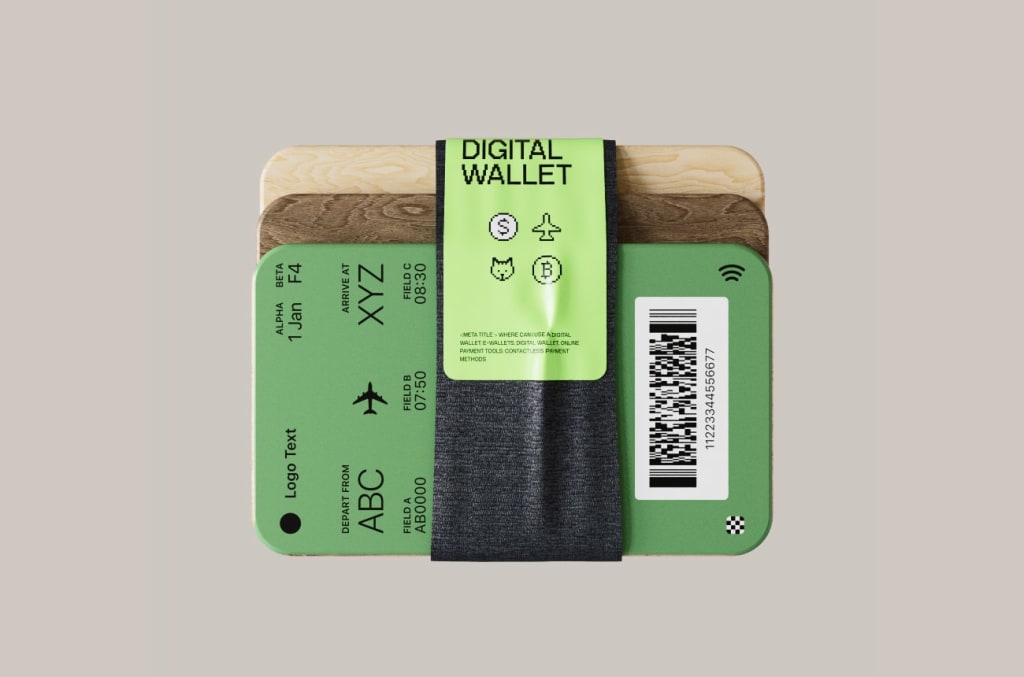 Digital wallets are online payment tools that usually come in the form of an app. A digital wallet will securely store virtual versions of your information such as debit and credit cards so that you don't need to enter your card details or carry a physical card with you at all.
Digital wallets serve as an electronic version of a physical wallet or purse. They are often also known as e-wallets (electronic wallets) or mobile wallets.
Once you have a digital wallet set up, you can use it to make online or contactless purchases, store all of your tickets and much more.
How Do I Set Up a Digital Wallet?
To use and set up a digital wallet a user must first enter their details into the app or website of the digital wallet provider. Usually you will prompted to do this when you create an account with them. This information is then encrypted and the digital wallet is available for use when the user authorises payment, usually via a password or pass code or via facial or touch recognition.
Where Can I Use a Digital Wallet and How Do They Work?
You can use a digital wallet to make purchases at stores, online, or via apps. Not all retailers accept e-wallet payments so you must look for the contactless payments sign as well as the logo of your preferred digital wallet provider on the POS system or card reader when shopping in person with a merchant.
A digital wallet uses software to link your payment details from your connected account to the vendor that the transaction is being processed with.
If an online merchant accepts digital payments there will usually be a button that offers quick payment options via your digital wallet.
What Is the Difference Between Digital Wallets and E-Wallets?
Digital and e-wallets are very similar but not the same thing. A digital wallet stores virtual versions of your cards and passes on your mobile device, whereas an e-wallet is an online prepaid account where you can upload and withdraw money and make transactions.
Are There Different Types of Digital Wallets and Which One Is Best for Me?
Different apps allow different types of access depending on the type of digital wallets they offer or the type you choose to use:
Open Wallets are accepted by most retailers and enable online transactions, contactless in-store payments and cash back. They may even allow withdrawals at selected ATMS.
Semi-closed Wallets and Closed Wallets allow certain transactions with a set group of retailers, or only with the retailer that issued the wallet. They are kind of the same as store cards where all money refunded returns to your store account and can then only be spent again in that specific store.
What Else Can You Do with a Digital Wallet?
You can do much more with a digital wallet than just pay for products. You can also store plane, train, and bus tickets in them. Digital versions of travel passes, identification cards and rail cards can be simply uploaded and stored in your mobile device.
Everything from cinema tickets, library cards, and gym memberships can be digitalised and stored away safely meaning that you can use it practically anywhere and everywhere.
Even from the simplest tasks such as showing a retailer a discount voucher or scanning your store card can be done in a single tap. The possibilities are truly vast.
Digital wallets are also aimed to reduced the amount of plastic cards and paper tickets that we produce to carry around with us. By reducing the potential waste to digital snapshots that work in exactly the same way, e-wallets are quite environmentally friendly.
Not only this but having everything stored on your mobile device also reduces the risk of theft as these cards and tickets are no longer stored on your person.
What Are Some of the Pros and Cons of Using a Digital Wallet?
It is important to weigh the pros and cons when it comes to choosing whether to implement a digital wallet into your everyday lifestyle. However, there are far more pros of moving to digital wallets and contactless payment solutions than there are cons.
Pros:
They help to reduce waste
You can track your spending easily
Saves time when making purchases online and in-store
Reduces the opportunity of theft
Can be used anytime, anywhere
Easy to access
Convenient
They provide banking services for those who can't easily get to a bank
They are accepted by many online and physical retailers
Cons:
Digital wallets can be at risk of fraud or data interception
Lost or damaged phones often mean lost or damaged cards
How Do I Get Started with a Digital Wallet?
It is very simple to set up your digital wallet with Payset today. Simply contact us with a few details about yourself and your needs and leave us some contact details.
Our team will then guide you through the set up process which is quick and easy. Once you are set up you can log in to your account to manage your transactions and begin adding your cards and passes to your digital wallet, which you can then use to make payments online and in-stores.
Digital wallets are quickly becoming the new preferred way to pay and store information as they are easy to use and more convenient as they are available at the touch of a button or a glance at your phone screen. They are now available with most banks and most mobile devices support the technology so it really is easy to implement a digital wallet into your lifestyle without too much hassle.
If you think a digital wallet might be right for you get in touch with Payset today.
About the Creator
Founded in 2020 by MrkarthikKN has come a long way from its beginnings in Global. When MrkarthikKN first started out, Blog passion for - Electronic Products and Info" drove them to job,
Reader insights
Be the first to share your insights about this piece.
Add your insights