How to launch an on-demand Multi-service app rival to Gojek & Grab?
Apps like Gojek have thrived in this on-demand multi-services market without any rivalries or opponents to fight against. So, what does it take to defeat the giants of the industry? What are the certain hacks that are needed to compete against Gojek?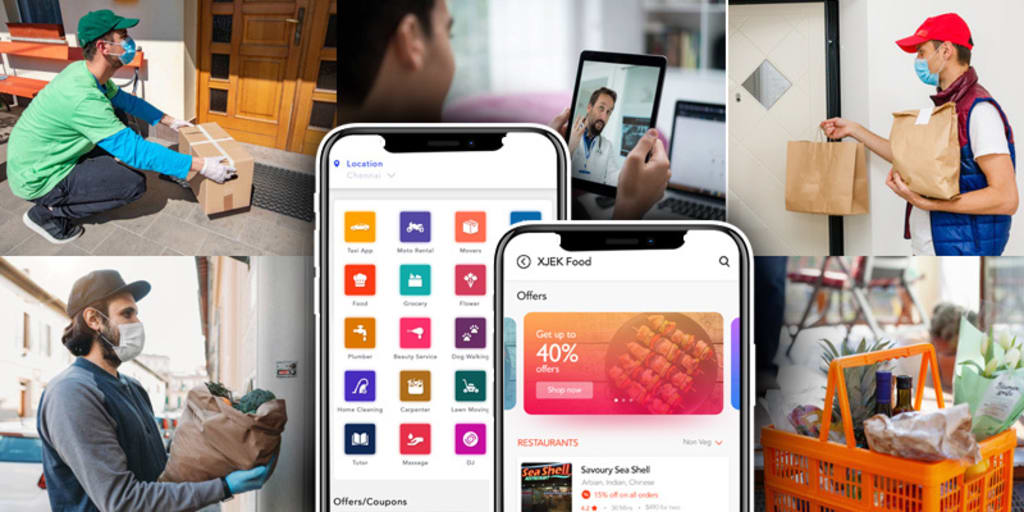 The advent of smartphones and technology has made it easier to solve all the requirements of the modern world. The integration of all the required services in one app has made it an effective problem solving tool. Apps like Gojek have thrived in this on-demand market without any rivalries or opponents to fight against. So, what does it take to defeat the giants of the industry? What are the certain hacks that are needed to compete against Gojek?
Why was Gojek successful?
One of the main underlying concepts as to why Gojek was successful is that Gojek brought in an organised way of assigning services. Gojek held hands with various service providers offering diversified service options. Moreover, Gojek studied the geographical location and the needs pertaining to that particular location,which,by the way, substantially increased the number of end users using Gojek.
A streamlined and sophisticated system of services according to the particular location made users believe that Gojek was a one stop destination to all the services. The emergence of Gojek nullified the use of multiple apps for multiple services.
The Importance of Location
The geographical location plays a key role in identifying the services that are to be offered in a particular area. Services like dog care, babysitting, beauty services etc. thrive well in some regions. Identifying those key regions can offer you a healthy advantage over your opponent. In order to identify those key areas, market research is very much essential. A thorough study about a region can provide you quality insights about the particular service groups in those areas. For example, in traffic prone zones, bike taxi services can provide for a wealthy market return.
Supplementary features
A complete study as to how Gojek operates is to be well known before competing against it. In addition to features offered by app like Gojek, there are some stand out features which Gojek failed to produce. By capitalising on this aspect, you can challenge Gojek. Some of the supplementary features which may come in handy are,
Advanced UI
While creating an app like Gojek, it is difficult to provide all the services in a single page. Users find it difficult to navigate between pages looking for their services. If you can provide the services offered by the app in one single page, it can vastly improve your chances of thriving in the market. Moreover, with advanced UI facilities, users can be easily attracted towards the app.
Communication with service providers
For your app to become a hit among people, service providers play a vital role. Proper communication with a service provider can benefit you as well as the user using the app. By accessing local service providers, you are providing them with a job while you receive a part of payment as commission. The end user, service provider as well as the clone app are all benefited this way. Local service providers can be of great use as they are well acquainted with the geographical location of the area. Communicating with popular service providers can increase the trustworthiness of the user. Moreover, with a popular service provider, quality is assured for a particular service
Market Study and Planning
Any successful app involves thorough market study and planning. Market study as to what type of services are best suited for a current location greatly influences the success of the Gojek clone app. Feedbacks and surveys regarding what type of services are needed in the locality can instill better functioning of the clone app in specific localities. Meticulous planning must be undertaken to provide you with clear insights to how the clone app must be produced. The duration that is required to create an app, the specifications that are required in the app are all to be planned and sorted accordingly. A well prepared market study and a well executed plan can help you compete against a rival like Gojek.
Ways to create a Gojek clone app
The Gojek clone app can be developed from scratch or by approaching an app development company.
Developing from the scratch
This way of creating a Gojek clone app involves creating an app right from the scratch. An advanced market study and planning is required during development. A main advantage of developing an app from scratch is that the app can be specially made according to your own specifications.
Approaching an app development company
One of the ideal ways of creating the app is by approaching an app development company. On-demand apps are created by these companies. These white labelled apps can be customised according to your specifications. An added advantage of having a fully equipped technical team is available here.
To Conclude
If you are looking for a customised Gojek clone app, Appdupe provides you with the same. A free trial version is also made available and the app can be entirely customisable according to your needs. Are you ready to compete against Gojek?