How To Choose the Right Tablet for Your Child
Contrary to popular belief, an iPad can be beneficial to your child's life. Here's how to choose the right tablet for your child and their needs.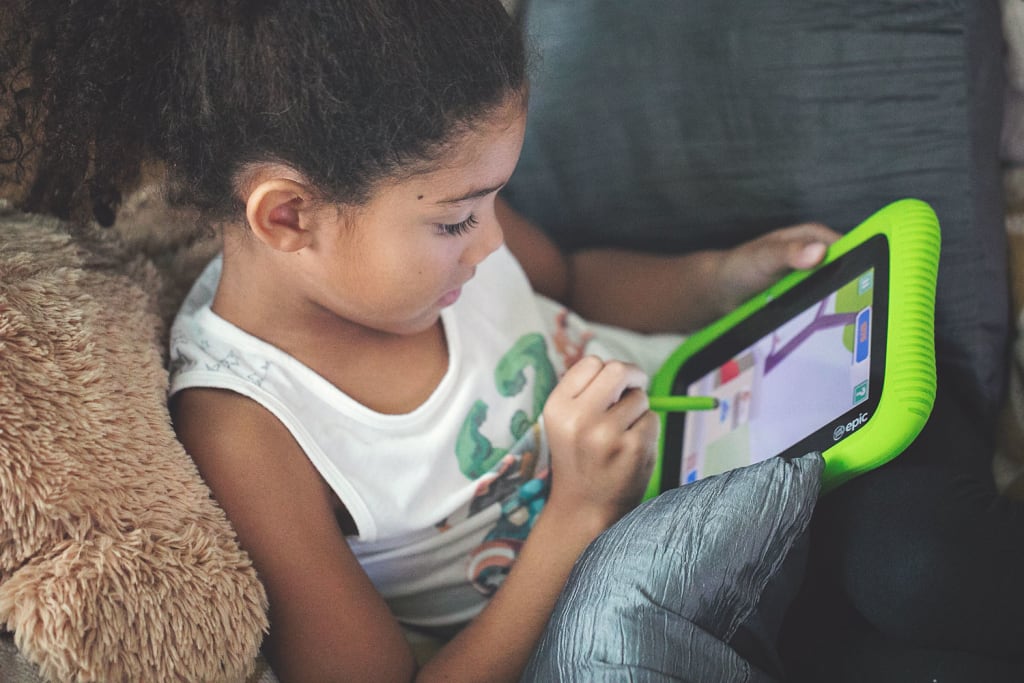 Though many people might argue against it, a little bit of screen time can be good for kids. It can help them learn more, improve their overall ability to react, and can also be a better way to help keep your little one calm while you run errands.
That being said, not all tablets are going to be good for kids. If you want to choose the right tablet for your child, you're going to have to take a look at some of the most important factors in your child's life.
In the tech world, inventors have been getting more enthusiastic than ever when it comes to introducing kids to tech. Not sure where to start looking? Here are some of the top picks for kids that are ready to get their first (or second) tablet.
The most important part to consider when you choose the right tablet for your child is age.
Your child's development will be hugely different from year to year—but you already know that. Generally speaking, the tablet that you choose should match your child's needs at their age.
Younger children will need more durable tablets, simply because kids tend to play rough. Very young children will need tablets that are outfitted with ways to work around the fact that they can't read quite yet, or better still, will teach them to read.
Older teens, on the other hand, will probably not do well with a "kid's tablet." They will likely want a tablet that looks adult and has functionality that they can bring into college.
If your child is very young and still isn't totally able to read, you might want to start with a tablet that helps them read. The LeapFrog Epic Academy Edition Tablet by LeapFrog, for example, is specially designed for very young kids.
This Android-based tablet gives kids access to LeapFrog Academy, a specialized service that teaches young kids to read and count. It's also durably built, comes with a protective case, and streams oodles of educational content for your tot.
Let's talk about parental controls.
Like it or hate it, there are a lot of tablets out there that offer parental controls. Not all tablets will have robust controls, though, and in some cases, they will prove to be very easy to disable if your kid's crafty.
If you want a good tablet that will offer a little bit of control over your kid's content, you need to make that a priority sooner rather than later.
The Amazon Fire HD 8 is a lot like LeapFrog's offering, but will has a little bit extra added in for kids who are a little older. This tablet has a kid-proof case, uses larger words, and also uses the classic Amazon Fire operating system that adults use.
If you're looking to choose the right tablet for your grade schooler or middle schooler, this is a great option.
What we love most about it is the way it allows your kid to explore different apps, documentaries, and content while also allowing parental controls to protect them from content that's not good for them.
If you want your kiddo to access the best educational podcasts on the net, but also want them to enjoy Frozen on demand, you'll love Amazon's offering. It's the best of both worlds.
Around sixth grade or so, you're going to want to drop the "kiddie" look.
You really do need to be careful to choose the right tablet for your middle school child. If they end up with a tablet that looks too babyish, it's possible they could get teased for it—and that may make them really unhappy about using it at all.
The Lenovo Tab 4 doesn't have the typical "kid-proofing" hardware that you'll see on tablets that are designed for younger children. Lenovo made a solid, straight-up Android tablet that is a perfect balance between adult and child-ready.
Parental controls, multiple user accounts, and an overall family-friendly design makes this one of the best all-around tablets for your family. If you're looking to choose the right tablet for your child and want an option that will grow with them, this is it.
If your kiddo wants to be one of the many kids who became famous through YouTube recordings, then you'll want to get this option. This tablet has a great camera that can help them upload their own vids in a pinch.
By the time that they are in junior high, you can probably stop caring about parental controls.
When your child's 12 or 13, they're already well-aware of how the world works. This means that they don't really need parental controls as much as younger kids, and that most might actually already know how to bypass parental controls.
So, trying to control what your child sees online is often a moot point by this time. The important thing that you should focus on now is to choose the right tablet for your child's goals, budget, and lifestyle.
The fun thing about getting to choose the right tablet for your child is that you can use this as a time to bond with your kiddo. This is doubly true if they are a high school teen getting ready to hit college. Go ahead and ask them if they have a preference.
If your teen is unsure and they aren't really big into videography or photography, an Android tablet like the Samsung Galaxy Tablet would be a good option. This is perfect if they want to go into STEM and have started making their own apps.
Much like their computer and phone counterparts, iPads are excellent for people who want to get into aesthetic industries. If you're looking to choose the right tablet for your child going into art, photography, fashion, or media in college, it's best to opt for an iPad.
That being said, they also have a wealth of accessories that make them versatile. Even doing something as simple as investing in the best iPad keyboard you can get and giving them that accessory can triple how much use they'll get out of it by college.
Of course, only you can choose the right tablet for your child.
Screen time can be good, and can help them nurture their interest in a variety of different careers. As a parent, it's up to you to determine which tablet you want to give them and teach them how to use it to their advantage.
About the Creator
Cato Conroy is a Manhattan-based writer who yearns for a better world. He loves to write about politics, news reports, and interesting innovations that will impact the way we live.
Reader insights
Be the first to share your insights about this piece.
Add your insights