How to Build a Food Delivery App Like Uber Eats?
A Guide to Build a Food Delivery App Like Uber Eats.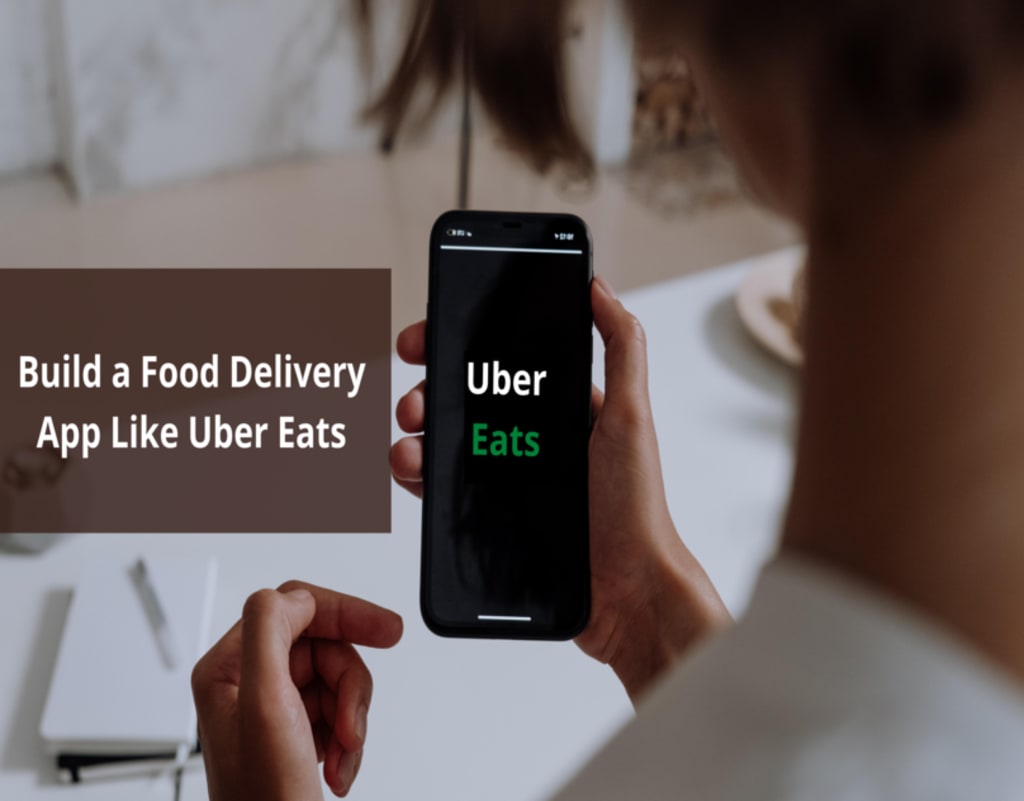 Build a Food Delivery App Like Uber Eats
Online food delivery is not something new. Along with other industries, the rise of digital technology has also reshaped the food industry. And, the rate at which online food delivery is growing shows that online food demand will surpass the offline demand in just a few years. The revenue of the online food industry is expected to grow at a CAGR rate of 7.5% from 2020 to 2024 resulting in a projected market volume of $182,327m by 2024.
Now, if you are one of the entrepreneurs who is searching for a startup idea in the food industry that can become an instant success, or are wondering to build a food delivery app like Uber Eats and its business model, this article is for you. We will talk about the business and revenue model of Uber Eats, how does it work, and how to build a similar app as Uber Eats.
Business Model of Uber Eats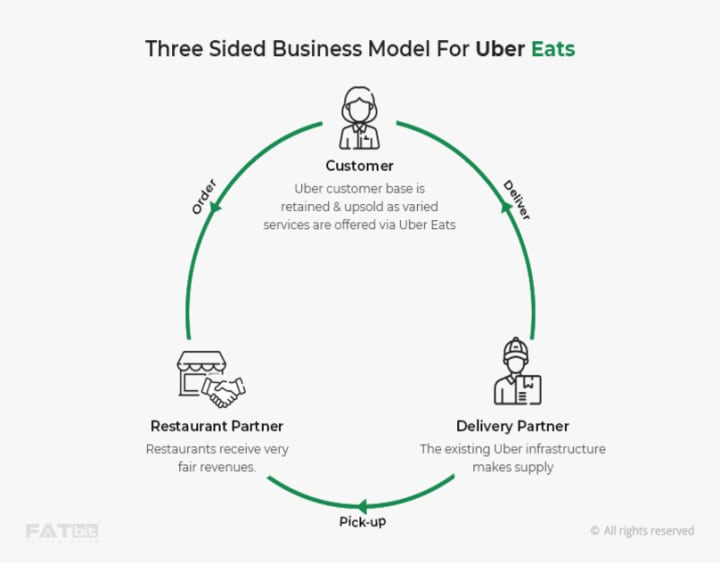 Since the time it was introduced in August 2014, Uber Eats has been growing into a successful food delivery company. It is now available in more than 70 cities across 24 countries. Uber Eats' business model has two roles; an aggregator and a delivery agent. It connects hungry customers to multiple restaurants via a single online app and allows them to place their food requests. The order requests reach the restaurants and the order delivery is fulfilled by the restaurant.
Uber Eats also supports restaurants with logistics using its logistics network to deliver orders that do not have their own drivers. With some amazing features like advanced search filters, customizable delivery details, order tracking makes Uber Eats a preferred food ordering app.
Revenue Model of Uber Eats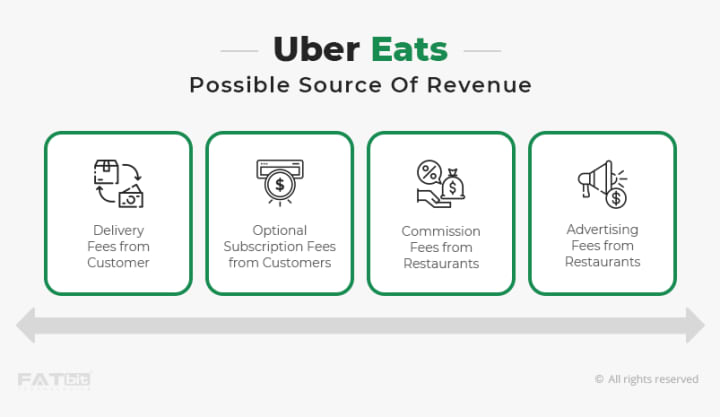 (Source: FATbit)
There are a number of ways through which an online food delivery app can earn revenue. To raise the profit, Uber Eats follows three main strategies, which are:
Delivery/Subscription fees from customers: Uber Eats charges delivery fees from the customers using a pricing calculator which is based on the distance between customers' locations and restaurants. Uber East also offers customers to purchase its subscription to get additional discounts.
Commission fees from restaurants: Uber Eats charges a specific percentage of fees from the restaurants for each order received through the platform. The percentage ranged between 15%-40% depending upon the maturity of the market.
Advertising fees from restaurants: As the number of restaurants is increasing every passing day, it becomes imperative for every restaurant to gain visibility in the app. Uber Eats allows restaurants to be visible in the top searches within the app to gain more traction and sales for which the platform charges advertising fees.
Building an App Like Uber Eats
Building an app like Uber Eats is a challenging task and requires a lot of efforts. It should have unique features that make it stand out in the market. Start evaluating your idea which will give a clear understanding of the app and ways to monetize it. Below explained are the steps to be followed for building an app like Uber Eats.
Market Research: The initial step is to research your competitors, what they do, and how do they do it. Who is the audience of your business and how to attract them? What features to be included in the app to make it stand out from the crowd following the market trends.
Business Analysis: It is a significant step to understand the demand for your application. It helps to decide the revenue model, delivery model, and more. You will also get a much more precise estimate to build the food delivery app.
Feature Listing: The unique features to be included in the app to get an edge over your competitors are clearly understood at this stage. The must-have features are listed here:
Admin Panel
Admin Dashboard
Manage accounts
Review rating & Booking
Content Management
Analytics
Banner Management
Product management
Categories management
Restaurant management
Help & support panel
Secure Payment
Dispatcher Dashboard
Restaurant Panel
Dashboard
Dispatcher to Accept/reject order
Customer order status
View deliveries
Restaurant maintenance
Manage categories & products
Manage Payments
Manage reviews
Customer Panel
Easy & intuitive User Interface(UI)
Login with Email/ Social Media
Nearby Restaurant
Product Details
Dine-in( Latest in Uber Eats )
Add to cart
Chat
Track your order
Order Scheduling
Order delivery confirmation
Multiple categories
Deals & Coupons
Reviews & rating
Delivery Panel
Login
Shift starting
Receive request
Order Pick up
Guided pick-ups
Order delivered
Payment
Feedback
Chat
Pick up notification
Delivery notification
Continue reading more about Uber Eats a successful food delivery business: How to Build an App Similar to Uber Eats? A Detailed Guide
Choose Between Readymade Solution or Custom Development
Once all the features of your food delivery platform are finalized, the last and the final step is to decide between going for a readymade solution or creating a platform from scratch. The decision to choose between the two depends upon various factors like; time, cost, customizability, etc. Custom development is a feasible option if you have lots of time like (months or maybe years), no budget constraints, and the requirement of custom features.
However, if you are looking to launch your business instantly with minimum hassle and development costs, a readymade solution is the thing that you should be going for. Yo!Yumm is one such readymade solution for online food ordering and delivery business that can be fully customized as per the business requirements and changing market trends. With all the basic as well as advanced features integrated into it, Yo!Yumm is one of the most preferred solutions for budding entrepreneurs to build an online food ordering and delivery platform.
----------------------------------------------------------------------------------
Originally Published at: https://beststartupbusiness.wordpress.com/2020/08/20/how-to-build-a-food-delivery-app-like-uber-eats/
Reshared at: https://medium.com/@purnima.chauhan/build-a-food-delivery-app-like-uber-eatsbuild-a-food-delivery-app-like-uber-eatshow-to-build-a-ba13b27fd1cb