How Do You Retrieve Deleted Snapchat Messages?
How to retrieve deleted messages on Snapchat? A step-by-step guide.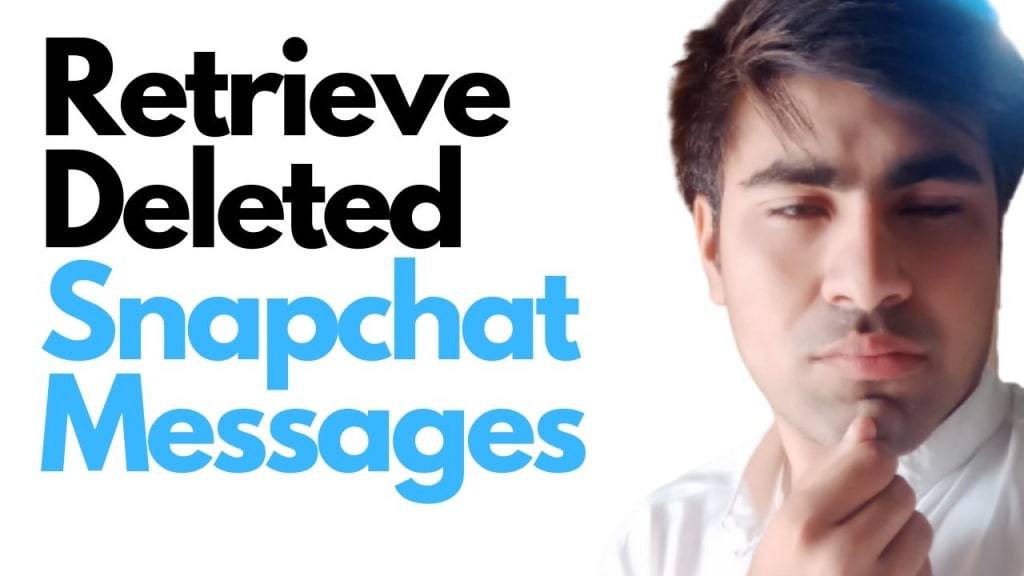 How Do You Retrieve Deleted Snapchat Messages? / Picture created by the Author (Aamir Kamal)
Are you looking for the best ways to retrieve your deleted Snapchat messages? Then you are at the right place. Here, we will talk about the entire process to retrieve your deleted Snapchat messages if you want to.
Just stay with us and go through the whole article.
Snapchat- Video Sharing App
Almost everyone is familiar with the most famous video-sharing application, Snapchat. It lets you snap photographs, record movies, and share them with your friends and dear ones within a few seconds. From its latest Snap Map feature to its fantastic selection of filters, there is much more on Snapchat that captures the interest of a massive crowd.
It also allows you to message your friends and loved ones in the same way that Whatsapp and Facebook Messenger do. But the unique and remarkable feature of this video-sharing app, in which images sent or received are only meant to be visible for 10 seconds before being thoroughly washed.
So, have you ever thought about how to retrieve deleted messages on Snapchat?
Recently, the application got updates, and a new function called Discover Messages has been added for its users. Here, users can snap something intriguing and send it to their contacts, who can then see it and tap on a link to post on Discover.
However, it is feasible for anyone to retrieve deleted photographs and videos. We will talk about plenty of methods here to retrieve Snapchat messages. Even if the data has been erased, the data may still be retrieved. Just look at the step-by-step approach to fast and easy recovering old Snapchat messages below.
Method 1: Recovering Deleted Messages on Snapchat
However, you have erased messages from Snapchat, and they are saved in your device's memory with a .nomedia extension. In summary, it appears that the images and videos do not exist since they have been erased. However, they are still on your phone. It is quite straightforward to regain access to these files.
If you want to retrieve deleted Snapchat messages from your phone, you must rename the files to remove the no-media extension, and this can only be done through one file manager application.
First, download the best file manager application on the Google play store, or you can download an APK from the internet.
If you're using an Apple device, you'll need to jailbreak it and pick a suitable file manager app. Astro File Managers, OI File Managers, and File Expert are some of the finest file manager apps.
Now, Inspect the files on your device that have the no-media extension. This file type is ignored by all applications, making the data invisible. These are all of your Snapchat messages.
To remove the extension, select each message and change the file name
Other applications should be able to index and show the thumbnails, as a result, allowing you to view them again.
Dig it up to discover the deleted messages and restore Snapchat photos.
How to recover deleted Snapchat messages on iOS?
FoneLab's iPhone Data Recovery tool may be used to recover deleted Snapchat messages from an Apple product such as an iPhone or an iPad. This software can assist you in recovering deleted data from your iPhone or iPad.
Steps to recover deleted Snapchat messages from iOS device
Download iOS data recovery tool, FoneLab on your windows PC or Mac
Now, using a USB cable, connect the iOS device (iPod, iPad, iPhone) to your computer
When your device enters Recovery from iOS device mode, a Start Scan button suddenly appears on your screen
Hit the "Start Scan" button to begin the process of scanning
Once the scanning is completed, click on the section from the menu that you want to recover. Here, you have to select "Snapchat messages."
Now, pick all the deleted messages you wish to recover and click the recover option to restore the data.
Choose a destination folder and wait for the Snapchat messages to be retrieved finally.
How to recover deleted Snapchat messages on Android?
Besides using the Dumpster app, you can use FoneLab as a data recovery tool for Android devices. With the help of this tool, you can easily retrieve deleted Snapchat messages from Android devices. Now follow the basic steps to recover deleted Snapchat messages on android:
Firstly, download FoneLab Android Data Recovery Tool for Windows Pc or Mac
Now go to the setting option of your smartphone and activate USB debugging mode on your Android device
Connect your Android phone to the PC via a USB connection.
Go to FoneLab and choose "Contacts and Messages."
When you pick the option, your phone will be rooted
Next, you will be able to see the deleted messages
Select the needed deleted messages and press the Recover button
Finally, your deleted messages will be retrieved.
I hope this article will help you restore or retrieve deleted messages, including photos and videos from the Snapchat video sharing app. Have fun snapping!
Read more of our Snapchat related stories:
Does Snapchat Detect Screen Recording on Android?
Taking Screenshots on Snapchat: Can Snapchat allow Screenshots? A Begineer Guide
Does Snapchat Notify Someone When You Look at Their Snap Map?
How to add a Snapchat User to the quick add tab?
How Do I Remove a Filter On Snapchat From Someone else's Photo?
I hope this helps.
how to
I am a blogger who writes about Blogging, YouTube, Quora, Medium, Substack, and Vocal. We also publish content about everything. https:/aamirokamal.medium.com
For business inquiries: [email protected]
or Twitter: @_aamirkamal