Best Gadgets for Cleaning Your Tech
It's easy to forget that our technology desperately needs a wash. These are the best gadgets for cleaning your tech, the homes of too many germs.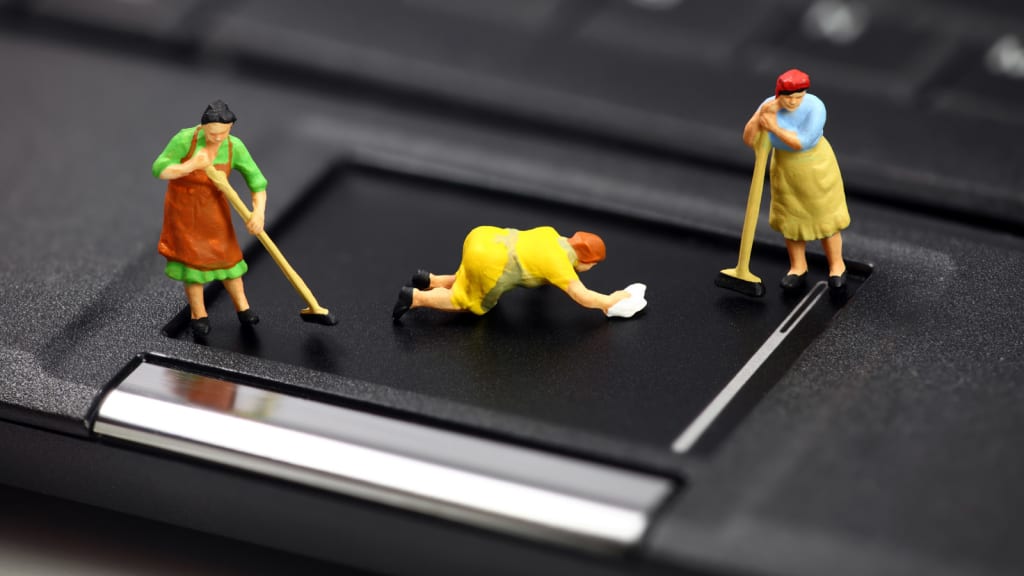 Think about the things in your every day lives that you touch, reach to, and hold to your face the most. Yup, our technology is the home to every germ you don't want to be handling. That's why this list of the best gadgets for cleaning your tech will come in handy for anyone.
Don't wait for spring cleaning to get around to cleaning off your most used surfaces. With the help of these simple products, you'll have a healthier, cleaner, and easier life. What are you waiting for? Maybe wash your hands in the meantime.
This might not look like it would be of any aid to getting your technology to a more clean state, but it will! As one of the cutest gadgets for cleaning your tech, this stuffed pug is a fun way to clean your monitor, laptop or LCD screen.
His little tummy is the cleaning pad which has an added scent of lemon zest. Your screens will be clean, static-free, and dustless in no time. You'll gain a smile while doing so, plus, he's sure to be a conversation starter at work.
This product is one of the best gadgets for cleaning your tech that is completely universal. Use this to sanitize your remote to your robotic vacuum; it will work the same on any surface or even any hard to reach place.
Simply scan the wand over any desired item you want to rid germs of, and allow the UV-C technology to kill up to 99.9 percent of them. Take this traveling, on the plane, in a hotel room, in a public restroom, at the grocery store, ATM, or simply within your own home. Plus, it diminishes bacteria without the use of chemicals or irritants.
iKlear is a cleaning product for any of your devices like phones, iPads, MacBooks, and Retina Displays. Designed with these products in mind, it has technology that is created for only the best clean among screens.
With no toxins, alcohol, or ammonia, this is a great option for any Apple user. Included in the kit are a spray bottle, a large polishing cloth, a travel size polishing cloth, and travel singles.
Say goodbye to even the worst of dirt. Plus, there is no need to tirelessly clean hard, because the cloth and spray combination will do the work for you. Forgotten to clean your screen since you first purchased your device? Don't worry; dirty residue, fingerprints, and smudges are no match for the iKlear kit.
Don't be intimidated by the name. PhoneSoap does not include water, and will never damage your devices. As one of the best gadgets for cleaning your tech, this product can clean your phone in minutes, while also charging and sanitizing at the same time.
This device is the only phone charger that will provide a cleaning as well. It simply takes ten minutes to sanitize, one to clean, and half an hour to charge. Included with a USB port and a UV-C lamp, this product will alarm you when the process is complete. Simply let the device do the work for you.
One of the most unusual looking gadgets for cleaning your tech is the magic keyboard cleaner by Hamoon. As pictured above, the sticky jelly is placed onto the keyboard and pressed into the divots of the keys. Simply lift it up along with all the unwanted dirt, dust, hair, grime, and germs. Then, wash your hands, and you have a perfectly clean keyboard. How easy is that?
As Amazon's best seller for microfiber cloths, this cleaning device is perfect for any screen that is on the smaller size that needs a quick and easy swipe. Absorbing dust, oil, fingerprints, dirt, and smudges, these cloths are safe to use on any surface type.
This includes the delicate lens of a camera, binoculars, telescopes, computer screens, glasses, sunglasses, and really anything else that you need to be smooth and shiny. Buy them in either a pack of either two, six, 13, or even 30.
This cleaning kit is the real deal if you want the most thorough clean possible. The kit includes four swabs, a cleaning spray, a microfiber cleaning cloth, and a compressed gas duster. With these tools, this is one of the most extensive gadgets for cleaning your tech.
Your keyboard, camera, phone, home phone, television screen, you name it, will be spotless with the addition of this kit to your cleaning products. Throw away your multipurpose spray and dirty rag, and upgrade to Dust-Off.
If you're looking for something on the more subtle side, this cleaning brush by OXO Good Grips is perfect for the occasional clean, yet still gets the job done each time. The brush works with soft bristles and a silicone wiper; the two go hand in hand in sweeping dust away, while grabbing any unwanted dirt.
It's small enough to fit in small, hard to reach places like keyboards. And once you're technology is clean, simply retract the bristles for easy and clean storage, protected with a cap.
This is one the best gadgets for cleaning your tech that is meant specifically for screens. All included in this easy to travel with packaging is a microfiber cloth and spray. The cloth is meant to clean residue while leaving any screen streakless.
Simply throw this product in your work bag or purse, and use it whenever you see a greasy fingerprint of unwanted dust. Plus, the spray isn't made with any harsh chemicals and is safe to be used on any technology with touch screens.
Though it's not your typical cleaning product, this app is great for keeping your devices organized and clean in a different way. Download Cozy for a place where you can store reminders, grocery list, shared calenders, notes, and more.
Winner of the Mom's Choice Award three times, Cozi is a great option for managing your life, while organizing your thoughts in one convenient spot. Sometimes this is the most important kind of cleaning!
About the Creator
Proud mom of three chinchillas, hard core Justin Bieber fan, watches Unsolved Murders religiously
Reader insights
Be the first to share your insights about this piece.
Add your insights