Best 4K Projectors for Your Home Theatre
Grab your popcorn, because these 4K projectors for your home theatre are about to transform your movie-viewing experience for good.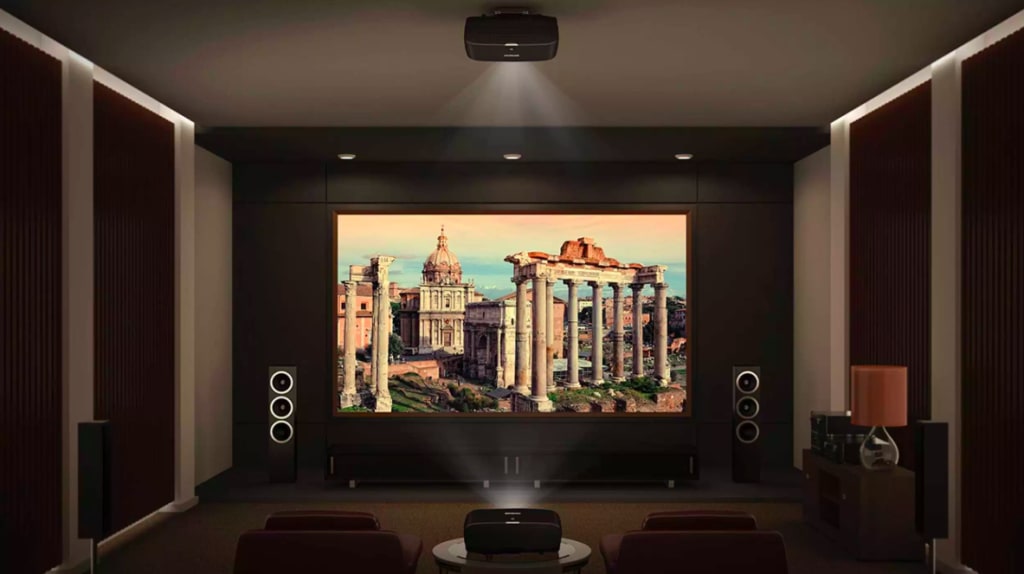 A home theatre is something that many people aspire to have. But once you've finally made the decision to take the plunge, how do you decide on the best projector? It's the star of the show, so make sure you're investing in the best quality for your theatre possible.
Of all the best 4K projectors for your home theatre, there is the perfect one for your home out there. Offering flawless picture quality, easy setup and use, and endless hours of fun, which projector will complete your new home theatre?
First, among the best 4K projectors for your home theatre, is this one by Epson. Offering a "groundbreaking combination of color, contrast, and resolution," this projector's quality is unlike any other. Featuring 4K enhancement technology, the resolution is full HD, even offering 3D Mode and double HD resolution.
Mount this on your ceiling for a large and clear image each time. It is often compared to a $10,000 Sony projector when it comes to quality and clarity, for a fraction of the price. What more could you ask for? Now fire up the best movies for people who love gadgets and have a geeky night!
With 8.3 million pixels, Vivitek's Ultra HD Home Cinema Project lives up to its name. Featuring outstanding details and incredible visuals, your home theatre isn't complete without a machine like this.
For amazing brightness, the projector features up to 2,000 ANSI lumens. Plus, as one of the best 4K projectors for your home theatre, it is easily installed and easier to use whenever you're in the mood for relaxation and popcorn.
Known as one of the least expensive projectors on the market, JVC's projector does not lack quality despite its affordability. Delivering a detailed picture and perfect 4K resolution, the new Direct Mode with low latency provides advanced HDR processing for brighter HDR images.
JVC is well-known for their deep black levels and this projector is no exception. HDR content pops every time and the reasonable price point is what seals the deal.
Next, among the best 4K projectors for your home theatre is by the powerhouse, Sony. It's certainly one of the most expensive projectors on the market, but for good reason. This projector is raved about by practically anyone interested in a home theatre.
With 2,000 lumens, the brightness, coloring, and motion are all crystal clear, vibrant, and stunning. You have to experience it for yourself. And if you're looking to invest in a machine that will fuel your home theatre for years to come, this is it. Why no watch some movies about the moon on it so you really feel like you're there too?
We know, another Sony projector, but they're some of the top brands for video equipment for a reason. This projector is equally as expensive as the previous, but with the resolution as bright and clear as it is, we understand the price point.
This is a Classic II laser product with a 27.5 mW power output. The projector also features Native 4K resolution, high brightness 2500 lumens laser projection, and a TRILUMINOS display for rich coloring.
Among our list of the best 4K projectors for your home theatre, this projector is one of the most affordable, you can even check for yourself. At under $2,000, you can't get a better price for this type of quality.
Optoma's 4K Home Theater Projector is the perfect match for someone looking for the basics, nothing fancy, but still high quality. Delivering one million to one contrast ratio for black levels, the contrast is exceptional. Plus, it produces the brightest white and life-like color with each film.
JVC's DLA-X550R D-ILA Projector is also another great option to choose among the top projectors on the market. At a medium price range, this projector promises to deliver stunning picture detail due to its exclusive 4K e-shift4 technology. It also features a class-leading 40,000:1 Native Contrast Ratio for vibrant whites and dark blacks.
Best of all, you can even purchase an expert setup package in which all of the installations can be done by a professional for just above $200.
XGIMI is next among the best 4K projectors for your home theatre for someone who might not want a machine for the long run, and rather a temporary piece.
For an extremely affordable price, this projector will produce 4K video, bring standard 2D video to life in 3D, and can connect easily to Hi-Fi stereo sound using Bluetooth. It also has a built-in Harman Kardon Superior Sound Quality. And for the price, its native resolution is unlike any other. If you don't want to blow all your money on the projector for your home theatre, this is a perfect option. Plus, this is the perfect chance to get nostalgic and watch some movies turning 20 years old in 2018.
Featuring two five watt speakers, 4K UHD resolution, 8.3 megapixels, and 3000 ANSI lumens, this projector is video compatible with HDTV, computer compatibility, Mac PCs, and Window PCs.
The contrast is also a one million to one ratio, plus the optical zoom ratio is 1.6X. Clear, vibrant, and easy to use, this projector can be easily installed into your new theater's ceiling.
We promise you'll never visit another movie theatre again with this projector. Known as one of the best 4K projectors for your home theatre on the market, BenQ's HT2550 produces some of the top quality for the price. The best part about this projector is the size.
As one of the smallest on the market, the build is both lightweight and sleek, perfect for an easy installation. You won't have to worry about this taking up space in your home. Plus, the Cinematic Color technology will accurately reproduce 96 percent of the color gamut for an authentic cinema experience.