7 Rugged Waterproof Power Banks For All Your Outdoor Adventures
When it rains, it pours. These waterproof power banks will make sure you keep your gadgets powered, even in the worst of conditions.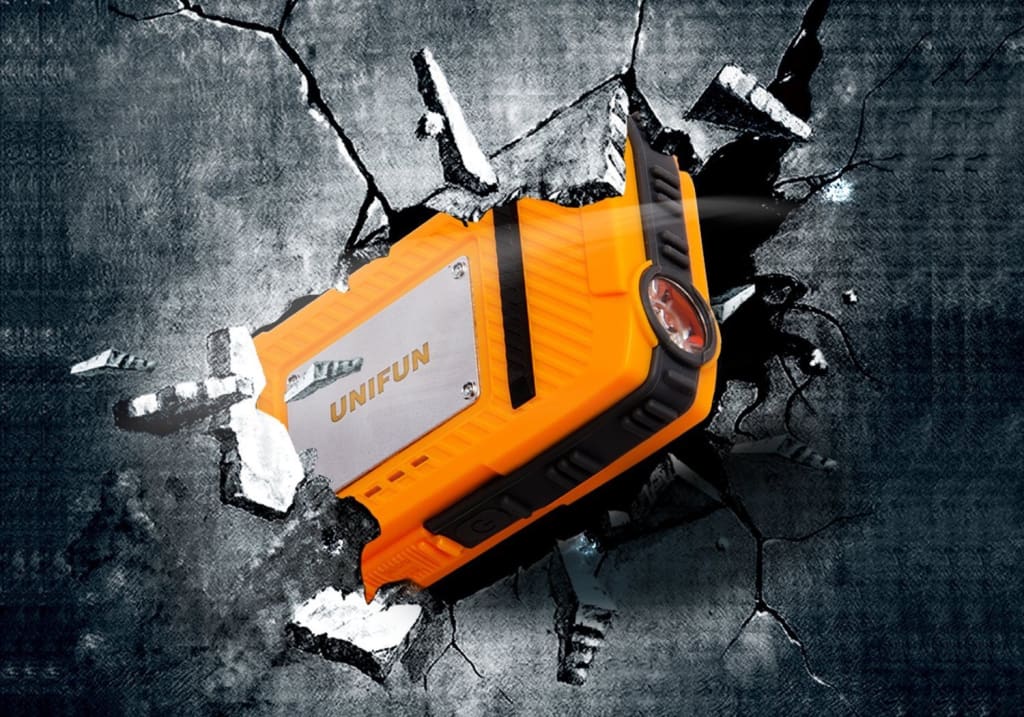 When you're out and about, the absolute last thing you want to be worrying about is running out of power on your smartphone, tablet, or worse, GPS navigator. Unfortunately, a lot of power banks have a natural tendency to break and fall apart at the seams when we need them the most.
Whether it's due to a short circuit caused by rainy weather, or just being dropped, most power banks suck unless they are designed to withstand everything. That's why it's so important to get a high-quality power bank before you head out on your next trip.
If you've recently had a power bank break or need to get one for a long-distance adventure, it's a good idea to invest in quality. These waterproof power banks below are considered to be some of the most durable (and juiced up) on the market.
FosPower has a solid reputation for making power banks that can be used reliably anywhere in the world. Their 10,200mAh power bank is able to store enough energy to power your phone several times over, and remains one of the best waterproof power banks for people who venture in extreme conditions.
Along with being waterproof, it's shockproof, dustproof, and even has overheating protection added in. No matter where you're going, having this will give you the energy source your gear needs—and then some.
If you're the type of person who would invest in tactical military backpacks and regularly finds themselves using portable speakers because you're trekking through muggy jungle areas, then Unifun has one of the best waterproof power banks you can own.
This charger is built for emergencies, has enough power to light up its built-in flashlight for up to a week after its charging, and even is built to be skid-resistant. No matter what you're doing, this thing will see you through.
This is a power bank that literally packs a lot of power. Along with being rugged enough to withstand massive drops, dust storms, and submersion in water, this remains one of the most juice-heavy waterproof power banks on the market.
When fully charged, this power bank can charge up to 7 different iPhones before it needs to be refilled. For folks who go for long periods of time without energy, this rugged power bank makes traveling to "no power zones" a breeze.
If you're looking for rugged and waterproof power banks that offer around three or four charges per powerup, then RAVPower definitely has some good stuff. RAVPower proves that being shockproof, waterproof, and dustproof doesn't mean that it has to be ugly.
Look at this power bank. It's stylish and capable of keeping up with you when things get rough. Its IP66 rating and overheating-proof design means you can take it anywhere you want without issue.
The Poseidon Portable Charger is built just as rugged as any of the other power banks on this list—and that's great for people who love to camp or just do long-distance traveling with a little extra peace of mind.
10,000mAh means that this is one of the handful of waterproof power banks that can offer multiple charges in one go. Two USB ports, though, make this one of the best choices for people who want to charge multiple phones at the same time.
If you're going way out in the boonies, carrying around normal waterproof power banks won't be enough to help you out. Most power banks will require you to occasionally plug it into a power source.
This 10,000mAh power bank by Hobest isn't like others in that sense. As long as you have sunlight, you'll be able to get a little more juice from this bank.
That being said, this is a good tool to keep in your car. It's designed for emergency use, comes with a bright flashlight and compass whistle. (Zombie apocalypse not included.)
Another emergency-ready external battery you can check out is the Digital Kingdom 20,000mAh Solar Charger. This charger has enough for seven recharges per sitting, assuming that you somehow end up in the dark for that long.
This external battery, much like others on this list, has the title of being one of the most emergency-ready waterproof power banks out there. This comes with a compass, an LED light, and special casing that help it survive anything.
About the Creator
Rowan Marley is a 20-year-old sports enthusiast who hails from Brooklyn. When he's not hitting up a local Zumba class, he's drinking organic smoothies. That's just how he rolls.
Reader insights
Be the first to share your insights about this piece.
Add your insights