25 Instagram Facts Everyone Should Know
Things You Didn't Know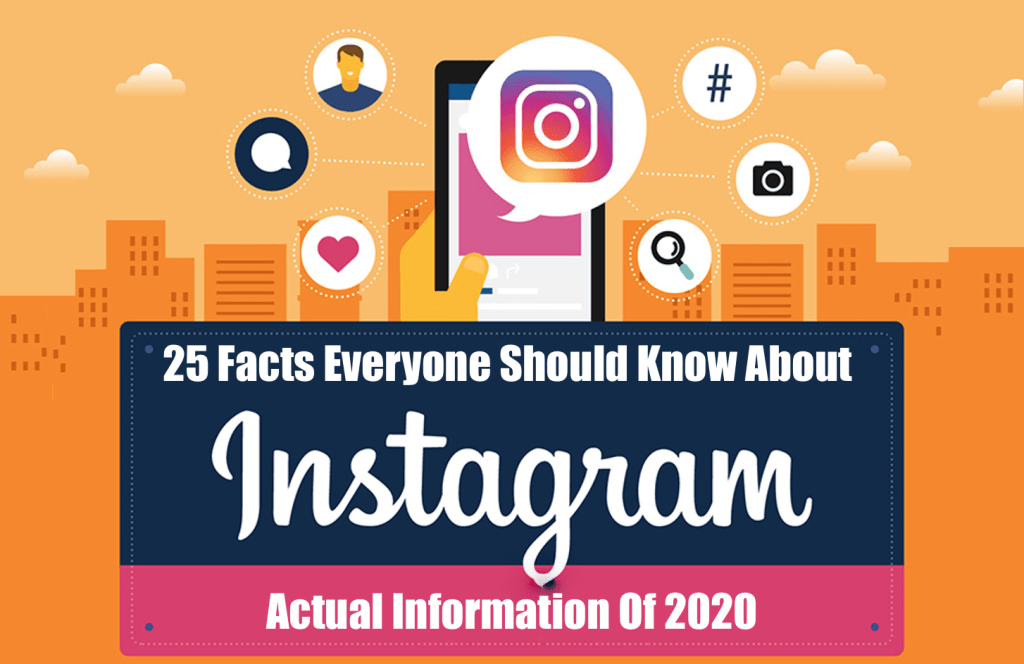 In recent years, Instagram has not only become one of the most loved by many social networks, but also entered the list of the most popular websites in the world. More precisely, it takes21 place in the ranking in the USA and 41 in the world top.
That Instagram was the largest acquisition of Facebook, the support of which had a striking impact on its development. Since joining the FB in April 2012, Instagram has grown to 80 million users, and that number continues to grow.
Today Instagram is no longer just a selfie collection. This is an excellent service that allows brands to find buyers (thanks to videos and sponsored photos), celebrities upload beautiful photos from all ceremonies and parties, and ordinary users discover the creativity and share ideas with the world. Everyone can find for themselves certain advantages of using Instagram for business, communication and entertainment.
Thanks to the integration of images from Facebook, Twitter, Tumblr and Flickr, as well as the launch of Instagram Direct, Instagram has become an interesting social network from a functional point of view.
Portal Search Engine Journal collected 25 interesting facts that you may not have known about.
1. Instagram creator Kevin Systrom, working on the Nextstop website, and put forward the idea of ​​creating a mobile HTML5 application that will allow the user to: check in, plan things (check in advance), post photos and much more. Despite the fact that he received $ 500 million from Anderssen Horowitz venture capital fund to create the Burbn project, most of all people liked to share photos. Burbn ceased to function in order for Instagram to exist and grow.
2. Before joining Nextstop, Kevin Sistrom was offered a job at Google, and also had an internship at Odeo, where Twitter was developed. In 2004, Mark Zuckerberg offered him the opportunity to work on Facebook. But Sistrom refused and secured the financing of his own project, which was eventually acquired by Facebook for $ 1 billion in April 2012.
3. Co-founder Mike Krieger was born in Brazil and met Kevin Sistrom while studying at Stanford.
4. Instagram was officially launched on October 6, 2010 as an iPhone app. In a month, a million users were registered on the social network, Foursquare and Twitter took 2 years to achieve a similar result.
5. According to data for January 2014, 150 million active users were registered on Instagram, 16 billion photo sharing, users publish 55 million photos daily and put 1.2 billion likes.
6. In order not to lose users and compete with Vine, Instagram added the function of shooting a 15-second video on June 20, 2013. In the first 24 hours after launch, 5 million videos were uploaded.
7. Ten January 2014 most popular brands on Instagram: Nike, Starbucks, NBA, adidas Originals, TopShop, Forever 21, Vans, NFL, Michael Kors and GoPro.
8. Ten the most popular companies by the number of brand videos sharing (statistics for the period September 9 - October 9 does not include music, television commercials and films):
MTV — 134,110
NBA — 68,463
Peanuts — 43,227
GoPro — 35,097
Miami Heat — 28,465
Wendy's — 23,833
Topshop — 23,347
Starbucks — 22,035
ABC — 21,782
HBO's Girls — 21,769
9. 10 brandsaccounts with the largest number of subscribers:
National Geographic - 3,726,303
Victoria's Secret – 3,640,340
The Ellen Show – 3,483,363
Nike – 3,166,010
Forever 21 – 2,446,839
Louboutin – 2,062,447
9GAG - 2,024,096
Starbucks 1,919,068
MTV – 1,916,114
NBA – 1,777,980
10. In August 2013, the average user spent 257 minutes on Instagram. For comparison - 169.9 minutes were spent on Twitter.
11. In October 2013, 35 million selfies were published. Most of them belongKylie Jenner - 451 photos per month.
12. On average, 33 comments have 1 comment.
13. Every second on Instagram, 8,500 likes are posted and 1,000 comments are posted.
14. Most often, users publish photos without using filters.
15. Photos using Mayfair gain the most likes and comments.
16. The most popular hashtag of 2013: #love. Study was conducted by Poprey.com.
17. 60% of Instagram users live outside the United States. However, this country is the leader in terms of attendance: more than 33% of active users are registered in America. It is followed by Brazil (5.6%), Great Britain (3.8%), Russia (3.5%) and Mexico (3.2%).
18. More than 90% of Instagram users are not yet 35 years old, 28% belong to the age group 18-29.
19. 23% of teens confirmed that Instagram is their favorite social network.
20. 68% of Instagram users are women.
21. Despite the fact that Instagram was developed for the iPhone and was recognized as the best application of 2011 according to Apple iTunes, the percentage of using the service on iOS and Android is 50/50.
22. 9 out of 10 sharing videos occur via Facebook.
23. The number of likes increases by 24% if the photo is dominated by blue.
24. The most active day of 2013 on Instagram is Thanksgiving, which coincided in date with Hanukkah.
25. It's hard to believe, but 37% of users have never posted photos. 25% uploaded 1-3 photos on average, and 5% posted more than 50 images.