10 Best Dropshipping Suppliers For Beginner 2020
What Is Dropshipping?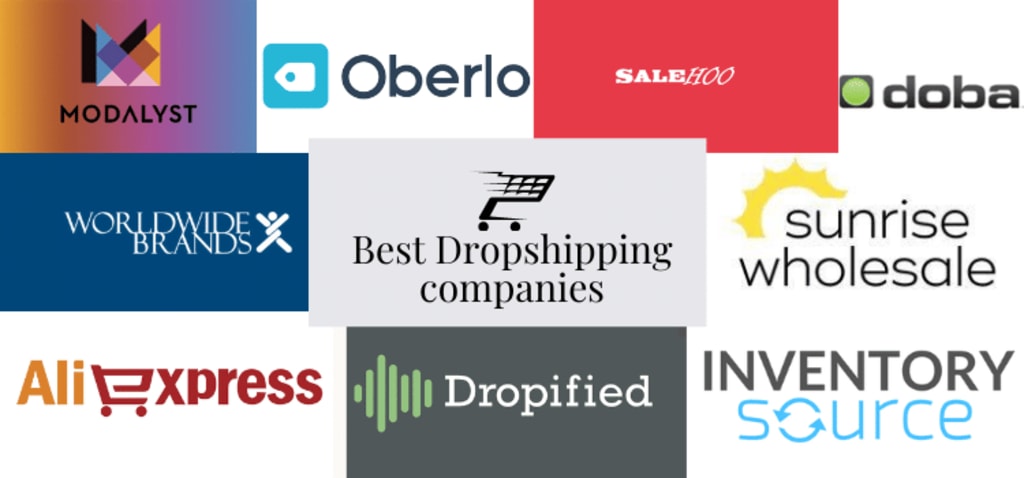 Dropshipping is one of the best online business you can build in 2020. One of the best reasons for this is that you do not make a loss by creating an inventory in which you need to stock and then expect to sell everything to get your profit.
Dropshipping is a method by which you would set up an eCommerce retail store which does not host an inventory of product instead acts as a middleman by marketing the products and selling via their platform at a higher price than quoted by suppliers, giving a profit margin.
These websites in turn place an order via a dropshipping website like Modalyst or Oberlo to the suppliers of these products. These suppliers deliver the products to the end customers.
The most important factor to start a successful eCommerce dropshipping store is that you need to invest in the right platform and find the best suppliers. The real challenge is on finalising the most suitable platform since there are many available today.
We have conducted a study and compared most of the dropshipping companies and platforms also reviews from their users. From our study, we highly recommend Modalyst as the best dropshipping company that can help you build a robust eCommerce website.
Check out our list of Top 10 dropshipping companies, their features and pricing. Also, let us know in the comment section about your choice and we would love to help you with any query.
Oberlo – Best Marketplace for E-commerce products.
Modalyst – Instantly Add Products to your Store.
Dropified – Sell better product save more time.
Doba – Simplified Dropshipping
SaleHoo – Directory of wholesale companies
Wholesale2B – Made Dropshipping easy
Sunrise Wholesale Merchandise – Best Automated Marketplace
Inventory Source - Dropship Automation Software
Spoket – Dropshipping suppliers for best US/EU products
Worldwide Brands – Only way to find certified wholesalers
5 Best Dropshipping Suppliers From The List
1. Modalyst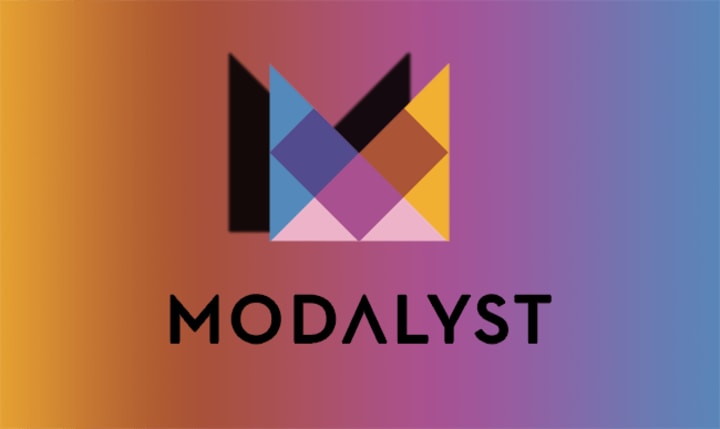 We highly recommend Modalyst to build your eCommerce retail store. We have read reviews of multiple users and taken feedback from most of them, hence we have ranked Modalyst as the best dropshipping company in our list.
Features of Modalyst
A marketplace of Millions of Products: Modalyst offers a platform with multiple and wide variety of products starting from apparels to jewellery and many more products. You can have a store of a wide variety of quality products from multiple dropshipping suppliers.
Sell Directly on your eCommerce Website: Modalyst has robust integration made possible with Wix plugin and plugins for other platforms that help you build eCommerce stores. So, you do not have to worry about the integration part or backend web development process.
Digital Inventory: You do not need to maintain keep a check on the availability of stocks. In Modalyst the wholesalers show products which are only physically available with them in stock and ready to be shipped.
2. Oberlo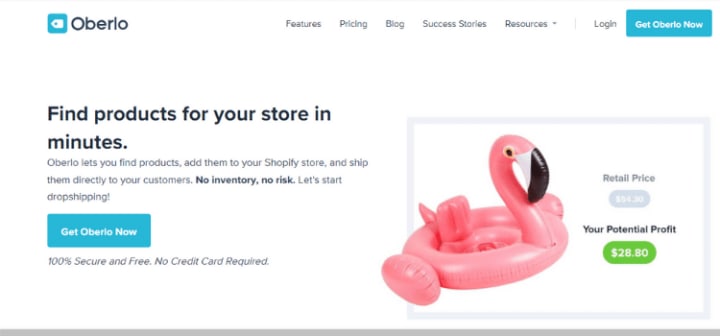 The next popular company on our list of top 10 dropshipping companies is Oberlo. Oberlo is also the most widely used dropshipping service around the world.
Features of Oberlo
Analytics for decision making: You will be able to track and visualise your sale trends over the last 30 days and over 6 months. This will help you decide on the profitable products and also compare your competition.
Invest time in Marketing: Since Oberlo helps you from the time an order is a place to the delivery to the customer. You can invest more of your effort and time in marketing and customer service.
Oberlo Chrome Extension: You will be able to add products to your eCommerce website directly from Ali express with just a few clicks. This will eliminate the hassles of building your product listing on your website which usually takes more time.
3. SaleHoo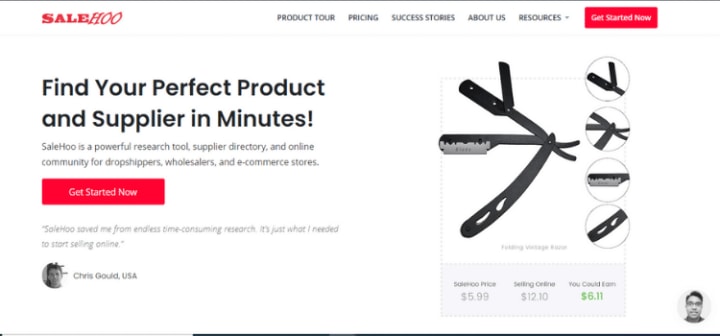 The next popular online selling directory company on our list of top 10 dropshipping companies is SaleHoo. SaleHoo has over 130,000 users who have set up their eCommerce stores with their suppliers.
Features of SaleHoo
Market Research Tool: Get an idea about products that are selling in large volumes over some time. You can also spot products with greater profit margins from suppliers with low selling cost.
Supplier Directory: You can easily get a list of the most trustworthy wholesale suppliers. You will be able to negotiate prices for the products you want to list in your eCommerce website and does not have any minimum number of orders.
Seller Training: SaleHoo organises and trains seller training modules. These training modules contains video tutorials and online guides. When you start with SaleHoo you will be able to get step by step process guide to setup your eCommerce store.
4. Spoket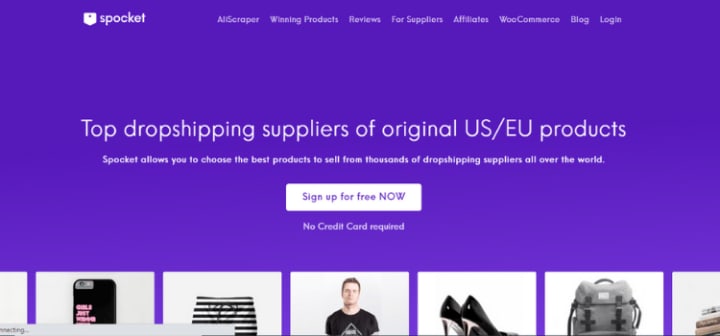 Spoket is next on our list of top 10 dropshipping companies. It is one of the best dropshipping companies if you are planning to start an eCommerce store for apparels and they also have a directory for other products. Spoket has suppliers worldwide and hence delivering a product to anywhere in the world would not be a problem.
Features of Spoket
Try the products: You will be able to get test products from your suppliers from the dashboard itself. This will help you to build a better relationship with them.
Sync with your store: Spoket integrates with your store easily. So any order placed in your eCommerce store will automatically appear in the Spoket app.
Branded invoicing: You will be able to send an invoice with your brand which will help you to build a more brand reputation with your customers.
5. Wholesale2B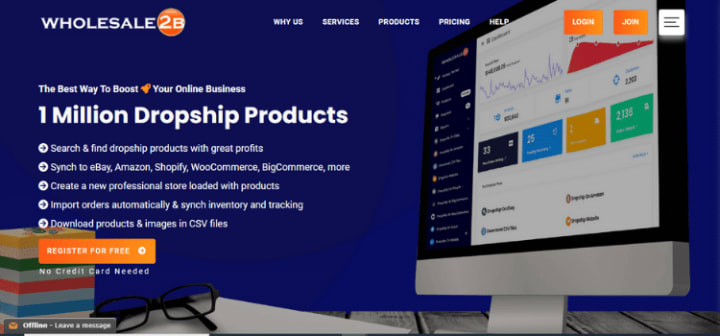 Wholesale2B is next on our list of top 10 dropshipping companies. This drop ship platform comes with multiple platform support which makes it stand out in our list. We will give you all the features so that you can take an informed decision.
Features of Wholesale2B
Dropship on several eCommerce websites: Wholesale2B will help you to build your store on famous eCommerce websites like Amazon and eBay. You can select products from the platform and import them to these eCommerce websites and start selling and earn your profits.
Dropship website: Wholesale2B will help you to build an eCommerce website on which you would be able to list the products you want to sell, customise them and then your online store is ready.
Push to other eCommerce store builders: You will be able to import products from Wholesale2B to other eCommerce store builders like Shopify, BigCommerce, WooCommerce, etc.
list
About the author
Reader insights
Be the first to share your insights about this piece.
Add your insights