Oneg Tristán's Appearance on Ten Questions with Rick Henry Christopher
Maybe, just maybe, love will win this time (I hope)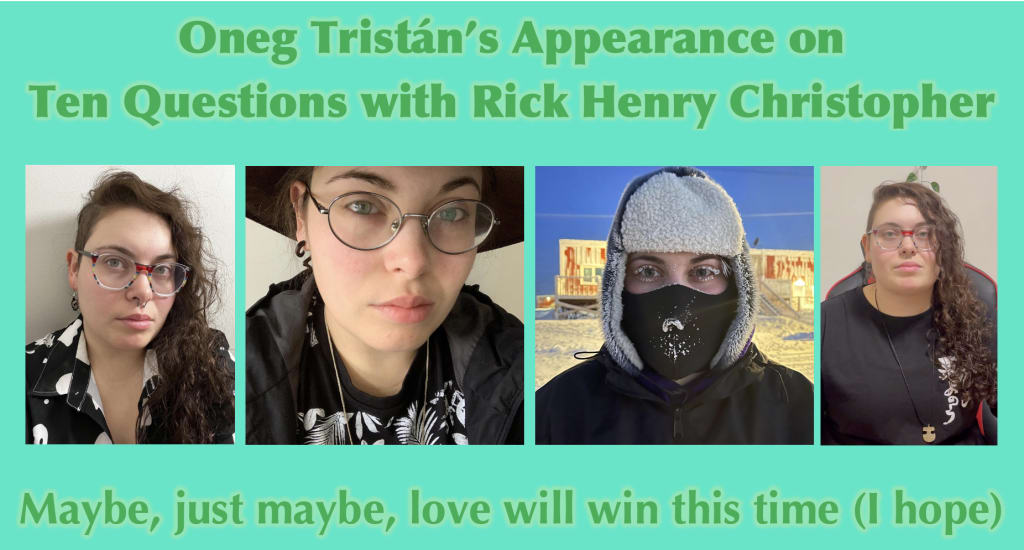 This interview is the companion piece to a youtube interview I did with Oneg Tristán. This interview and the youtube interview have different questions. The youtube interview hits on more personal topics. Combined they give you some insights on one of Vocal Media's most loved creators.
≈≈≈≈≈
RHN: What was the hardest story or poem for you to write?
Oneg: "Not a Blowjob Poem" was definitely one of the hardest poems to write. It was gut wrenching and traumatizing to acknowledge and write. My first relationship was toxic and abusive, and even though it happened over a decade ago, there are memories and triggers that still exist. Sometimes we don't talk about how bad something really is, but this was a step towards self love and standing up for myself. And just letting out how this bad thing messed me up.
RHN: Tell me about where you live. What do you like about it?
Oneg: I live in a small hamlet in the Northwest territories, Canada, called Ulukhaktok. It is an Inuvialuit community of about 400 people. This is tundra, meaning in the arctic circle and there are no trees. It is pure magic up here. The land and water are magic. It's really a whole 'nother world. I love the cold, and the openness and vastness. We're all just snowflakes in this world.
RHN: Tell us more about your book.
Oneg: My book is something I've always looked for to read as a teen and young adult. It is the queer romance novel with some fantasy twists in it. It's all the little bits of wanting to fly, of being dragged down by your demons, of love, of family and its complications, and of just trying to find yourself in this world.
RHN: What are your favorite pastimes or hobbies? (Other than writing)
Oneg: Besides being an avid reader, I also love to cook, swim, practice karate, and play Stardew Valley! I love cooking foods from all over the world, particularly Indian and middle eastern cuisine.
Sometimes I'll just pick a country and find a recipe that I can make with the limited ingredients I have up north. It's lots of fun. And lots of spices! Which I don't have enough room for, but that's okay. One day I'll find a 100-spice rack.
RHN: Oooh, that sounds like fun!!! I love cooking also and even moreso I love eating!!! Hate doing dishes though!!! 😂
RHN: What/who do you enjoy reading most?
Oneg: I don't have a particular author I track, or I'd say a genre I love- but I am a picky reader. I know more of what I don't like to read, versus what I do like. I'm not a fan of mystery, horror, crime, or anything of that (even though I seem to love writing horror micro fiction). I'm not into steamy novels, or non-fiction. I avoid sci fi and magical fantasy. And I'm not big on adventure stories. Wow.
But, I do like stories that deal with identity, wars, conflict zones, queer romances, and historical fiction.
Ironically, as a youth, I loved reading the adventure fantasy novels of Jacques Brian! How strange.
≈≈≈≈≈
Thoughts from Rick Henry Christopher
I've always been drawn to Oneg because of their love of community. Oneg would often mention how much they appreciated Vocal + Assist because of the community aspect of it.
Being a school teacher likely contributes to Oneg's understanding and connection with community.
Another thing that draws me to Oneg is their creative ability to come up with great ideas that a community of people can enjoy and learn from.
My life has been enriched greatly from knowing and interacting with Oneg. In working and creating with Oneg I have learned to open my eyes to the community around me and realize just how many wonderful and beautiful people surround us.
Thank you Oneg for your wisdom and knowledge. I really appreciate you.
Please enjoy my youtube interview with Oneg here!!!
≈≈≈≈≈
Before I go I want to share this poem written by Oneg. They say this is their favorite.
With Love, RHC ❤️
About the Creator
Writing is a distraction for me. It takes me to places unknown that fulfill my need for intellectual stimulus, emotional release, and a soothing of the breaks and bruises of the day.
https://www.facebook.com/groups/vocalplusassist
Reader insights
Be the first to share your insights about this piece.
Add your insights