Winter Driving Safety Equipment and Tips
A Guide For Your Winter Roadtrips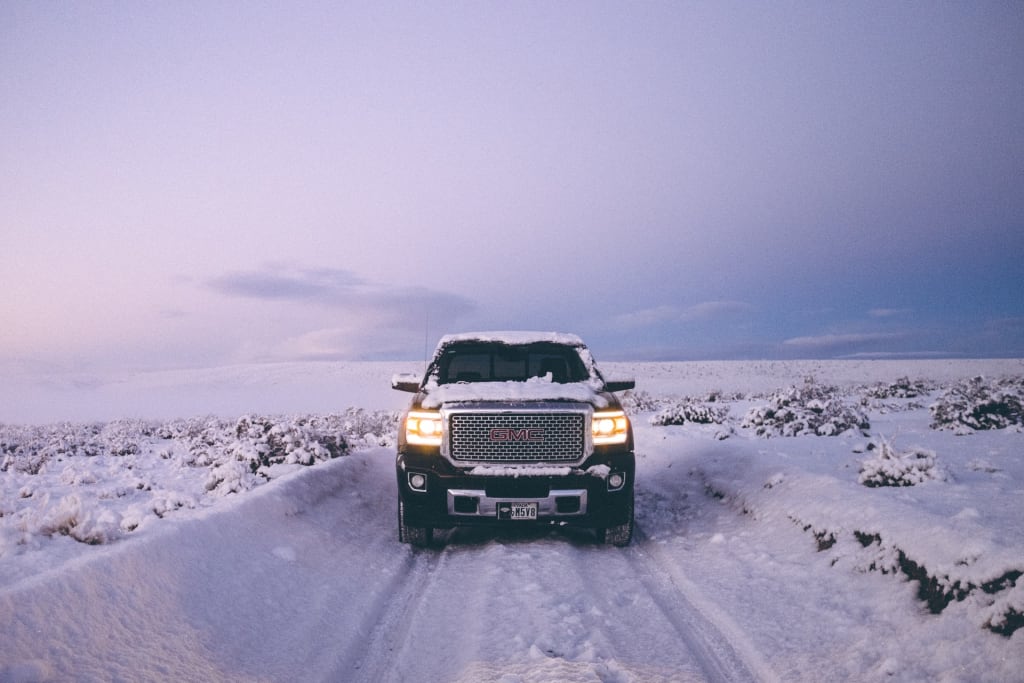 Adventure travel in winter poses risks that don't occur in the more temperate seasons. Driving to a remote lake for ice fishing, parking the car at a snow-shoe trailhead, or driving up an old logging road to reach a hiking trail shelter all require some winter savvy. Some safety equipment, including a winter survival and car emergency kit, along with a well-maintained vehicle will help prevent a small mishap from turning into a full-fledged winter adventure disaster.
Car Safety Tips for Winter Adventure Travel
Much of winter driving safety is simply a matter of common sense, although every year, news stories about winter travel disasters seem to prove that common sense is not always common. Here's how not to hit the headlines as this winter's most dramatic rescue story.
First of all, realize that in winter, a car is not merely transportation, it's a lifeline. Have the right vehicle for the conditions: A front-wheel drive car is not a four-wheel drive car; all-weather tires are not snow tires; snow tires are not studded tires; studs are not chains. If the sign at the entrance to the road over the pass says "Chains required," put on chains. Or turn back.
Make sure the vehicle has been recently serviced and tuned. This means that the oil has been changed, the transmission fluid and anti-freeze have been checked, the gas tank is full, the battery is charged, and any nagging noises or fluid leaks have been fixed. In addition, use winter gasoline additives to help prevent condensation build up (and freeze) in the gas lines.
Do your own research so you could be mentally prepared for anything that might happen while on the road. RRD is a good place to start.
Here are a few other tips for adventure travelers driving in remote areas:
Overnight travelers who plan to park at a trailhead should check the local highway department to see whether and how often the trailhead is plowed, and whether and how often the road to the trailhead is plowed. A remote tertiary road won't get the same priority as the main highways.
Check the weather forecast. 24-hour weather radios provide up-to-date reports from the nearest weather station, making them more accurate than the reports on local radio stations.
Carry one or two large buckets (10 gallons or more) of sand or road grit. (Use old paint buckets or plastic cat litter containers). The added weight helps with traction, and the grit can be spread around stuck tires to provide enough traction to drive out of a tough spot.
Carry a snow shovel and a telescoping ice scraper.
Avoid short-cuts, especially on remote back roads.
If unfamiliar with road conditions, check with local forest rangers, police, or highway officials.
Carry a detailed map.
An AAA membership provides emergency road service. However be aware that in rural areas, cell phone access can be a problem, and help may be a long time coming. Check AAA membership here.
Packing a Car Survival Kit for Adventure Travel in Winter
A few pieces of survival equipment can help prevent hypothermia, provide a way to signal for help, and keep travelers comfortable while waiting for aid to arrive.
A cell or satellite phone. Cell phones do not always work in remote areas. For travelers truly going off the beaten track, a satellite phone is a better option.
Battery chargers. Extreme cold kills batteries. Bring a battery charger for emergency equipment such as cell or satellite phones and flashlights.
A car battery jump box. Car batteries can also die in extreme cold. Jumper cables work fine if there's another car available to help start a dead battery. But in remote areas, where this may not be the case, jump boxes are a better choice. Be sure to read the instructions (or ask a mechanic to review the operation) to prevent being stranded in the dark with an unfamiliar piece of high-voltage equipment.
Extra warm clothes. Pack socks, gloves, hats, and boots it is possible to walk in in the snow. A big warm jacked or sleeping bag is also recommended. Chemical hand or foot warmers can help prevent frostbite.
Food and water. Carry water in Nalgene or metal bottles, which won't crack if they freeze. Snacks should be high-energy.
Other survival items: Flashlight, flares or other signaling devices, matches and fire starter.
A car first-aid kit. Pre-packaged first aid kits are available at pharmacies and outdoor supply shops such as E.M.S. or R.E.I.
Finally, as with all adventure travel where there is an element of risk. Make sure someone at home knows as specifically as possible the itinerary and the duration of the trip.