Steve McQueen and the Bullitt Car Mystery
After Filming Completed, The Famous Actor Was Never Able to Find His Iconic Ride, But Someone Else Did
The Bullitt car is one of the most iconic cars of all time.
It was a 1968 Mustang GT fastback that Steve McQueen raced through the streets of San Francisco. The car was McQueen's sidekick in the movie Bullitt (1968) a mystery/thriller that has a 97 percent rating on Rotten Tomatoes, and one of the greatest car chase scenes ever filmed.
In the movie, McQueen plays a police detective named Frank Bullitt. Bullitt is assigned to protect a mafia informant named Johnny Ross, played by Pat Renella. Ross is prepared to testify against his Mob cronies in San Francisco. However, before he can, a pair of hitmen show up at the hideout where Bullitt is keeping Ross. After Ross gets killed in the ambush, Frank Bullitt decides to take justice into his own hands.
It's got all the ingredients of a great hard-boiled action flick.
And the Mustang Steve McQueen drove in the film became the breakout star. It was Highland Green with a rowdy 390-cubic-inch V-8 under the hood. Careening through the narrow hilly streets of San Francisco, it looked like a stray bullet. During takes, McQueen really drove it down residential streets at 110 mph, which reportedly pissed off a lot of the neighbors.
The story of the original Bullitt car became its own mystery thriller over the years.
The filmmakers actually had two Bullitt cars made. The first car was to be used in all of the stunt driving scenes and could be wrecked. The second was known as the "hero car," and was only used for McQueen's close-ups.
The Bullitt Stunt Car Recovery Story
The first part of this winding tale takes us to a junkyard in Baja Mexico.
A body-shop owner named Ralph Garcia who built some of the fastest rides used in the Nicholas Cage film Gone In 60 Seconds, got a call from an associate in Baja. The guy had found a clean '68 Mustang that might be a good candidate for restoration. He wanted Garcia to make it look like the car from Fast and Furious: Tokyo Drift.
Garcia told the guy to bring it by the shop. Imagine his shock and surprise when the long-lost Bullitt car showed up!
It had been painted over numerous times (it was white when Garcia first saw it) but a search of the VIN number proved it was one of the legendary lost Bullitt cars.
A closer inspection of the car's custom suspension system and engine upgrades suggest this was the car used in the film's dramatic jumps and dangerous driving sequences.
Steve McQueen had tried during his lifetime to locate this version of the Bullitt car, but never could, and went to his grave thinking that it had been abandoned to some scrapyard.
A Family Secret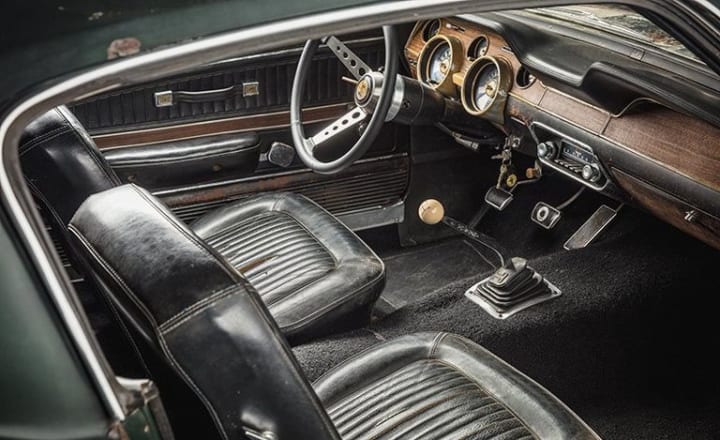 In 1974 a man named Robert in New Jersey purchased a car from a classified ad in Road & Track for $6,000.
He needed a car for his wife, a schoolteacher, to drive to work every day.
Three years later, the man was surprised to get an offer to buy his wife's car, from Steve McQueen.
The screen legend had tracked down his beloved Bullitt "hero" car and wanted it back.
"Thanks, but no thanks," Robert told McQueen.
After putting 65,000 miles on it, the clutch gave out in 1980, and the man put the car in his garage with the idea of getting it fixed one day—he never did. Eventually taking the busted car with him when he moved to Nashville.
Did Robert ever realize what he had? He must have, because he kept the car a secret—even from members of his own family.
When he passed away in 2014, the car was mostly forgotten. However, when Robert's Son, Sean, heard about the film's 50th anniversary coinciding with Ford releasing the 2018 Bullitt, he realized that the car in his Dad's garage deserved to be seen again. Finally, the hero Bullitt car would be revealed.
The Mustang has since been registered by the Library of Congress' National Historic Vehicle Register of significant American automobiles and valued at over five million.
Don't expect it to be on sale anytime soon, though. Sean has no intentions of selling.
In a way, the Steve McQueen Bullitt car already belongs to every gearhead who appreciates style and speed.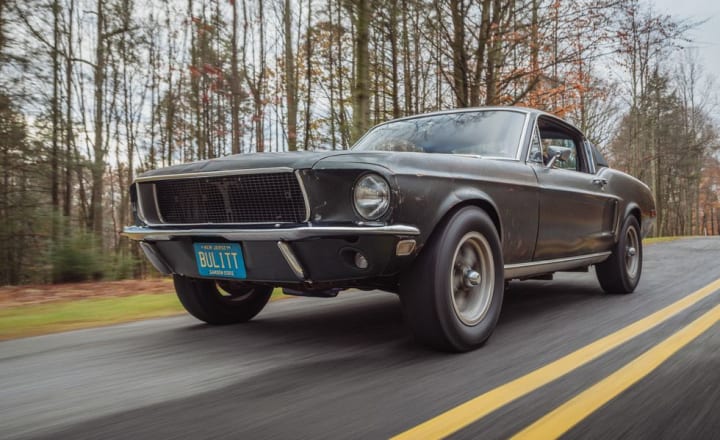 celebrities
Brendan is a former writer for Haute Living and current contributing editor to atHome magazine. He also manages communications for a Southeast-leading architecture and design firm.
Receive stories by Brendan Blowers in

your feed