Nissan GTr
A car called Godzilla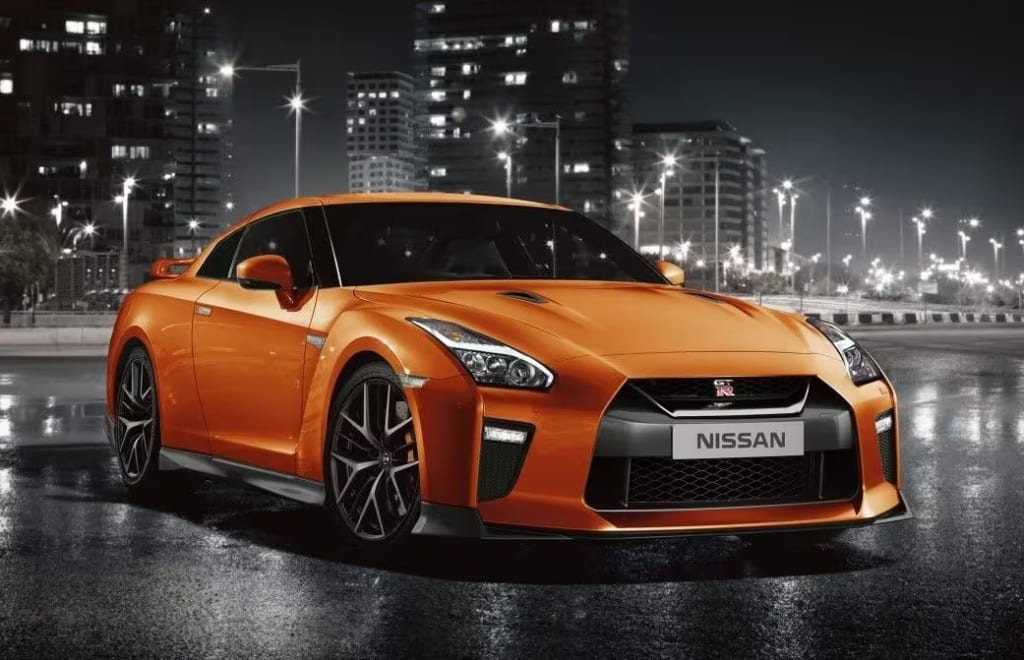 The Nissan GT-R, often referred to as "Godzilla," is a high-performance sports car produced by Nissan. First introduced in 2007, the GT-R quickly gained popularity and became an iconic vehicle in the automotive world. With its distinctive design, advanced technology, and impressive performance capabilities, the Nissan GT-R has cemented its place among the most desirable sports cars in the industry.
One of the most striking features of the Nissan GT-R is its aggressive and aerodynamic design. The car's sharp lines, muscular fenders, and bold stance give it a commanding presence on the road. The GT-R incorporates various aerodynamic elements, such as a rear spoiler and air vents, which not only enhance its visual appeal but also improve its stability and performance at high speeds.
Under the hood, the GT-R boasts a powerful engine that delivers exhilarating performance. The latest generation GT-R is equipped with a 3.8-liter twin-turbocharged V6 engine, producing an impressive output of around 565 horsepower. This engine is paired with a dual-clutch six-speed transmission, enabling lightning-fast gear changes and precise control. The GT-R's all-wheel-drive system ensures excellent traction and allows for impressive acceleration, with 0-60 mph (0-97 km/h) times of around 2.9 seconds.
The GT-R is not just about straight-line speed; it also offers exceptional handling and agility. Its advanced suspension system, coupled with its rigid chassis and responsive steering, allows for precise control and a thrilling driving experience. The car features an electronically controlled system called ATTESA E-TS, which continually adjusts the torque distribution between the front and rear wheels, optimizing traction and cornering performance. The GT-R also comes equipped with a range of electronic aids, including stability control and adjustable suspension settings, allowing drivers to tailor the car's dynamics to their preferences.
Inside the cabin, the Nissan GT-R offers a blend of comfort and sportiness. The interior is well-crafted and driver-focused, with a combination of high-quality materials and advanced technology. The cockpit features a dual-screen layout, with an instrument cluster display and a central touchscreen infotainment system that provides access to various vehicle settings, navigation, and multimedia functions. The GT-R also offers supportive sport seats, wrapped in premium leather, ensuring both comfort and stability during spirited driving.
In terms of safety, the Nissan GT-R is equipped with a comprehensive range of features. It includes advanced airbag systems, anti-lock brakes, traction control, and stability control, all of which work together to enhance occupant safety and vehicle stability. Additionally, the GT-R is equipped with a suite of driver-assistance technologies, such as forward collision warning, lane departure warning, and blind-spot monitoring, further enhancing safety on the road.
Over the years, Nissan has continuously improved and refined the GT-R, introducing updates and special editions to enhance its performance and desirability. The GT-R Nismo, for example, represents the pinnacle of GT-R performance, featuring additional aerodynamic enhancements, a more powerful engine with 600+ horsepower, and a track-tuned suspension for even greater performance on the racetrack.
In conclusion, the Nissan GT-R is an iconic sports car that combines breathtaking performance, advanced technology, and head-turning design. With its powerful engine, precise handling, and luxurious interior, the GT-R offers a thrilling driving experience that is hard to match. Whether on the road or the track, the GT-R continues to captivate enthusiasts around the world and solidify its position as one of the most revered sports cars of its time.
The Nissan GT-R has 1 Petrol Engine on offer. The Petrol engine is 3798 cc . It is available with Automatic transmission.Depending upon the variant and fuel type the GT-R has a mileage of . The GT-R is a 4 seater 6 cylinder car and has length of 4710mm, width of 1895mm and a wheelbase of 270MM.
Thank you for reading my page
One like and subscribe
Reader insights
Be the first to share your insights about this piece.
Add your insights