New Lexus RX: Better than the Germans?
Mid-sized Japanese SUV to see if it has what it takes to compete with premium German competitors like the BMW X5 and Porsche Cayenne.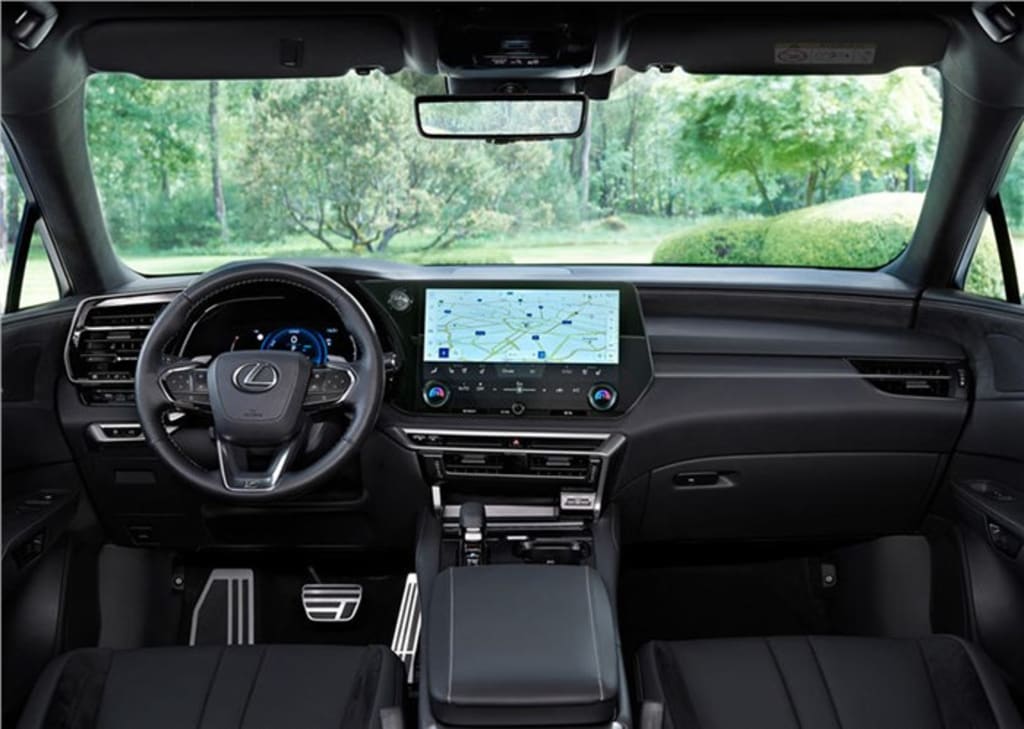 This is the all-new Lexus RX! Mat's got his hands on this mid-sized Japanese SUV to see if it has what it takes to compete with premium German competitors like the BMW X5 and Porsche Cayenne.
Well for starters, it certainly looks the part from the outside. Lexus has followed the latest trend of having the brand's name written on the back of the car, but sadly it's also accompanied by a number of fake vents. Along the side, the car looks pretty impressive, with a number of creases and bits of chrome trim. Then around the front, there may be more fake vents, but the large new grille is striking and impressive.
On the inside, the RX is super stylish. Soft touch materials and leather are found throughout the cabin, and there's a decent amount of practicality to store your items. There's a big infotainment screen in the middle of the dash, which is pretty responsive but the system isn't the best. Similarly, the digital dial system is ok, but there are much better systems out there.
In terms of engine choices, there are two self-charging hybrid options. The entry-level is a 2.5-litre naturally-aspirated petrol engine coupled with two electric motors to deliver 250hp. The alternative is a 2.4-litre turbo petrol coupled with two electric motors to put produce 371hp.
Alternatively, you can choose the plug-in hybrid car we have here. This comes with the same 2.5-litre NA petrol engine as found in the entry-level, and the power output is 309hp.
So the car looks impressive and is made of high-quality materials, but while the entry-level 350h starts from around £60,000, the price can rise to above £80,000 for premium editions of the 450h or 500h!
The Lexus RX is a luxury midsize SUV that has gained a reputation for its comfort, reliability, and refined driving experience. Here is a detailed review of the Lexus RX:
Design: The Lexus RX showcases a distinctive and modern design, characterized by sharp lines, a bold spindle grille, and sleek LED headlights. The exterior design combines elegance with a touch of sportiness, while the interior offers a high level of craftsmanship and attention to detail. The cabin is spacious and well-appointed, featuring high-quality materials and a layout that prioritizes driver comfort and convenience.
Performance: The RX is available with different powertrain options. The standard RX 350 model comes with a 3.5-liter V6 engine, delivering smooth and responsive acceleration. For better fuel efficiency, there's also the RX 450h hybrid model, which combines a V6 engine with an electric motor. The RX offers a comfortable and composed ride, with refined handling and a smooth suspension that absorbs bumps and road imperfections.
Technology: The Lexus RX incorporates a range of advanced technology features. It comes standard with a user-friendly infotainment system, controlled via a touchscreen or a touchpad interface. The system includes smartphone integration, Bluetooth connectivity, and a sound system with multiple speakers. Additionally, the RX offers optional features such as a head-up display, a panoramic view monitor, and a Mark Levinson premium audio system for an enhanced driving experience.
Safety: Lexus prioritizes safety, and the RX comes equipped with an array of standard and available safety features. This includes forward collision warning, automatic emergency braking, adaptive cruise control, lane departure warning, and lane-keeping assist. The RX also earned high safety ratings in independent crash tests, providing peace of mind for occupants.
Comfort and Space: The Lexus RX offers a comfortable and well-insulated cabin. The seats are supportive and offer ample legroom and headroom for both front and rear passengers. The rear seats can be reclined and offer a 40/20/40 split-folding configuration to accommodate different cargo and passenger needs. The RX provides a smooth and quiet ride, minimizing outside noise for a serene driving experience.
Reliability and Ownership Experience: Lexus vehicles, including the RX, have a reputation for reliability and longevity. Lexus owners often appreciate the brand's commitment to customer service and the ownership experience, which includes perks like complimentary scheduled maintenance and access to a vast dealership network.
Overall, the Lexus RX offers a combination of luxury, comfort, and dependability. It excels in providing a smooth and refined driving experience, along with a range of advanced features and a well-appointed interior. However, it's always recommended to test drive the vehicle and assess its specific features to ensure it aligns with your preferences and requirements.
Reader insights
Be the first to share your insights about this piece.
Add your insights