Mclaren
A is known as his speed and shape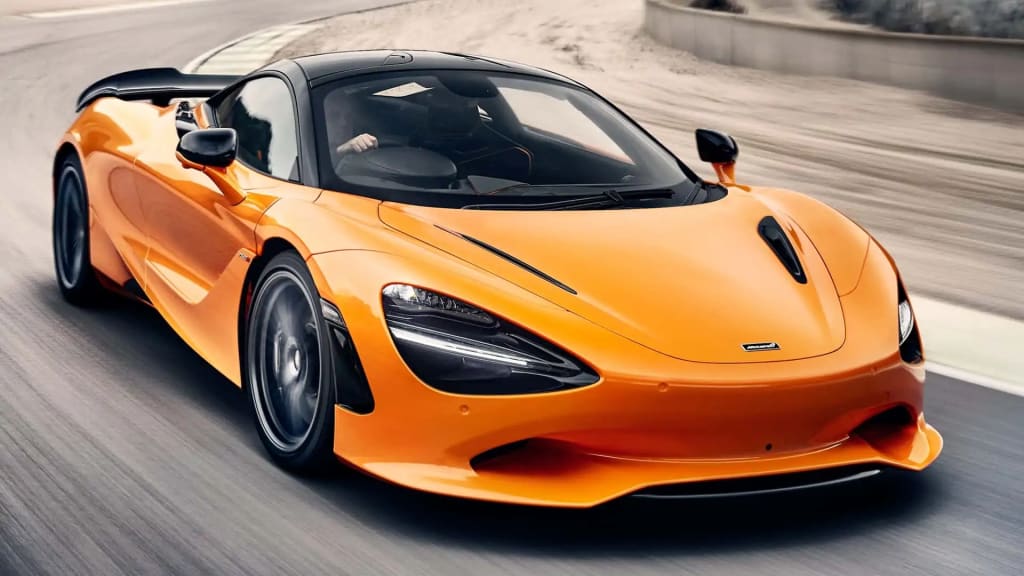 McLaren Automotive, commonly known as McLaren, is a British manufacturer of high-performance sports cars and supercars. Founded in 1963 by New Zealand racing driver Bruce McLaren, the company has a rich history in motorsport and is renowned for its engineering prowess and innovative designs. McLaren cars are synonymous with speed, precision, and cutting-edge technology, making them highly sought after by automotive enthusiasts around the world.
McLaren's road car division, McLaren Automotive, was established in 2010 and has since produced a remarkable lineup of vehicles that push the boundaries of automotive performance. The company's dedication to excellence and its expertise gained from Formula 1 racing have played a significant role in the development of its road cars.
One of McLaren's flagship models is the McLaren 720S. Launched in 2017, the 720S is a mid-engine supercar that epitomizes McLaren's commitment to innovation. It features a lightweight carbon fiber chassis, advanced aerodynamics, and a powerful 4.0-liter twin-turbocharged V8 engine, capable of producing over 700 horsepower. The 720S boasts exceptional acceleration and can go from 0 to 60 mph in just 2.8 seconds, with a top speed of 212 mph. Its striking design, with dihedral doors and sleek lines, further enhances its appeal.
In addition to the 720S, McLaren offers a range of models catering to different preferences and driving experiences. The Sports Series includes the 570S, 570GT, and 600LT, which are designed for everyday usability while still delivering thrilling performance. The Super Series, represented by the 720S, offers a more focused driving experience and track-oriented performance. Lastly, the Ultimate Series showcases McLaren's most extreme creations, such as the P1 hybrid hypercar and the Senna, a track-focused masterpiece.
What sets McLaren apart from its competitors is its relentless pursuit of lightweight construction and aerodynamic efficiency. The extensive use of carbon fiber and other lightweight materials helps reduce the overall weight of their cars, enhancing agility and performance. McLaren's expertise in aerodynamics ensures that their vehicles generate optimal downforce, providing stability and grip at high speeds.
McLaren also places great importance on driver engagement and ergonomics. The cabin of a McLaren is designed to create an immersive driving experience, with a focus on placing the driver at the center of the action. The interior features premium materials, state-of-the-art technology, and intuitive controls, ensuring a comfortable and connected driving environment.
Beyond their road cars, McLaren continues to dominate the world of motorsport. The McLaren Formula 1 team has a storied history, having won multiple championships and forged partnerships with legendary drivers such as Ayrton Senna and Lewis Hamilton. The knowledge and expertise gained from competing in Formula 1 directly influence the development of McLaren's road cars, allowing the company to transfer racing technologies to the road and create exceptional driving machines.
In recent years, McLaren has also ventured into the realm of hybrid powertrains, combining electric motors with internal combustion engines to improve performance and efficiency. The McLaren Artura, introduced in 2021, is the brand's first series-production hybrid supercar, featuring a twin-turbocharged V6 engine coupled with an electric motor. This hybrid powertrain not only delivers exhilarating performance but also provides electric-only driving capability for short distances, reducing emissions and fuel consumption.
McLaren's commitment to sustainability extends beyond hybrid technology. The company has implemented various initiatives to reduce its environmental impact, including the use of sustainable materials in its cars and manufacturing processes. McLaren's carbon fiber production facility, the McLaren Composites Technology Centre, utilizes renewable energy sources and employs recycling techniques to minimize waste.
In conclusion, McLaren is a revered British automotive manufacturer known for its high
Thank you for reading my page
One like and subscribe
Reader insights
Be the first to share your insights about this piece.
Add your insights