Getting into Formula One
Seven-year-old's dream of becoming a Formula One driver defies odds in pursuit of goal.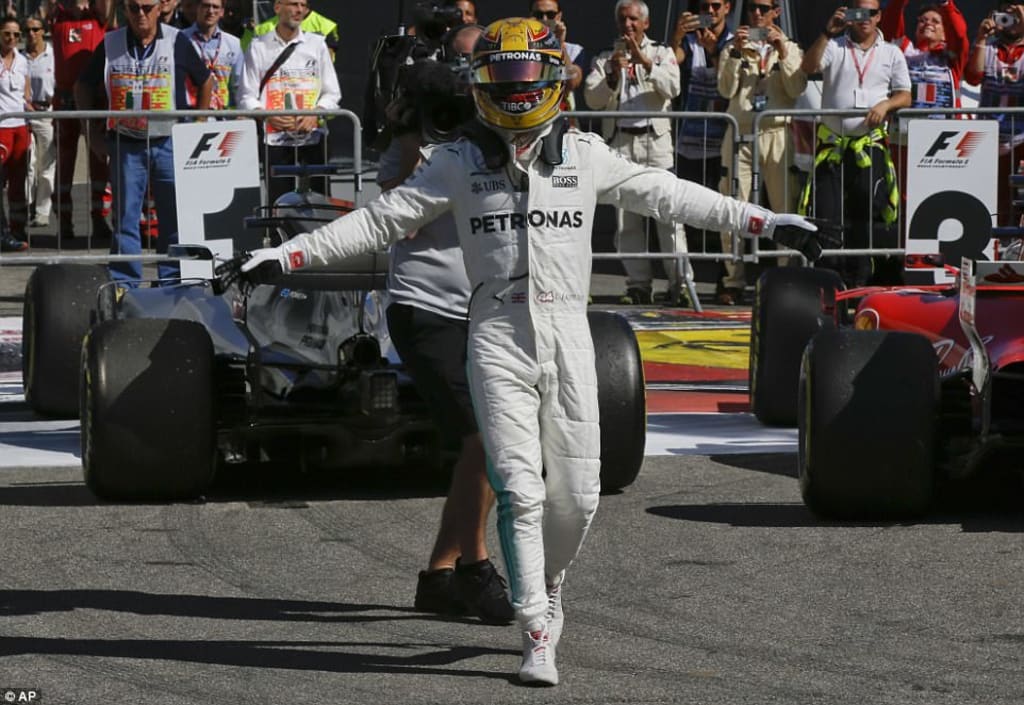 An ambitious seven-year-old boy becomes a mechanic in order to gain vital knowledge in pursuit oh his dream of being a Formula One driver. He has a difficult life—as he is misunderstood and somewhat neglected by his family. He befriends an outcast (refugee) whilst spending a lot of time in his room studying and embarks on adventures on his journey to achieving the ultimate goal. Despite living through such disappointments as being expelled from a formula one garage (being falsely accused of leaking information to a competitor's spy) he finds the inner strength to overcome all predicaments, defying all odds whilst re-inventing himself in the process. George is very determined to achieve success in F1; however, his hot headed personality and his stubborn character provoke many setbacks on his road to success.
The Boy Wonder (Part One)
Seven-year-old boy named George with brown hair and hazel eyes is seen basking in the sun on the balcony of his house. He remembers the previous day how he was bullied in school (recalling two of the more popular boys accompanied by a girl—insulting him verbally, by calling him a nerd then handing out a photograph of him in the canteen wearing a sweater with a stain). Then he recalls how the chief bully (Tom) deliberately throws a meat ball with ketchup sauce at him while immediately capturing the moment on his phone and sending the image to all his classmates with a tag reading: Red-stained nerd with ridiculing smiley faces. George feels hurt and isolated, as he is still struggling to come to terms with how such one incident (which wasn't his fault) has the power to define the first year of his primary school life, yet his robust character, inner belief, and motivation make him feel excited about his life. Afterwards George is seen walking back in his room, sitting at his desk, and just as he begins to complete his journal, he sees a quote from a writer which reads: "You cannot beat the person who never gives up." That really spurns him on and encourages him to apply for a mechanics course, as his big dream is to one day become a Formula One racer. With that in mind, the boy chooses to enroll on a Hydraulics Power Engineering course, so he can gain competitive advantage and gain vital knowledge in the early stages of his development.
George is seen fully immersed studying (reading a topic on turbo-power engines and aerodynamics), when his best and only friend Rafa (Senegalese boy), a refugee in Canada, rings the door bell continuously with great persistence. George eventually stops reading and goes downstairs to answer the door. Even though he appears seemingly annoyed, he is pleasantly surprised to see his friend standing at the door and greets him warmly—inviting him to come in and to sit on the couch. Then he asks him to choose what to drink. He offers him the choice of organic banana milk shake, strawberry flavored ice latte or a glass of water. Rafa opts for the banana milk shake whilst licking his lips and rubbing his hands in delight at the prospect, as he is quite thirsty and really loves banana flavored liquids, especially organic milkshakes which are quite healthy for the body. Just as George is about to serve the banana milkshake, he falls down on the floor—spilling the drink all over Rafa and begins to roll on the floor rather alarmingly. His friend is quite distressed, and he is doing his best to calm George down, but he is unable to do so. Rafa grows increasingly worried and has to resort to looking at his friend's phone contact list in order to contact George's mum Amy, as he is unable to deal with the situation. Just as he starts dialing her number... George gets up and writes on a piece of paper he finds on the table the following words: "Don't call my mother! This is an anxiety attack and it will be over in a minute." Then he sits on the couch until normality is restored and he becomes his own self again. After the situation is diffused, Rafa breaths big sigh of relief and embraces his friend as a sign of support. Then George tells Rafa that he has been fighting the condition since he was five, after his father left the house and never came back.
He explains that the reason for the attack is that he failed to take his medication that day as he was too busy studying for an open day with a motor sport Formula One team which was holding open day interviews (entitled Young bright minds) the following day. George also tells Rafa that even though the competition entry is for ten-year-olds and above, he believes in himself and wanted to study hard so he can impress the jury and win a place in the full-year apprenticeship with senior mechanics and team personnel.
*Rafa becomes a sports psychologist and a dietician so he can help his friend's quest in becoming an F1 driver, supporting him in going up through the ranks of the sport whilst being with him through thick and thin.
*George is awarded a place in the apprenticeship program with the F1 team despite being three years younger as he impresses the jury with his vast knowledge, understanding, and enthusiasm for mechanics and engineering
* George's one year apprenticeship goes well and he is later invited to become a junior chief mechanic in the team's factory having applied himself consistently during the term / Rafa (who is two years his senior) completes a sports psychology course the same year, and he sets his sights on becoming a dietician the following year
* Twelve months into his new role with the F1 team, George is falsely accused of leaking metrics data to a spy from another F1 outfit, amid rumors that George is a genius that could propel his employers to unprecedented success in the sport: He is set up by a rival team as the end goal is to undermine George's credentials, to taint his loyalty and to get him dismissed from his current team so he can be snapped up later in his career by the same conspirators.
The Boy Wonder (Part Two)
The cunning plot leaves the boy disheartened and deeply disillusioned as he lives out his frustration by developing depression, experiencing panic attacks once again (having cured and overcome the condition two years earlier) and indulging in a relationship with a woman (George is now 15 years old) whom he meets at a party. The sassy companion hides that she is a heroine addict and slips opiate in George's cocktail while he is in the restroom. Upon his return, he downs the glass and immediately experiences a panic attack as the opiate substance triggers his condition. Not only that, but he also becomes dependent on the methadone based opiate powder. His mother berates him for being fired and his depression quickly turns into dependency as he begins to sell all his furniture and valued possessions to drug dealers, as he is unable to continue with his life. After a big row with his mother, he becomes homeless and the only person that can help him is Rafa, whom George has totally ignored in the last couple of months during the course of the destructive relationship with Claudia (the woman he meets at a party). The two friends—having exchanged verbal spats during George's drunken rage, as he tells Rafa to "Go away, leave him alone and to never contact him again" as he hasn't got the right to tell him what to do or how to live his own life. Even though Rafa is left bewildered, he follows George a couple of times and quickly finds out what he is up to and who had caused his recent travails.
When George is seen roaming the streets hopelessly without any idea what he is going to do next, his friend (Rafa) finds him during another terrible panic attack, and he takes him in his house. Even though Rafa is of modest means, he helps his friend to sign up on a full 12 weeks drug rehabilitation program while taking care of him the whole time, attending to his needs and being next to him in the hardest of times—during the final two weeks of abstinence, which leads to George being completely free of his dependency and sees him overcoming his panic attack for the second time in his life. He is now 16 years old.
The two friends decide to book a holiday so they can forget about George's recent struggles and to re-start their lives in a positive frame of mind. Thanks to Rafa's savings who he has collected many years, they fly to the Maldives for a couple of weeks. Once they land and come out of the plane, both are taken aback by the splendor, beauty, and raw surroundings they are so keen to explore and enjoy during their two weeks break. They move in the hotel and once they settle in their rooms, they immediately head to the ocean to sample the water and check out all activities this wonderful resort has in store for them. Over the next few days, George and Rafa really enjoy themselves as they are seen scuba-diving, wind surfing, and jet-skiing whilst chatting to the locals with great enthusiasm as both look incredibly refreshed and re-invigorated. Both George and Rafa meet attractive young women who they befriend and begin to spend time with. One evening, when the two friends are out dining with their newly found companions, George is about to start eating his main course when he spots a man in his mid-forties holding the hand of a much younger woman who is in her mid-twenties. Rafa instantly notices the shock on his friend's face and asks him if everything is okay. George looks utterly astounded and he doesn't feel comfortable enough to open up in front of the two girls, however, Rafa is growing very curious and he excuses himself and his friend from the table for a minute. Both women look rather perplexed at what's happening but remain calm. Once George and Rafa are at a distance, George tells his friend that the man he had just seen is his own father who left him when he was five years old. Rafa is immediately concerned about his friend's emotional well-being and state of mind as he clearly understands that this episode in George's early childhood became a prerequisite for his emotional imbalance which later resulted in him experiencing panic attacks. George feels quite confused due to the mixed emotions he is feeling. One the one hand he is happy to see his long lost father and on the other hand he is angry with him for leaving him and his mum.
Rafa advises George to leave things as they are and not risk inflicting more damage to what already is a non-existent relationship but George is adamant he needs to confront him for not ever trying to get back in touch. He charges up to the table where his father is sitting, apologizes for interrupting their evening and boldly reveals his identity by saying: "Can you not recognize me? Do you know who I am?" To which his father replies: "I am sorry to be rude, but I have no idea." George replies with a trembling voice: "It's me, George, the son you left when I was five and never cared enough to call me, write a letter, or ask how I was all these years." His father pauses for a second, exhales deeply and says the following: "I tried to contact you but you were never aware. Your mother must have hidden or destroyed the letters I sent you and after I received no reply from you after the second birthday card, I gave up. I thought you didn't want to do anything with me." George is taking a few seconds to think and to process the information his father had just given him as he remembers seeing a squashed birthday card next to the kitchen bin when he was seven years old. Just as he was going to pick it up, his mother snatched it from his hand and told him that it wasn't for him. At the time he thought it might be from his father, but his mom's reaction dashed any lingering hope he had. She only did it to protect him as his father had accumulated a lot of debt due to his self-destructive gambling habits which threatened to ruin their livelihood and certainly put an end to their relationship as she asked him to leave for their own good. Now that his father openly admits and opens up about the reason he left George and his mum, the teenager is far more understanding, and he is really pleased that they had crossed paths. George's father (Ian) gets up and warmly embraces his son. George sheds a few tears and apologizes for being upset and impatient with him at the start of the conversation. His dad then introduces the young lady (Lauren) who sits next to him and explains that she is George's sister who is about to get married at the resort in two days time. George's life is about to become even better as he is completely thrilled about discovering that he has such close family. Rafa taps George on the shoulder while he gives him time to catch up with his new found family while he gets back to his table so he can keep company of the girls who are with them. George briefly rejoins them and explains what had happened as they completely understand the situation and are happy to let him spend the rest of the evening with his dad and his sister Lauren. After spending the rest of the night talking, reminiscing, and sharing each other's life stories, the three retreat back to their hotel rooms as Rafa and the other two girls have all gone to bed by that time. Over the next couple of days Ian, George, Rafa, Lauren, Betty and Gill are seen playing cards, exploring the sandy beaches and playing volleyball. Then they are all together at the wedding ceremony as Lauren and her now husband receive congratulations and set off in the far distance to enjoy their honeymoon together.
Ian exchanges a few words with his son as he now has to leave the resort and gives him some money to last him a few weeks. They swap numbers and promise to stay in touch with one another. At this point, Rafa and George only have two days left of their stay and they now sit down and think about what they are going to do next when they go back to Canada. They are seen contemplating different career moves and discussing opportunities as the following day they spend time with the two ladies (Betty and Gill) and they invite them to join them in Canada or visit at a day's notice. Then they thank them for their company during their stay; say their goodbyes and are next seen as their plane lands in Ontario (Canada).
Rafa wants to continue his online nutritionist advice business but the dream for George remains the same: working in F1—earning a chance to become a driver. Luckily, he spots a job advert in a newspaper. The F1 circuit based in Canada is looking for a steward. He applies for the position and he is instantly invited for an interview which is about take place in Ontario at Mosport Park in Bowmanville. He is really excited about the chance to work at the circuit. The interview goes well and George is officially back in motorsport albeit as a steward. On his first day on the job, he is moving work cars and assisting with preparation as the circuit hosts a number of racing events.
*Rafa asks George if he can put in a good word for him as he really needs a full-time job. The Canadian Grand Prix is about to come to town and there is demand for more stewards as George succeeds in drafting in Rafa just for the Grand Prix weekend.
*George happens to steady a sign post during Friday's free practice session right next to the motor home of a top F1 team. He overhears noise as there is competition on the virtual simulator. He is called by one of the mechanics as he looks quite youthful and somebody who might want to take part. The mechanic asks George if he wants to get involved in a virtual race for the fastest lap with a very well known F1 driver who to the surprise and wonder on George's face happens to be a two-time world champion. George is not the only one wanting to beat the world champion as his time will be measured against four (fans) contestants.
The first three all have their turns however they are all ousted by the F1 driver. George is quietly looking forward to the challenge. He is given one lap to warm up and then jumps straight to the head to head one lap race. To the amazement of all onlookers and the World Champion himself, George shows incredible speed on the simulator and crosses the line seven seconds ahead of his opponent. Everyone in the motor home are amazed by the outcome as they would not normally expect somebody with no experience at all to adapt so quickly to the mechanical settings and variables of driving using a simulator which really is the closest thing to driving an actual formula one car.
After the virtual race, the F1 driver immediately congratulates George and shakes his hand with respect. Then the young drivers' talent director approaches George and asks him if he had ever used an F1 simulator before, as the teenager responds with a simple: "No." Then William decides to measure George's hand reaction speed using the team's high tech lab for that purpose. Upon conclusion of the four minute test, the talent director is utterly stunned by the high level of concentration and unbelievable hand reaction speed George demonstrates in front of him. He is in awe of the young man and invites him for contract talks the following day at 8:45 AM. George is full of joy and quickly calls his friend Rafa to deliver the good news to him. Once they find each other coming from different sections of the circuit, George tells Rafa everything that had happened that day on their way home! Rafa is totally thrilled and really happy for his friend. George is really excited about his meeting with the talent director the following morning and asks Rafa for advice. He wants him to come along in case he needs a bit of help depending on how the conversation goes. Rafa is happy to be there and suggests that he appears as George's representative should the F1 team offer his friend a position as a driver.