Formula 1 Testing Preview
Testing is complete. Where do the teams stand?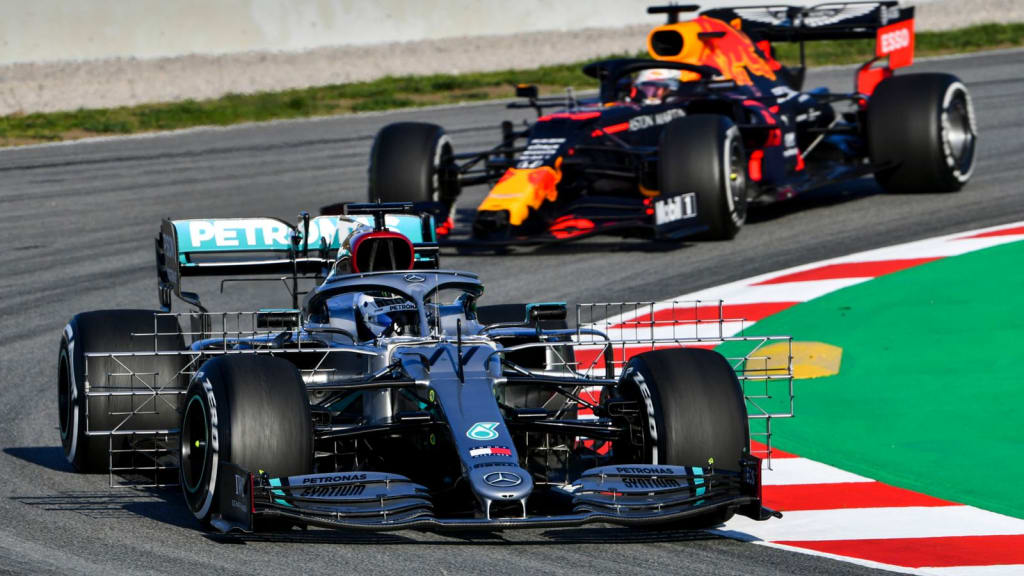 Sign of things to come? Red Bull stalking the Mercedes. https://e2.365dm.com/20/02/1600x900/skysports-mercedes-red-bull_4924303.jpg
2020 testing is now complete. The teams will have learned a lot about the cars, some good and I'm sure some bad. After the race for development across the winter, new bodywork panels will have been created, engines will have improved in performance and teams will have looked for loopholes in the regulations to exploit... Mercedes.
As seems to be the norm in F1 these days, Mercedes led the way throughout testing in terms of lap count and outright pace. More of a talking point though is what on earth is DAS. Mercedes new party trick Dual Axle Steering caught the rest of the teams by surprise on Day 2 when they started noticing something strange happening on the Mercedes when watching the onboard cameras. From what I can work out, when on the straights the drivers pull the steering wheel towards them which alters the toe angle (the angle the front tyres are pointing inwards or outwards). There is lots of theories on what this will do. It appears to reduce the tyre contact patch which perhaps reduces the rate of tyre wear. Another potential is the aerodynamics of the tyre will change, reducing tyre drag and perhaps routing air differently across the bargeboards and further back to improve top speed on the straights. Perhaps more the question to ask is how long will it be before we see the system appearing on other teams cars?
Other than that, I think the standout from testing had been Racing Point, or Copy Point as McLaren boss Zak Brown referred to them as. When the Racing Point was unveiled to the paddock on the first day of testing it wasn't difficult to see where the inspiration for the cars design has come from. However, I'd say the other teams can moan as much as they want, having a design inspired by another team is what Formula 1 teams have done for years, Mercedes had the fastest car last year so why wouldn't you copy it? I think looking at the longer term of it as well, when Racing Point become Aston Martin next year, it will be great to have the name of a prestigious car company towards the front of the F1 grid.

Valtteri Bottas' time of a 1:15.732, over half a second quicker than Mercedes managed in testing in 2019 I think underlines that we can expect Mercedes to be far clear of the rest of the field again, at least for the first few races of the season. Of course, there's the chance that Red Bull and Ferrari have been 'sandbagging' their true pace but then so would have Mercedes, there's no doubt in my mind that car could have gone even quicker if they wanted to. Perhaps one chink in the armour of Mercedes is the unusually high number of issues they have had with their engines, both for the works team and the customer Williams team. I have no idea what is causing the issue, the Mercedes stoppage was apparently oil pressure related, but I imagine it will be a quick fix.
Having already eluded to the Racing Point, the midfield pack is going to be ever closer this year. Racing Point will no doubt be quicker and more consistent throughout the season (their fastest time of the test coming on only the C3 tyre!), and Renault appear to have found more pace in their car. These are things which will be causing headaches for the McLaren team after a solid 2019 campaign. The battle for fourth will be a hotly contested one. I've read people say they could be challenging the top 3, however I feel there will still be a distinct difference between the Mercedes, Red Bull and Ferrari and the rest.
Of course, it's always notoriously difficult to make predictions based on testing, there are just so many unknowns. I was pleased to see how much progress Williams appear to have made. They had a far greater testing period compared to last year when their car wasn't even ready at the start of testing. A reasonably good fastest time and a good number of laps completed should hopefully have confirmed the progression they would have been hoping for through the design process of this year's car. Hopefully when it comes to Australia, we will no longer see them lapping seconds off the pace of the rest of the field.
AlphaTauri, Alfa Romeo and Haas. I think it's difficult to say where they are in the pecking order. To me they all had a relatively quiet testing period, perhaps intentional. AlphaTauri and Haas both set their fastest time on the C4 tyres so there's some natural progression in lap time there with the softer C5 tyre fitted, could that mean Alfa Romeo will be this season's back markers? I don't think so. My prediction for the constructor's championship as follows:
1. Mercedes
2. Ferrari
3. Red Bull
4. Racing Point
5. Renault
6. McLaren
7. AlphaTauri
8. Alfa Romeo
9. Williams
10. Haas
I think Mercedes are clear, Hamilton will get his record equalling seventh Drivers Championship. I think initially Red Bull will be ahead of Ferrari, but a combination of development and a stronger driving pairing will see them finish ahead of Red Bull by the end of the season. Racing Point or Mercedes 2.0 will be fourth. Perez is a very consistent driver and although Stroll gets some bad press, I think on his day he can be a quick driver. Give them both what appears to be a very quick car and I can see them moving a lot further forward than they have been in recent seasons.
Renault and McLaren I think will be the closest team battle across the grid. The difficulty is I really like the driver pairings each team have, and it would be a shame if McLaren do fall back after the strong performance of 2019. But the fact is Formula 1 is a ruthless business and nothing is set in stone.
The remaining four teams are the smaller teams of the field. AlphaTauri (or Toro Rosso) always seem to be there or thereabouts, picking up the odd point here and there and I see no reason for that to change this season. Alfa Romeo, Williams and Haas, based on testing (and perhaps my hope for Williams to be more competitive) will be close fought, to be honest I have no idea how it will pan out. Let's see how close or not I am in my predictions come the end of the season at Abu Dhabi on the 29th November. But let's not worry about that just yet, we have a whole new season ahead of us.
With just two weeks until the first race of the season it won't be long until we get the full picture of where the teams and drivers are at. Until then Drive To Survive Season 2 is out - give that a watch!