Essential Tools Every Mechanic Needs
Whether you enjoy changing oil or really want to go for the pros, these are the tools every mechanic needs to have in their arsenal.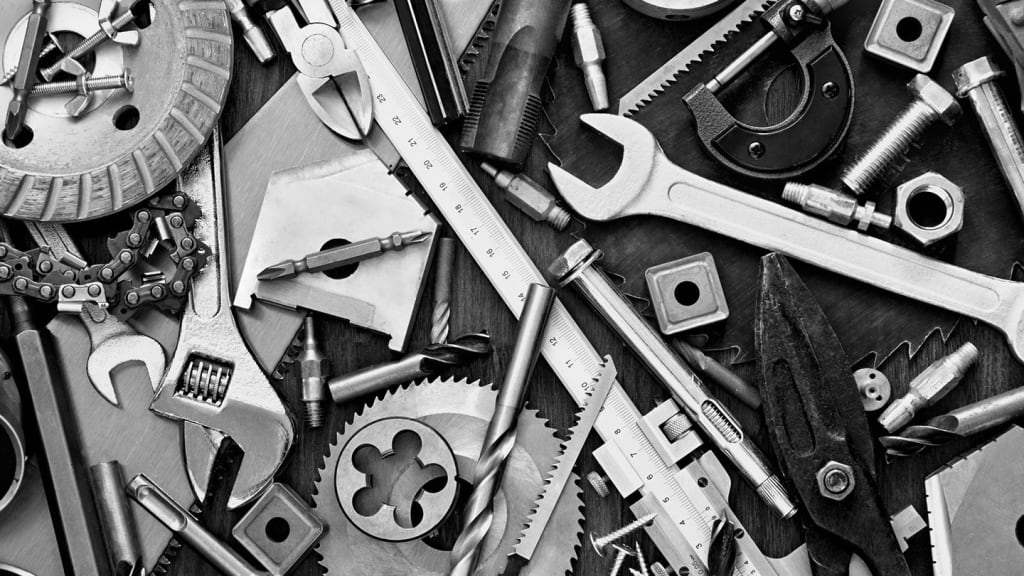 My last boyfriend was a mechanic and boy, did he teach me a lot about his work! He was a man who loved working with his hands, but also respected the importance of tools. Though not a tool-crazed person by any means, he had a huge collection of all different kinds of gear.
As he explained it to me, there are certain tools every mechanic needs if they want to be able to do the basics. If you're looking to break into the automotive field, you will need to have a very basic kit in order to start working.
When we dated, I've seen breaker bars, wrench sets, socket sets, and just about all the nuts and bolts a human being could have. That's just the reality of chilling out in a shop for so long.
My ex taught me a lot about auto work as a career, and I learned to respect mechanics quite a bit. Speaking as someone who learned to change their own oil, these are the most important tools to snap up before you hit up trade schools...
If you can't afford a Craftsman set, but you still need some gear for all the bolts, bells, and whistles that a car's interior has, the Stanley 150-Piece Mechanic Tool Set is a great choice. This has all the tools every mechanic needs in order to do most basic jobs.
Whether it's just loosening a bolt so you can change the battery, or doing a little tweaking during a sound system installation, this is a toolkit that will give you enough gear to get the job done. All the tools are ergonomically designed and are made with steel—so they'll last for quite a long time.
True story—I drive a sports car and have worked on mine before. The funny thing about a lot of the most reliable sports cars out there is that most people don't realize how many of them are designed to be pulled apart.
A pry kit allows you to remove the dashboard and tinker inside your car. For those who love doing cheap car mods on their own, these are pretty epic tools every mechanic needs to get their hands on.
If you are doing electrical work on your car, then you will need to test the circuits in order to ensure it'll drive by the time you're done working on it. Analog circuit testers, which are standard among mechanics, can damage more sensitive computer systems.
To keep thing on the safe side, you're better off sticking with one of the more modern tools every mechanic doing electrical work needs: a computer-safe circuit tester.
As anyone who's ever popped the hood under a car knows, there's a lot of electrical wiring inside a car. If you want to be able to install your own sound system or try to fix that one headlight that goes out every time you turn left, you'll need a wire stripper and cutter.
Even if you are a lightweight in the automotive world, this is one of the smarter tools every mechanic should have on them. It's amazing what this thing can do, even if you're new to doing DIY car mods.
Have you ever wondered how mechanics manage to figure out what that awful "Check Engine" light means? At times, they don't even need to check the hood. It's one of these handheld car diagnostic scanners that does the trick.
In a car shop, using one of these things will take about 5 seconds and cost you $50. Even if you're not a full gearhead, this is one of the money-saving tools every mechanic needs—and every driver should have.
Just about every single shadetree mechanic out there knows what this is and has used one at least once. This is a car jack, and if you don't have a hydraulic lift that can allow you to work standing underneath a car, it's going to be what gets the job done.
The Black Bull car jack is capable of hoisting your car up enough to change a tire, switch out rims, or change oil. Car jacks are tools every mechanic needs to own, and if you're a long-distance driver, they are also essential for your roadside kit.
Most people don't realize how dark it can get under the hood, or underneath a car. That's why a simple but brightly-glowing LED flashlight is one of the most common tools every mechanic needs in their shop.
The Rayovac LED Flashlight is bright, long-lasting, and also requires very little energy. It's easy to strap to a collar, and even easier to use to show clients where their mechanical problem lies.
Drills are way more common in cars than most people would believe, which is why you can always make a mechanic happy by getting them new drill bits. The DeWalt Maxfit Driving Bit Set has all the standard drill bits for both professional and amateur mechanics.
Though this might be a shocker to those who've never peeped under the hood, drill bit kits like these are tools every mechanic needs. If you don't believe it, ask a mechanic.
Torque wrenches are one of those tools that most people will not know anything about. However, in automotive repair, they are absolutely vital. Torque wrenches are used to apply a specific amount of torque to nuts and bolts.
Most commonly, they're used in lug nuts like the ones found on your wheel. Since they are that precise, torque wrenches rank highly as tools every mechanic needs in their box.
Finally, this is one of the most overlooked tools every mechanic needs in their shop—even if they just do oil changes. Things get incredibly messy in any shop, and at times, spills can happen on the engine. When this happens, rags and paper cloths are what will save the day.
Oh, and speaking as a mechanic's ex, any mechanics who have girlfriends should also use these before they hug their partners. Oil stains are hard to remove from clothes.
About the Creator
Socialite and dating guru Mackenzie Kennedy knows all about the inner workings of people and society as a whole. It's not only her lifestyle - it's her passion. She lives in Hoboken with her pet dogs, Cassie and Callie.
Reader insights
Be the first to share your insights about this piece.
Add your insights