Best Diesel Motorcycles That Actually Work
Diesel motorcycles have a bad rep, but these bikes would make most people change their minds.
Everyone's been hearing about ethanol blends and gas boosters in racing—but not much about diesel these days. Diesel cars and motorcycles have been falling out of public favor for a while. With motorcycles, though, diesel was a trend that never was.
It's strange, because diesel tends to give better fuel economy and could potentially mean better durability. But the issue is, engineering diesel engines that give good power for their size can be tough. In fact, that's part of the reason why diesel motorcycles are so rare.
Though it is rare to see them, there have been some seriously impressive diesel motorcycles that have been designed and sold in recent years. Here are some of the hottest designs in the circuit, and why riders would love to have them.
The Royal Enfield Taurus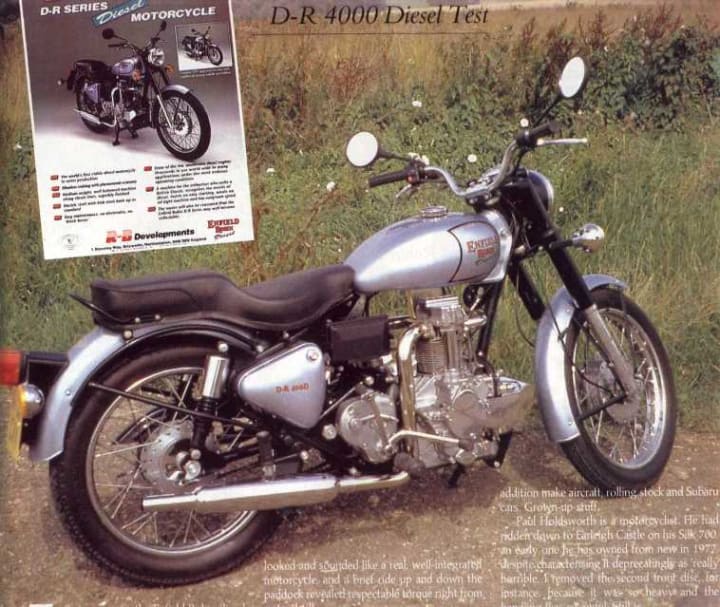 The Royal Enfield Taurus has become one of the biggest names among diesel motorcycles, and for good reason. Ever since 1993, Royal Enfield has been the company that put viable diesel motorcycles on the map with its lightweight Taurus line.
The Taurus became a cult fan favorite and was regularly spotted throughout the streets of Europe. However, Royal Enfield discontinued the line. So, if you want to get one of these, you will probably need to go to a special vintage car and bike dealer.
The Hayes M1030 Military Motorcycle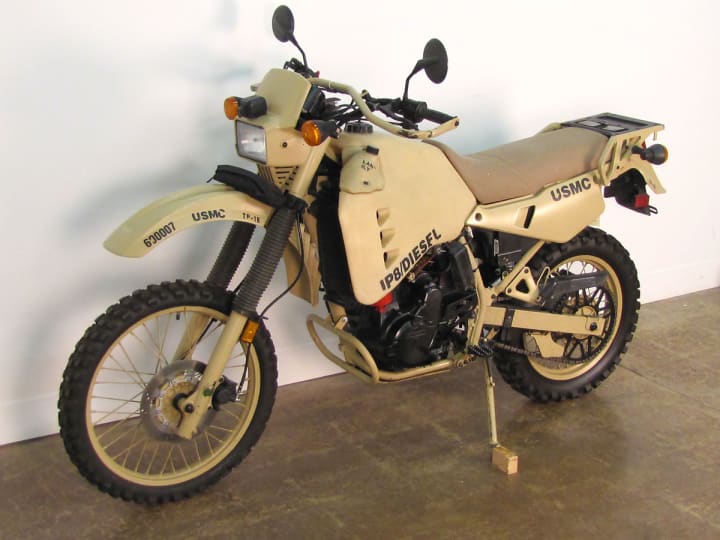 If you've ever wanted to feel like you're riding gear that feels like it just rolled out of a classic war movie, you'll love the M1030 Military Motorcycle. This is one of the best diesel motorcycles of its kinds, thanks to the military-grade engineering involved in its creation.
In many ways, the Hayes M1030 is the "Hummer" of diesel motorcyles, primarily because it was originally made for military groups around the world. However, its high powered motor and light design made it a hit with biker crowd—and then it became released as a civilian bike, too.
The M1030 is a great commuter bike thanks to its rugged design and its motorcycle commuter bag-friendly body. Overall, it's not bad for $18,000...if you have that kind of cash on hand.
The Sommer 462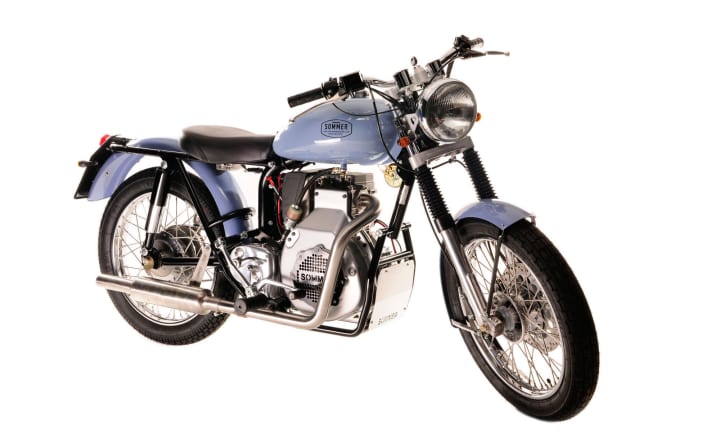 German engineering and a beautifully light, retro build makes the Sommer 462 a distinctive member of the diesel motorcycles club—and a favorite among luxury bike fans everywhere.
Admittedly, the Sommer 462 isn't as fast as other bikes on the market. With a maximum speed of 65 miles per hour, there are definitely faster bikes you could buy. However, while it's not a racing bike by any means, it's still stylish and functional enough to make a commute feel luxe.
The Hero MotoCorp RNT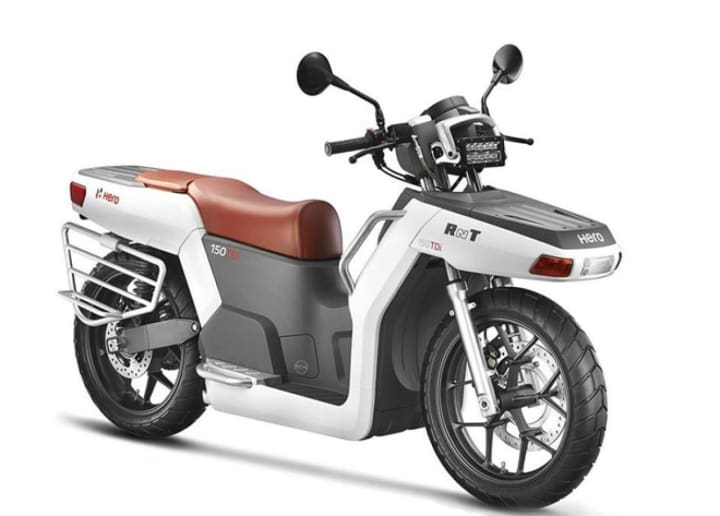 Admittedly, the Hero MotoCorp RNT isn't as pretty as other diesel bikes, it definitely has enough pep to put most of them to shame. The MotoCorp RNT is a great pick for trail riding thanks to its 13.5 horsepower—and possibly thanks to its unique hybrid build.
If you're looking for a one-of-a-kind electric-diesel bike hybrid, the RNT will definitely be worth a look-see. That being said, these are pretty hard to find, so you may need to search for a while before you get it.
The Track T800CDI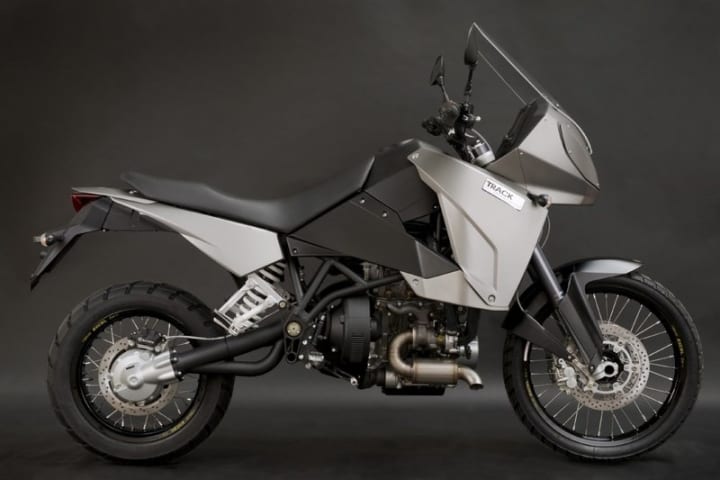 Diesel motorcycles are known for not having much power, which is why the Track T800CDI is such a unique find. With a 0-60 speed of around 4 seconds and a turbocharged three-cylinder motor, the T800CDI has all the look and feel of a standard motorcycle.
However, only 50 of these models were ever sold and production came to a close in 2012. Tracking one down can be a serious trek, and if you find one, you might find it cheaper to just opt for a Harley, instead.
The Neander Turbo Diesel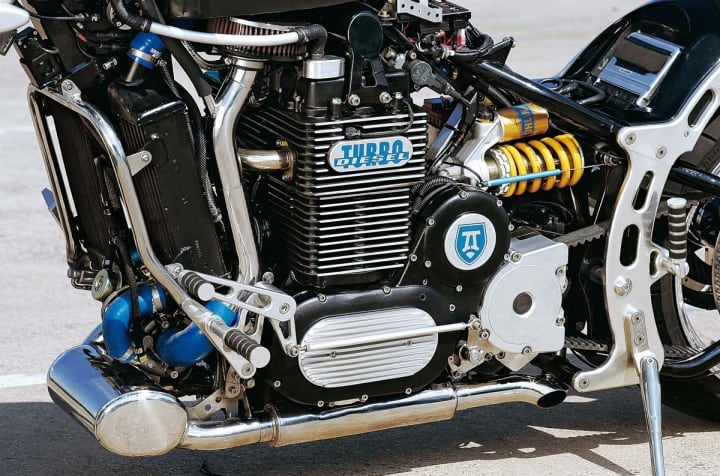 This bulky-looking beast is the Neander Turbo Diesel, one of the most solidly-built diesel motorcycles out on the market. Its massive engine packs a very impressive 112 horsepower, and can break 60 miles per hour within 4.5 seconds.
If you're looking for a performance bike that's capable of holding its own, this is a great pick. However, beginners would be wise to check out a more beginner-friendly motorcycle to start with.
Lastly, you'll also need over $120,000 to buy one of these babies, because performance doesn't come cheap.
The Star Twin Thunder Star 1200 TDI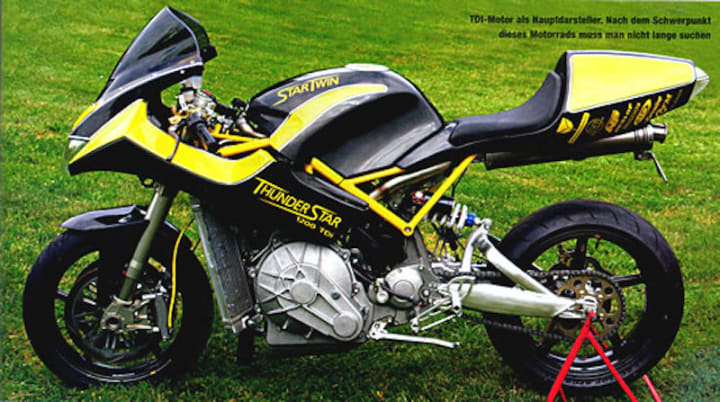 Star Twin currently has the title of the maker of the best diesel motorcycles of all time, with their Thunder Star 1200 TDI being their crowning achievement.
Over 180 horsepower and an engine similar to a Volkswagen Lupo makes this a superbly high-performance bike. Truth be told, most riders would never guess that it's a diesel bike because of how powerful it is.
That being said, the Thunder Star is proof that diesel motorcycles don't have to suck. It's style, power, and speed, all rolled into one futuristic package.
motorsports
Definitive movie buff. Quickly realized that it was more financially prudent to write about film than trying to beg for millions of dollars to make his own.
Receive stories by Stephen Hamilton in

your feed