Best Bags for the Motorcycle Commuter
Bike riders are not your average bro. These bags for the motorcycle commuter in your life will keep their goods safe, but won't encumber them on the open road.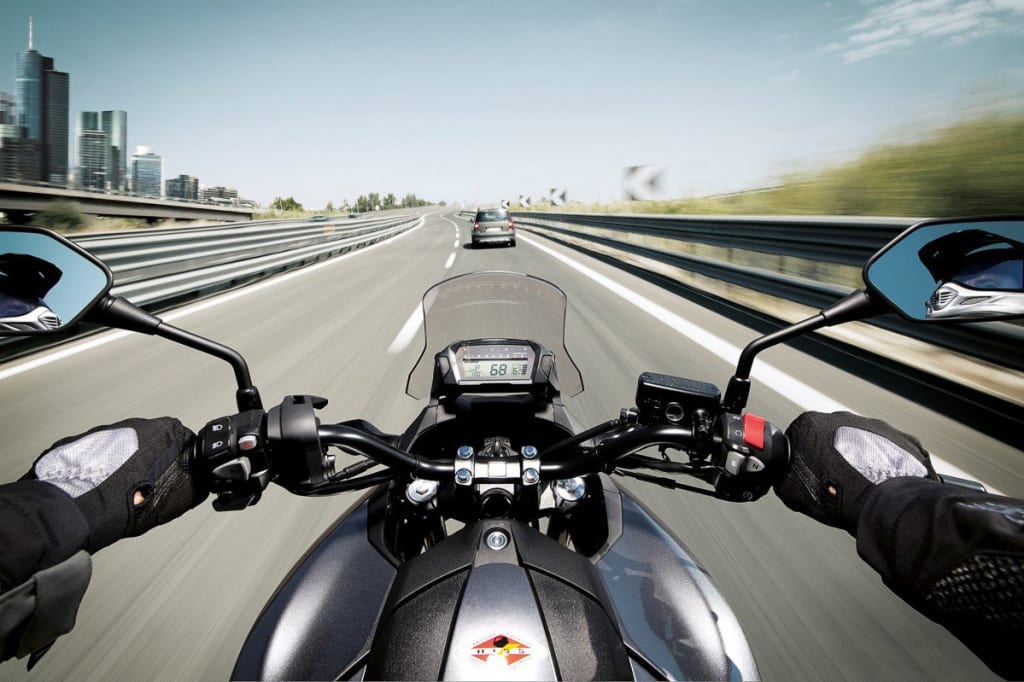 Back in the day, when I used to roam Maryland, I knew a guy who was heavy into the motorcycle lifestyle. He's one of the few that brings motorcycling to life for others, and for that, I'm grateful to have known him.
He would bike all the way to New York City for his job in 30-degree weather, while wearing a Kevlar vest. Why? Because he was hardcore like that. He was the one who took me on my first motorcycle ride, and it was then that I understood that I liked bikes, too.
One thing I quickly noticed, was that bikers don't have the same gear as others. It has to be sturdier, and more secure than others. For those who love the open road, these are the best bags for the motorcycle commuter in you.
Viking bags are awesome for motorcycle riders, primarily because they are heavy duty leather bags that make use of every single part of your body or bike. This motorcycle swing arm bag secures safely onto your bike, and is capable of holding your lunch, while you're on the go.
If you're looking for mountable bags for the motorcycle commuter in your life, this is one of the best choices. It's spacious. It's stylish. It's durable as heck, and is even lockable.
One of the best bags for the motorcycle commuter lifestyle is a sissy bar bag. These are oversized bags that lock onto your bike's sissy bar, are lockable, and contain ample space for all your commuting needs.
If you're looking for a durable yet stylish option that is modern, but not overwhelmingly large, then their Dagr Bar Bag is a good one to try out. This locks onto any motorcycle sissy bars, and is designed to be weatherproof, too.
Large enough to fit a 13-inch laptop and your lunch too, this is the perfect day bag for a beginner biker. Oddly enough, "Dagr" means "day" in Old Norse. Coincidence? Not really; these guys knew what they were doing.
Chrome Industries originally made these bags for bicycle commuters in the city, but we've noticed that their backpacks are actually perfect bags for the motorcycle commuter demographic, too. All of their bags are designed to be rugged, durable, and ergonomic, too.
This is a smart option for people who want to have space to carry their large laptops to work, but don't want to have to unlock their sissy bar bag, in order to grab their goods. Since it's a backpack, all you have to do is wear it and ride.
This intimidating-looking backpack is one of the best bags for the motorcycle commuter who doesn't trust soft materials. It's almost entirely made of hard shell material, but is also designed for natural comfort, thanks to the pack's unique strap and weight system.
The end result is a hard-shelled backpack that can haul a lot of stuff, without giving you a backache. When you combine that with the awesomely futuristic appearance, you have a winner that'll get tons of compliments.
The CL-GPS Journey Mate was specifically designed to be one of the best tank bags for the motorcycle commuter that travels lightly. This tank bag is designed to give you all the right spaces for a standard sized GPS, your smarphone, and all the bare-bones necessities you need to bring everywhere.
Portable, weatherproofed, and slip-proof, the Journey Mate comes with a convenient carrying handle that allow you to effortlessly grab your stuff when your ride to work is done. This is one of the best bags for first time riders who aren't quite ready to modify their bikes.
Claire Chase is one of those names that few know, but everyone can recognize from the quality alone. Speaking as someone who has owned one, these bags are incredibly rugged. They can take hits, deal with rain, and still keep your goods safe and snug, while looking all the better for them.
If you're looking for a bag that promises to get you (and your laptop) to the office in style, then look no further. This is one of the smartest bags for the motorcycle commuter who wants to keep their executive style—even when it comes to the bags they bring to the office.
Personally, I don't usually trust most messenger bags on bikes. However, the Kriega Urban WP messenger bag isn't like most messenger bags. It's an exception to the rule, and comes with security straps designed to keep it safe, even when you're going on a pretty wild ride.
This weatherproofed messenger bag is designed to help you haul your tech, without problems from rain, wind, or other issues. It's rugged as can be—deceptively so, for some.
A tank bag, as the name suggests, is a bag that's specially designed to mount onto a motorcycle's gas tank. As such, almost any tank bag is a good bag for the motorcycle commuter in your life. However, some tank bags are just way better than others.
Givi, for example, created a lockable, weatherproof, strapless tank bag that comes with a GPS touchscreen area and USB port openings, for those times when you want to charge your phone on the go. Once you're at your destination, just use the shoulder strap to haul this sleek backpack to your office.
If you're looking for a bag that will pass the "corporate" test without being too delicately built, another one of the best bags for the motorcycle commuter life you're living comes from Royce Leather. This luxury, wearable backpack is known for being durable, conservative, and ideal for toting your work laptop, without worrying about breakage.
Their Laptop Backpack has enough room for an 11-inch backpack, comes with pen slots, and extra padding. As a result, it's a great pick for folks who like to bring their office on the go.
Most of the bags we've featured are known for being pricey. After all, a good bag is an investment that can and should last a couple of years (at least). If you're low on cash, don't worry. There are great, budget-friendly bags for the motorcycle commuter on a budget, too.
These saddlebags are made of durable PVC material, and are designed to strap onto the sides of almost any bike. They come in a pair, and each measure around 14 inches in length. Realistically, a single bag would be enough for most commuters. So, why not just get two for the price of one?