A Labor of Love
One man's junk is another man's treasure.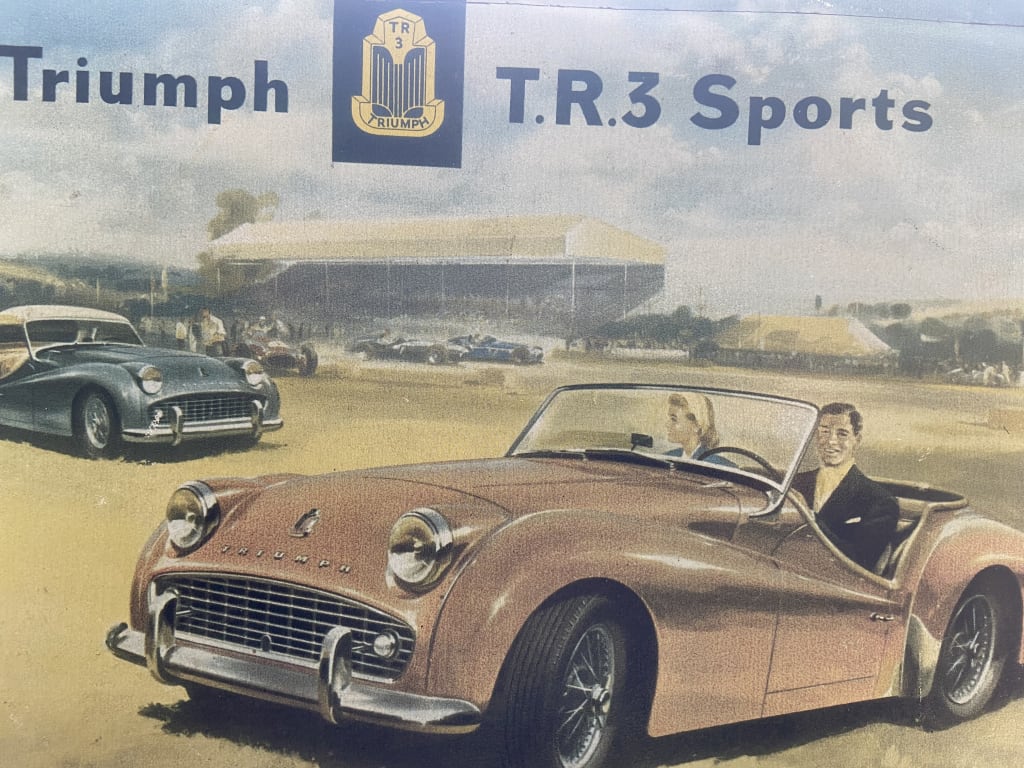 We met one sunny spring afternoon. I had stopped off at a colleague's new house to help him move when I first laid eyes on her. The previous owners had abandoned her in a field behind the house. Tall grass hid the multicolored exterior, flat tires, and cracked and torn interior. I found a weathered top along with both side curtains tossed haphazardly in the trunk. For me, it was love at first sight.
My friend told me the car came with the house; he had no use for it, and if I wanted the 1957 TR 3, it was all mine. There was one caveat. I must have it out of his backyard in six months, whether or not it was running. It was an offer I couldn't turn down. I started work on my prize the very next day.
The following afternoon, I returned to take a rough inventory of my project car. It was not pretty. One of the two external hood hinges was broken. The battery was missing, and when I tried to turn the engine over with its crank, it remained frozen solid. The carpet, or should I say carpet remnant, reeked of mold. At one time, the wooden 3-spoke steering wheel would have had a rich finish, but was now weathered and cracked. Fortunately, the gauges didn't look any worse for wear. There was no way of knowing if they actually functioned until the engine ran. Two interesting features were a push button starter and an electric overdrive that turned my 4-speed transmission into a 7-speed.
My inspection lasted for several hours, discovering a cobbled together electrical system, rotted out exhaust system, and shocks and kingpins that needed replacing. The best find of the day lay hidden in the trunk under the side curtains. Wrapped in plastic was a fully illustrated repair manual. I'm not a mechanic, but with this book and some advice from friends, I knew I could resurrect this classic machine.
With so many items to fix, where should I start? The answer looked directly at me with two bug-eye headlights. Start from the front and work my way back. The book showed how the nose unbolted from the fenders, offering easy access to the radiator and the engine. I did battle with some rusty bolts and eventually removed the front cowling and radiator. I would take that part to a radiator shop to get pressure checked later in the week. Before I went any further, I put the car on blocks to remove the tires and have a stable platform to work on. The engine was next.
The 4-cylinder motor, originally designed as a tractor engine, delivered plenty of low-end torque. If I had a hoist to use, removing the block with the transmission attached would have taken a couple of hours max, but I didn't. Instead, I removed the manifolds, head, starter, generator, and everything else that added weight, detached the transmission and lifted the block out of the car. Yes, it was damn heavy, and I almost dropped it.
I could go on and on describing the dismantling and reassembling of my pride and joy, but I'm afraid you'd lose interest. There are a few upgrades I made that may interest you. First, I changed as many electrical components from Lucas Electric (prince of darkness) to Bosch. The engine, designed with cylinder sleeves, allowed me to increase the piston size from 83mm to 87mm. by swapping out the sleeves. I also had the head milled by 3-thousandths and installed a ¾ race cam. By making those modifications, I increased the horsepower from 98 to 140. I also installed Konni shocks and tweaked a few other things.
By now, you might wonder where I got all the parts for this old classic and how much I spent? In the early 70s, the best place to buy cheap parts was the J C Whitney catalog. By buying discounted parts, scrounging through junk yards for used parts, and doing almost all the work myself, the project was almost affordable.
In late December, restoration complete, I took her on our first road trip. We traveled from Laredo, Texas, where I was stationed, to Massachusetts. She performed flawlessly, with one exception. My Triumph had a great heater that kept my feet nice and warm, but the side curtains bowed out at highway speed, creating a wind tunnel effect. Apparently, whoever designed side curtains, never used them in winter.
I kept my pride and joy for 5 years before life situations forced me to sell her. I wish I still had her.
About the Creator
I have spent most of my life traveling around the US and the globe. Now it's time to draw on these experiences and create what I hope are interesting fictional stories. Only you, the reader, can tell me if I've achieved my goal.
Reader insights
Be the first to share your insights about this piece.
Add your insights