Zanzibar - a New Favorite Among Holidaymakers
Zanzibar, a hidden gem in the Indian Ocean off the coast of East Africa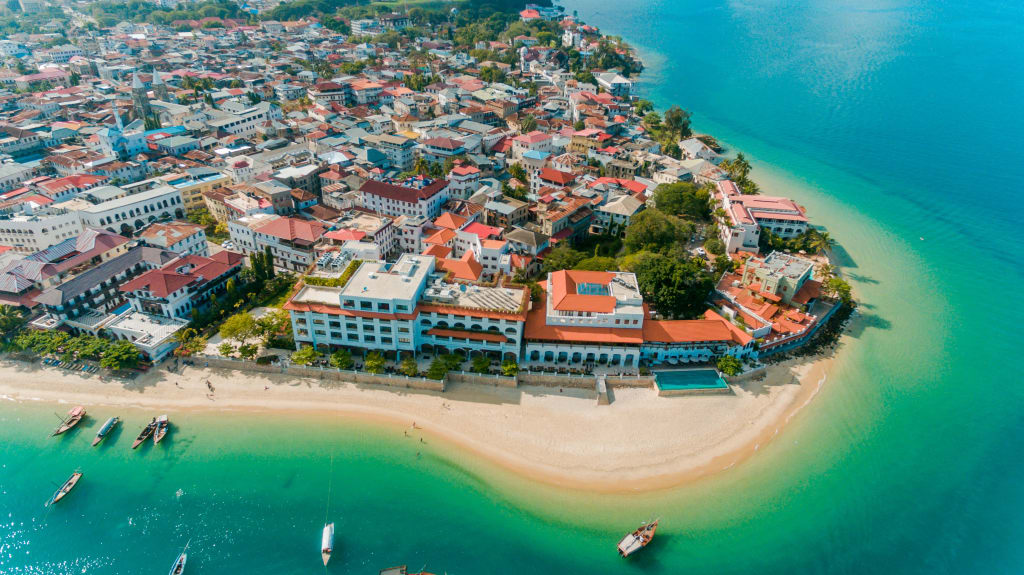 Are you in search of a dreamy tropical escape that offers turquoise waters, powdery white beaches, and a hint of exotic spice? Turn your gaze towards Zanzibar, a hidden gem in the Indian Ocean off the coast of East Africa, which is quickly becoming a favorite among travel enthusiasts, and for good reason.
Let's start with how to get there - yes, we do know that while the most obvious answer is "by flight", we'd also like to point out that Zanzibar is surrounded by several satellite islands that are only accessible by boat. Each island offers many accommodations, activities, unique sights & cultures which will spoil you for choice.
A word of advice: we highly recommend carrying sunglasses because the glittering turquoise waters may blind you with their brilliance. Just kidding - your eyes are safe but we're not going to lie: the endless expanses of blu will quite literally take your breath away.
The moment you step onto the soft sandy shores, you'll be enchanted by the infinite views which blur out the boundary between sea and sky. The gradient shades of blue painted by the ocean seamlessly merge into the cornflower shades of the sky, and the warmth of the sun seeps into your smile.
When it comes to accommodations, Zanzibar boasts a plethora of stay options from standard beachfront rooms to private suites to overwater bungalows which can match every traveler's taste and budget. Whether you desire a luxurious beachfront resort or a cozy guest house nestled in a quaint village, you'll find the perfect home away from home during your stay in the Tanzanian paradise.
But Zanzibar isn't only about beaches and water sports; it boasts a rich and diverse history as well. Stone Town has been recognized as a UNESCO world heritage site since 2000 and is a treasure trove of architectural wonders. Lose yourself in the narrow streets, wander through bustling markets, and let the scent of local spices guide you to hidden gems. The House of Wonders and the Old Fort are just a couple of the historical sites waiting to be discovered.
Speaking of spices, prepare your taste buds for a culinary adventure! Zanzibar is renowned for its aromatic spices, and exploring the spice farms is an absolute must. From cloves to cinnamon and nutmeg to vanilla, you'll unravel the secrets behind these fragrant treasures. What's more, you can even learn to create your own spice-infused dishes. The flavors will transport you to a delightful gastronomical wonderland!
Let's not forget about the warm and friendly people of Zanzibar. Their genuine smiles and welcoming nature will make you feel right at home. Immerse yourself in their vibrant culture and traditions. Don't be surprised if you find yourself swaying to the rhythm of traditional Swahili music or sipping spiced tea with newfound friends.
As dusk falls, expect breathtaking sunsets that paint the heavens in glorious hues of pink and orange, while locals and tourists are rendered indistinguishable as they become silhouettes against the setting sun. When night falls, the stars light up the sky like a magnificent tapestry of crystals - don't miss out on stargazing opportunities while you're there!
So, fellow adventurers, if you're yearning for an escape to paradise, put Zanzibar at the top of your travel bucket list. It's a place where time slows down, worries fade away, and every moment is infused with a touch of magic.
Have a look at our holiday package for Zanzibar, and our current offer which gives you a free trip to Musandam as well.
To inquire or make bookings, get in touch with us at 600544405 or email us at [email protected]
Reader insights
Be the first to share your insights about this piece.
Add your insights