York to Cork and Back Again
An unscheduled trip to the Emerald Isle.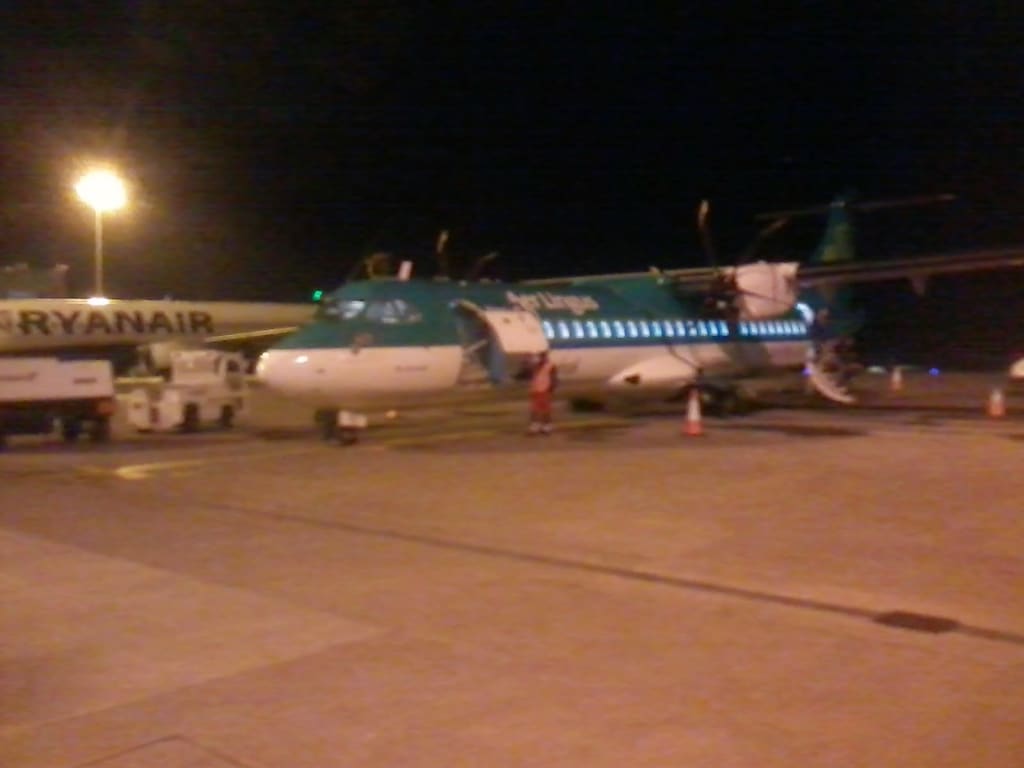 My Aer Lingus plane
It began one Friday afternoon. I was just thinking about my schedule for the following week, which I needed to send out to some online students in order for them to book some slots with me the following week, when the phone rang. It was the company I do TEFL teacher training for. I usually teach once a month for 20 hours in Hull, East Yorkshire and another 20 in York. This month I'd been lucky and had spent the previous weekend delivering the course in Liverpool too. This was because the teacher for Norwich was ill and it was easier for the Liverpool teacher to cover Norwich and for me to teach in Liverpool. Now I was asked if I would like to teach 20 hours in Cork, Southern Ireland.
It has been more than thirty years since I was last in Ireland. That visit was pretty swift too. I was competing in the Circuit of Ireland International Rally. Cork was the venue for a service halt in the middle of the night before moving on to Killarney the next day. It being so long since I'd last been there that I jumped at the chance.
The problem was deciding which UK airport to travel from. It was Friday afternoon and the last weekend before St. Patrick's Day was about to begin. Flights were fairly full and the few seats available were being offered at an extortionate price. We eventually settled on a flight from Manchester as being both doable in terms of timing and price. Still, it was a hefty £386.00 return. A few months earlier I had taken all four people in my family all the way to Switzerland and back for a hundred pounds less.
Logistically I had to stay three nights in Cork. The high cost of the flight was negated somewhat by the really rather reasonable price for the hotel. As I indicated earlier, the previous weekend I'd stayed in a hotel in Liverpool for one night. This had cost an eye-watering 169 pounds. Curiously, though the Cork hotel was operated by the same chain and the rooms were perfect clones of each other, the Irish hotel cost only 210 Euros for the entire three night stay. I'm sure there must be some sort of Adam Smith-inspired economic algorithm to explain these flight and hotel cost differentials, but it escapes me.
My group of aspiring TEFL teachers were the usual mixed-bag of young and old, native speaker and non-native English speakers. They all had hopes and dreams of TEFL somehow taking them from whatever they were doing to somewhere a little more exotic or a little more affordable or just a tad different. I was there to equip them with the confidence and the basis of a teacher's toolkit to enable them to make the leap towards their individual goals. I regaled them with stories of travel and memorable lessons intertwined with nuggets of good practice and ready-made lesson plans. I watched them make their first leap into teaching with micro teaching sessions directed at their newfound peers.
All that took us to Sunday evening. Be mindful that St. Patricks Day is now bearing down on Ireland and most people will take the Monday off so as to have at least a four day holiday stretching from Friday evening to Wednesday, or perhaps Thursday morning. My peace and quiet was well and truly shattered by a drunken banshee of a woman complaining to all who would listen that her "feckin key card" would not open the "feckin door". I was glad of that. It was my door and three-thirty in the morning. I slept fitfully until breakfast and wandered down to eat after speaking to my wife via Skype.
The night before (Sunday) I'd eaten in a very curiously decorated converted market in the centre of Cork. They had chandeliers reputedly of an identical design to those in the White House. I cannot attest to the veracity of that claim, but they looked impressive anyway. The food was the high point for me though. I chose bangers and mash, as this was on the 'specials' board. The sausages were sourced from the nearby English Market and were delightfully seasoned. The mash was of just the right consistency and tasted so much better than the dreary varieties of potato we can get in England. The Irish certainly do know their spuds, these were great. Surrounding the mash was a moat of gravy with soft onion and herbs, deep meaty flavour and a superb compliment to the sausages.
The following day I returned for lunch as my teaching course was over and I had some hours to fill before my flight. This time I chose the gourmet burger with chunky chips. Once more the superior tasting Irish spuds worked their magic. The burger was indeed a gourmet offering and the depth of flavour in the beef, bacon and cheese (all Irish, of course) was nothing short of miraculous. I enjoyed both dishes immensely and would love this restaurant to be a little nearer York where I live. York and Cork; only one letter different, but a world away in both value and flavour.
A comment or two on the beers is warranted, too. I selected the Midaza stout with both meals. This is an amazing traditional Cork-style stout and well worth seeking out when in Cork. It is a real gem, dark and malty with hints of dark chocolate. Apparently the word means fantastic and so I'll use it for both meals at the Bodega. "Me dinner and me lunch were both midaza, thanks very much".
The full name of this place is the 'Bodega at St. Peter's Market'. I can certainly recommend that you enjoy at least one meal here when in Cork.
Monday afternoon darkened towards evening and it was time to get to the airport. I had travelled into Cork by taxi on Friday night but thought the twenty euros charged a bit expensive for the relatively short distance. As the bus station was almost next door to the hotel I had bought a ticket earlier in the day. The journey was comfortable, safe (which I had not felt in the taxi) and not a whole lot slower than the car. However, I needn't have rushed to the airport, my Aer Lingus flight was delayed by one and a half hours.
Once on board I was further disenchanted with Aer Lingus to discover that there was no fresh food on the aircraft. I was reduced to eating crisps and snacks. Doubly disappointing as I had been looking forward to a chicken and stuffing sandwich at least. I'd also begun to lust after a scone and jam with coffee too. I'd remembered them from the outward flight. This may have been because this was the last flight out of Cork on the night before St. Patrick's Day. No wonder there were only a few passengers on the plane.
On landing in Manchester I still had a couple of hours on a train before reaching home. I began to write this account of my long weekend. As you can imagine, I slept well that night and awoke to St. Patrick's Day in England. I was peeved to hear that there had been a spectacular display of the Aurora Borealis, or Northern Lights, in Ireland, appropriately in bright green, that night. York on the other hand had a fine display of tupperware-shaded clouds.
I hope it's not as long before I visit Ireland again. I'm working up enthusiasm with the family for a trip later this year.
airlines
solo travel
europe
An ex finance professional now English teacher via outdoor pursuits instructor. I love mountains and bicycles, but not mountain biking. I've visited more than 80 countries and still have plans to see more. I love to write about my travels.