Why Are Nepal Trekking Poles a Hiker's Top Choice?
Find out the reason as to why a trekking pole is a hiker's preferred choice when it comes to hiking in Nepal.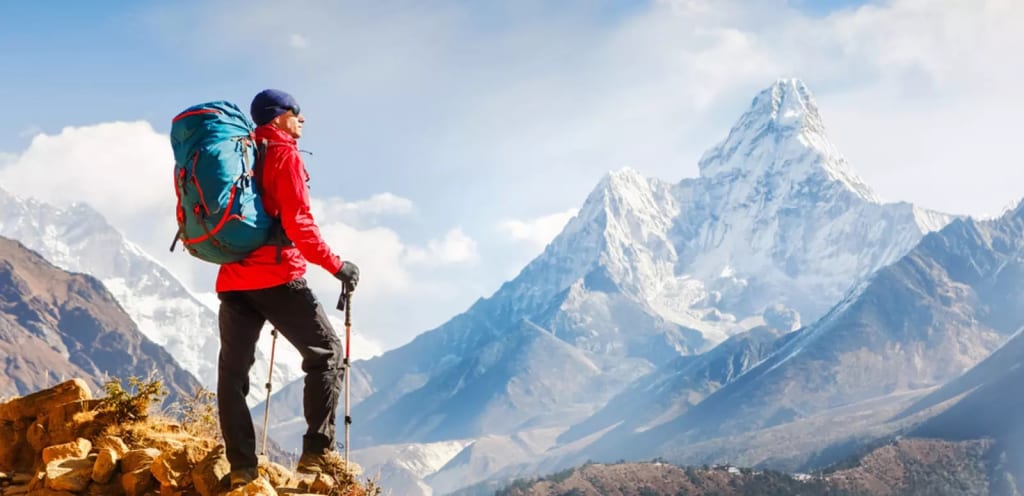 Nepal is an international trekking hub in today's date. 70 percent of the world's largest mountain ranges are hosted by this Himalayan country. With a reach of about 70,000+ tourists visiting Nepal every year, the trekking associations have seen a rise.
When we talk about trekking, there are a few things that we prepare for before the trekking expedition of a lifetime. One has to prepare their physical fitness, their bag-packing skills, their communication skills, their perceptional changes, and their gear.
As we speak of good gear for a trek, Nepal is known to import and export the best hiking gear in the world, and at prices that are unbeatable and that excel in matters of quality standards. And there is nothing surprising about this, as a large amount of their economy is based on the travel business.
One such gear that is essential for hikers, and extremely useful for an expedition of any difficulty level, is the trekking pole. Trekking poles are bought in pairs, or in singular pieces. The function of a trekking pole is:
To eliminate the pressure you may exert on your knees and legs while doing a steep descent or a steep ascend.
To work as a railing, to hold and push yourself forward.
To eliminate the entire body weight that you apply on your legs.
To work as a spike or a peg, while setting up camps and tents.
To provide support to your back, and the weight that you carry on your back.
To judge the murkiness and depth of water bodies while crossing them.
So, a one-time purchase of a good hiking stick helps you overcome a lot of issues during a trekking expedition.
To look for a good hiking pole, you must check for:
The handle material. It can be made of: wood, rubber, foam, or cork.
The shaft material. It can be made of: aluminum or carbon fiber.
The locking mechanism. There are three locking mechanisms: the twist lock, the clamp lock, and the push-button lock.
There are many companies and brands that sell hiking sticks of your preferred material of handle, shaft, and lock. When you go to purchase a hiking stick, you must also take care of what you need. Whether you need a one-time hiking stick, a long-lasting and durable piece, or a lightweight stick. Or maybe the weight does not bother you much. Maybe you need a modern, state-of-the-art foldable hiking stick, or the old time durability works better for you. So, basically you need to do some research before you purchase a hiking stick, and customize your needs according to the availability of the perfect kind of stick.
So, why is Nepal a favorite place for trekkers to purchase their sticks?
Experience matters. With a long history present of the experience of walking on these mountainous terrains, the Nepalese know exactly what kind of stick works best on their land, and on their mountains.
The material is made of unbeatable quality. Nepal knows the importance of quality, and how the quality of material affects the life-or death factors of a person. Hence, the best quality products are made available here.
The prices and deals are undeniable. As Nepal is a country whose currency value is lower than many other countries, the product that you purchase here will not make you feel like you are spending a fortune on the product. Even the clothes and shoes you purchase here will serve you for a longer time, because of the excellent quality that they serve and the price that you pay for the outstanding quality for products.
The bests serve this country. The best brands and marketing giants from all over the world market their products in Nepal; this gives you a larger range in choices and quality, at a subsidized rate for these products being sold in Nepal.
Trekking is a revered activity in this country. There are an estimated 1800+ companies that deal with the organization of Nepal trekking tours. 20 percent of the remaining Himalayan mountain ranges are in India, and the other 10 percent in Bhutan. All these countries collectively host the mighty Himalayas.
The most interesting thing about the trekking tours in these countries is that one is assured to experience a new vibe of trekking in each of these countries. This is why Bhutan trekking tours, India trekking tours, and Nepal trekking tours all serve a different experience to hiking and trekking enthusiasts.