Which Setup Is Best for Traveling With Cats?
Should you choose a motorhome, trailer, tent, Airbnbs—or something else?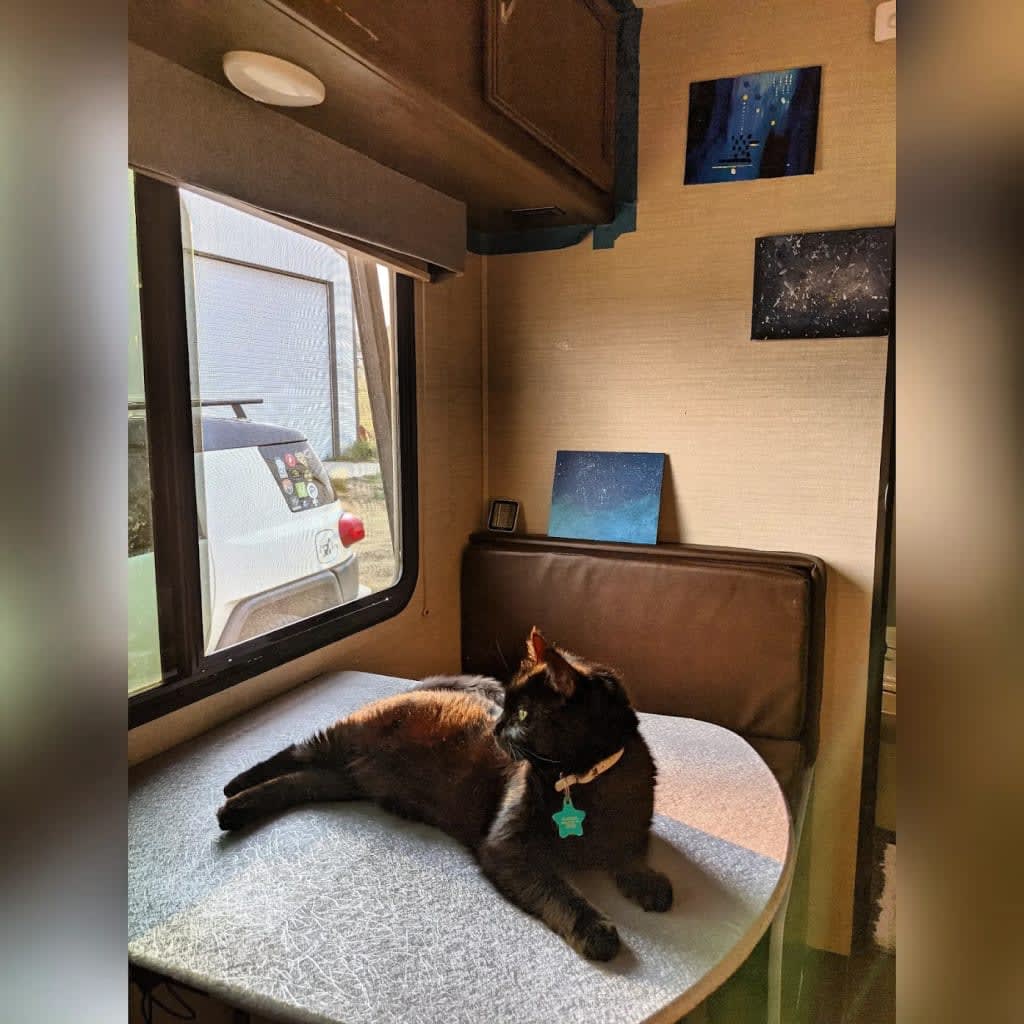 When my missus first envisioned taking me on the road, she pictured tent camping and Airbnbs. But, when it was time to put her money where her beloved puss would be, she chose an RV.
Why? Because the view changes often, but I have the familiarity of home on the inside. So, is this the right setup for you and your house panther? Let's consider your main options!
Airbnbs and Hotels
If you want to travel light and prefer not to invest in a permanent setup, then consider Airbnbs and hotels.
PROS: Compared to high-city rent, this can be a low-cost way to start your travel journey until you decide what works for you. To save even more money, consider Airbnbing in Mexico where you can rent homes for a whole month for under $400.
CONS: You might find yourself in locations where owners won't accept any pets at all. Also, moving cat-trees and litterboxes in and out of suites is a hassle. Finally, you might have to crate your kitty when away from the suite—and we won't like it!
TIP: Plan your route ahead of time. Have a tent setup handy as your backup accommodation.
Self-Contained Towables
These have everything you need for full-time living on-board, such as cooking facilities, bathroom facilities, and a sleeping area.
PROS: The main reason my missus chose her travel trailer and its floor plan is so I had room to run, pick up speed, and bounce off the walls. When you want some time to yourself, you can also park the camper and go exploring alone. Note that some campgrounds only allow self-contained RVs, especially during coronavirus spikes.
CONS: Kitties come to see the camper as home, but usually not the truck. Consequently, it will take us some time to adjust to being moved back and forth on travel days. If your cat is an escape artist, plan accordingly.
TIP: Repurpose a designated storage area for the litterbox and add a cat door. Ensure it's still easily accessible for cleaning.
Motorhomes
For the purposes of this topic, I'm including mass-produced RV motorhomes, DIY vans, and skoolies.
PROS: You don't have to move us in and out of the motorhome. So, this is an excellent choice for a skittish kitty or an escape artist. You can still bring an e-bike, motorbike, or small car for exploring on your own.
CONS: Mass-produced motorhomes are expensive. DIY options cost less money but more time, so consider your deadline for hitting the road. If you have an active, indoor-only cat who hates leashes, a small motorhome is a bad idea. However, some areas are inaccessible to larger motorhomes.
TIP: If you have an active indoor-only cat, choose a floorplan that provides at least 10-feet of clear space to run. Try to train your cat to explore via a leash and harness.
Tents and Sleeper-Campers
Whether you have a ground tent, rooftop tent, truck-bed setup, or teardrop sleeper camper, it works the same for cats.
PROS: This is a low-cost way to start traveling with your cat. It's ideal for weekend trips or just testing the waters before committing to a more expensive setup. It's also a great supplement to traveling via Airbnbs, hotels, or even RV. You can access far more remote places with this setup, so you can enjoy greater privacy and have more space to explore.
CONS: This setup provides no space for an indoor-only cat to roam. Also, the remote places you can access with this setup will likely have active wildlife that has your house panther on the menu. Plan accordingly when moving Mister Whiskers to and from the vehicle or when determining whether and where he can roam.
TIP: Leash-train your cat and consider ditching the bell. If you can hear it, so can predators. Use a tracker instead. Choose unscented kitty litter in bear country.
The Best Setup
So, which setup is best? I vote for a self-contained towable between 20 to 26 feet long. That provides lots of living space and room to play, while still being small enough to access most campgrounds. You can also unhitch whenever you like and run errands, explore, or car camp.
Next time, we'll talk about your moving schedule and how to adjust it based on your cat.
Like my blog? I accept tips for tuna and catnip!
About the Creator
I adventure full-time with my missus in her FJ Cruiser. Airbnbs, tents, RV living—we do it all. Come find out how to adventure with your kitty, or just see what I've been up to on the road. Meow!
I love pledges and tips for tuna and catnip!
Reader insights
Be the first to share your insights about this piece.
Add your insights