Where to Camp for Free in Iceland
The Perfect Places Along the Ring Road to Park Your Campervan Overnight!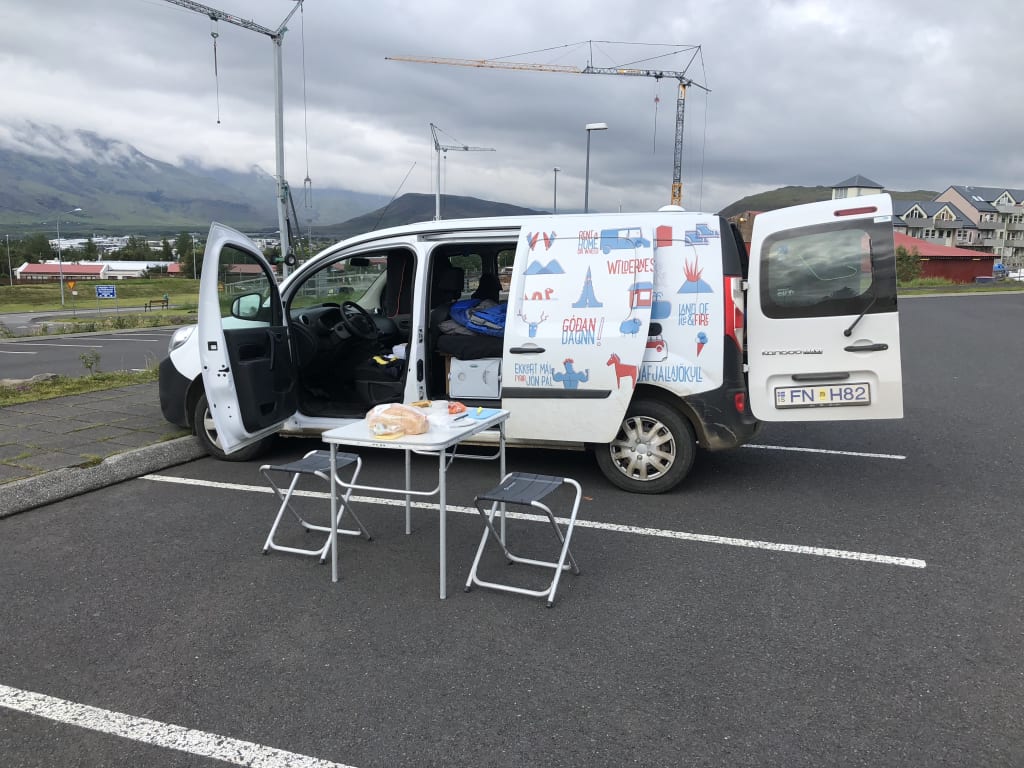 If you want to read my posts about what to pack when going to Iceland in the summer and what to visit, check out these posts: here AND here.
Disclaimer: Unfortunately we did not find a free place to sleep everywhere we went. Part of the reason why is because we might have gotten tired of searching for a spot or we just preferred the comfort of going to a camping. I will also give you some tips on where to shower in Iceland!
The general rule with camping in Iceland is that you can't camp anywhere in a city center, as well as places that clearly state you can't stay overnight there. Besides that, if you decide to stay overnight on private land, you should ask the landowner for permission. Other than that, you're free to stay wherever you like.
Reykjavik
As the rule goes, you can't stay overnight in Reykjavik itself. What you can do, however, is drive a little outside Reykjavik and stay at a place where you don't bother anyone. We stayed at a parking lot (see picture) in a small town about 20 minutes from Reykjavik. The parking lot was right next to a school but since it was summer, no one was using the parking lot. This is not private property, so no one said anything about us staying there overnight.
Seljalandsfoss
Right before you go to Seljalandsfoss, there is a small parking spot on the right side of the ring road that has a big Puffin statue. Together with another camper and a car we stayed there overnight. There are no signs you can't stay there, but there is a lot of wind because you're out in the open so cooking is not the easiest thing to do there! However, it was a beautiful and quiet spot to stay.
Vik
Unfortunately, there is no place near Vik where you can stay overnight for free. We really tried to find a spot and we asked different people, but everyone ended up heading to the camping site. Over there you also have restrooms and showers (although not very clean). If you want a cleaner shower, I suggest heading to the local swimming pool. They charge less for the shower and it's a lot nicer to be able to shower there.
Diamond Beach
When you head to Diamond beach coming from Vik, you cross a small bridge. Right before crossing that bridge, there is a gravel road that takes you right to the sea. In that parking lot you can stay for free overnight. We certainly weren't the only ones doing it. About five campervans decided to stay there overnight. You also have a beautiful view to fall asleep to.
Seydisfjördur
To get here, you will have to drive over a mountain (literally). There is only one way to get to the town, so it's easy to explain for me where to go to find free parking. Once you arrive in the town, you drive left at the end of the street. After about 500m you arrive at a dedicated parking lot for campers and caravans.
Akureyri
This was the second city where we had to use a camping site. This camping site, however, was extremely nice. It's called "Hamrar" and it's on top of a hill. The area that they have is huge so if you get lucky you might have some privacy as well. The showers and toilets are VERY clean. They have a lovely kitchen, free water, entertainment for kids... It's one of the best camping sites I've ever seen. If you need another shower, this is the perfect place to do it!
Kirkjufell
In Kirkjufell you can stay close to the mountain on the side of the road. Some of the places will say you can't camp there, but others won't. It just takes about five to ten minutes to find a good spot!
Other Places to Shower
The best places to shower outside of campsites and swimming pools are places like the Blue Lagoon and Myvatn nature baths where you are "forced" to shower. Just bring your shampoo with you and you're good to go!