What it's Like to Spend a Perfect Day in Paradise. .
So many options available to you here in Costa Rica / Let's talk about the possibilities. .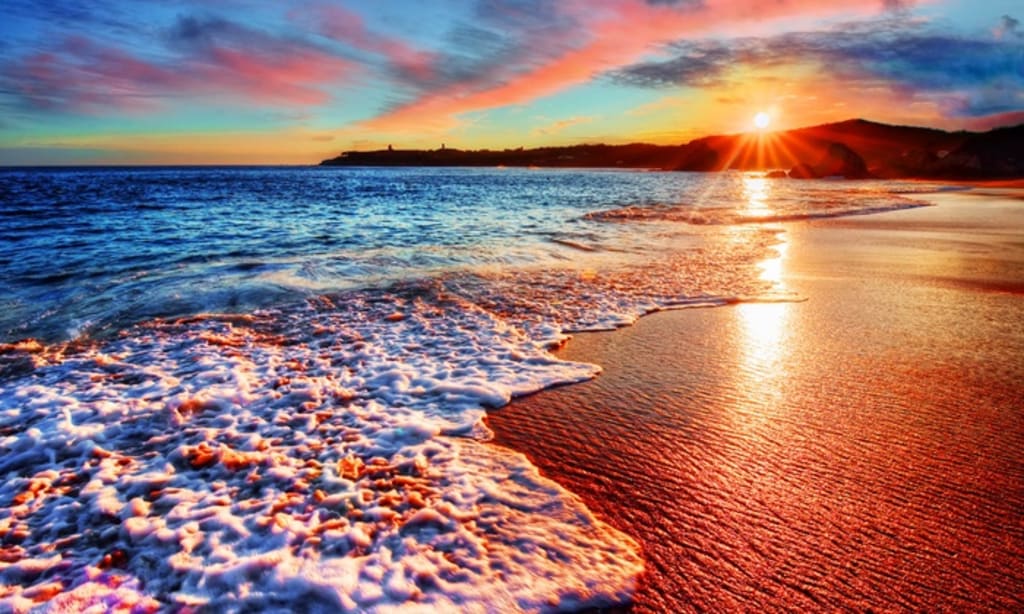 A chance for a perfect day starts every morning about 5:15 am, every day of the year. .
That's one of the great things about living here in Costa Rica. Every morning about 5:15 - 5:30, the sun rises in the east. . each and every day! Never at 6:00 am. . never at 6:30 am. No matter what month it is, morning's first light arrives so very early.
As you would imagine, many people are early risers here. And, many go to sleep early as well. Daylight lasts about 12 hours. So at 6:00 pm, it is pitch black! I know lots of people who go to bed at 7:00 pm or 8:00 pm. . and they start their day, full speed, at sunrise!
If you live close to the jungle, the howler monkeys serve as your natural alarm clock, usually about 30 minutes before sunrise. If you're a late sleeper and can't see yourself changing, either plan on living in the city away from the jungle or stay put where you are in your home country. If you want to live close to nature in one of the happiest countries on the planet, then you'll have to learn to love EARLY! Those are the facts. .
Many people view their lives here in Costa Rica as a blank canvas. If you haven't visited before, then it may be hard to understand. When you step off of the plane, it may be similar to getting out of jail. I have been lucky enough, and boring enough, to never have gotten into trouble before, so I don't know what it feels like to be let out of the slammer. But, one can only imagine that when that cold, steel jail door slams shut behind you and you are free as a bird, you take a deep breath, look up in the sky and you smile. You're ready for whatever the day brings. It's time to celebrate that day.
What do you want to do today? If you're in San Jose, perhaps take a walk downtown, stop at your favorite soda for a cup or two of that world-renown Costa Rican coffee. People watch a little bit. Practice your Spanish. Meet some new friends. The Mercado Central in downtown San Jose is a great place to spend your mornings. First opened in 1880. it has morphed into a central location for eating, shopping & lollygagging. The vendors offer the freshest meats, fish, fruits & veggies. . and so much more. Freshly-ground local coffee is available and VERY hard to resist. Its welcomed aroma fills the entire market, especially in the morning hours. It's a MUST DO if you're in the neighborhood.
If you're close to the beach, then your blank canvas needs to be painted with many loud, vibrant colors. . the ocean blues, the bright & burnt oranges, deep, rich greens, vibrant reds and brilliant yellows of the sky, the surf, the distant mountains. . the morning sun slowing rising. . the dense jungle bordering the edge of the ocean. So much beauty to absorb and appreciate. What a way to start your day. It is indeed an early, idyllic setting, carrying you comfortably into the rest of your perfect day. The high, motionless clouds soak up all of the colors and create their own beauty.
Pop-up day trips are exciting here in Costa Rica. No matter where you live, you are close to a beach, a volcano, a jungle and/or a town. This creates exciting opportunities to fill your day with bold adventures. If you feel like being alone. . if you are full of energy. . if you want to converse with another human or if you just want to communicate with a toucan or two, simply point yourself in the applicable direction. . and go! So simple. . so doable. . every experience fulfilling in its own way. Lots of ways to enjoy a perfect day here in Costa Rica.
I have saved you the best part for last. .
There is a rhythm to all of this. A natural cadence that changes your spirit and lights a fire in your soul. Every perfect day here in paradise solidifies the wanting of the next day, just a little better than the last. You find yourself reaching out. . searching for more to do. Every corner of this country, and everything in between, allows us to open ourselves up. We're hooked on the feeling and the life we've created for ourselves. . and we're so happy that we're here. Pura Vida. .
You're invited to visit our websites at www.costaricagoodnewsreport.com & www.costaricaimmigrationandmovingexperts.com
Our Costa Rica Minute / Costa Rica Pura Vida Podcast Series can be found on all major venues, including Spotify, Anchor, Google Podcasts, Apple Podcasts, Radio FM and many more. Here's our link: www.anchor.fm/costa-rica-pura-vida