Wanderlust Worthy: Your Ultimate Guide to Top Travel Destinations in the US
Ultimate Guide to Top Travel Destinations in the US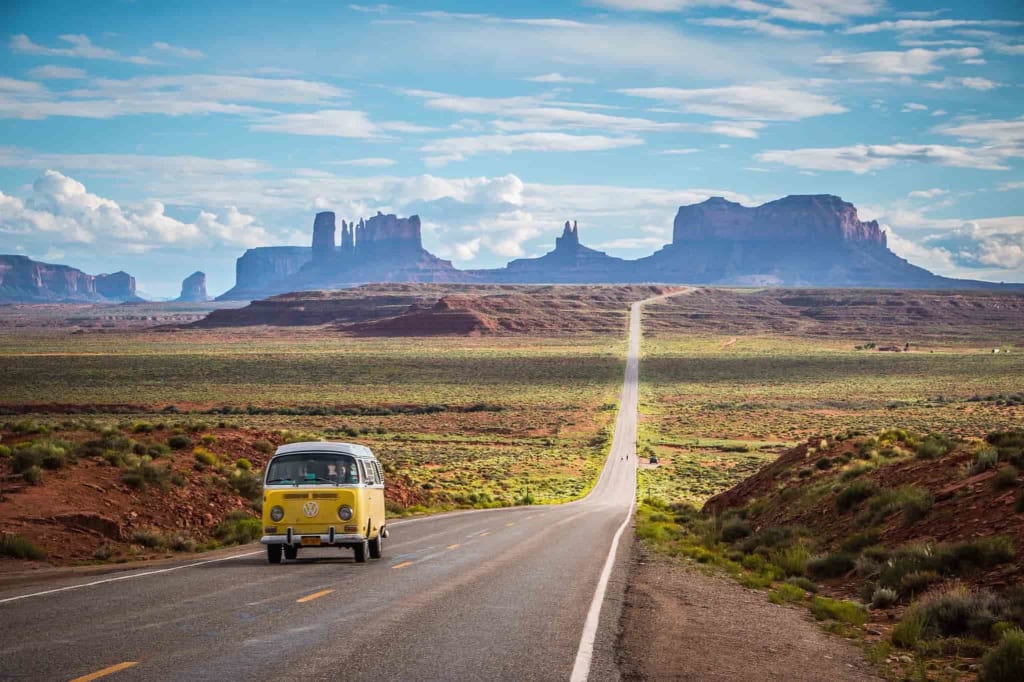 Looking for the top travel destinations in the USA? Visiting the United States for the first time and
wondering where to go, what to eat, and what to do. Well, don't worry because we've got you covered.
In this blog post, you will learn all some of the top travel vacation spots in the USA.
1. The Grand Canyon
The Grand Canyon is one of the most beautiful, largest, and, most adventurous national parks located in the United States. This park is not only famous in the USA but also popular across the globe. This park is filled with the Colorado River which offers a breathtaking and distinctive landscape.
The covered area of this Grand Canyon is about 29 kilometers broad and 446 kilometers in length with a depth of 1.6 km depth.
The dominant color of this Grand Canyon is ochre but it may change according to the position of the sun. you can also witness the breathtaking views of sunrise and sunset in this one of the largest national parks in the USA.
2. New York as Top Travel Destination
New York is one of the most beautiful, amazing, and captivating cities across the globe and welcomes both domestic and international travelers to spend their holidays. This beautiful city is located in the USA and is also one of the most populated cities in the USA.
This city is filled with beautiful destinations, beaches, and sprawling national parks. You can also visit Bryant Park for ice skating, Rockefeller Center, Time Square Building, and explore the mountains of New York.
You can also involve in different fun activities such as walking, cycling, and many other activities. Moreover, if you are planning to visit the USA, the best time to Visit New York is from April to June, and September to early November.
3. Miami
Miami is also one of the top tourist destinations located in the USA. This beautiful travel destination is filled with attractive beaches, pleasant weather, entertainment, rich culture, and entertainment.
The downtown of Miami is separated from the Atlantic Ocean and Miami Beach which is a cultural and metropolis love. Moreover, if you are searching for the best thing to do in Miami, then there are many such you can visit Miami Beach with its Art Deco District, fun vibe, and a fantastic stretch of beachfront.
Additionally, you can also visit Everglades national park that is one of the most popular travel destinations in Miami.
4. Yellowstone National Park
Yellowstone is famous for its reddish canyon walls and breathtaking natural wonders such as Mammoth hot springs and Old Faithful, but you should also explore some of the hiking routes as well as enjoy the breathtaking views of the forest, waterfalls, and alpine lakes.
Trails in Yellowstone's Grand Canyon are particularly well-liked by courageous tourists. Other Park activities range from fishing at the lake to horseback riding in the wilderness, so make a point of visiting the locations of your interests.
Visit Yellowstone Lake to go boating, or travel to Hayden Valley or Lamar Valley in the north or northeast for fantastic chances to see wildlife.
5. Saw Tooth Mountains
Saw tooth mountains are one of the best travel destinations for those who like to visit hilly areas and adventurous places. This place is filled with hundreds of tracking routes, plenty of sharp mountain peaks, lakes with clear-crystal water, and flowing snowmelt creeks.
These all things are located within a short distance of attractive Stanley, Idaho. Stanley is a small town and a low-populated area that helps you to this Saw Tooth's mountains. Moreover, the best time to visit these mountains is June and September because of the moderate temperature.
6. Alaska
Alaska is one of the best places to spend you're your holidays with your family. This place is famous for the Denali national park and is filled with many iconic destinations such as the towering peak of Denali which is also known as (Mount McKinley).
This mountain is also one of the highest mountains in Alaska. Moreover, you can also explore wildlife in Alaska as there is a high chance to spot moose, bears, and many other wildlife animals while going towards the river.
7. Mountain Rainier National Park
Mountain Rainier national park is famous for its active volcano and glaciers which can be seen from hundreds of miles away. You can also see the breathtaking views of wildflowers from the top of the mountains. If you are a hiker and want to explore new places, this Mountain Rainier National Park is a paradise for you. Because, the hikes of this national park help you to explore the breathtaking views of mountains and jaw-dropping views of waterfalls, and subalpine lakes.
8. Lake Tahoe
Lake Tahoe is one of the most beautiful and spectacular lakes located in the United States. This lake is also one of the second deepest lakes in the USA, and the first deepest lake is Crater Lake in Oregon.
The color of this lake is Emerald which looks very beautiful and appears to be photos shopped. Moreover, you can involve yourself in different activities such as boating, and swimming with life jackets, and known as the most scenic drive along the lake. So, if you are planning to spend your holidays, this lake is the must-go place to feel a luxurious experience.
9. Havasu Falls
Hasavsu Falls is one of the most scenic waterfalls located in the Grand Canyon of Arizona, United States. This waterfall is half a mile away from Supai.
The color of the water looks clear blue-green due to the high calcium carbonate concentration. Moreover, you can enjoy picnics, and eat meals on the bank of Havasu Falls as there are so many outdoor tables on the opposite side of the stream. Moreover, you can enjoy swimming, and snorkeling at these waterfalls.
There is also a camping area where you can enjoy camping along with your friends. If you want to explore everything then the best time to visit this beautiful Havasu Falls is late winter or early spring.
10. Texas Bluebonnet Trail
Texas bluebonnet trail is one of the most stunning and beautiful places to visit in summer. Because in summer, you can witness the colorful flower blooming around you, and feels like you are in heaven enjoying your holidays.
There are many types of flowers you can witness such as yellow and orange wildflowers, and bluebonnet flowers. People came from other states and far areas to see these adorable Ennis and Flowers. Additionally, Ennis is an official bluebonnet city located in Texas that features popular bluebonnet trails.
Bottom Line
So, if you are planning to explore the top destinations in the USA, these all are the best places to travel in the USA and top destinations to spend your holidays.
There are many things to explore such as stunning waterfalls, clear crystal beaches, wildlife, and towering peak mountains.
You can also engage yourself in different activities such as swimming hiking, snorkeling, and many other activities to make your trip memorable.
Reader insights
Be the first to share your insights about this piece.
Add your insights