Walking the Dog in an Interdependent & Independent-Minded State!
Welcome to Northwest Indiana!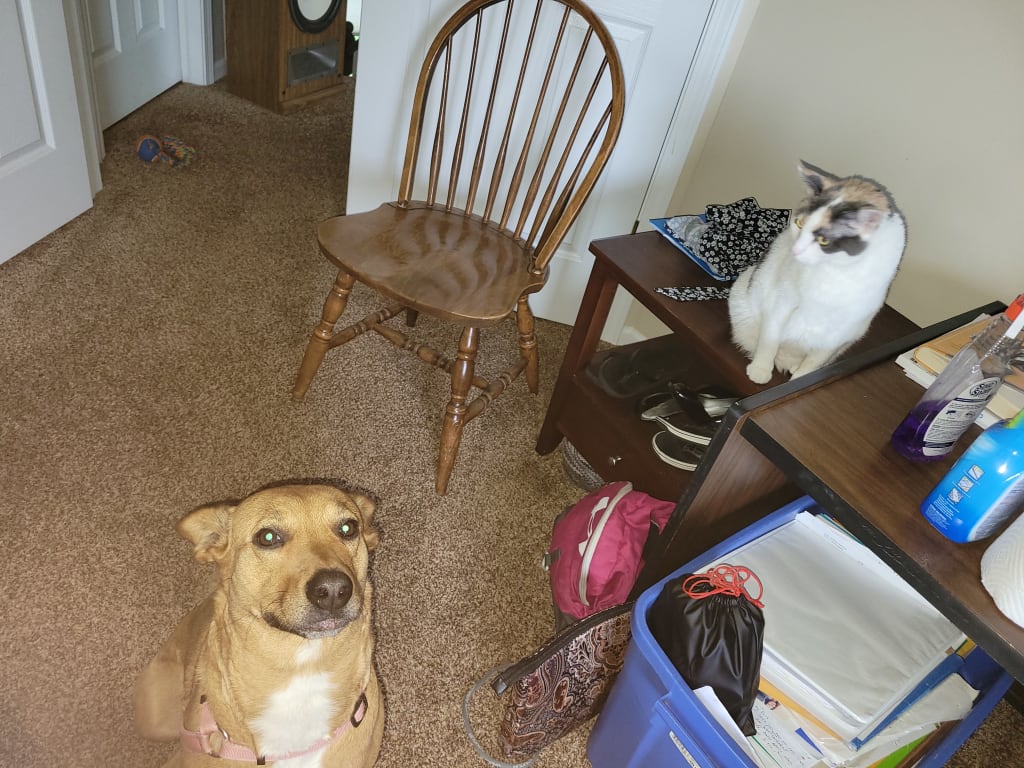 Our First "Indiana" Tornado Drill!
Welcome to Northwest Indiana, says Roxy, who loyally panted by my side after a long and winding stroll down our new "hood". Her older sister, Nitty, rested in the other room – always on-call. Today, the dog walked VERY WELL, in this "new" Northwestern Indiana territory. Remember, she's from the Caribbean, and has ALLERGIES. I'm from the South Chicagoland Area, mentally ill, and came with an elderly cat with ongoing FOOD desires. You'll learn WHY people LOVE their dogs here, and the OBLIGATIONS of ALL PET/ANIMAL SUPPORTERS out there to BE RESPONSIBLE PET OWNERS by BEING KIND AND MINDFUL! As you should be to yourself!
When you're crossing the border here, or "On the Road", as Jack Kerouac put it, please respect that there are people EVERYWHERE struggling. They have their OWN WAY of doing things. There WAS a global airborne viral pandemic. WE ARE EMERGING FROM IT. It WAS a virulent airborne pathogen, which challenges both "clinical" and "non-clinical" people to think INTERDEPENDTLY with one another, due to the very nature of that "living organism" we call LIFE. So, I walk the roads, with nothing but my new four-pawed, niece, "Roxy".
For the safety, respect, and sanity of all, please consider ADOPTION first. Both Roxy and Nitty were rescues from adoption shelters. Look up your LOCAL ADPTION resources, however you must/can to either donate, support them via social media, educate yourself, and much more! Animals are some people's ONLY companions. These resources can also help assist low-income residents ONLINE, in case a stray puppy or lost kitten stumbles your way. That's why it's important to FIGHT BREEDISM! NOT FREEDOM!
There are many people in Northwest Indiana and Illinois who cross state lines BOTH WAYS for WORK. Traffic is ALWAYS under construction here. There IS OPPORTUNITY. But this is ALSO simply NOT GOOD for the environment. If done without respect first for the animals of this planet, of all types, we must all learn to learn from one another. Your local pet supply provider can assist you financially with where you are at. That animal is your first and foremost obligation.
People out here ADAPT. If you're animal is adopted (and lots of people have all sorts of different animals out here) as well as stray animals, pests, and last but not least, YOUNG CHILDREN. Ensure your pets have been VACCINATED AND SPAYED OR NEUTERED. If you DON'T know where to go or what to do, you can visit the United States Humane Society, of the International Arm of The Humane Society, at the following link, to find a local animal shelter, like the one I adopted Nitty from at: hsi.org. (Google).
You can also visit your local pet supply store or animal shelter to pitch in and get involved, however you can! Most local pet supply stores have ACCESS to MANY HELPFUL RESOURCES and DISCOUNTS FOR CUSTOMERS that respond DIRECTLY to POSITIVE consumer feedback! There are many stores across this nation and the world that will cater to pet lovers all the same. That being said, DO YOUR RESEARCH ON YOUR FOUNDATION TO SEE IF YOU AGREE WITH THEIR PRINCIPLES. Much of this information can be accessed online! That can reduce carbon emissions AND stress as we ease together into a new routine.
You can't expect your neighbors out here to know WHY you're acting the way you act unless you, truly, walk the roads of your new "territory". Get to know the "Natives" BEST you can. But BE prepared. Bring a TO-GO bag with supplies (Like in the novel, "The Things They Carried" by Tim O'Brien: hydration, sustenance, a pen, notepad, access to funds, if needed, a phone, if possible, and a plastic bag (or two) if you have a dog on a leash, secured, and be MINDFUL of the signs. Be AWARE and ALERT of your surroundings. BE a GOOD NEIGHBOR!
Before I crossed the border, my local veterinarians, neighbors, and family all pitched in to help me get Nitty from my family home, with her eldest canine sister, Ginger - may she rest in peace - to my next residency in the South Chicagoland area, and vet, and to my most recent apartment in the South Chicagoland Area, SAFELY, for her rabies vaccination and full examinations – paid for, initially, by the Humane Society – all before moving here.
Everyone loves their babies. Here, people ADORE their pets, that love, trust and DEPEND ON THEIR "GUARDIANS" UNCONDITIONALLY. Animals are critical barometers of CLIMATE CHANGE. Therefore, it is our obligation to CARE FOR THEM MINDFULLY. There are also many registered SERVICE animals, notably dogs, in the State of Indiana. The signs and the seasons CHANGE in the Mid-West. I want the air the children, their guardians, their pets, and ALL essential workers who understand and respect this need to approach one another by ADAPTING WITH MUTUAL RESPECT.
That's why Nitty and Roxy are working together to teach me how to take a break – WITHIN REASON. It's healthy. I'm sure you can recall a fond memory of yourself, or someone else, probably when you were younger. Children tend to be TACTILE learners. Particularly those like me, that suffer from mental health/behavioral health/poverty/neurological health and other personal "issues". So long as they have adequate rest and respite, they are not clinically dead. So there is valid reason for HOPE. Pets, Children, and the Elderly are both RESILIENT and VULNERABLE. So is this particular State. There is reason for HOPE, always, though. Rains are gonna come and go, so is the snow, so is the sunshine, so is the cold wind that blows. Growing and emerging from a viral airborne pandemic is a legitimate scientific concern, with data to support that this State is vetting EVERYONE fairly and legitimately, so long as you are EAGER to serve their community. Much like my older sibling is doing, and has done for, this COUNTRY. Much like I am trying to do with MY social networks of family, friends, neighbors, and local community.
Visit https://www.in.gov/bmv/files/new-resident-packet and request a helpful New Indiana Resident Packet before packing your bags and crossing over from Illinois to Indiana. Give yourself time to prepare. Access your local resources. DO NOT BE AFRAID TO ASK FOR HELP. Did you get vaccinated before coming here for COVID-19? Did your pets get a physical examine? Did your children? Did you? Did you make a concerted effort on your part to do SOMETHING rather than NOTHING for EVERYONE so that the group may then decide to vote out whoever needs to be eliminated? This is the SPIRITUALITY aspect of Mental Health Recovery. Be patient with those that are learning. We all are learning, trying to fight our first REFLEXIVE impulses and nerves Post-Pandemic. But that's another subject for another day, you dig?
humanity
Hello readers! While my biggest passion is for music, I've been writing, drawing, and creating since I could crawl. I hope my stories inspire hope, courage, strength, tenacity, humility and laughter in my readers. Join me on this journey!
Receive stories by Unlisted&Twisted! in

your feed