Visit Richmond, Virginia Once and You Might Decide To Live There
Richmond, Virginia is a place that is so welcoming that some people visit and then make it their home.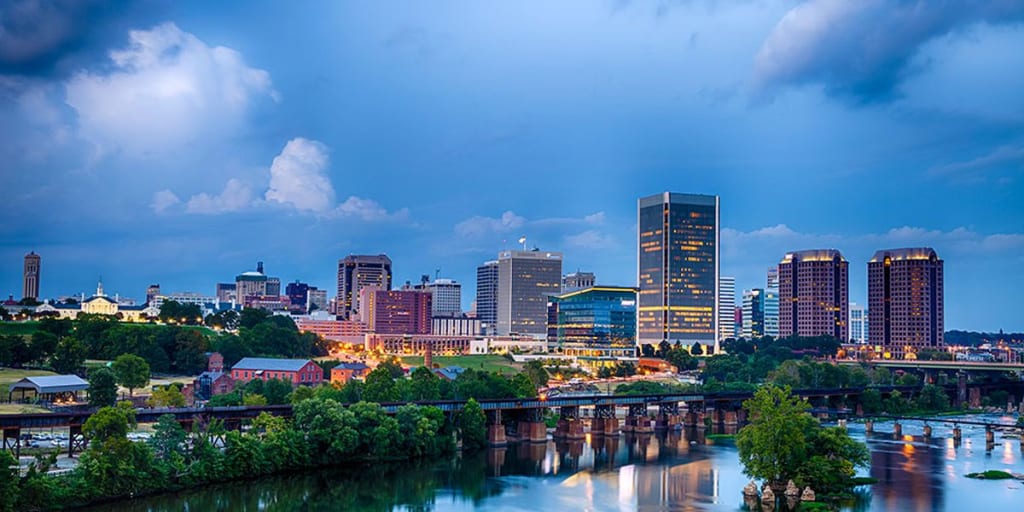 I visited Richmond, Virginia 40 years ago, and I have been living in the city since then. Of all the places I have lived, I have decided that Richmond will be my last stop. That's because everything I need and want is in Richmond that is also known as the River City and RVA.
If you visit Richmond once, you might end up living there just as I do. You will be pleased with what the city has to offer just like 227,032 residents. At the end of last year, Richmond was ranked 46 on Livability's 2019 Top 100 Best Places to Live list. The ranking was based on the various things that make Richmond a great place to live and work. Richmond is known for having excellent job opportunities, housing, weather, schools, foods and drinks, entertainment, and many historical things to see.
About Richmond, Virginia
Even though Richmond is the capital, it is not the largest city in Virginia. It is the fourth on the list of places following behind Leesburg, Newport News, and Suffolk.
Richmond Mayor Levar Stoney, 38, has fresh and creative ideas for the city. He was honored with the 2019 "OUTstanding Virginian" award. He knows what Richmond needs. He doesn't just talk about getting it done, he gets it done.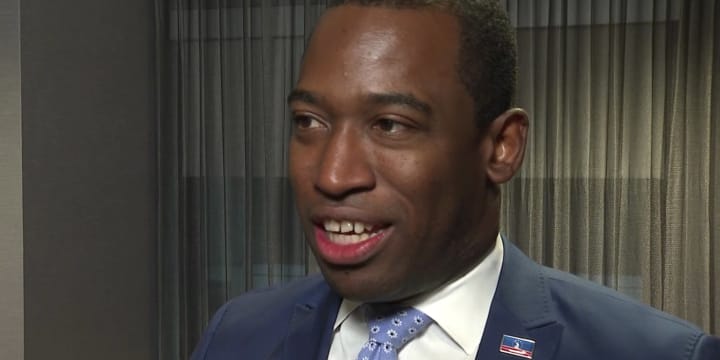 Plentiful Jobs
As Virginia's state capital, Richmond hosts a number of companies and agencies with jobs in law, finance, banking, and government. At any given time, there are about 26,000 available jobs in the Richmond area. When thinking about relocating, a job might be first on your mind. Don't worry because Richmond is the home to eight Fortune 500 companies. There is no shortage of jobs with the government, in finance, healthcare, or sales.
Housing
You will not have a problem finding someplace to live. Richmond is known for having affordable housing. The median house value is $240,000. A wide variety of housing types and styles are available in the city, suburban, and rural locations. Housing is so reasonable and available that some parents purchase a house for their college kids to live in because it is less expensive than renting or living in dormitories. Besides, it is convenient because they don't have to move their belongings every summer. After graduating four years later, some of them don't leave Richmond. They get a job and stay because they love the city so much.
Schools
Richmond is home to public and private schools. That includes elementary, middle and high schools along with several universities and community colleges. Students come from near and far to attend Virginia Commonwealth University/Medical College of Virginia, Virginia Union University, and the University of Richmond.
Churches
There are hundreds and hundreds of churches throughout the city. In fact, there are so many churches in one section that the area is called Church Hill. Many different denominations and church affiliations are available for newcomers.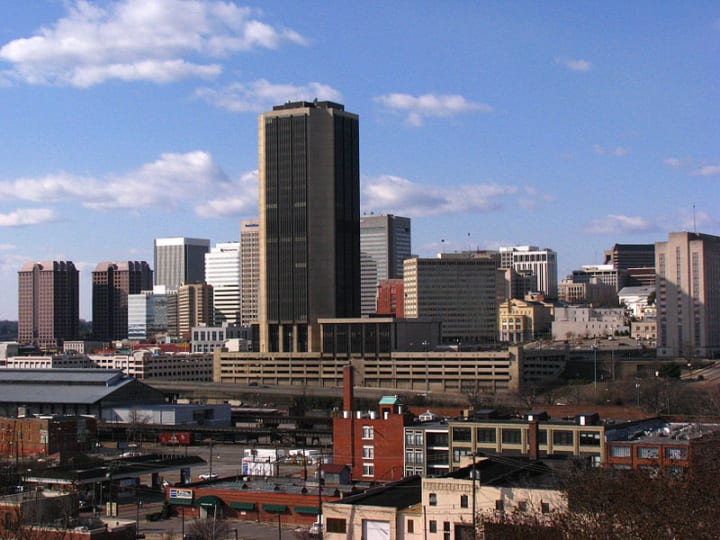 Weather
Some people move to Richmond just because of the nice weather. Cold weather doesn't begin until late November. Winters are relatively mild with infrequent snow in December, January, and February. It is not excessively hot in the summer. When it is hot, there are plenty of outdoor and indoor activities to keep people cool. Getting out on the James River is a favorite place during hot weather.
Eat, Drink and Be Merry
There is every type of restaurant in the city. Richmond has become the #1 beer destination in the world with over 32 breweries, numerous wineries, and cideries. While there are things to eat and drink, Richmond wants its residents to be healthy. There are farmers markets for those who want to purchase homegrown fruits and vegetables.
Events and Activities
Richmond is such a vibrant city that there are events and activities for the entire family. There is so much to do in Richmond that no one will get bored. Many of the events and activities at parks, playgrounds, and museums for children and adults are free. Lewis Ginter Botanical Garden is open all year long with events for the entire family.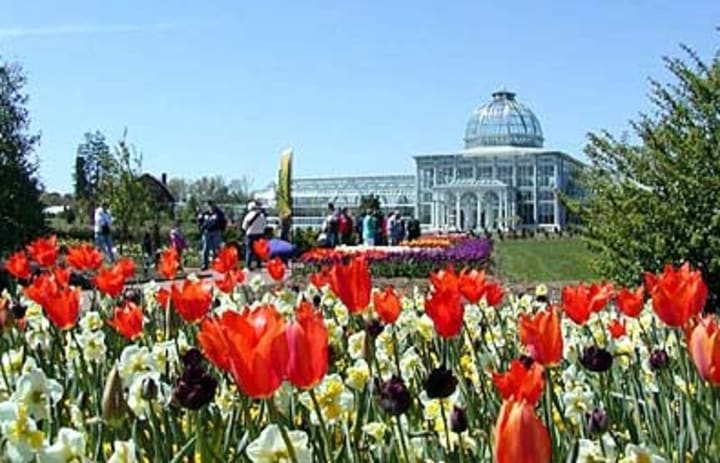 The city is a vibrant art community because Virginia Community University is an art college. Street art and murals can be seen all over the city. Richmond has numerous theaters with plays, concerts, and other up-to-date performances to see.
Producers love filming movies in Richmond because of its beauty. The recent movie Harriet was filmed in RVA as well as over two dozen other movies. Part of Season 14 of The Bachelorette was filmed in Richmond on July 2, 2018 during Becca Kufrin's season.
Sports
RVA is home to several sports teams including the Washington Redskins Training Camp. Fans can watch the team practice every August for a new season of NFL. VCU Rams and Richmond Spiders are also Richmond favorites.
There are many private and public golf courses throughout the city if golf is your sport.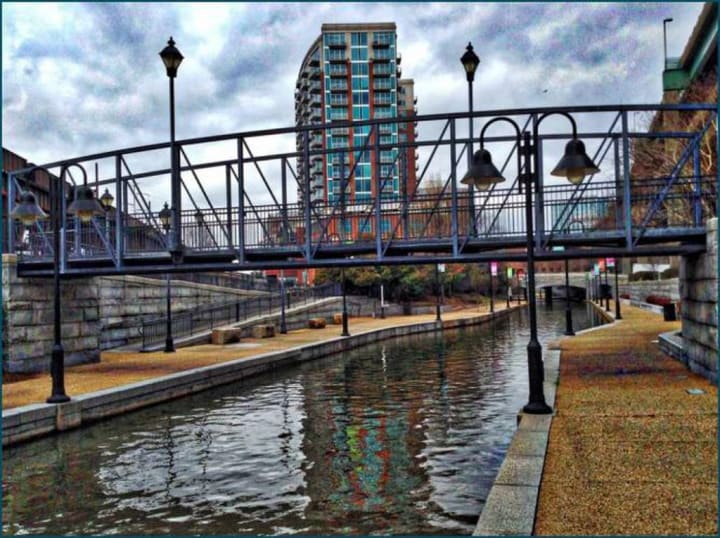 Shopping
You can shop 'til you drop in the River City because there are many great places to do so. There are shopping centers all over the city. You don't have to go far to find one.
Accessibility
When I moved to Richmond, I was told that I could get from one part to another in about 24 minutes. I have found that to be true. However, there is at least one body of water that must be crossed to get to some of the places. That's because Richmond is divided into four sections: North Side, Southside, West End, and East End.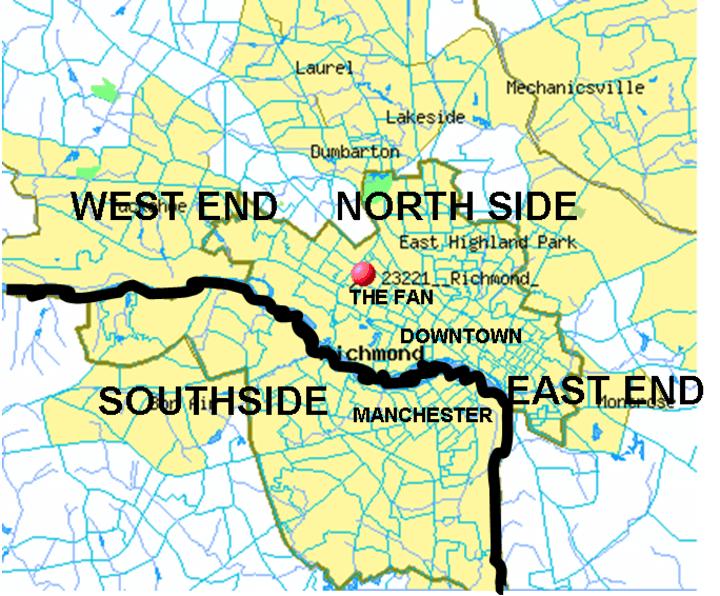 If you live in Richmond, you will be near Interstate 95 that will take you North and South and Interstate 64 that will take you East and West. That means you are about two hours from Washington, DC going north and two hours from Virginia Beach going east.
It is easy to get around in the city and travel to and from Richmond whether you choose to go by car, bus, train or airplane. Richmond International Airport is only 10 minutes from downtown. There are two Amtrak locations. The Greater Richmond Transit Company (GRTC) is a state-of-the-art system with 36 local routes , 9 express routes , 1 rapid transit line , and a fleet of 231 buses and vans.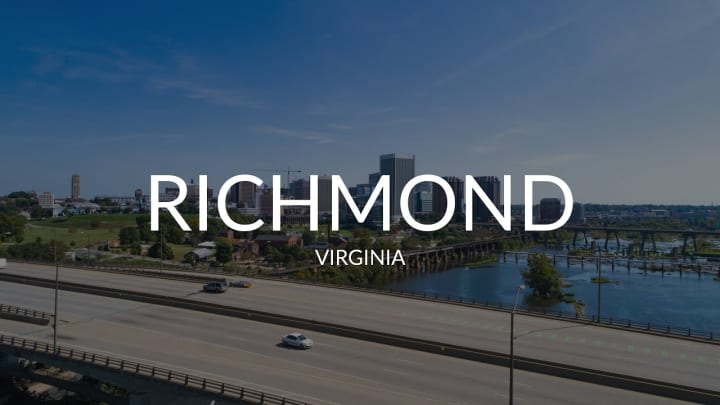 Additional Information
Do not confuse Richmond in Virginia with other states that have a city with the same name. There are 22 of them around the world with 14 of them in the United States. It is interesting that the residents of all the cities are not known by the same name. Residents in Richmond, California on the west coast are called Richmondites. Residents in Richmond, Virginia on the east coast are called Richmonders.
If you visit, don't be surprised if you decide to move to Richmond, Virginia. Then we might become neighbors. I think that would be a good thing.