Vacation Prep
Tropical Vacation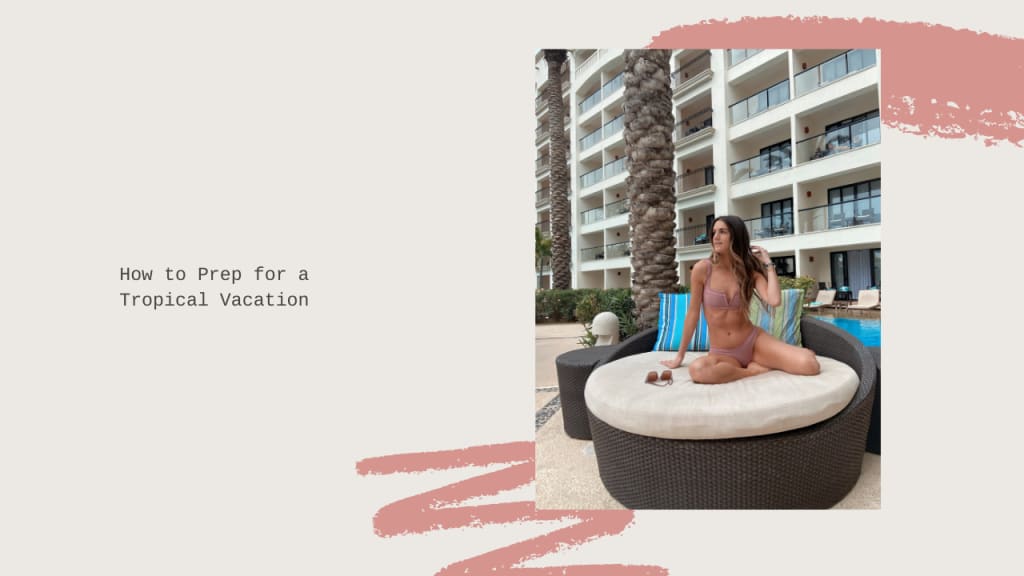 In LA, winter ends pretty much as soon as it starts since its sunny and almost 80 in February right now. However, I know in most other parts of the world, seasons are a bit more…real. That being said, I know my friends on the East Coast are itching for a tropical vacation trying to avoid the cold so I put together my top tips for how I prep for a tropical vacation coming off of my recent trip to Cabo – here's some pointers on things that I did do or like to do before I hit a tropical destination!
For Your Sanity
Start early, that's it. I'm the queen of procrastinating and it always ends up with me destroying my apartment trying to find something at the last minute and then coming back to an absolute disaster. The earlier you start, the less stressful the process is – it sounds simple but sometimes starting is the hardest part! Put in in your calendar and make it happen
For Your Body
- Get a good workout in BUT don't go overboard. The last thing you want to do is get to your destination and be too sore to really enjoy yourself. If you follow me on Instagram, you know I love doing P.Volve because it's "prehab" aka not crazy hard on your joints and muscles but helps tone and elongate your muscles. You can select what areas you want to target, what equipment you have and how long you want the workout to be. I kick it into high gear about a month before and be consistent while also being able to take recovery days and not be in physical pain 24/7. A helpful tool for recovery is a Theragun, it's a lifesaver!
- Sometimes you need to just kick back and sweat everything out of your body. I've been loving hitting the infrared sauna lately for both my physical and mental health. Taking 30 – 60 minutes to just sweat and let it go can be great for both your physical and mental being. A lot of gyms have saunas or you can find one on ClassPass or a studio near you!
- Exfoliate your ENTIRE body and moisturize after. I like to use a dry brush to keep the blood flowing (it also helps reduce cellulite) and exfoliates at the same time. After a workout in the morning, I do a quick dry brush session before I hop in the shower and I feel like a whole new woman. If I'm exfoliating in the shower, I like to use this Kopari scrub that smells like absolute heaven. After the shower, I cover my entire body in this Josie Maran Whipped Argan Oil (the vanilla bean scent is to DIE for) and then go on my merry way.
- Shave a day or two before you go so if you miss a spot (I see you left knee cap), you can catch it before you head out! I use a men's razor on my body and then love this razor for my face to get any peach fuzz. The face razor also helps your makeup go on smoothly and acts as a facial exfoliant!
- Do your nails or get your nails done. It'll give you a bit to relax too! I've been loving getting dip powder because I can't keep normal polish on my nails to save my life - the color I keep going for is OPI Bubble Bath because it's neutral and matches everything (including a tan!)
- I like to get a nice glowy tan before I head somewhere tropical so I don't blind people on the beach with my vitamin D-deprived bod. Lately, I've been using Glow Boss which is a mobile spray tanning company that does organic, vegan spray tans that are SUPER natural and you don't look orange or streaky. If I don't use them, I like to do the faux glow myself with Bondi Sands. To keep my tan locked in, I use the Neutrogena HydroBoost moisturizer because it's water based and won't break down your tan. PRO TIP! Throw in a hair mask (I've been loving this one) while your tan soaks in to be twice as productive.
For Your Skin
- Keep it consistent. Before a trip is not the time to try some new peel and freak your skin out. Stick with what works and focus on moisturizing. Travel, regardless of the destination, dries out your skin so pack on the moisture before so your skin is ready to rock and roll once you hit the beach. I've been loving this Summer Fridays mask and this Drunk Elephant oil
- Exfoliate a few days before you leave for fresh baby skin (try out this gentle exfoliator) and lay off the products that make you overly sensitive to the sun since you're going somewhere tropical. Products like retinol and glycolic acid are great but can stay home for a few days.
- SPF! This is for your current self AND your future self. You'll be so sad if you're burnt on day 1 and even if you don't burn, you'll be REALLY sad when you have a sun spots and saggy skin earlier than you really should. I'm personally a big fan of Coola for my face and body because it smells bomb and isn't sticky like most sunscreens tend to be.
For Your Health
- Hydrate hydrate hydrate. I know, I sound like your mother but this is so necessary! I keep this water bottle with me at pretty much all times but when I need an extra kick, II grab some Liquid IV to boost the hydration. If your pee isn't clear, you're not hydrated – period.
- Don't get sick – there are few things worse than being sick on vacation or even just on the plane. I take Emergenc or wellness shots leading up to a trip to make sure my immune system is in tip top shape and I'm not getting on a plane congested
- Take Magnesium. This is like my version of Windex from My Big Fat Greek Wedding – I'm convinced magnesium fixes all of my problems. I take a few capsules at night and it helps me sleep and also really helps with bloating. Melatonin doesn't do it for me in the sleep category and bloating when you're on vacation is the actual worst so snag some magnesium and try it out BEFORE your trip to see how it goes for you and then throw it in your suitcase if you become obsessed like me!
- I recently started drinking this detox tea every night and It's a game changer (which I never thought I'd say about a tea?). It's great to kick start your metabolism and helps flush out toxins so you're feeling 100% when you hit the beach. During the day, I go for a mint tea or a green tea as it helps me still stay hydrated but has flavor.
Pack your bag (I recommend Away, they are the BEST) and come hang out with me on Instagram @victorianelsonn and let me know where you are planning to travel to next so I can add it to my list too! xx
travel advice
Bay Area born, LA living. Come chat on Instagram @victorianelsonn xx
Receive stories by Victoria Nelson in

your feed