Guides
Two Weeks in Sri Lanka
Here's how to make the most of your summer holiday in Sri Lanka.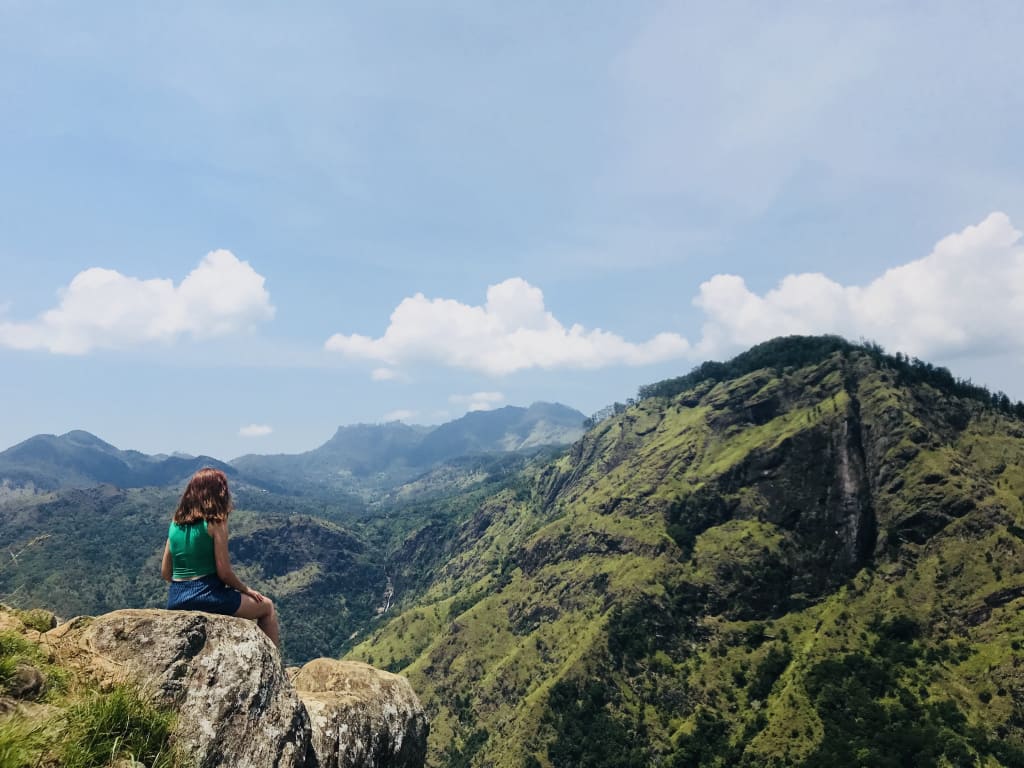 Views across Ella from Little Adam's Peak
This year, I had an amazing two week holiday in Sri Lanka! Here's how I spent it if you plan on doing the same.
General Tips
Here's some general tips before getting in depth about my two weeks in Sri Lanka:
We were travelling "off season" for the south/west coast which meant that a lot of beach activities like snorkelling weren't on due to rough waters.
The east coast would have been better but it was difficult to get there from the Central Province. We researched it, but it appeared that our only options were long public bus journeys (due to our time restriction we didn't want to spend days travelling between towns) or expensive taxis.
Your Kandy to Ella train should be booked well in advance to avoid having to stand for 7 hours in 3rd class.
Food-wise, it is UNREAL. But the portion sizes are massive and have some spice about them.
Colombo
So we had originally planned on spending a few nights here but after hearing stories from previous visitors to Sri Lanka, we changed it to one night which we spent fighting the jet lag and sleeping for about 14 hours at Bunkyard Hostels which I would highly recommend! The staff were amazing and they offer daily drives to Kandy and Arugam Bay for about £20.
Kandy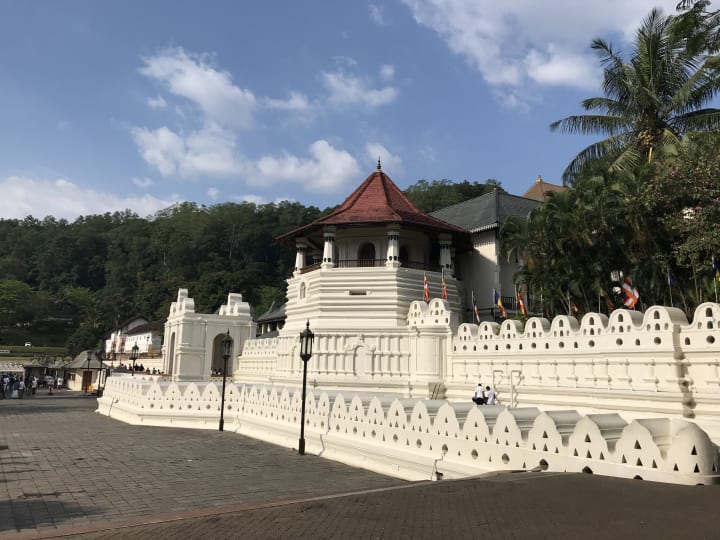 Based in the Central Province, Kandy is home to the stunning Temple of the Tooth. This massive temple is based around the canine tooth of Buddha and houses 3 museums as well—my personal favourite being the World Buddhism Museum which showcases Buddhism across the globe through photographs, statues and illustrations.
You can also take a stroll around the lake, visit the impressive Bahirawakanda Vihara Buddha Statue and watch the sunset at the viewpoint.
Ella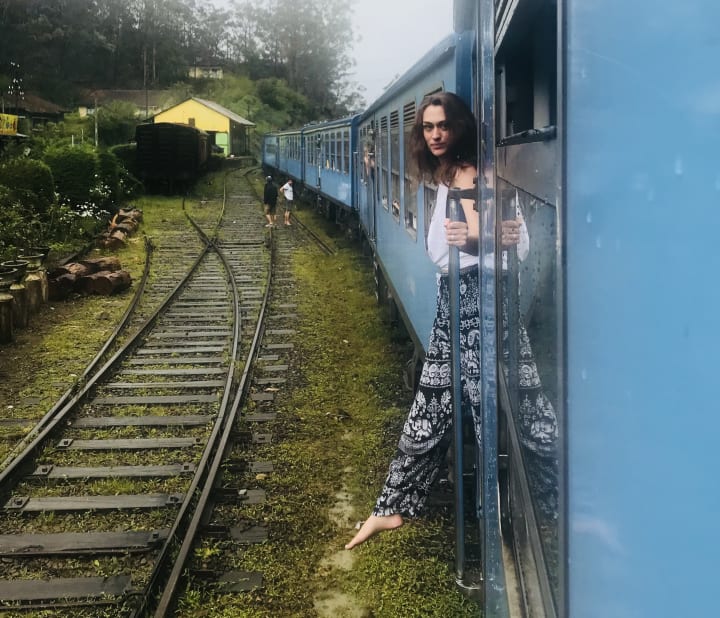 The Kandy to Ella train is arguably the most scenic in the world! And with local food vendors, open doors and amazing views, it's not to be missed!
Once we arrived in Ella, we freshened up and headed out for dinner at the popular Matey's Hut. This is a tiny restaurant at the end of the main road and is probably the best place to eat in Ella. With only 5 tables inside, its likely that you'll have to queue—but trust me, it's worth it for the 4 vegetable curry dish!
Our next day involved a 5am pickup for the safari at Udawalawe National Park. We booked via Viator with Summer Dew Tours. This was £115 each for two people—but this price varies depending on your party size. This includes your pickup and drop off, your safari tour and small breakfast snacks. It doesn't include the guide who you just tip at the end. The guide is optional but with their knowledge of the animals, it's a no brainer to have them on your tour! You also have the option of visiting the Elephant Transit Home/Orphanage after the tour which aims to rehabilitate orphaned and injured elephants and released them back into the park.
On our final day in Ella, we walked up Little Adam's Peak. This only took about two hours from when we left to when we got back. Despite the quick time, it's necessary to have decent footwear, water and sun tan lotion. We then cooled down at Ravana Waterfall—about 6km from Ella.
Tangalle & Mirissa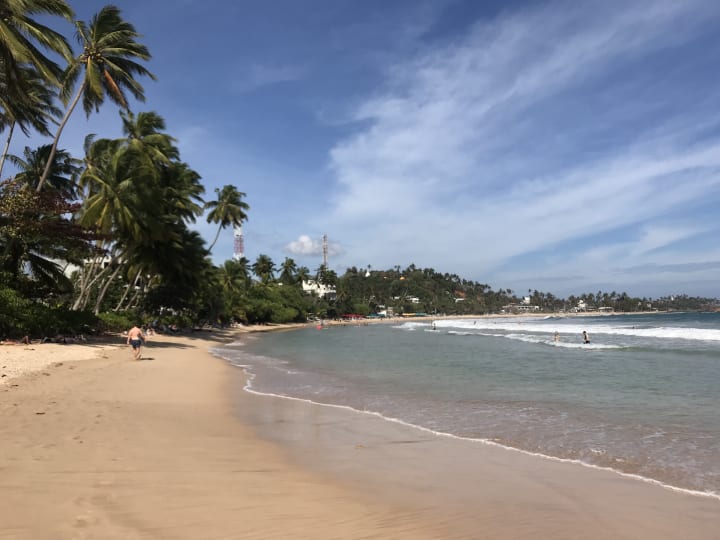 The same drivers that dropped us off at Udawalawe took us down to the coast for about £50. This was definitely the most expensive bit of travelling we did but it was substantially faster and more comfortable than the public buses that offer a 7 hour journey with no air con.
We stayed at the amazing Palm Paradise Cabanas after finding a last minute deal on booking.com. They're situated right on the beach, allowing us to have the most chilled day in Tangalle.
From Tangalle, we took the number 32 bus (for Colombo) to Mirissa. This only took about an hour and a half and cost around £2 for the both of us.
We only stayed one night here at JJs Hostel which was great—we had spotless double room and the staff were knowledgeable about where to go in the area.
Galle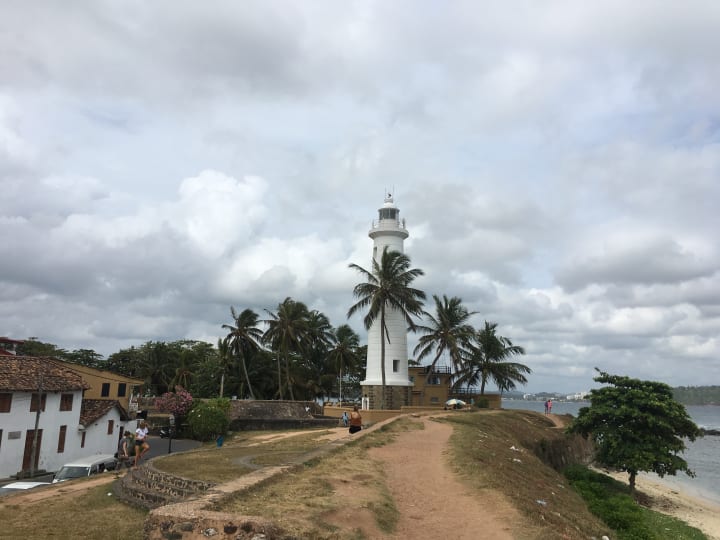 Galle is a really cool place to spend a couple of days. We did a bit of shopping around the Fort (there's many jewellers and tea shops, as well as museums and places to eat) before returning to our hostel Reliqua Galle for the most amazing home-cooked kottu.
Hikkaduwa
The main thing to do in Hikkaduwa is see some giant green turtles on the beach! Head down early morning for the best chance to see them. There's a few locals that will give you seaweed to feed them with, and keep an eye on the tourists to make sure they aren't crowding round or touching them.
If that's not enough turtle action for you, you can head to the turtle hatchery and rescue centre and learn more about the conservation efforts of the locals.
Directly opposite the hatchery is the Tsunami Education Centre and Museum where you can find out more about tsunamis and see photos from the 2004 Boxing Day Tsunami that affected hundreds of thousands in Sri Lanka. This is eye-opening and emotional, as expected.
Negombo
Close by the airport, Negombo is where most people will spend a night before heading home or starting their Sri Lankan trip. We chose to relax at Jasmin Villa—a beautiful spa resort offering a 180 minute Ayurveda package which includes a full body massage, a sauna and an amazing Shiodhara (warm oil head treatment)—all for £25! This is the perfect way to set you up for a long haul flight!
Sri Lanka is a beautiful place, and even if you only have a couple of weeks to explore, it's worth it.
Thanks for reading!
Lyns x