Top Rides at Universal Studios Florida & Islands of Adventure
Get Ready For Exhilarating Thrills and Amazing Memories!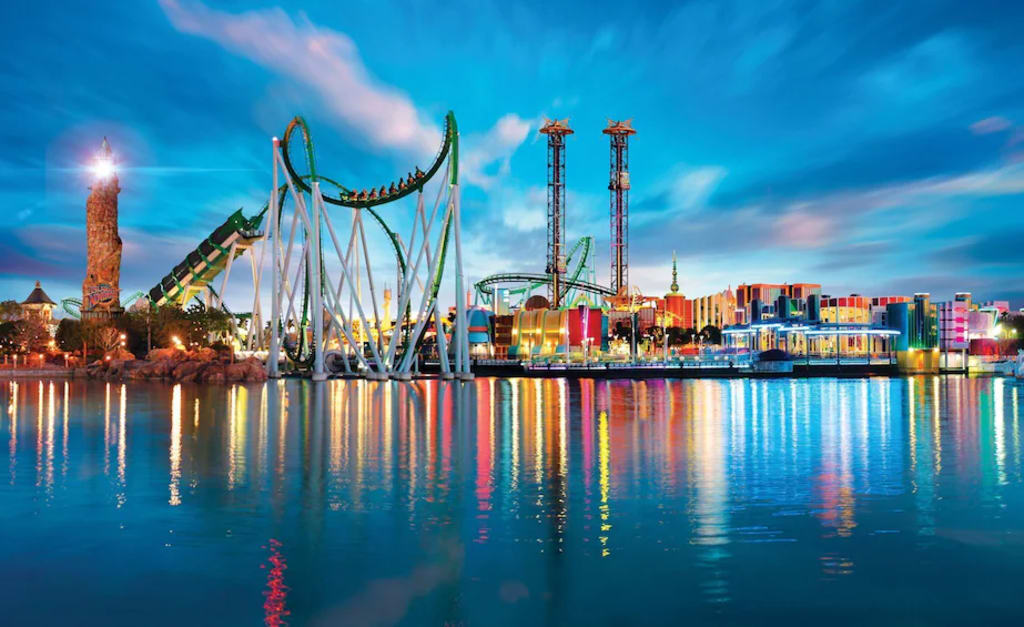 If you are planning a trip to Universal Studios Florida resort it can be overwhelming deciding what attractions to make a priority. I highly recommend buying a two park pass so you'll be able to easily travel between parks using the Hogwarts Express to circumvent waiting in line and having to go through security again. Downloading the Universal App can also be handy, so you will be aware of wait times at different attractions and can plan your day accordingly. Here is a list of the attractions you definitely do not want to miss!
Revenge of the Mummy (Universal Studios)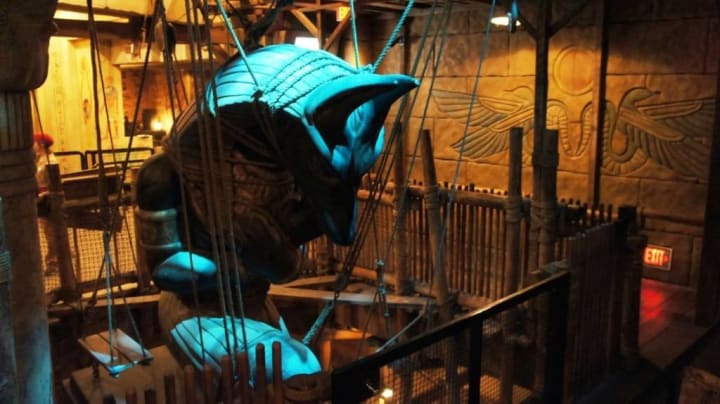 Built in 2014, this indoor roller coaster dark ride offers an immersive adventure combined with a high-speed thrill ride. The outside of the building intrigues riders as they approach the façade of the 'Museum of Antiquities.' Inside there is an exhibit encompassing Ancient Egypt, with all the peculiarities of pharaohs, artifacts, and mummies presented. The entire que line amps up riders for the experience, with archaic paintings lining the pillars to immense statues and eerie lighting.
What really makes this such a unique and unforgettable ride experience is the delicate balance given that makes it the perfect amount of dark ride and thrill ride in one. This ride boasts no shortage of dark atmospheric sets, uncanny animatronics, and pyrotechnics. You'll also experience, drops, going backwards, and twists and turns that will leave you breathless. Revenge of the Mummy was ahead of it's time when it came out, and still stands as one of the best rides ever made, bending the known rules and perceptions of theme park rides and creating an exhilarating hybrid experience.
Velocicoaster (Islands of Adventure)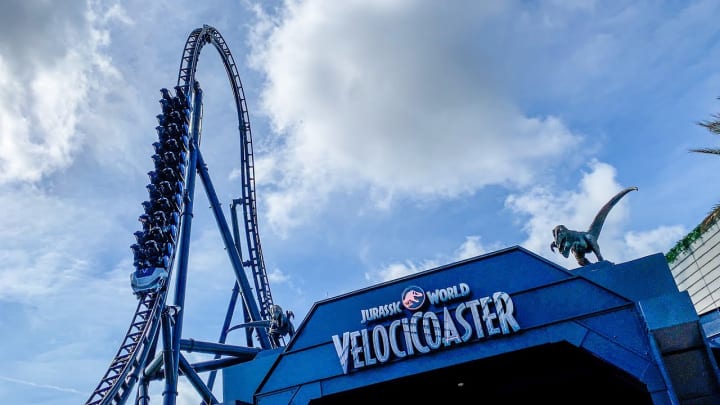 Opened July 2021, Velocicoaster is currently Florida's tallest and fastest launch roller coaster. The lines for this one are going to be a little longer due to it's newness and distinctiveness, but this beast is certainly worth the wait. Waiting in the que you'll see an impressive statue that displays the four starring raptors of the ride, Blue, Delta, Echo, and Charlie. At one point in the que, you will find yourself just feet away from the 70mph launch, where you will feel the pressure of the air change and see the raptors charging past you. If you weren't pumped enough for the ride, you'll next enter a room where you'll watch a safety briefing movie starring the Jurassic Park movie character Claire. She'll be interrupted by Owen several times to not let riders get in as it is too dangerous, but she'll just smile and wave you on, and you'll be glad she did.
The actual ride experience is phenomenal and breathtaking. Firstly, you are only equipped with a lap restraint even though this high-speed thriller has four inversions and launches you 70mph in just 2.4 seconds! You'll launch again at 50mph before doing a unique 155ft tall "top hat" maneuver, then dropping 140 feet at an 80-degree angle. This ride's track crosses over and under itself forty times and you'll even experience a barrel roll before you're done. Velicicoaster is all about testing the limits with speed, maneuvers, and airtime. A fun fact about this ride is that is has no breaks until the end of the ride, the coaster only speeds up during its journey.
Jurassic Park River Adventure (Islands of Adventure)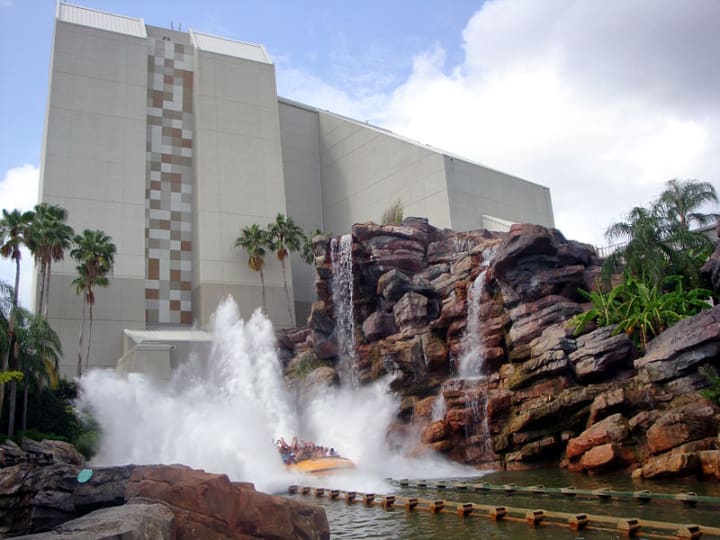 Another classic attraction in the Jurassic Island section of the park, this one goes from a peaceful riverboat ride to a tumultuous escape. Originally opened in 1996 in Universal Studios Hollywood, the ride came to Orlando in 1999 with a splash! This attraction employs 1.5 million gallons of water, with one of the largest theme park water descents in the world. Waiting in the que you will be submerged in the Jurassic Park world, the classic theme music playing in the background, and videos from Ingen employees advising the safety measures of the ride.
Once in the raft, guests will embark on a tranquil journey through such areas as Ultrasaur Lagoon and Stegosaur Springs. You will get the chance to witness several dinosaur species in their natural environment, before one of the creatures knocks the boat off course. From there you veer into a closed off section of the park that is full of danger and surprises. Keep your eyes open and prepare for thrills and the very real chance of getting soaked as the ride commences with a steep 85-foot drop!
Hagrid's Magical Creatures Motorbike Adventure (Islands of Adventure)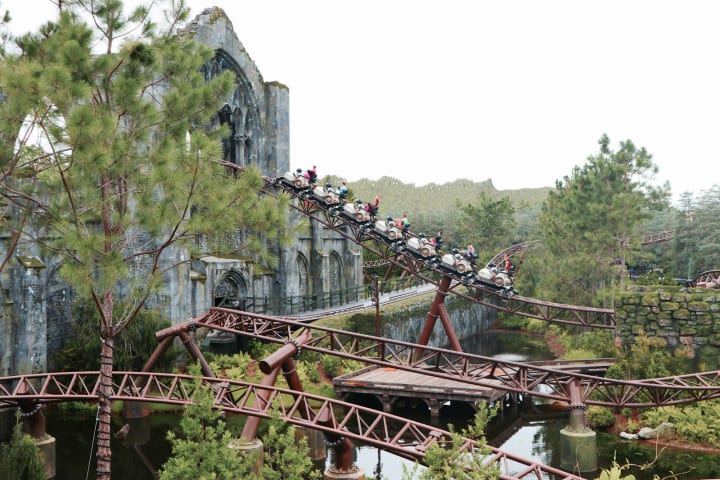 Located in The Wizarding World of Harry Potter: Hogsmeade, this hybrid attraction provides rich storytelling, captivating animatronics, and a full thrills roller coaster. The que is a wonderful experience, where guests will wonder towards the Forbidden Forest, packed with moss-covered ruins and a variety of magical trees. At one point on the path, you will come across Hagrid's hut, which is artfully recreated. Before boarding there will be a preshow where Hagrid and Arthur Weasley appear and speak to the audience.
Passengers then enter and are either sat in the replica's of Hagrid's motorbike or the sidecar, as pictured in the Harry Potter films. The actual ride is unique in comparison to many of the newer rides at Universal as it doesn't rely on screens to entertain guests during the excursion. Instead, there are artfully crafted props, animatronics of magical beasts, and sets boasting stunning effects. The track is wild, utilizing launches, dead ends, vertical drops, and even going backwards. With all the thrills it may be difficult to catch a glimpse of all the creatures residing in the forest, but centaurs, pixies, and even Fluffy (the three headed dog), make cameos in this playful ride.
The Incredible Hulk Coaster (Islands of Adventure)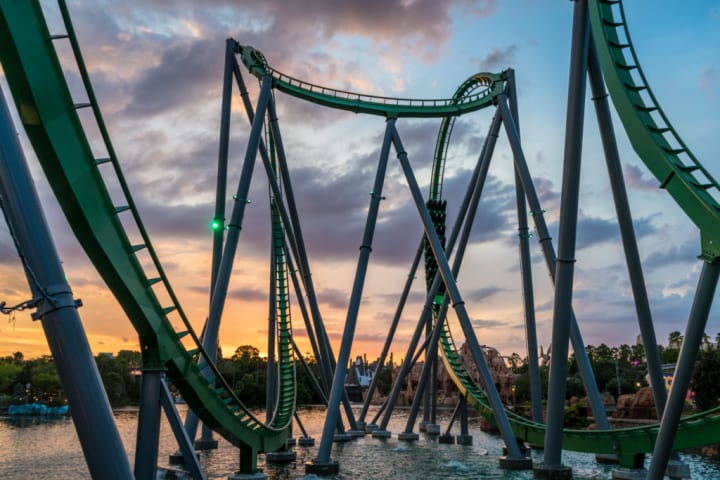 Despite its daunting appearance The Incredible Hulk Coaster is actually very smooth and incredibly fun. The story behind it is that General Thaddeus Ross is conducting experiments to see if he can find other hulks among the population. The que will wind you through the testing facility and up a ramp, leading to the launch platform. The trains are then loaded into the Gamma Core before being released on a twisting track.
You will immediately be launched at 40mph out of the core and head into a diving zero-g roll. Guests will also experience a classic cobra roll over a lagoon, and a hefty loop. In all you will experience seven inversions on this euphoric ride. An interesting fact about this ride is that the initial launch takes so much power, the city of Orlando refused to allow Universal to tap into its power grid. Instead, Universal had to install onsite turbines that generate enough power to propel the coaster up the launch hill every twenty seconds.
E.T. Adventure (Universal Studios)
Opened to the public in 1990 this classic dark ride provides a surreal and extraordinary adventure. The que for this attraction is nearly as spectacular as the ride itself. When you enter you will view a video message from Steven Spieling stating that E.T. needs your help. You will then began traversing through a forest where you will see many props and scenes that entice nostalgia from the movie. Eventually you'll make your way to the boarding area where you'll get in a very special bike with a basket at its front.
As you are taking off for the ride you realize E.T. is in your basket! Scientists, police, and government agents are immediately on a mission to stop you. E.T. works his magic and soon you are flying in the air high above the beautiful city below. The props and animatronics in this ride were clearly given so much attention and love that it makes you yearn for the old times. This attraction is over thirty years old and is the only ride left at Universal Studios that was originally there when the park opened. While this one doesn't have all the big thrills of some of the other rides, it has the true dark ride essence and is brimming with enchantment and imagination.
Popeye & Bluto's Bilge-Rat Barges (Islands of Adventure)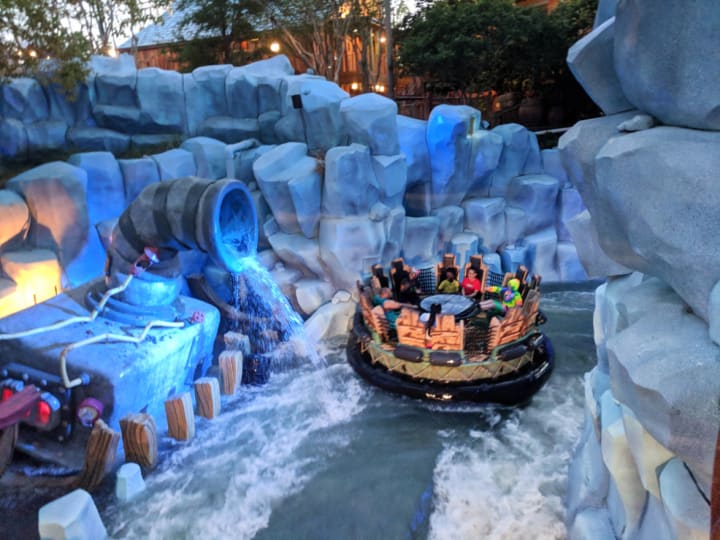 A classic river rapids ride, with a charming story and plenty of cute props, will be sure to put a smile on your face. Found in Toon Lagoon, this water ride is sure to get you drenched from head to toe. Unlike many river rapids attractions, this one has waterfalls, squirt guns, and dips that ensure everyone in your boat gets a good soaking.
Embark on this journey where Popeye is on a mission to rescue his love Olive Oyl from his longtime nemesis. You'll be seated in a circular raft where you'll experience splashes, dips, turns, waterfalls, and other water obstacles for the duration of the seven-minute ride. There is also a bridge above the rapids where other guests can use water canons on riders. This is one of the original rides from when Island's of Adventure was opened in 1999.
Harry Potter and The Forbidden Journey (Islands of Adventure)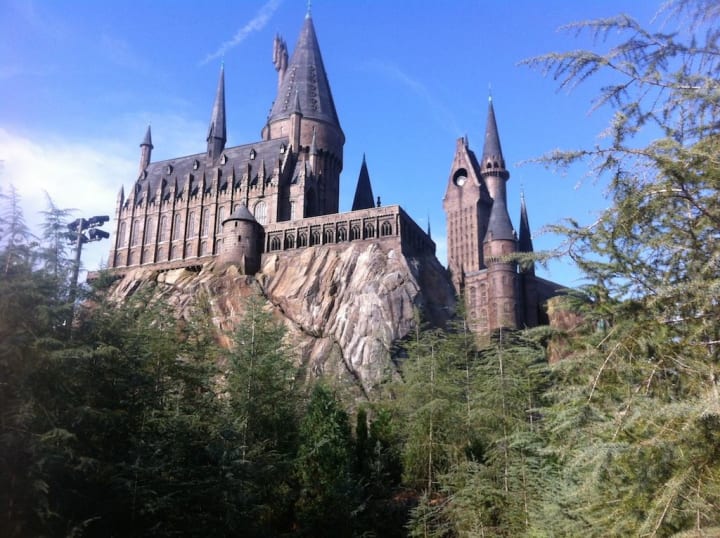 A scenic dark ride that takes you on a journey through the wonders of Hogwarts castle. The que of this ride is often mentioned as a must see by Harry Potter fans. You'll enter through the castle, winding through a dungeon with secret passageways, before entering the greenhouse where baby mandrakes can be seen ready to be planted. You will saunter to Dumbledore's password protected office before he emerges and welcomes you to your tour of the castle. You will continue forward, observing such things as the Defense Against the Dark Arts classroom, the portrait of The Fat Lady, the Gryffindor common room, and more before finally making your way to the boarding area.
This ride utilizes 3D screens to create the environment and adventure for its riders. You'll travel through the Floo Network, escape the Womping Willow, and even come across dementors. There is a good amount of motion in this ride, from turns, dives, and pivots, to even being seated on your back at points to observe the ceiling. Ron, Hermonie, and Harry will stick with you throughout this lighthearted adventure that can be found in The Wizarding World of Harry Potter: Hogsmeade.
About the Creator
M.R. Cameo generally writes horror, sci-fi, fantasy, and nonfiction, yet enjoys dabbling in different genres. She is currently doing freelance work for various publications.
Reader insights
Be the first to share your insights about this piece.
Add your insights