The Most Exhilarating Halloween Attractions - All Centrally Located In the Supreme Haunt Destination
A Can't Miss For Scare Seekers!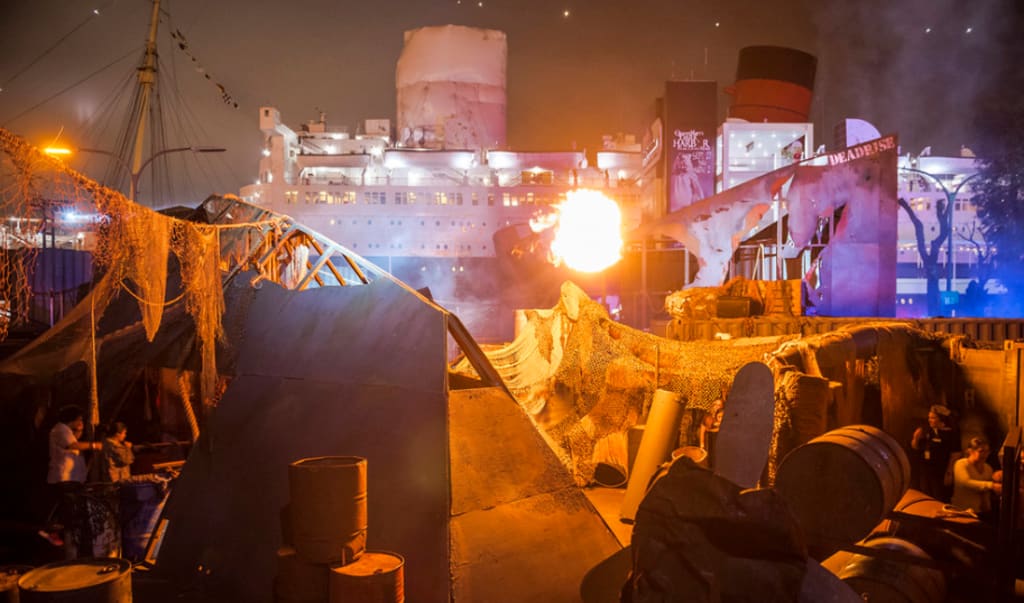 Southern California, well known for its sandy beaches, fresh innovative cuisines, and amazing year-round weather, also has holds another distinction; the haunt capital of the world. A visit to SoCal during the haunting season is a must for all Halloween lovers. Here are just a few of the terrifying destinations that will be sure to fill you with fright!
Queen Mary's Dark Harbor
The Queen Mary has long been known as the world's most haunted ship and during the Halloween season guests have the chance to attend the legendary Dark Harbor. This event consists of several horrifying mazes, some taking place upon the actual ship in spaces where ghosts have been known to roam. The mazes are known for their state-of-the-art effects and truly terrifying storylines, including staple characters such as the Ringmaster, the Captain, and Half-Hatch Henry. There are also exciting street slider performances in which you can observe exuberant monsters put on a wily show. The event usually also has magicians, circus performances, and virtual reality horror experiences.
It is highly recommended that you take some extra time to explore the ship aside from the Dark Harbor event. Their daytime attractions are constantly varying, between such as The Steam and Steel Tour where you are able to go twenty-five feet below the water line and explore the boiler rooms, water softening plant, and turbo-generator room, or Churchhill, an exhibit commemorating the former British Prime Minister. Others such as the Ship Yard Gallery and The Glory Days are more permanent fixtures, celebrating the craftmanship and extensive history of the luxurious ocean liner.
The nighttime attractions offered are definitely more in line with those looking to delve further into the ships haunted inwards. Check out classic favorites such as Dining with the Spirits, which includes a first-class dining experience at the award-winning Sir Winston's restaurant followed by a unique haunted history tour, or check out Paranormal Ship Walk where you will be able to explore all of the ships most known haunted spots. Always be sure to check their rotating nighttime events which include such excitements as Paranormal Investigations, where Matthew Schulz, a leading paranormal investigator, will lead you to the most active spots with state-of-the-art ghost hunting equipment, or Illusions of the Passed, a theatrical interactive séance bringing forth encounters with the ship's legendary ghosts.
Knott's Scary Farm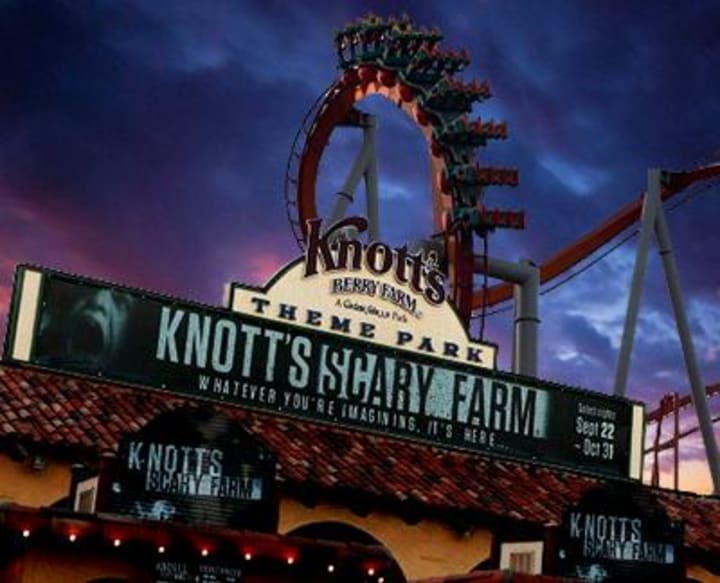 Charming Knott's Berry Farm is brilliantly transformed into to Knott's Scary Farm every autumn, the largest and longest running Halloween event in the world, and the first to ever be held at an amusement park. The entire 160 acres of the park turns into a horror madhouse, with spectacular mazes, roaming monsters, themed scare zones, and thrilling rides. There is no shortage of frightening spectacles, fog ridden streets or live shows, with the themes and entertainment ever-changing.
There is no better way to jump start your spooks than booking a haunt package that includes a room at Knott's Berry Farm Hotel, which overlooks the theme park. You'll be sure to find the lobby decorated in the finest Halloween schemes and to be welcomed with spooky keycards, collectible t-shirts, and an event map. Treat yourself to a delectable pre-scare dinner by attending the Knott's Boo-fet, which includes endless servings of signature dishes, including their renown scrumptious boysenberry pie, all served by gnarly monstrosities. By attending this dinner, you will gain exclusive access to the park a few minutes before it opens to the general public.
Enjoy going through the various mazes with the finest Hollywood effects, animatronics and actors; ranging from such horrors as 'Malice in Wonderland', 'Blood Bayou', 'Carnival of Carnivorous Clowns', and 'Jaguar-Temple of Sacrifice'. Saunter through sinister scare zones like 'Carnevil' or 'Ghost Town' all while being terrorized by demented clowns or wild west ghouls. Be sure to check the yearly event map to establish the macabre shows that will be available on the nights you attend. In years past there have been such performances as vampire musicals, mad doctors, zombie westerns, and even appearances by Elvira and Weird Al Yankovic. Make sure to top off your night of screams by experiencing some adrenalizing rides, such as the GhostRider, one of the longest, tallest, and fastest wooden rollercoasters in the world, or Montezooma's Revenge, a crazy ride that catapults out the station at 55mph, goes through a seven-story loop, and then after a moment of weightlessness, does the whole thing again backwards!
Universal Horror Nights Hollywood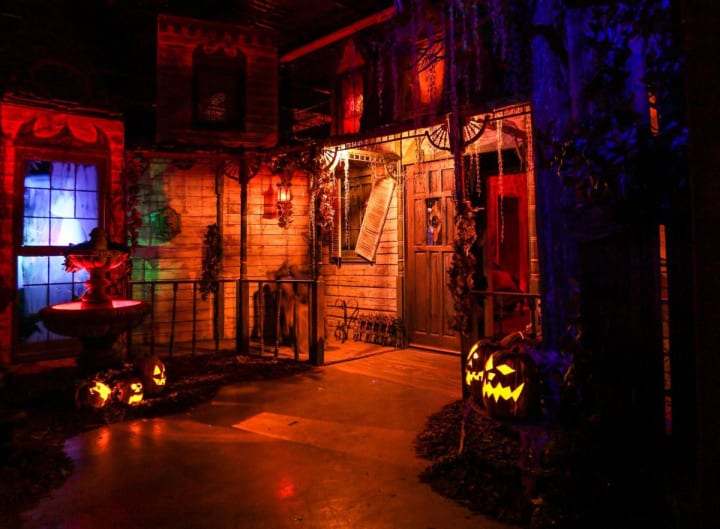 A high-energy Halloween event created by the movie studio that played a huge hand in fashioning the horror genre. Experience terrifying mazes that place you within some of the most frightening movies and television shows ever made. Make time for the variety of entertainment, transformed rides, and exclusive spooky food selections. This is a world-class horror event that completely immerses you in life-like recreations, making for an adrenaline filled fright night!
Get ready for haunted houses and mazes filled with monsters and maniacs inspired by popular franchises such as House of 1000 Corpses and Stranger Things. These haunts are situated throughout the backlot production studios and are meticulously crafted with movie soundtracks, familiar characters, representative lighting, and even scents faithfully conveying the pieces they represent. There are multiple elaborate scare zones permeating all areas of the park ranging from 'Rob Zombie's Hillbilly Deluxe' where you'll come across brutal maniacs while pulse pounding music drums your ears, or 'Anar-cade', an 80's tribute equipped with massive arcades, pulsating neon lights, and chainsaw wielding psychos.
Round off your night by experiencing Jurassic Park: The Ride at night or The Mummy's Revenge roller-coaster. Check out iconic horror shows such as Halloween Marathon of Mayhem, a nighttime lagoon display with immense water screens, fountains, lasers, and spooky special effects, or Academy of Villians, a stage show that is filled with acrobatics, cardio, and other amazing feats. Be sure to indulge in some of the delightfully scary foods such as a Ghostbusters Slimer Hotdog, Demogorgon's Totcho, or the Blood Red Devil combo meals.
Los Angeles Haunted Hayride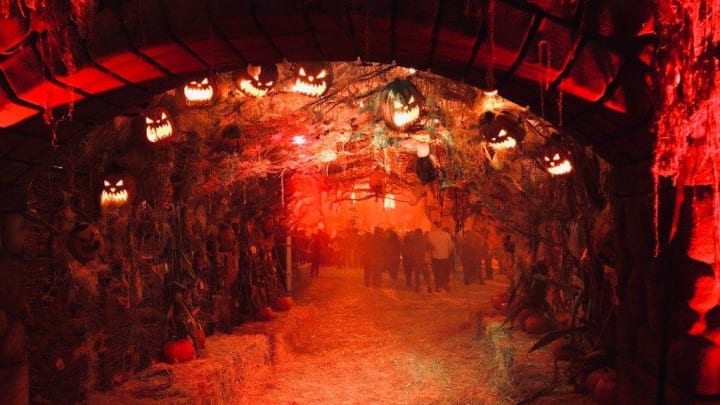 This unique hayride attraction has only been around a few years but has already gained its reputation as a Southern California Halloween staple. With an original and cohesive storyline, the hayride and supporting mazes provide an experience that balances serious scares with a tad of campy fun. You'll be transported back to a 1985 small town full of synthwave and fannypacks.
Start your journey by walking under a memorizing brick canopy festooned with various enchanting jack-o-lanterns. Explore the exclusive merch tent and check out what is playing at the nostalgic drive-in theater, or head right into the carefully created town of 'Midnight Falls'. Here is where you will be able to jump into the hayride and be trailed by ferocious creatures, or meander through the eerie mazes for intense pop-out scares. There are also rotating food trucks if you desire to have a bite, and be sure to stop and take a photo with the cherished Scary-Go-Round reverse carousel.
Six Flags Magic Mountain Fright Fest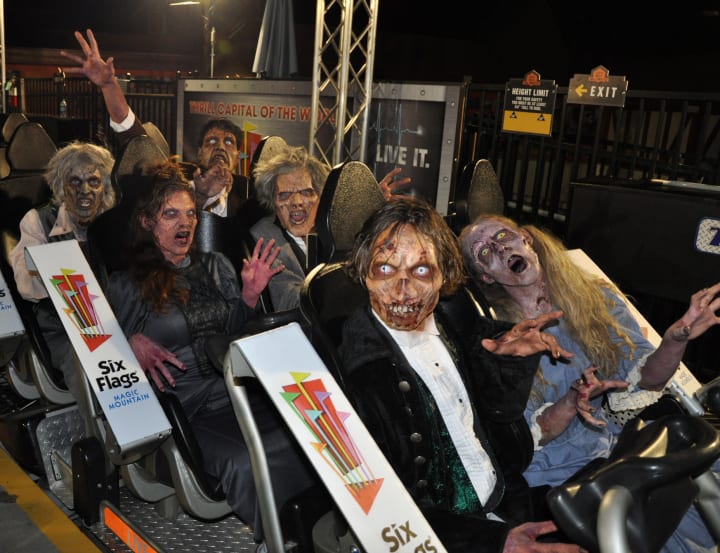 Already considered one of the top thrill capitols in the world, the screams are turned up even further for Magic Mountain's annual Fright Fest. This 262-acre park with some of the most gnarly roller-coasters, various family rides, and live performances; adds six spinetingling haunted houses, signature shows, daytime child friendly events, and exclusive spooky experiences for its Halloween bonanza.
Riding one of their several adrenaline pumping thrill rides will be sure to get the shrieks going. The Halloween season is absolutely the best time to ride the coasters at night when you will be provided several breathtaking views of the horror wonderland stretched across the park. Jump on Goliath, a metal super beast with a 255-foot drop that you'll take at 85 mph before coming over a hill where you'll experience pure weightlessness, or give Tatsu a spin, a unique flying roller-coaster in which you experience insane twists and heart-pounding dips all while riding facedown.
The mazes are different themes each year but in years past they have had Vault 666: Unlocked which held the unique setting of a museum with cursed relics and antiques in which several demons have escaped the artifacts, or 'Sewer of Souls', a creative maze in which visitors were given Cromodepth 3D glasses at the entrance before exploring an eerie nuclear power plant that had suffered some severe malfunctions. For those with children check out the park before 6pm, where the frights are tempered with such activities as Trick-or-Treat Trail, Halloween crafts, and photo opportunities with snoopy and friends. Make the most of your night by checking out one of their spellbinding shows such as 'Street Cirque', where you can witness amazing talents, or buy a ticket to their exclusive creepy dining experience, Dinner with a Ghoul, that is bursting with roaming monsters and Halloween themed indulgences.
Reign of Terror Haunted House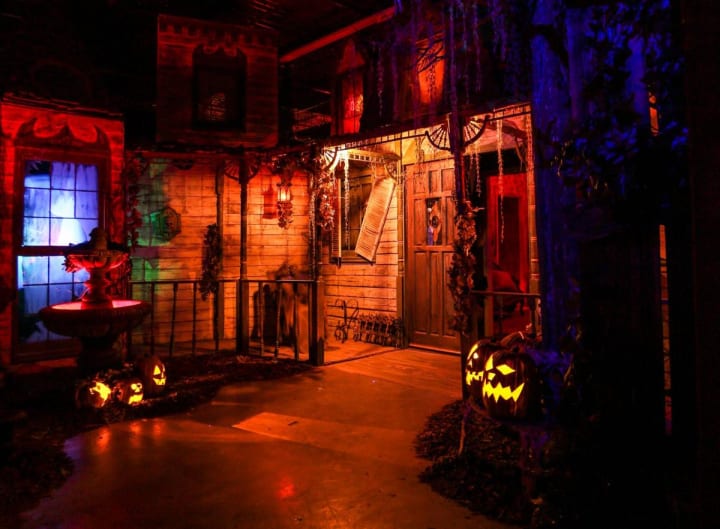 One of the biggest indoor haunts in the world with over 25,000 square feet of pure scares! Reign of Terror started out as a small yard haunt in 1999 but became overwhelmingly popular due to its attention to detail and top of the line frights. The residential streets near the attraction soon became so congested that the city of Thousand Oaks reached out to the haunt owner and offered him assistance in relocating the attraction to a more suitable location. It quickly became the massive haunt attraction it is today with visitors from all over the world making their way through it every October.
Wander through 120 enthralling rooms that span over nine chilling themed attractions, ranging from 'Casa Blood', 'Infected', and 'Fun House'. These mazes are methodically crafted and contain actors who are fully dedicated to scaring the begeebers out of guests! They are mindful about crowd control, keeping guests nicely spaced out from each other so they can have a secluded and frightening walkthrough.
Santa Anna Zoo Cryptozoology Night
An exciting once a year event where you can join Charles Spratley, a Haunted OC guide and lecturer to learn about some of the most infamous creatures of cryptozoology. Learn all about the origins, various sightings, and possible scientific explanations for such creatures as the lochness monster, sasquatch, and chupacabra. Enjoy guest speakers such Ben Hanson from the Syfy television show Fact or Faked where he traveled the world in search of the elusive creatures. After the presentation guests will have the opportunity to take a nighttime walk through the zoo and catch a glimpse of its various nocturnal animals.
Pirate's Dinner Adventure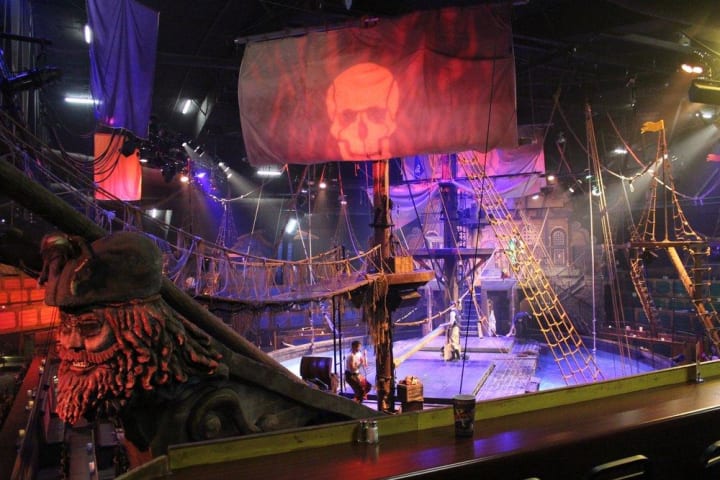 This family-friendly pirate themed interactive dinner theatre provides a hearty feast while putting on a Broadway quality show. The adventure takes place aboard a convincingly constructed 18th-century Spanish galleon afloat in a 250,000-gallon lagoon. Indulge in a night filled with renegade pirates, invigorating swashbuckling, dynamic pyrotechnics and wild shenanigans, all whilst devouring a three-course meal.
Enjoy Your Frights!
Southern California during haunt season is definitely somewhere you want to check out if you're a Halloween lover and looking for professional immersive scares. The market only seems to expand every year, with more attractions continually popping up and an exciting competitiveness always drifting in the air. Be sure to prowl the never-ending frights in SoCal if you are looking for the ultimate Halloween experience.
activities
About the author
M.R. Cameo generally writes horror, sci-fi, fantasy, and nonfiction, yet enjoys dabbling in different genres. She is currently doing freelance work as a writer, ghostwriter, copywriter, editor, and proofreader for various publications.
Reader insights
Be the first to share your insights about this piece.
Add your insights