Top 4 Places to Power Lunch in Sydney
Confused about where to take your fantastic team for a power lunch in Sydney? Check out these top four spots in the city for a business lunch.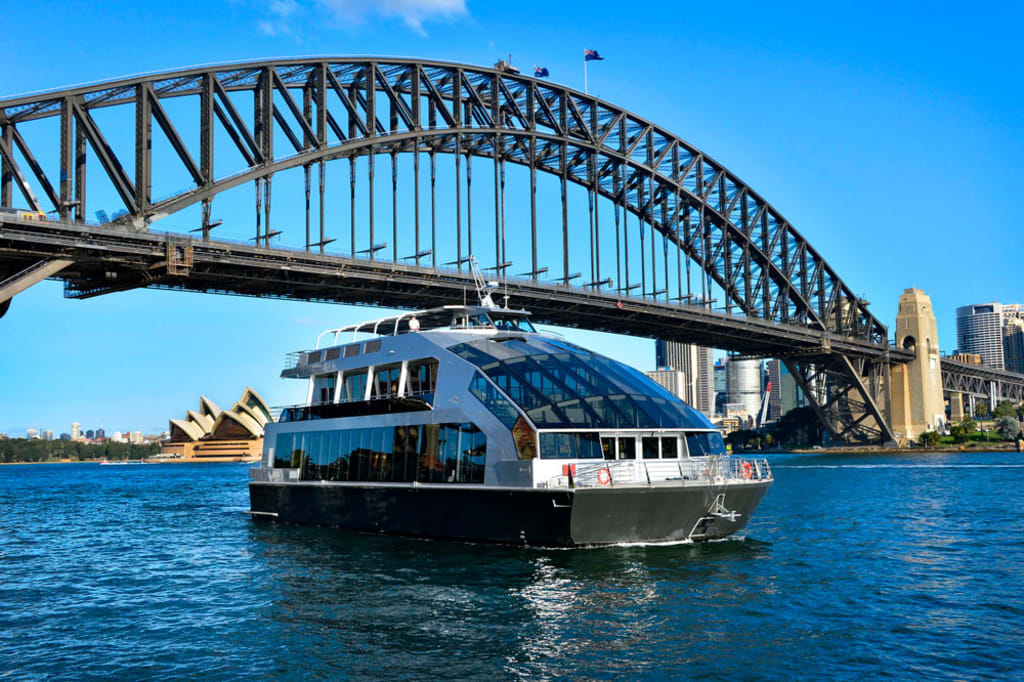 Restaurants have replaced boardrooms in recent years owing to the boom of CBD job openings. And what better setting for a business meeting than over a platter of something delectable in a gorgeous setting? Here are our top picks for the greatest power lunches for the suited and booted set from Monday through Friday.
Cafe Sydney
Cafe Sydney, as its name suggests, is one of the main contenders for lunch in Sydney's CBD.The Harbour Bridge, Opera House, and Sydney Harbor are all clearly visible from its terrace on the top floor of the Customs House at Circular Quay.
The creamy king salmon belly tartare with bug tail, shiso, and lemon crème fraiche is a standout on the menu. You should definitely check out the carrot Puree, eggplant, and sheep's milk labneh, and you can finish it all off with yuzu cream, blood orange jelly, and macaroon crumbs.
Clearview Lunch Cruise
You've probably heard about the numerous lunch cruises on Sydney Harbour. But what about having a deluxe lunch accompanied by your team onboard the only glass boat dining cruise on Sydney Harbour? Doesn't it sound interesting?
While enjoying a delicious lunch of grilled chicken breast with beurre blanc on greens or herb-crusted salmon fillet with heirloom tomato salad, you will have 360° panoramic views of national attractions such as the Opera House, Luna Park, Garden Island, and many more through the completely glass-wrapped body of the stylish vessel.
The menu on the cruise is astounding because of its extensive salad bar with a poke station, desserts, and special vegetarian dishes. You can also purchase premium drinks at the licensed bar. When you seek the options for Sydney Harbour lunch cruises, choose the Clearview lunch cruise. Experience your great times with Sydney's best luxury lunch cruise.
Pilu at Freshwater
Try exquisite Sardinian cuisine at a beachside restaurant with your outstanding team!
Lunch at Pilu at Freshwater is like entering a Mediterranean island getaway through a looking glass, yet one that can be reached in less than two hours without a passport . In a weatherboard mansion overlooking Freshwater Beach, Giovanni Pilu and his wife Marilyn opened their namesake fine dining institution 16 years ago. Since that time, they have remained steadfast in their devotion to the cuisine of Sardinia.
Over here, the tuna is served raw, diced, and the colour of red grapefruit. It is topped with pine nuts, fresh basil mayo, and parmesan shavings. In a tribute to the Spanish region of Catalonia, which shares a longitude with Sardinia and, as a result, many culinary similarities, this dish is an island, encircled in a moat of tomato gazpacho marbled with basil oil.
Otto Ristorante
This waterfront restaurant offers convincing evidence that elegant Italian food can be made without eggs, cheese, or meat.
Otto Ristorante is famous for their vegan menu, and they are also good at serving non-veg items such as pork ragù and squid ink.
Its item-rich menu also includes the gorgeous ravioli filled with a vegan hummus-like cashew cheese prepared with beetroot that has been pickled in spices and red wine vinegar until it is the right Pantone hue of burgundy red.
This restaurant is located on Cowper Wharf road in Woolloomooloo.
Sydney has become one of the most celebrated cosmopolitan cities in recent decades. The city is also rich with its diverse dining options, and if you are new to the busiest city in Australia, it is not always an easy task to find a restaurant that is apt to your budget and taste. Regarding this article, we have done vigorous research to find out and sort the four best power-lunch options for corporate personnel.
Try out these power lunch destinations at your ideal time, but make sure that you have covered these fantastic four!
Reader insights
Be the first to share your insights about this piece.
Add your insights