Guides
Thru-Hiking Pennsylvania Via the Appalachian Trail
94-miles of Hard Rock Hiking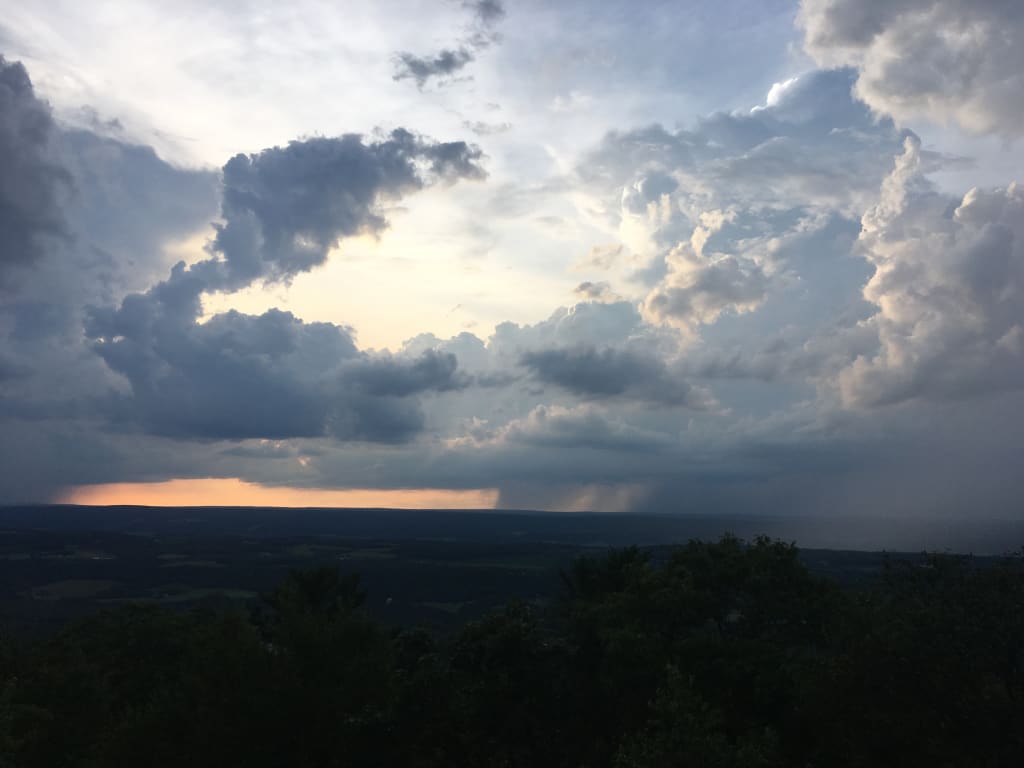 I had been on the Appalachian Trail (AT) for almost 100 days when I finally made it to Pennsylvania. One of the things you hear about since you start the trail is how rocky the Pennsylvania section is. The grapevine that connect the hikers and the hiking community warns about how you are sure to burn through at least one pair of shoes before the Delaware Water Gap (DWG). Many have even given the section a trail name: Rocksylvania, when referring to the "treacherous" trails ahead. Although I agree that there are many rocks, and concede at times they are tiring, I also believe there is so much more offered by the state than just rocks; and it should be recognized. When I look back on this section I don't just see the rocks that constitute the trail. I also notice the Friendly Trail Towns, Access to Cold Water, and Stellar Views. It bothered me that before PA hikers only hear about the rocks, but when you arrive you find so much more. I want to bring to light the 'Much More' to Pennsylvania from the perspective of Mr. Nature.
Ice Cold Water for Free
I hiked into Pennsylvania July 11th during the peak of summer. Summer storms would pop up in the afternoon heat without warning; temperatures averaged in the 90's, and the other two combined would keep humidity levels high. My weather app did well reminding me of the extreme heat advisories and bad air quality warnings... daily. Thankfully the trail meandered close to great water sources. Many of which still had a spring like coldness to them.
Boiling Springs is a great example of the quality of water through much this trail section. With its crystal clear lake, filled by a gushing spring downtown near the ATC office, it makes for a wonderful place to cool off while hiking in the Cumberland Valley farmlands.
Another was under the bridge in Port Clinton. The steep gravel descent into the train station had me dripping from head to toe. One of the steepest descents on trial yet, there were parts where I slid just from the trail grade. Once I made it to the bottom, I couldn't think of a quicker way to lower my body temperature than a quick strip, dip, drip in and out of the clear river water.
I was pleased that every day in Pennsylvania I was able to find at least one cold river deep enough for a dip, or a spring, ice cold and flowing enough for a splash. I would have been unable to hike through the heatwave conditions if the water had not been as crisp and cool as it was, I will include an exception for the Lehigh area as the water is non-potable, but generally the water was not only flowing but was cold and clean, an appreciation that would grow after New Jersey's warm and discolored pond water.
Friendly Trail Towns
One aspect that makes the AT unique from the other two big trails, in the US, is the ample access to towns and services. As you traverse the trail each town takes on a unique feel. Some are weary of hikers and unwelcoming, while others are generous and supportive of backpackers to astonishing lengths. Whichever form of culture a town takes, there is an abundance of towns and miscellaneous services all along the AT, easily accessible within a few days of hiking, and each one feels different from the others.
Pennsylvania offered some of the kindest trail towns of any of the 6 states I had already completed. From the crystal clear lake and name sake feature of Boiling Springs, to the magical forests and unexpected Jazz bar in DWG, Pennsylvania consistently offer a solid town experience. One town that stands out above them is: Duncannon.
When you first arrive in Duncannon you walk across a bridge that is well past its prime, with cracking sidewalks and puttied roads. Coming from the south you would have just finished a decent that averages 1000 ft/mi. Every where you turn old run down buildings line the streets. At first glance the town looks rough. doesn't seem like you'll stay long or leave your pack anywhere out of sight. But when you meet the people the town is composed of: run down is not the word to describe it. Such a strong community of people living there, so many ready and willing to help hikers. Inviting us in and treating us as one of their own. I truly felt like I could fit into this town.
Many times when a thru-hiker walks into a town or restaurant they feel eyes linger on them making them feel like an oddity. In Duncannon I never felt this way. I felt like the members of the town could relate to hikers; on the outside our communities both appear dirty and haggard but once you take time to find out what's on the inside you find a true value hidden inside.
Stellar Views
After tirelessly working through Virginia, the longest state on the AT, where much of the hiking was green tunnels, PA opens up and starts to let your eyes wonder again. Finally you are rewarded with views worth pausing and resting for an extra moment. Sometimes it would be open landscapes with valleys full of farm land and distance ridges. Other times it was dense lush forests, the floors of which would sometimes fall off into a sky blue backdrop where the ridge ended. A sight that made me able to better grasp the height at which I was hiking.
One evening I was lucky enough to watch storms roll across distant ridges. As I sat for a moment longer watching the sunset, it began to fall behind the sheets of rain, allowing the viewer to see the orange star; shining right through the sheets. I watched this for awhile but could predict the storms path, and I would be under it before long. After rejoining the white-blazes, the trail took a scramble on the edge of the ridge; periodically the tree would give way and I'd get a quick glamce of the rainy solar event.
During another section I wove through a maze of rocks guided only by the faithful white blazes. Questioning my path once or twice, before spotting another blaze on the rock. Scrambling over and between, keeping my head on a swivel so as not to miss a blaze. Having the terrain change like this really helps mix up the trail. Instead of every mile numbly feeling the same, the big boulders help add a spice to the trail. An important change up to keep you interested and on your feet. Another good example of Pennsylvania's eye candy was the Lehigh River area.
The North Bound approach to Lehigh Gap takes hikers across a long ridge, at one point crossing hundreds of feet over an Interstate where a tunnel takes it through the mountain. The surrounding forests are mostly pines, their fallen leaves giving a soft cushion to step where rocks can be avoided. As the descent begins you are given a view of the river and the barren, rocky ridge opposite you. The view ahead showcases the route out of the river's valley, giving a sneak peak at the obstacles ahead.
The climb out of Lehigh Gap is a gnarly rock scramble. Rock scrambling section are among the most technical and focus demanding hiking terrain. Rocks might shift, or surfaces be too slick to support a step; a slip could mean a bruised face, a twisted ankle, or worse. Due to the focus required I find these sections to be my favorite; I do not always want to be scrambling when thru-hiking, but rock scrambles do well to scramble the monotony, periodically experienced during a mind scrambling thru-hike. (yes, I did enjoy writing this sentence). For the next mile the trail climbs almost 1000 feet. Large exposed boulders and ledges form the trail; providing excellent views of the surrounding valleys the duration of the climb. The openness and numerous rocks allows hikers to pick their own path, allowing the mind to fall into a problem solving state. Carefully evaluating each step and the steps it will lead too; but having to do so while keeping a consistent pace. In my love for walking the 'knife's edge' my path drifted from trail. I wondered closer towards the highest parts and biggest rock shelves, seeking the best view offered. At times having to back tracking and re-evaluate a view's depth. I felt like a sponge thrown into a bucket of water: full; yet surrounded by fulfilling potential.
My last day hiking in Pennsylvania I did a 30.5 mile day. When you hike that many miles in one general direction, you see a lot of different scenes and views and squeeze them into a relatively short time. You'll realize how many unique types of ecosystems exist just miles from each other. You'll notice how quickly the rock composition can change by just switching sides of a ridge. By condensing the exposure time it helps tie the different together and make it seem closer.
The most notable section of trail that day were the final miles into the Delaware Water Gap. The climate begins to change as the trail winds closer towards the river. The forests explode with diverse plant life, similar to the Great Smoky Mountains or the Northwest. Streams spring from the ground from all the moisture caught inside the valley. I found myself breathing the air in extra deep, just to soak up a little more of the magic. To finish it off the town has a church that offers donation based lodging with a shower to the hikers. Coming out of such a wonderful forest after a hard day of hiking, then to be met by an air conditioned area, a place to get clean, and be hosted by a loving community. It was a strong feeling of true bliss.
In Closing
I hope to offer an alternative perspective for future hikers. A more dynamic view of Pennsylvania's section on the Appalachian Trail. I hope to make a point that: even the treacherous rocks of Pennsylvania can be more than just shoe destroyers. They can be a large scale, fast action, consequence carrying game of hopscotch.
Tuned into the right mindset, the long sections of boulders become a dance, the steps laid out across the boulder field ahead. The hiker must focus on finding the rhythm of the steps; must allow the movements to flow from their body. Prancing from rock to rock; skipping one to the other, looking for the flattest foot placements. Keeping a strong center of gravity; moving in pace. Every step quickly picked out; your body moving in an almost instinctual, sub-conscious manner. Every leg muscle ready to soften each step; every toe ready to grasp for grip. If you lose focus you might bang your ankle on a hard edge, or misstep and slip into a rock crack; but if you trust in the dance and feel out the movements you'll find yourself gliding over certain rock sections.
I am not saying Pennsylvania wasn't a rough and rocky section of trail; because it was. It will wear down your sole; maybe even a little at your soul too. I smashed my toe endless times; I slid to my knees on rocks; I even bled my own blood... numerous times. But don't let that be all you prepare for when you think of the Pennsylvania section of the AT. Make sure to appreciate all the other things it offers hikers. The rocks might slow you down, but it's still up to you how to spend that time and the mindset your in.