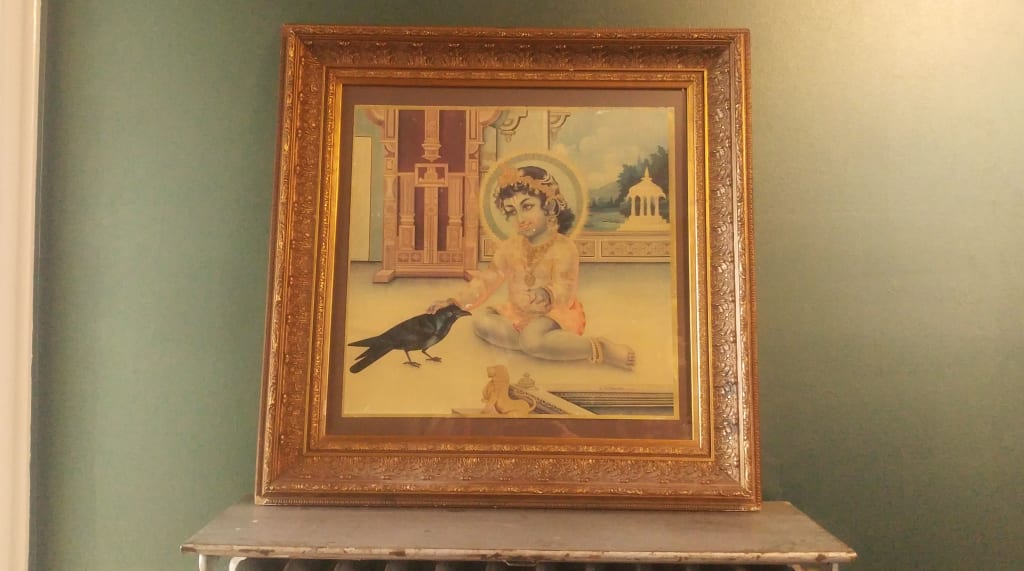 A few years back, my wife and I lived in Jaipur (in Rajasthan, India). For tourists, there's an endless list of famous sites to take in—the famous Hawa Mahal and its 900 windows, the massive multi-level Amber Fort, the City Palace complex, the opulent Rambaugh Palace, the many bazaars within the old city, and a million other sites.
It's all great, but after a while I grew tired of seeing the same kinds of souvenirs over and over, shop after shop. All of that stuff is wonderful, but it's also made for tourists. One can only own so many kathputli puppets or pashmina scarves.
So, being the stuff-oriented kind of person that I am, I began to wonder what kinds of old junk might be available and imagined all of it being extremely interesting. Visions of old statues, broken knives, ancient books, and all manner of gimcracks, ornaments, and trumperies danced in my head. I got to thinking one day, "I wonder if there are any thrift stores here, just like we have in America?"
And well, the answer was a resounding NO!
Or, at least that was the first answer I got. I'd mentioned to a tuk-tuk driver one day that I really wanted to bring home an unusual souvenir—something like a meter from a tuk-tuk. They look like this: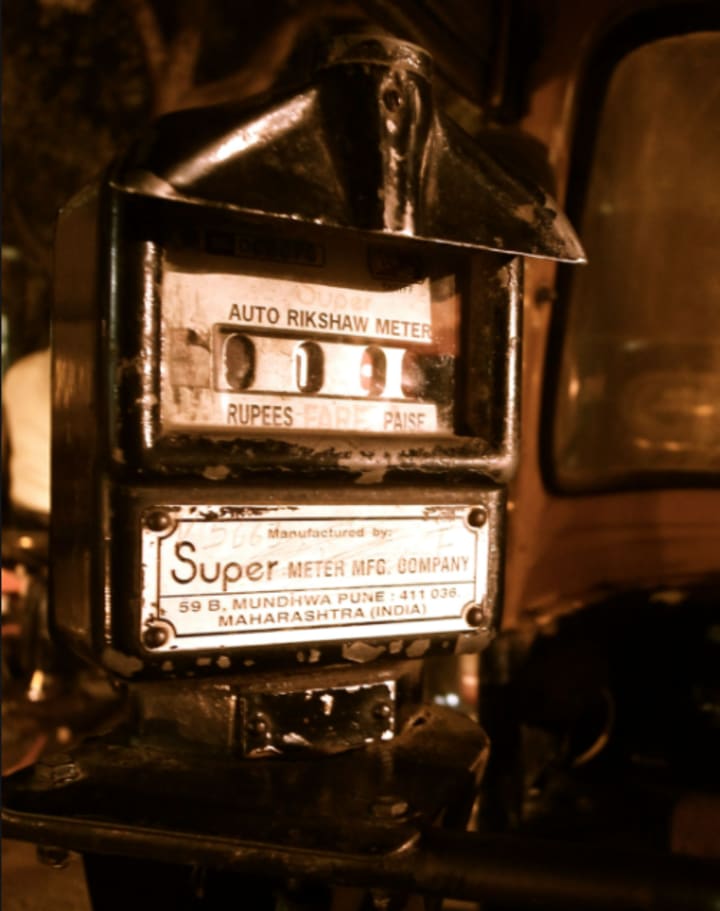 The driver laughed, clearly thinking I was nuts. To him, this was a total piece of junk. And, by the way, in most Indian cities that I visited or lived in, those meters are always present, but never used. So, they're 100% superfluous to begin with. You'd think there would be some lying about—especially the old non-digital ones.
Anyway, I told him that I thought it'd make a fine conversation piece back home. Things like this might be commonplace to Indians, but they're fascinating to Americans. (Kind of like monkeys. God, I'd spend all my days playing with those amazing creatures while my Indian friends would stand there wondering why I cared at all.)
Eventually, he said he'd look into finding a tuk-tuk meter for me. And, as he was a tuk-tuk driver himself (and an otherwise enterprising young chap), I felt confident that he'd know who to ask, and that he'd likely try to obtain one—because, after all, there was money in it for him, too. (I think I told him I'd pay $25 USD for one.)
I saw him many more times during our stay. But he had no luck with my request. He didn't have any suggestions, either — and this simply was NOT the kind of thing you'd ever find in a shop.
Even the "antique shops" in India (at least the ones in Rajasthan) aren't really antique shops as we know them in the USA. I can't recall ever even seeing one in Jaipur (though Udaipur had a few really small touristy ones with antique-looking things, but nothing like the massive antique malls that many Americans love, stuffed with all of the crap from yesteryear that people love to collect).
And as for thrift or second-hand stores (like Goodwill stores, Salvation Army stores, or even Buffalo Exchange-type places), they're just not present.
I guess it's a cultural difference. Americans love this kind of thing. Hell, as of this writing, Macklemore's "Thrift Shop" has more than 1.5 BILLION views! All for a tune that's specifically about the thrill of thrifting, through the eyes of a typical American. So, yeah, we love rooting through piles of crap in search of treasure.
But perhaps in India they just view old junk as, well, old junk! That, or there's some other explanation related to castes or the ways in which social and/or economic classes there are divided. But the bottom line is that there is no "thrift score!" cultural phenomenon in India (that I know of). At least not in such a way that any outsiders would likely ever encounter.
But locally, I suspect there's an unadvertised, almost hidden, thrift-like aspect to some places. I can't speak for all of India. But, after an insane amount of relentless questioning, I managed to uncover a thing in Jaipur called the "junta market." It really wasn't terribly far off from other things that tourists might visit. But, I was advised (worded almost as a warning) that tourists "never go there."
Of course, once I finally learned of it, I immediately shouted "YES! That's where I want to go!" (Yeah, I was pretty excited.)
And so they took my wife and I there, only after absolute insistence on my part. It was as though the very thought of wanting to go thrift shopping is/was so foreign to everyone we met that the existence of the place was only reluctantly divulged. It's like they were thinking, "Surely he doesn't mean he wants to visit that place."
But there it was. And it was ... weird—nothing at all like the (roughly) organized outdoor flea markets found in the states. You could almost walk through (as an American) and not know it was a market at all. We saw zero tourists in the area, which was pretty unusual (even for us, as we're "off the beaten path" types).
So, what was there?
Well, junk mostly. Practical goods, mechanical parts, miscellaneous bric-a-brac (but not the kind of interesting or collectible crap you find in American thrift shops). Practical stuff, mostly.
But, then there was this guy sitting by a giant pile of old (and uninteresting) magazines. He had this cool old print lying nearby. I have no idea how old it is—probably from the 60s to the 80s maybe? Here's how it looked when I found it: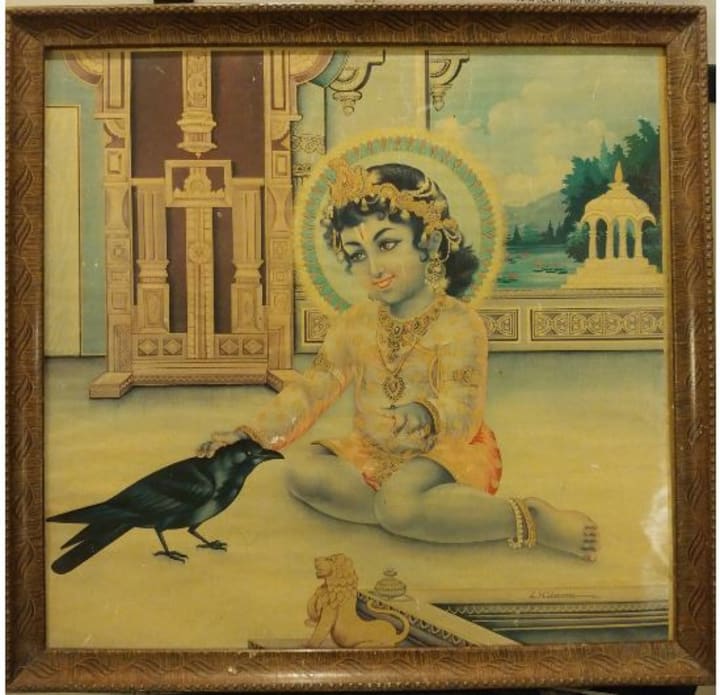 I immediately loved it—my first thrift treasure from India. It's about 20" square and shows a young Krishna petting a crow—which is just about the most unusual religious image I've ever seen in India. I've always been a crow fanatic myself; they're my favorite birds. (I even have a crow tattoo!)
In India, the crow is known as the kowwa bird and, while they're everywhere, they're not particularly well regarded. So, for me (the crow fanatic) to find a rare print like this was especially meaningful. The guy talked me up to $3 for it, and was happy to be rid of it.
Back in the states, I patiently waited on Facebook Marketplace for a suitable frame to pop up. Eventually, an ornate golden frame came up in just the right size, and I snagged it for $20. I haven't yet had it professionally matted, but I think it's going to look great in that frame.
My total investment, frame and all, is now $23. Well, unless you count the couple of thousand we spent getting there and staying there. So, I'd have to officially value it at $2,023, clearly my top-tier thrift find. 😊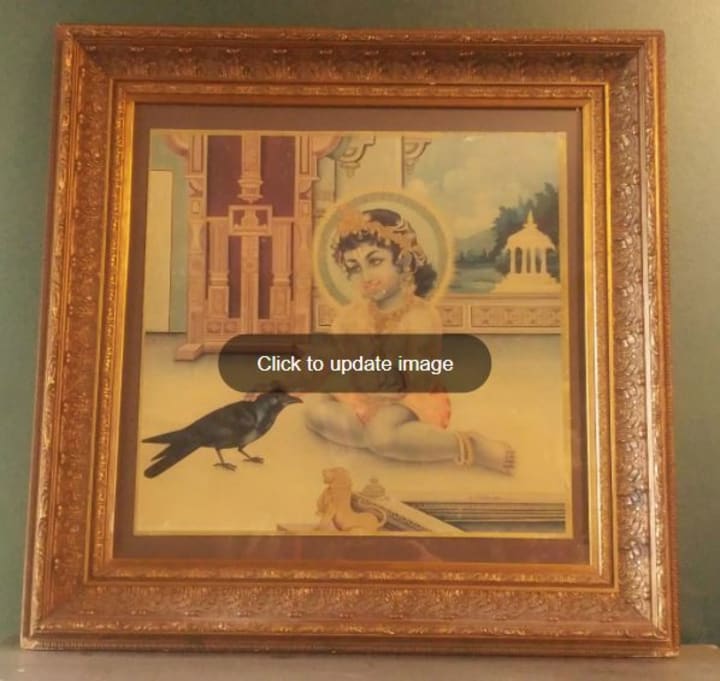 ✍🏻 Jim Dee maintains three blogs, publishes nonfiction and fiction all over the web, and writes books. His latest novel, the literary-comedic adventure "CHROO," is a guaranteed joyride. Connect at JPDbooks.com.
About the Creator
Writer from Portland and St. Louis. (Fairly new to Vocal, but well established elsewhere.) My author site is JPDbooks.com. If you're into comedic-literary adventures, be sure to check out my latest novel, "CHROO," available on Amazon!
Reader insights
Be the first to share your insights about this piece.
Add your insights