Things You'll See on a Trip to Arizona
Arizona may seem like a desert state, but there are hidden gems to expect when you travel there.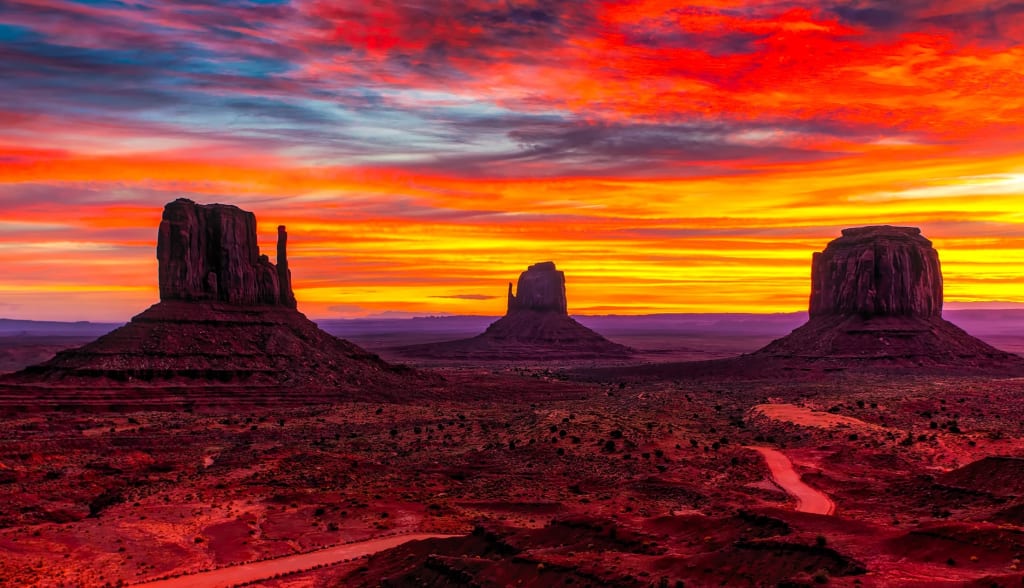 Arizona is a great place to visit if you like having fun and seeing beautiful scenery. The natural wonders are a rare treat and the people are as friendly and welcoming as the weather. When you visit, you'll see breathtaking vistas, interesting geological formations, and you'll learn what people mean when they call the desert a beautiful place. There is a lot to see and do, so here are a few highlights of things you'll see on a trip to Arizona.
Phoenix: The Capital
Not to be missed is the capital of Arizona, Phoenix. A city of around 1.5 million people, most visitors don't realize that Phoenix is the fifth most populous city in the United States. It has all the amenities of other large cities, but the cost of living is significantly lower than say, Chicago or New York. You have sports teams for all the major US sports, so if attending a live game is in your wheelhouse, you're in luck. In addition to being a vibrant city, it's also becoming a green city. You'll probably notice a lot of solar panels on houses and buildings. Switching to Arizona solar power is becoming more and more popular thanks to federal and state tax incentives. Also, for a city in the desert, Phoenix is remarkably green, as in the color green. You'll see many lush parks and over 200 golf courses to enjoy. In fact, some argue that the constantly sunny climate makes Phoenix one of the best golfing cities in the entire country, so don't forget to bring your clubs. If you ask a local what the best thing about living there is, they will most likely say the weather. This is one city where you can feel comfortable leaving your umbrella at home.
Amazing Natural Beauty
No trip to Arizona is complete without seeing some of the amazing geological wonders this state has to offer. The most famous, of course, is the Grand Canyon. Arizona is, after all, nicknamed The Grand Canyon State. One of America's most visited landmarks, this national park has an indescribable beauty that no photo can capture; you have to see it for yourself. It's the kind of beauty you can stare at all day, it's just breathtaking. In addition to this, there are other interesting sites of note for the armchair geologist in everyone. There are the enormous red rock bluffs of Sedona, a mystical place where you can hike until your heart's content and then relax in a luxurious resort surrounded by pools and hot tubs and have a massage. There are the magnificent sandstone towers of the Monument Valley Navajo Tribal Park. Here you can tour the mesas by Jeep during the day and brush up on your Native American culture in the evening while dining on traditional Navajo cuisine. There are too many natural wonders in Arizona to mention here, but seeing these will get you started.
History Brought to Life
You would not be wrong to call Arizona the heart of the Wild West. Historical sights are peppered all over the state for your enjoyment and education. Places you may have heard of in history class (or at the movies) like Tombstone, the former mining town and site of the famous shootout at the O.K. Corral. Stepping back in time at one of the many ghost towns and abandoned mining camps is a fun way to experience frontier life with the whole family. There are plenty of attractions to visit, like old military forts and Native American villages, as you head down the Pecos Trail or the famous Route 66. If you want to follow in the footsteps (or horse tracks) of famous frontiersmen and women like Wyatt Earp, or Pearl Hart, or the fierce Apache warrior, Geronimo, you'll have a wealth of options to choose from.
It goes without saying that there are more things to do and see in Arizona than you can possibly do in just one visit. Whether you go for the history, the scenery, or the desert city life, your first visit definitely won't be your last.