Things to do in Jodhpur - Part 1
In my 1st post at Vocal Media, I want to share some travel insights for travellers planning to visit Jodhpur.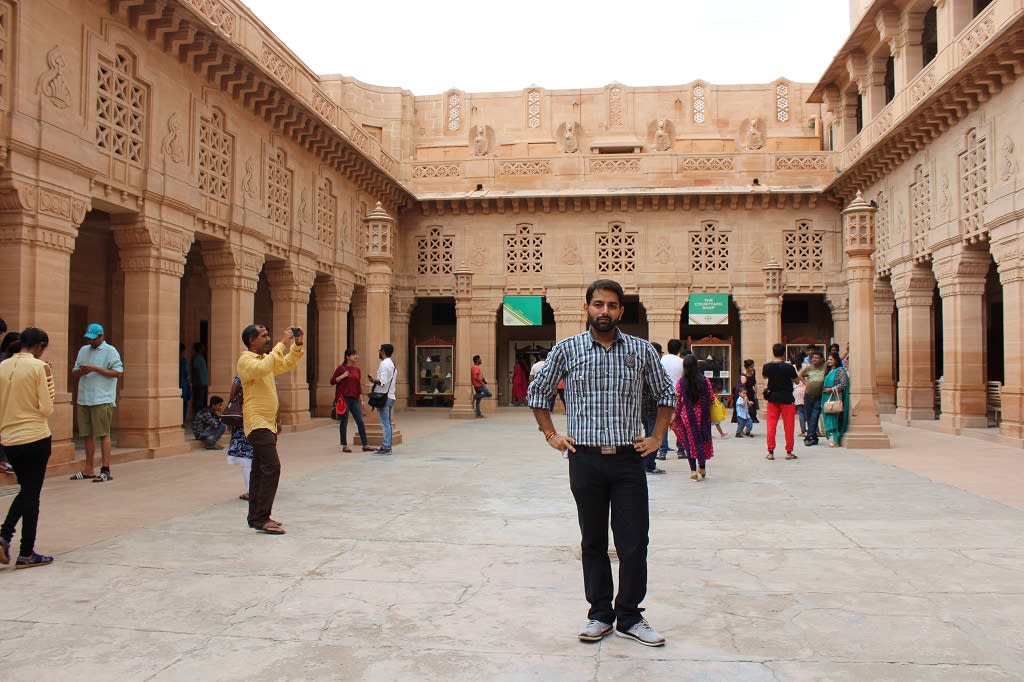 Thats me at Umaid Bhawan Palace, Jodhpur
So after covering Jodhpur for my blog, I decided to plan a trip to Jodhpur again, but this time with my family. It was the time when I was single (not anymore, and even a dad now :) ), so it was me, my mom, dad & sister, and we stayed 2 nights at the blue city of India, Jodhpur.
Jodhpur is a central city in Rajasthan, famous for its rich history, culture, and its royal furniture. Just google "Jodhpur furniture and you will understand the real meaning of Royal Furniture" & was very close to buy one in my last trip, but ditched as we had some other plans.
So, after visiting, exploring & roaming in Jodhpur, twice in 18 months, I think I am in a condition to say that do checkout my list of Things to do in Jodhpur, as this BS covid 19.
1. Sightseeing of the fort & palace.
image of Mehrangarh fort, taken by me.
So Jodhpur has 2 main icons, like Delhi has India Gate, Mumbai has Gateway of India, Jodhpur has Mehrangarh Fort and Umaid Bhwan Palace.
image of Umaid Bhawan Palace, taken by me.
The history of both these attractions are very interesting. Mehrangarh Fort took around 400 years to present one of the largest Fort in whole world, and Umaid Bhawan palace is the last Palace built just before independent India.
Where on one hand, Mehrangarh Fort was built to shift the capital of Rathore rulers from Mandore to Jodhpur, Umaid Bhawan Palace was built by the Maharaja of Jodhpur, to employ more than 2500 families who were devastated by the famine of 1930's & 40's in the Jodhpur kingdom.
For me, the story of Umaid Bhawan is more attractive as it show the kindness of a ruler, who wanted to help his people, not by giving free food but work to keep them employed for many years.
Today 2/3 of Umaid Bhawan Palace is Taj Hotel, which you can book from here, and renaming 1/3 is a museum, which you can checkout at my post of this beautiful palace of Jodhpur.
Back to Mehrangarh Fort.
Mehrangarh Fort, you can stay here for 3-4 hours easily as there is so much to see. You can easily get a taxi to reach Mehrangarh Fort from Jodhpur city, and come directly at the entry point, where the ticket counter is.
A tip; book a travel guide from this ticket counter to properly understand the history of the castle.
Just before the entry gate of the Fort, you will see the "Memorial of Soda Kirat Singh Jagmolat", who was a brave soldier, fought & died against the against the army of Jaipur in the year 1864 AD. Yes the armies of Jaipur, engaged a battle against Jodhpur, and that is an excellent example that why British ruled India easily.
Upon entering, you will cross by 7 gates, which all have some interesting history, like "The Loha Pol", which was built to as a victory of Jodhpur on the Jaipur, not the 1864 battle, but the 1806 one. Then there is the "Sati Queens Hand prints", an "Ode of Human sacrifice" and so on.
Image of Sati Queens Hand prints, taken by me.
Once you are inside the fort, you will see lots of presentations of Palki, Palanquin, hookah, treasure, sward collection, paintings (Jodhpur has a rich tradition of paintings, famously known as Marwar Paintings), and then their are 4 palaces that were built in the last 400 years by different rulers of Mehrangarh Fort.
Image of treasure room, taken by me.
Entry tickets:
Entry tickets for both Umaid Bhawan Palace & Mehrangarh Fort is quite cheap. Its Rs 25 for the palace, and Rs 100 for the fort. Though you might end up paying more for guide fees at the fort, which I highly recommend.
So, with this I will end up the part 1, in next part I will share images of Jaswant Thada & Mandore Gardens of Jodhpur.