The "Small Town" in New York City.
Yep, you read that right.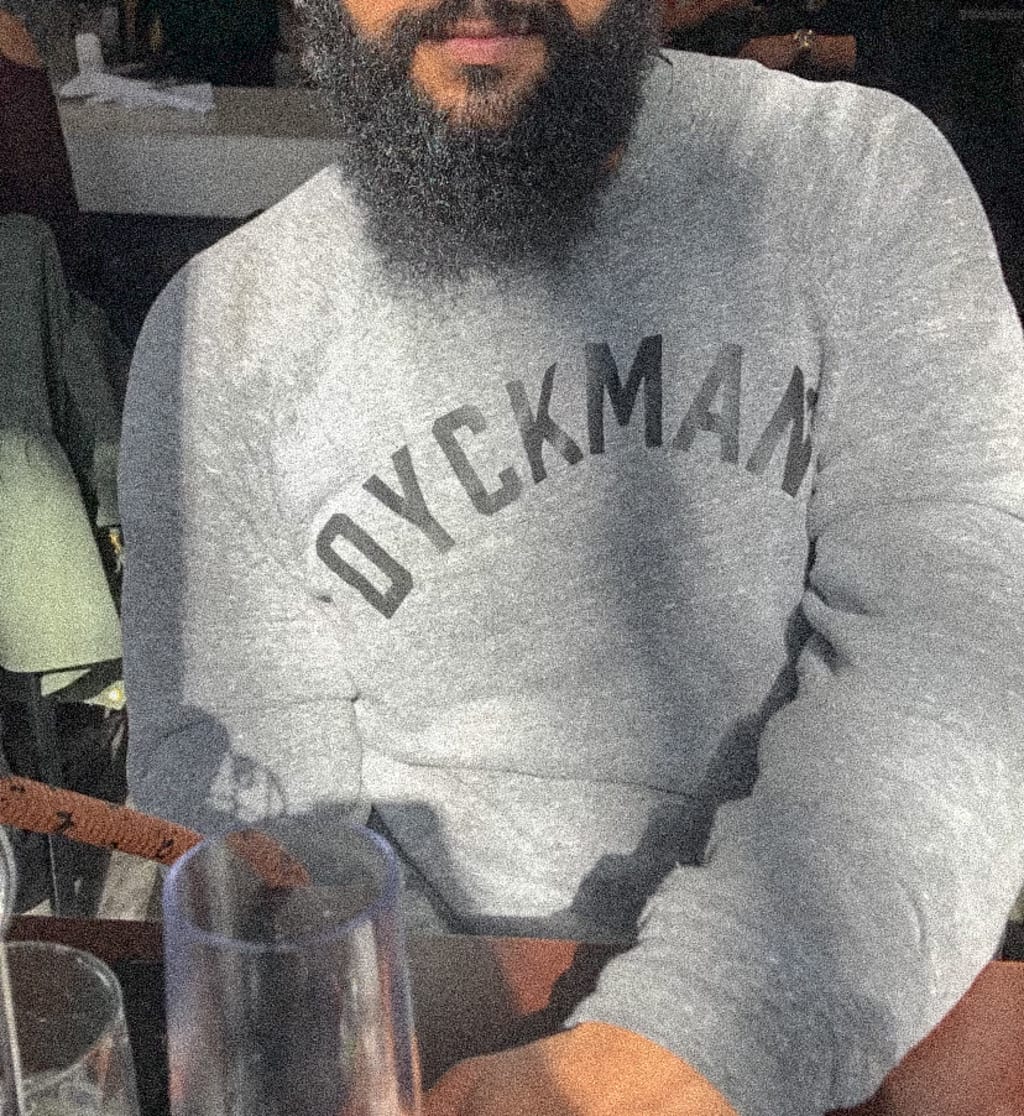 I know what you're thinking. "A small town IN New York city??"
But yeah, a small town inside the Big ol' city of New York. Or at least that's what I like to call it.
Nestled At the bottom of "Snake hill" and ending way before you cross the bridge that leads into the Riverdale section of the Bronx.
Seen on the map as Inwood. Known to locals and nearby city dwellers as "Dyckman." Known to me as home.
Allow me to show you around.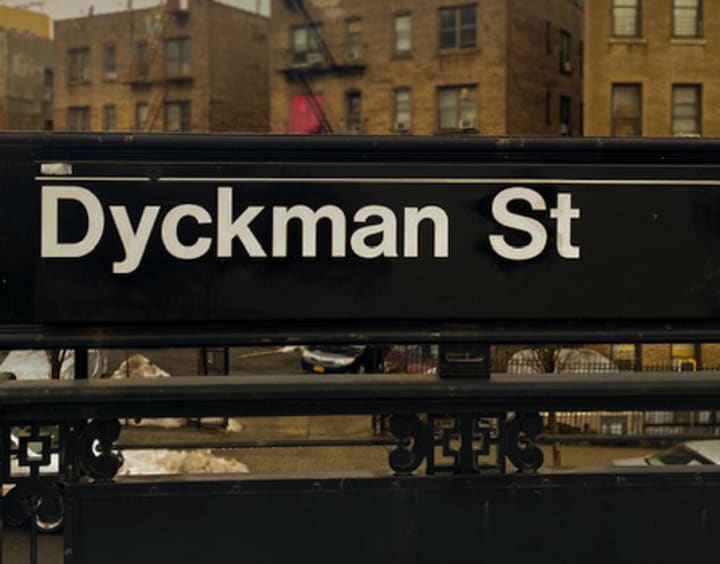 If, on your next day off you find yourself bored and in need of some good food or some sightseeing, You Might want to hop on the #1 train or A Train head northbound and get off on a stop called Dyckman- or 200st. You'll walk out to find yourself in the middle of a bustling, mostly Hispanic Neighborhood that is at the most northern part of the island of Manhattan.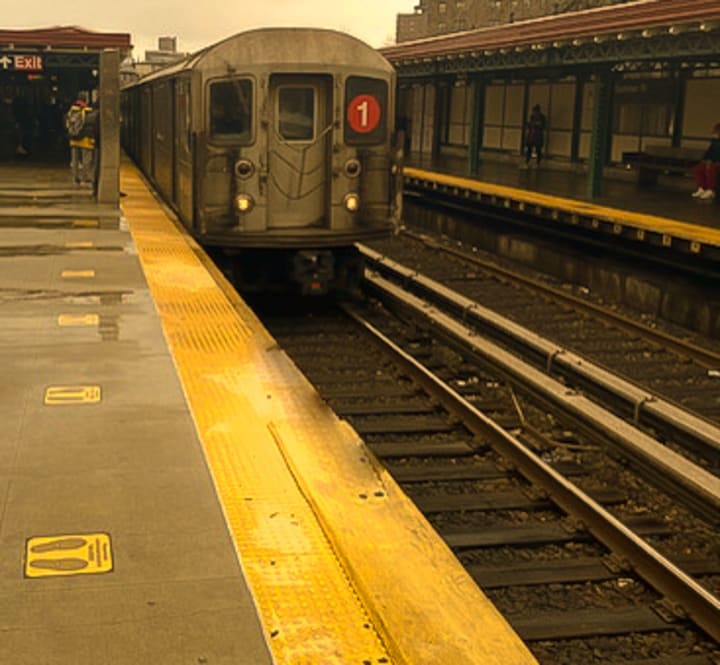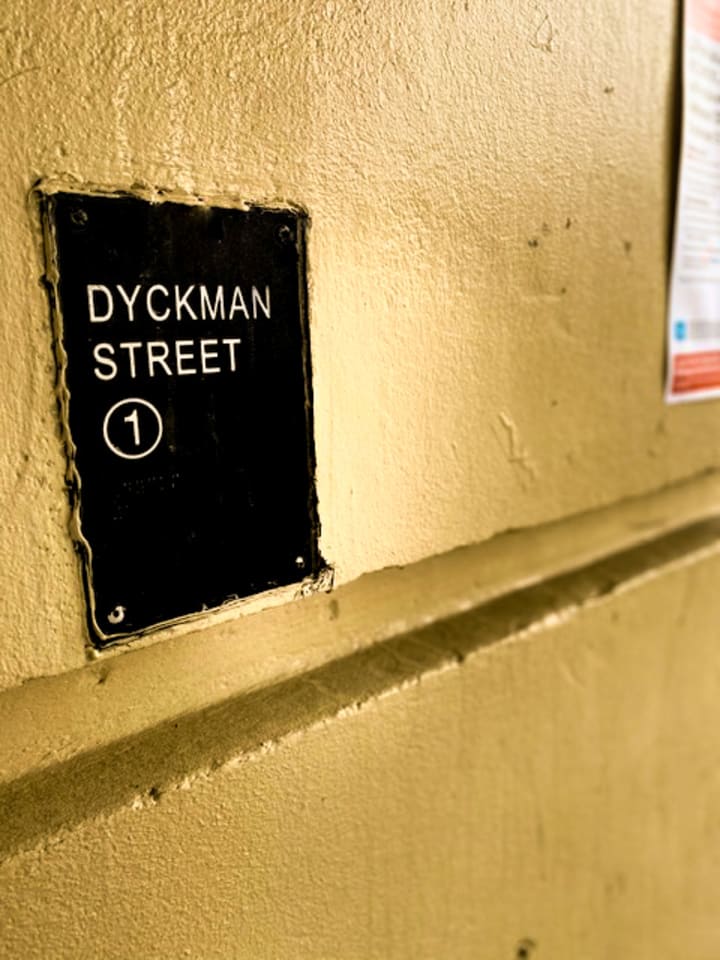 The Boundaries differ depending on who you ask, but this is a community that's just like any small town: We have our favorite pizzeria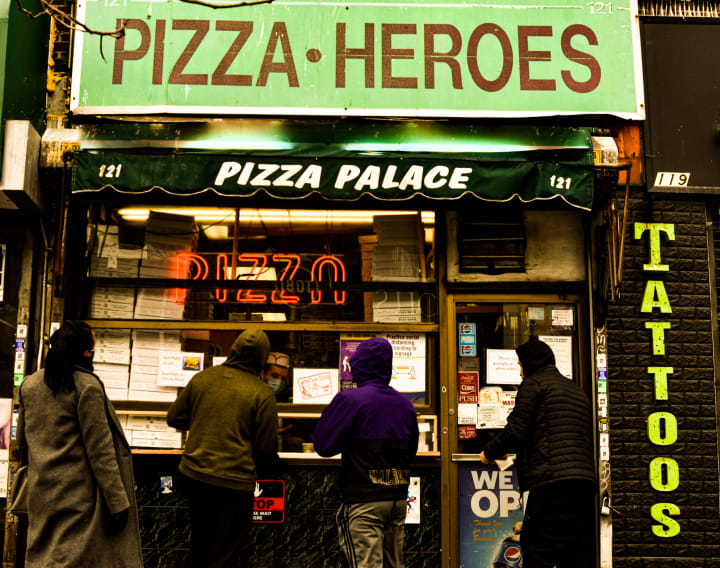 We have our own Local legends: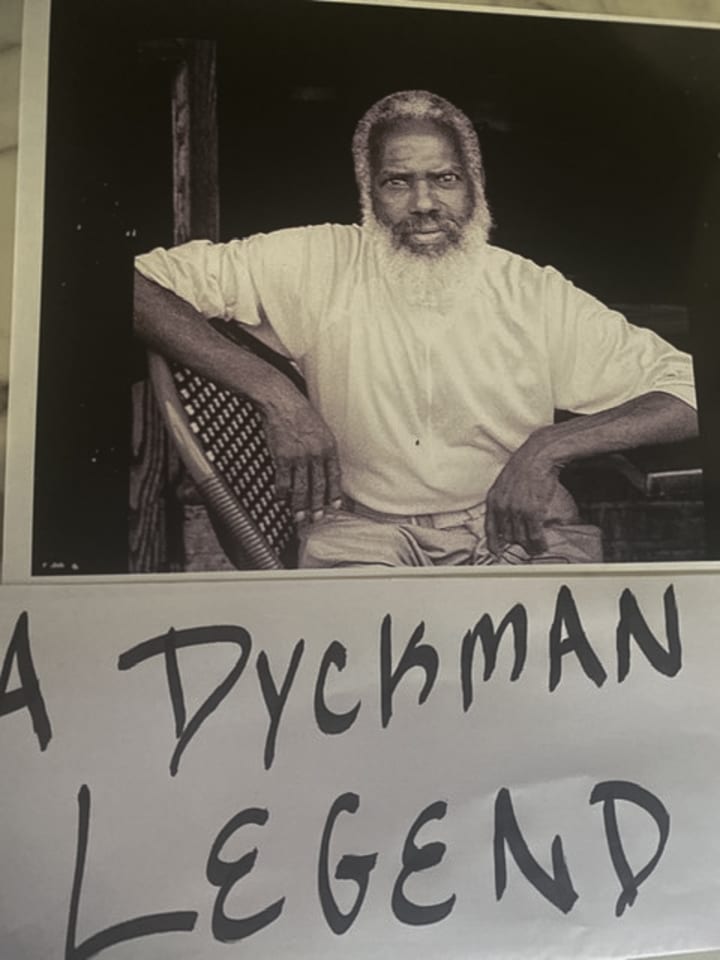 Weekly Farmers Markets :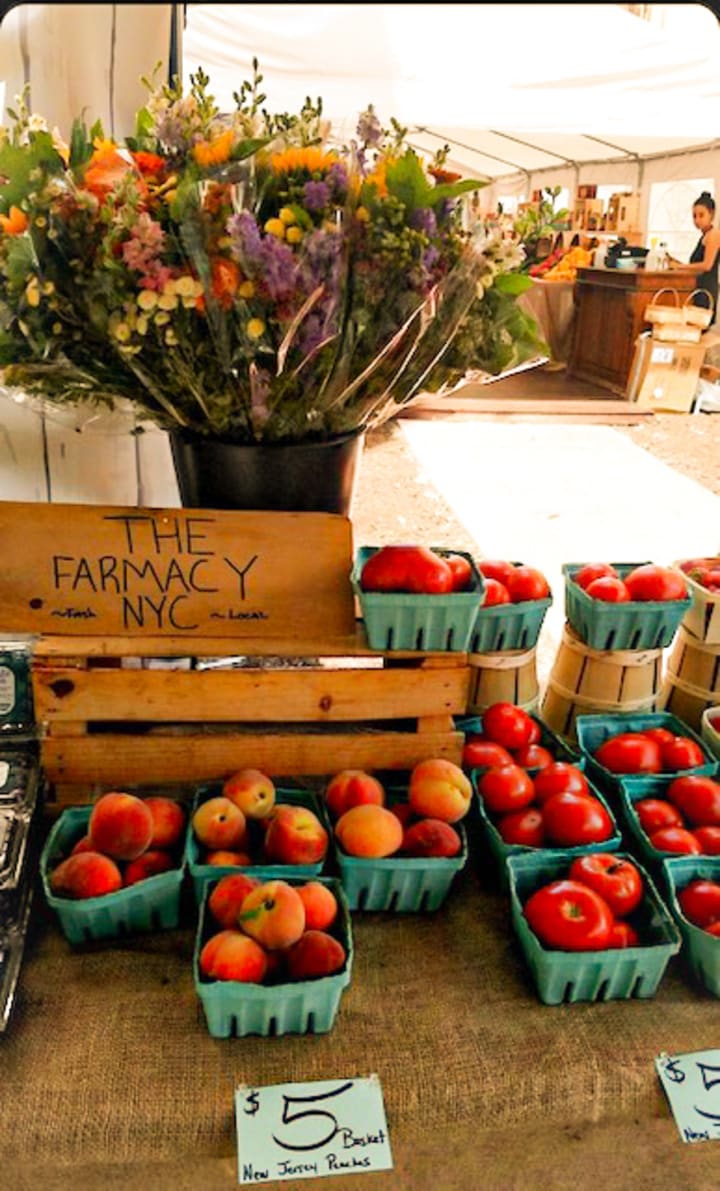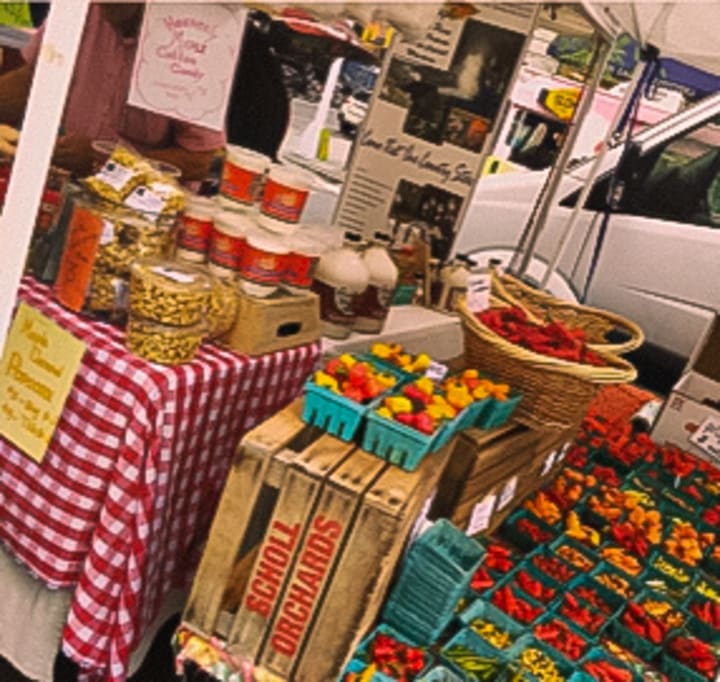 And everyone kind of just knew each other. This is kind of spectacular when you remember that this IS New York City.
Autumn is one of my favorites in Dyckman, Not only do I firmly believe people dress way better in the fall, but the many trees we have in this neighborhood start giving off some of the most amazing foliage.
Winters have their beauty as well ....as long as the snow is white.
In NYC that's probably for a total of 2 hours.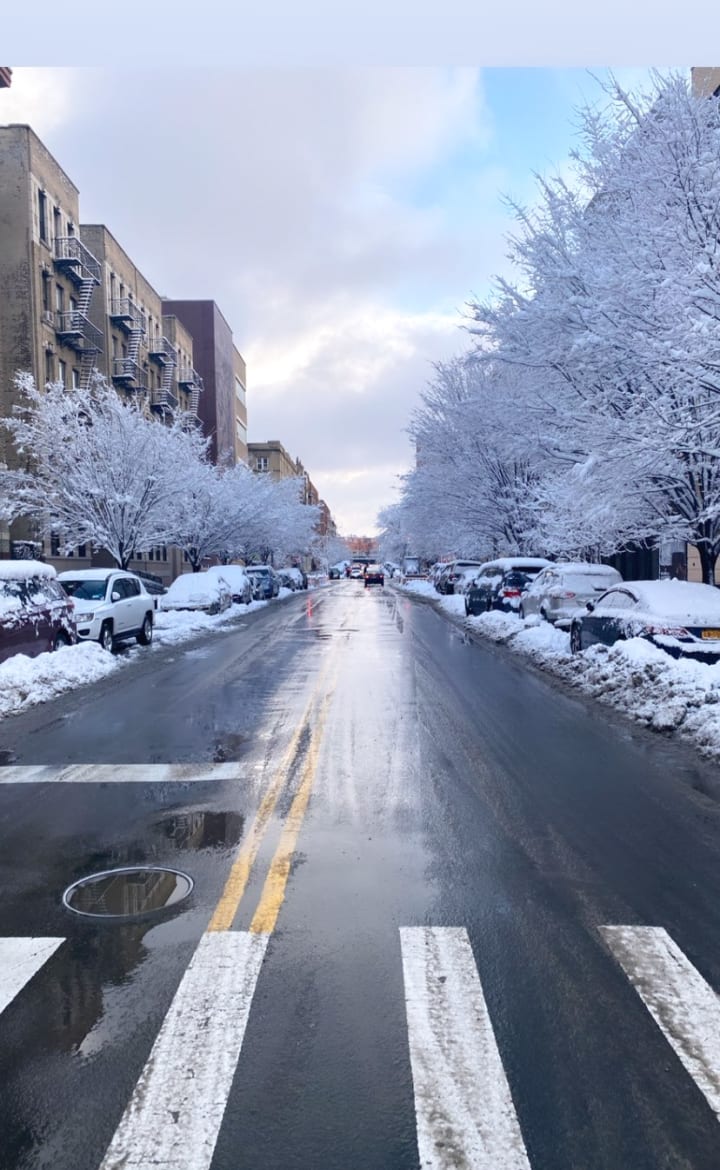 There are Christmas tree vendors that come in from out of town and set up on random corners. There's always twinkle lights hung up. I remember as a kid the quiet excitement that pooled in my stomach seeing these, as they were a marker of the holidays right around the corner.
But Summertime in Dyckman ??!
Till this day its where you want to be.
You'll know summer is coming to Dyckman when you hear dozens and dozens of dirt bikes passing through.
From fist fights, to first kisses and fifty cent sodas; Growing up here meant you always had something to do-- or someone to see. Summertime just means you have the weather to do it. If by any chance you didn't have someone to see or somewhere to be, there was always the option to just sit in front of your building and wait to see who would visit you.
There are always men playing dominoes on almost every corner and you always had your preferred pastelito, Frio Frio, or coquito guy.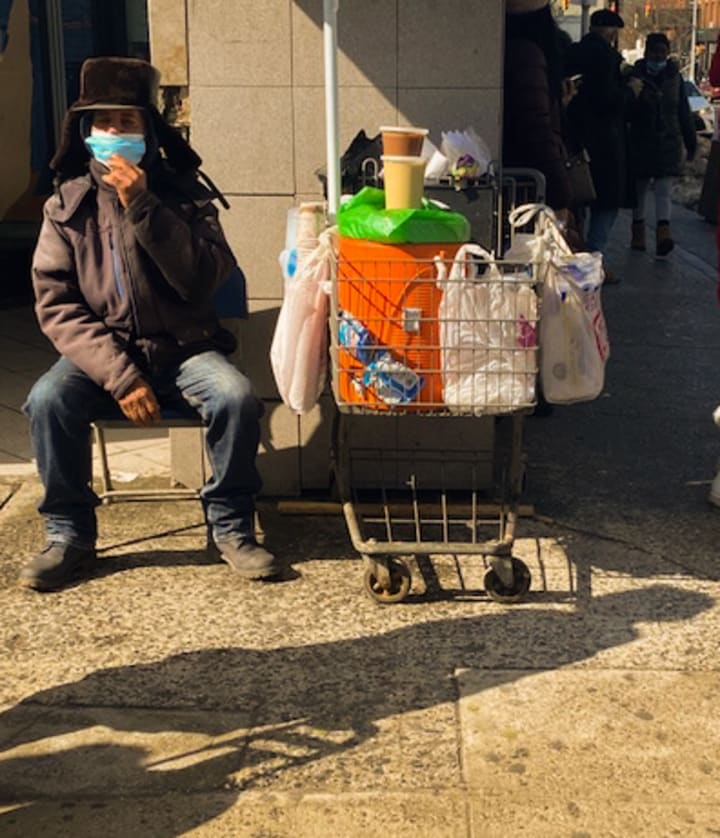 I remember chasing down this lady who made the BEST Morir Sonando drinks – a sweet, heavenly concoction that is a staple in the Dominican culture. Made with a delicate blend of Orange Juice and milk, this golden drinks romantic name translates too "To die dreamin" or "I died dreaming"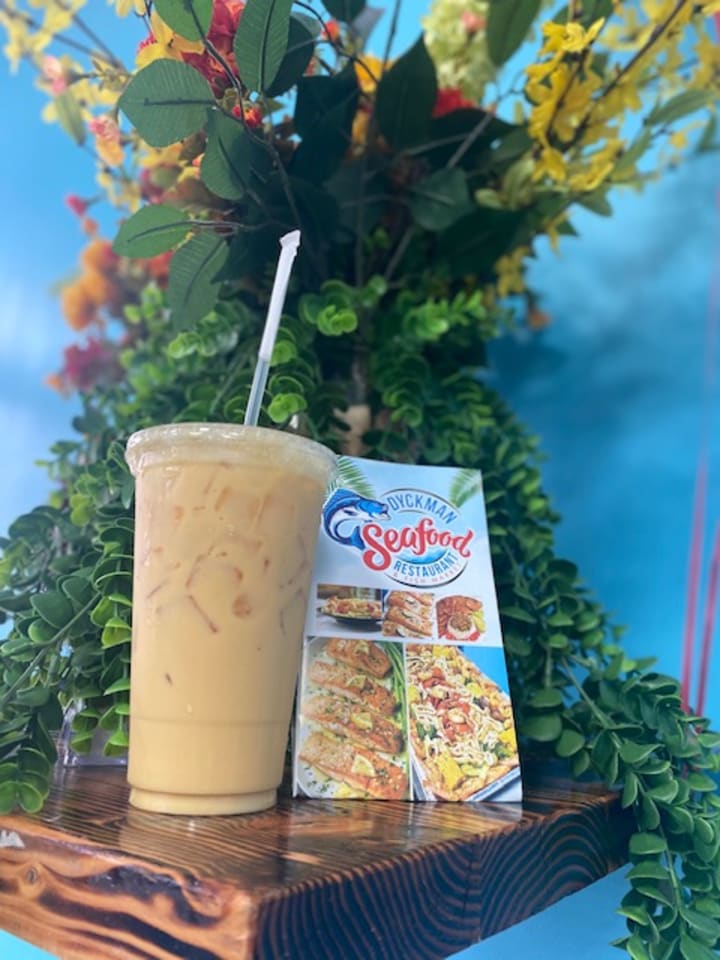 Forget the ice cream trucks; Those street vendors pushing those little carts were what we ran to our parents asking for money for when we saw them coming.
Being outside after dark never truly felt unsafe, and even the group of guys who were always standing on corners gave you a sense of security.
I moved into my first apartment when I was 24. It was way further downtown, on 42nd street and 12th avenue to be exact. A luxury, High-rise building just a few avenues off times square. I was so proud of myself; I saw the shock and tiny hint of jealousy in some of my friend's eyes when I told them where I lived.
The buildings website boasted views of the Hudson river, a pool, a gym, Sauna, Steam room, Front desk reception and even had its very own atm.
I moved in and tried to lay down some roots. I was much closer to work, and honestly there's something I loved about the sunset in between high rise buildings: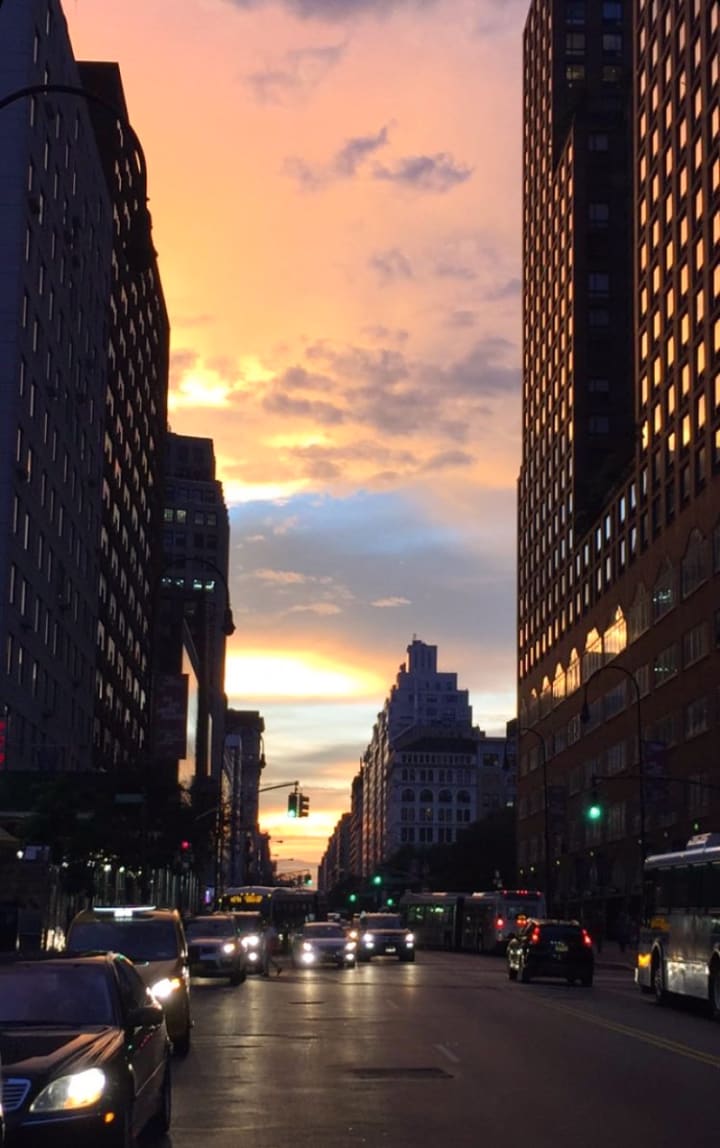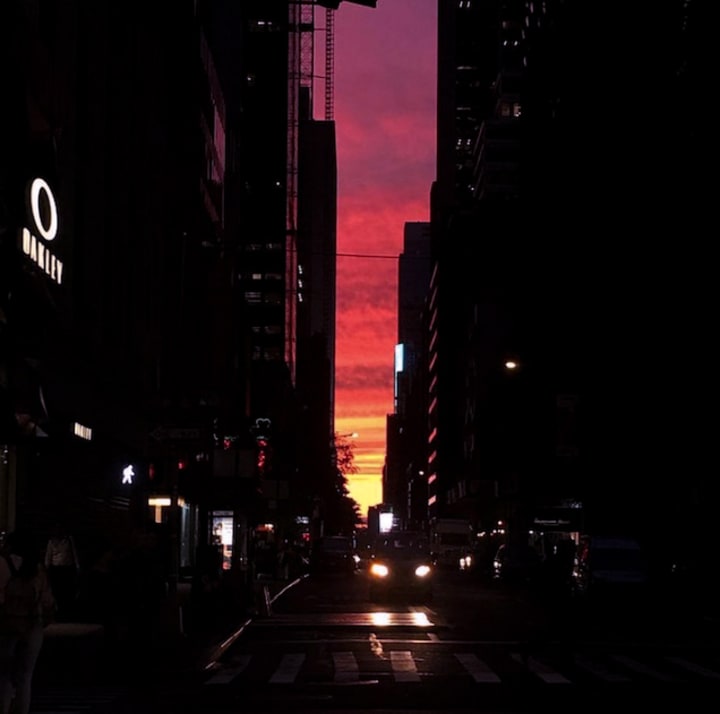 I loved it ….
for what might have been the first 8 months into the 2 -year lease of living there.
I soon realized how much I... kind of actually hated it.
Sure the building had a view, but only the people who lived on the 20th floor and up could really benefit from it (I lived on the 2nd floor) . The gym was nice, but not after you learned tenants who lived there had to pay an extra $650 a year apart from rent to use it.
The pool? So cool. Till I witnessed that the usual shower that's recommended to take before you get in to your regular NYC public pools wasn't an enforced rule to these high-end renters. And who doesn't want to swim with someone who just ran on a treadmill or sat in a sauna for an hour?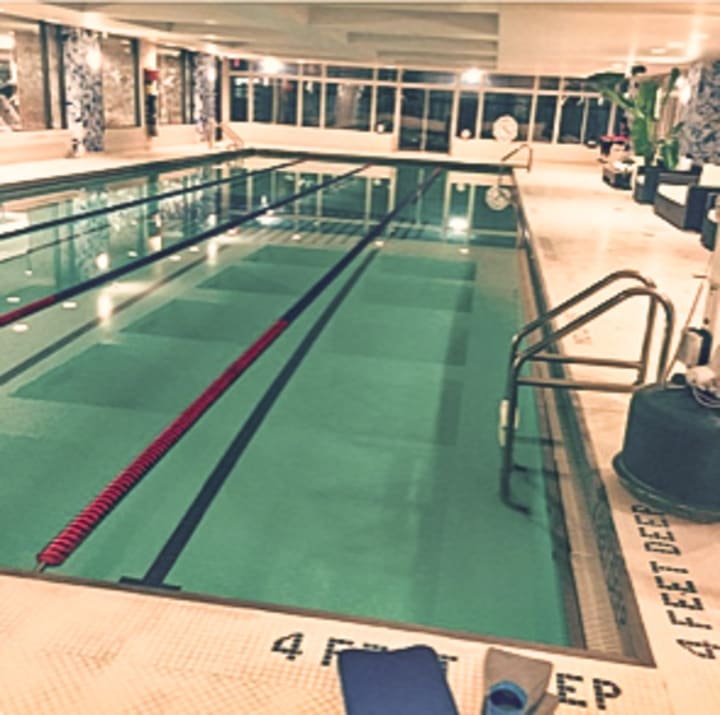 No one strolled by, they were all in a hurry. Only chain restaurants nearby, no mom & pops. It felt like I was living in a hotel room .
At the core, the real issue was that it just didn't feel like home.
I missed my friends, my family, and I missed the way I used to be able to leave my house at whatever time of night. I missed this because in Dyckman, 24 hours is our thing. 24 hr restaurants, supermarkets, corner deli's and much more. So I decided; I was going back home!
I called up my dearest loved ones and they helped me move into a 1 bedroom apt just a few blocks away from the apt I grew up in.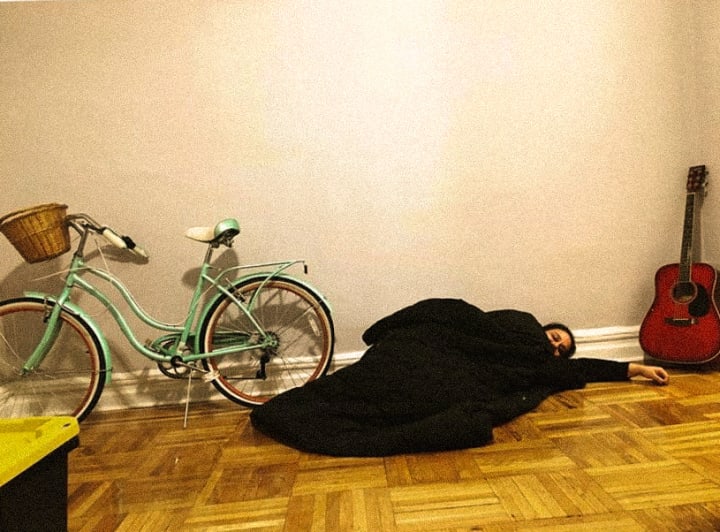 Moving Back? whew!! it felt like the sun was shining on me again. I felt rejuvenated.
The music was loud, the people were authentic and oh my god – the food!!! Because if its one thing Dyckman has got, its food.
No seriously, We've got the eats: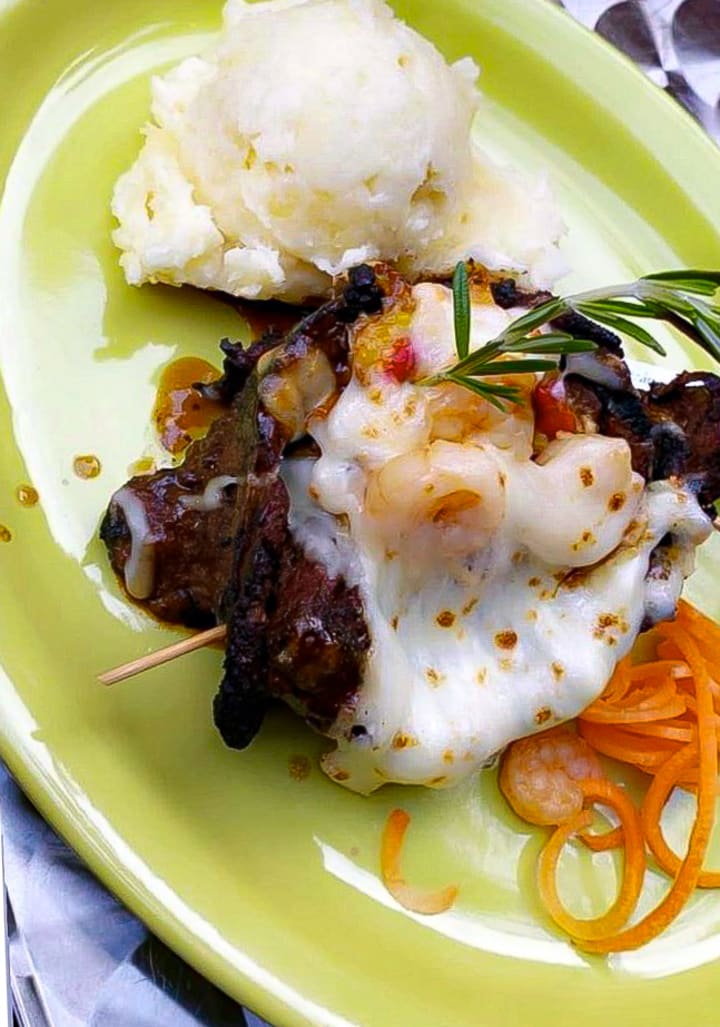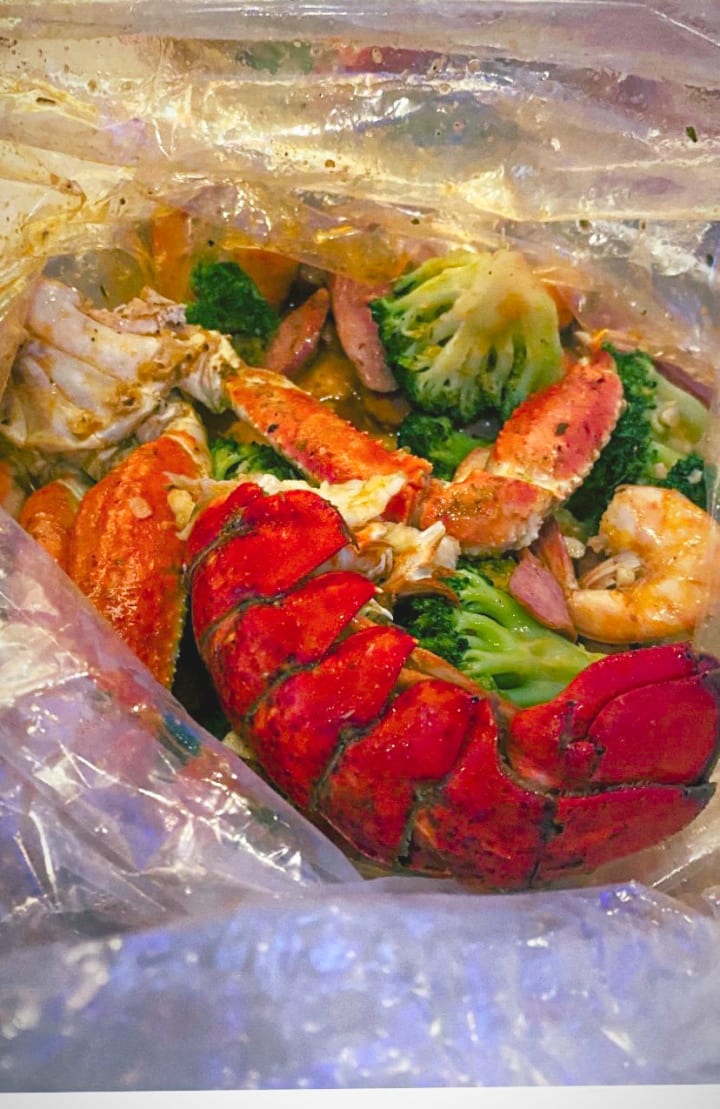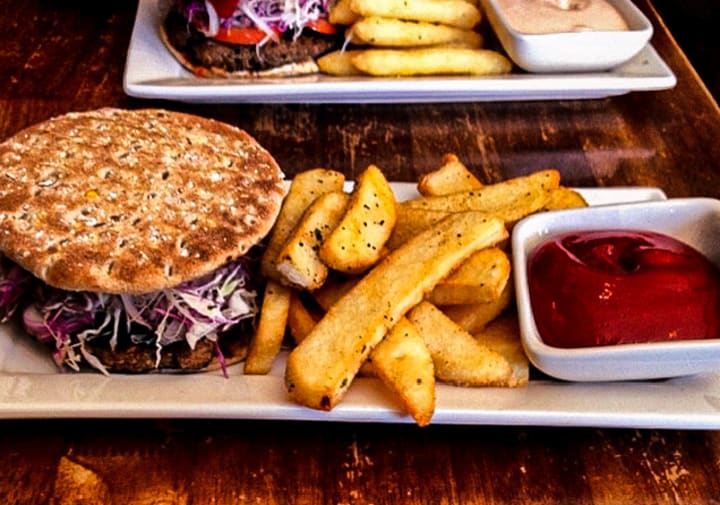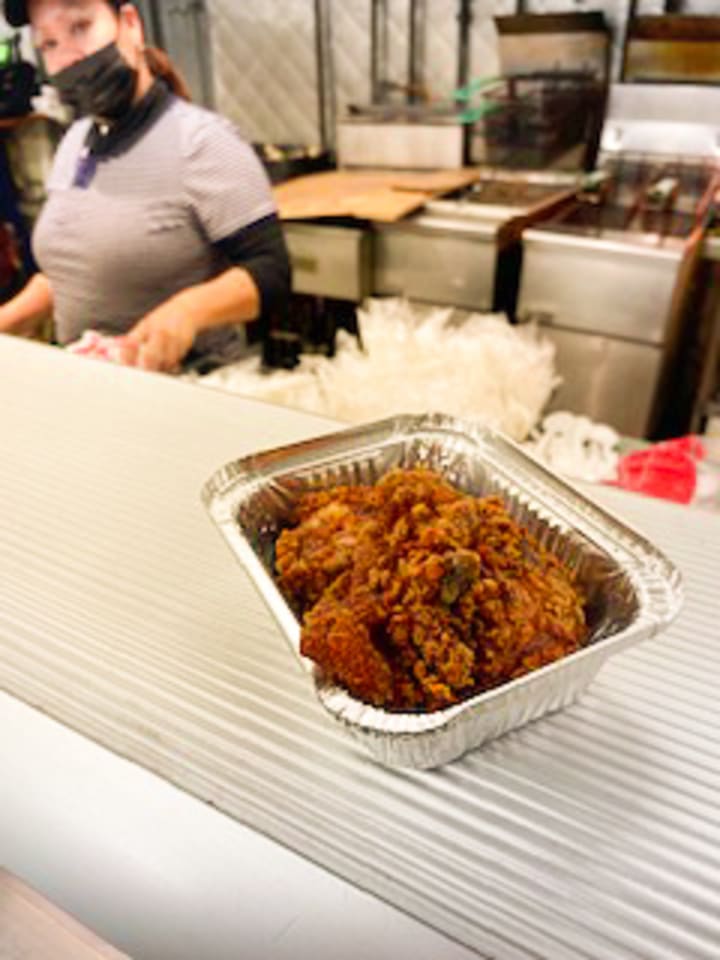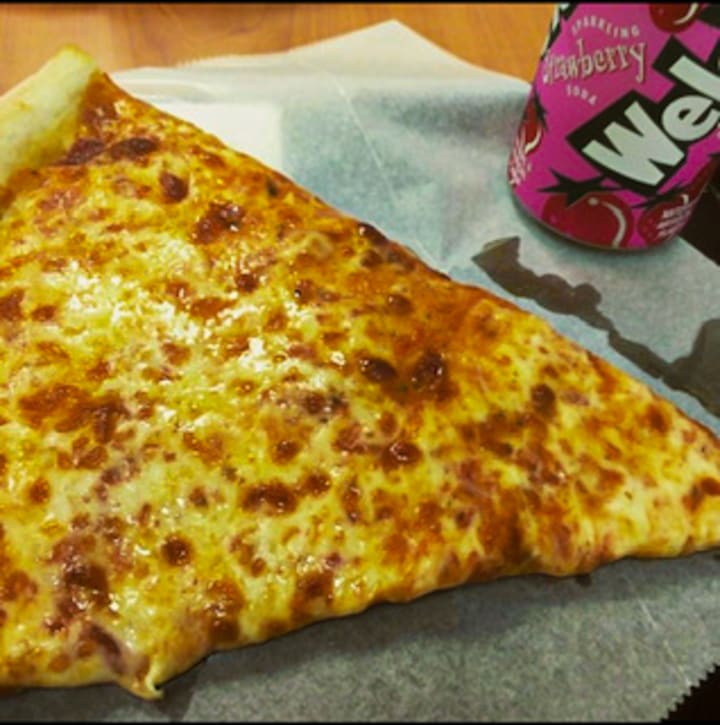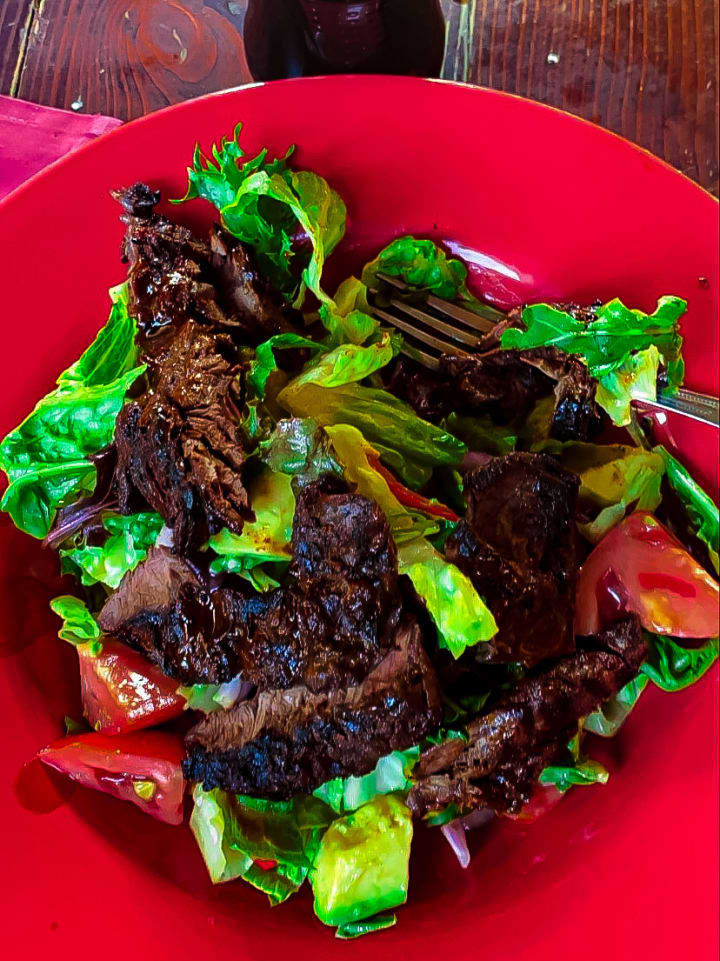 and much... MUCH more. I felt the Sazon back in my veins.
After moving back, I actually started maintaining my health better if you can believe it. I owe it to the bike paths galore we have and the ample space to go on runs and get some great views.
We have a small collection of beautiful churches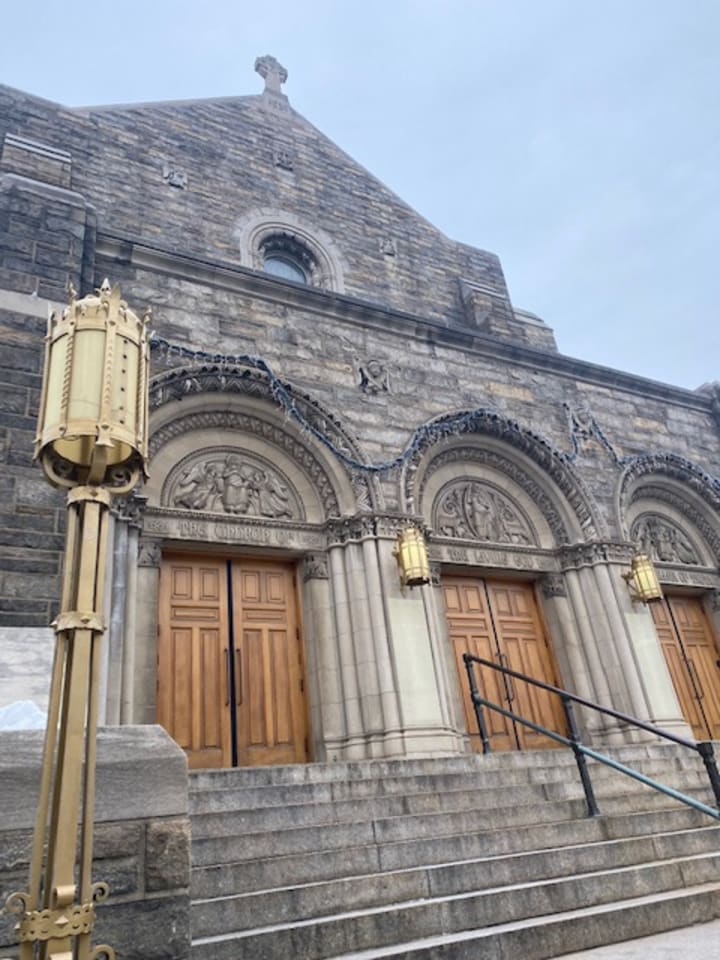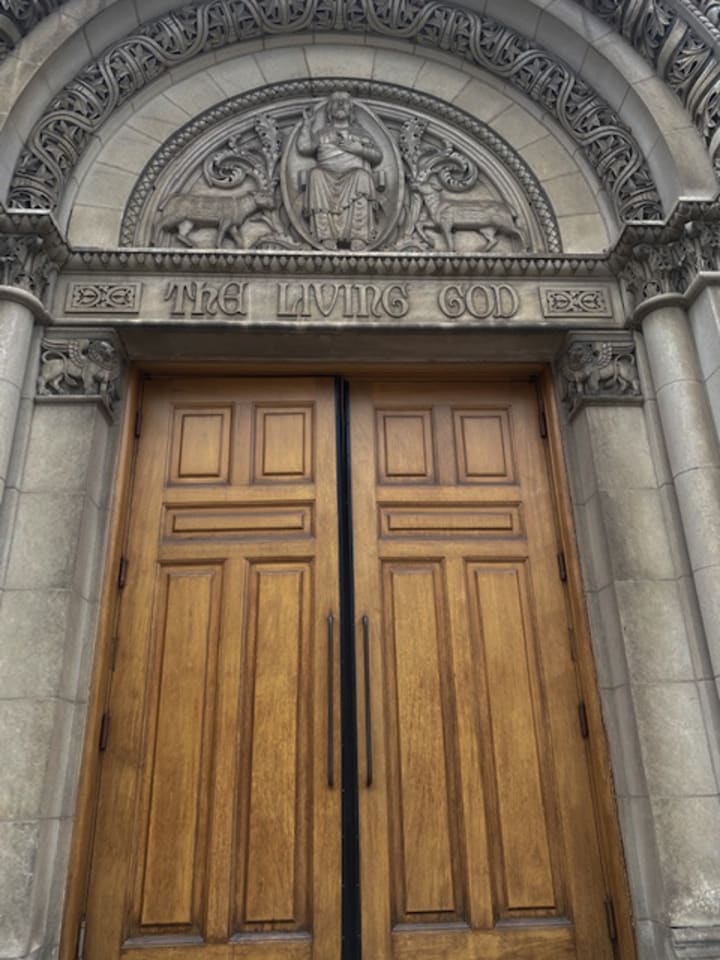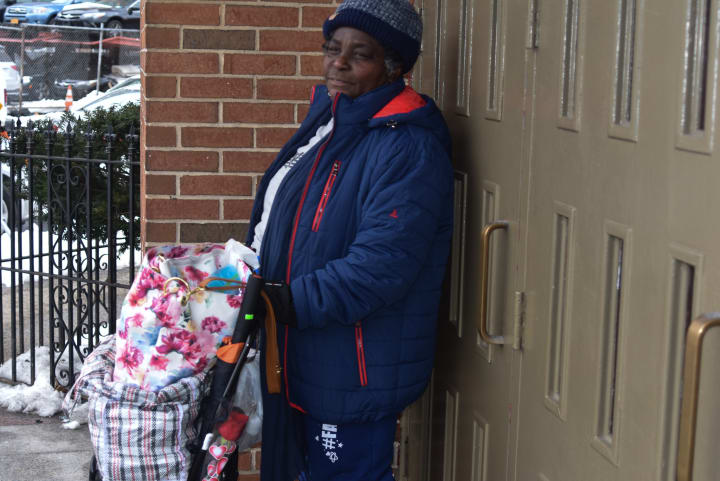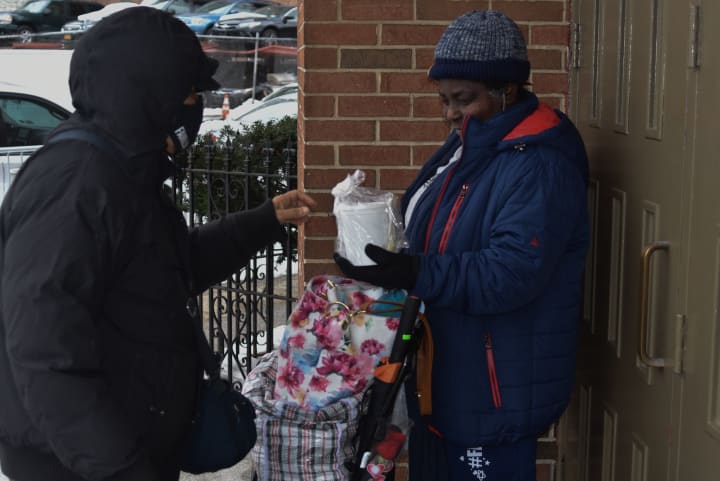 And the people ? Although we don't all know each other by name, The people here sort of just care for each other in a very subtle New York way.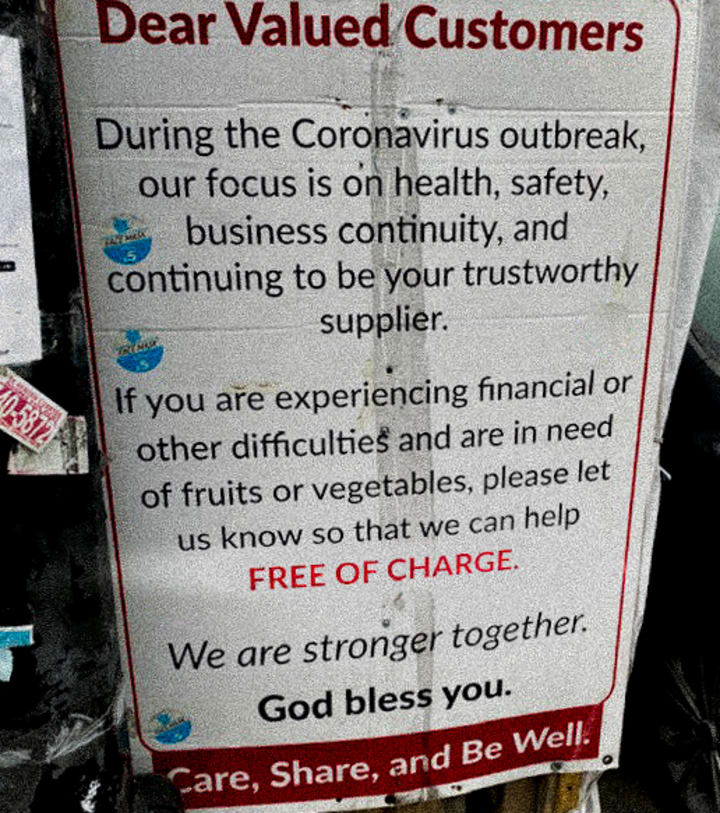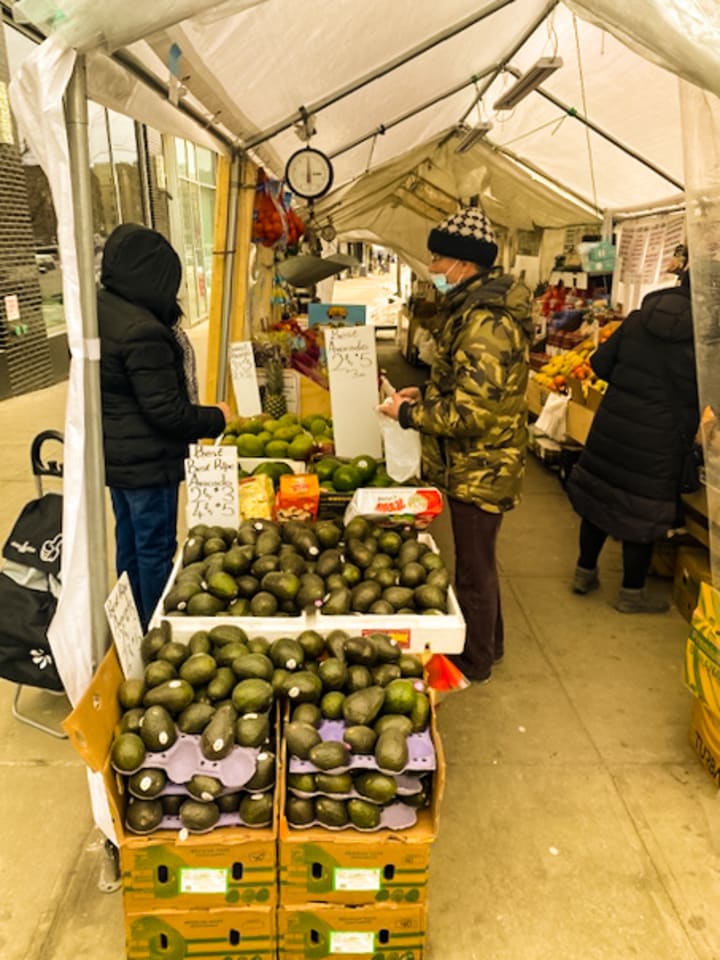 We also have what are, in my opinion, some of New York Nicest parks. Where picnics are common and just ..... such vibe: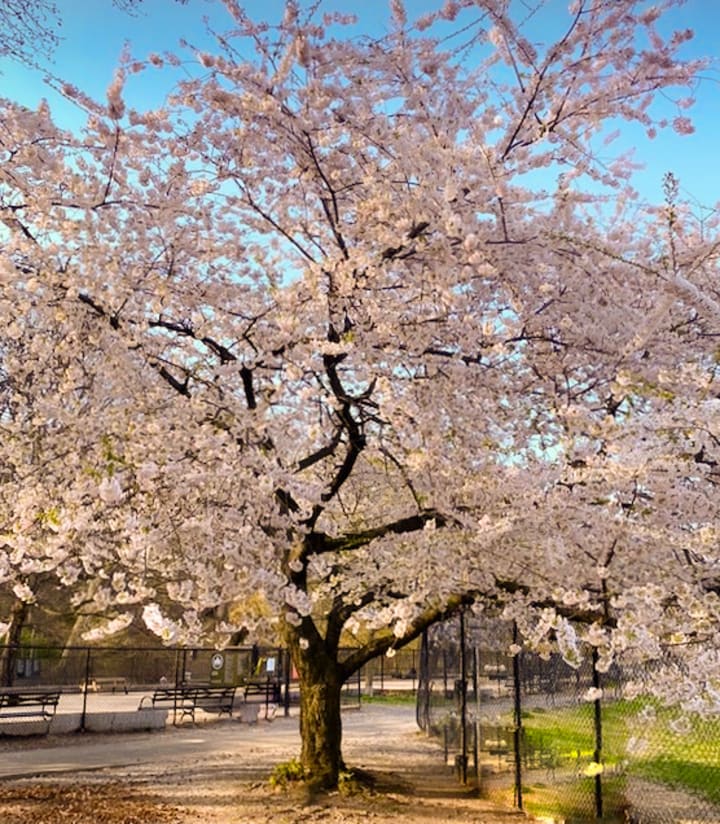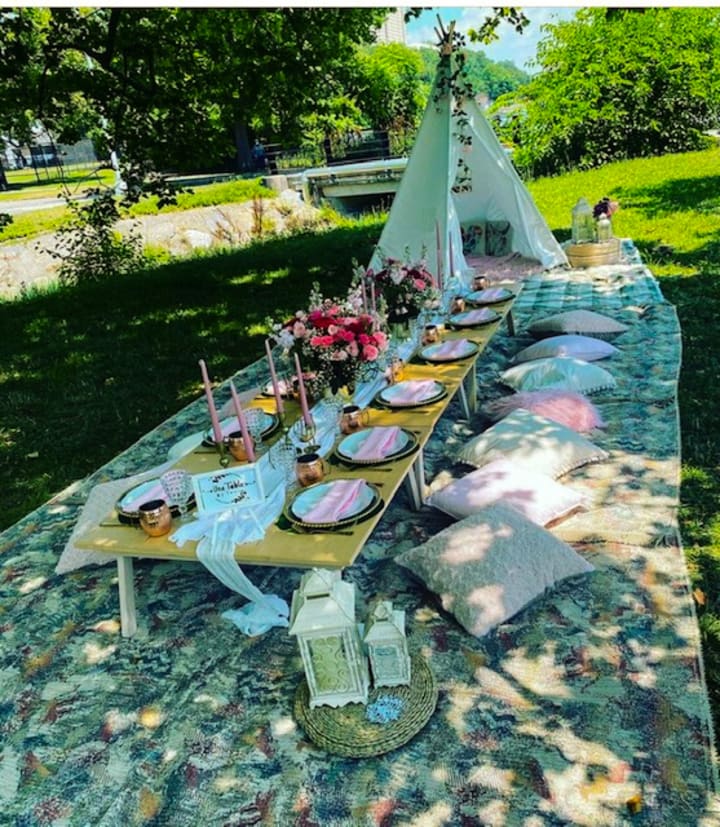 I'm especially in love with one of my favorite spots. The Lt. William Tighe Triangle; A cozy Oasis offering serenity in the middle of the neighborhood. With a Koi fish pond and plenty of space to sprawl out or sit, Coming here to read or write (articles for vocal) is definitely on my to-do list.
If you listen you can hear the the telltale sounds of summer I spoke of earlier. As the motorcycle fades away in the background, you'll hear the stringing of a relaxing melody played on guitar by a gentlemen that waves you in as you pass by.
Now, don't get me wrong it hasn't always been sunshine and Salsa music.
In its recent years, the residents of my quaint little hometown inside of the worlds most famous city has had to fight back in what we are witnessing to be the gentrification of our neighborhood.
It seems word has gotten around that you just might love it here.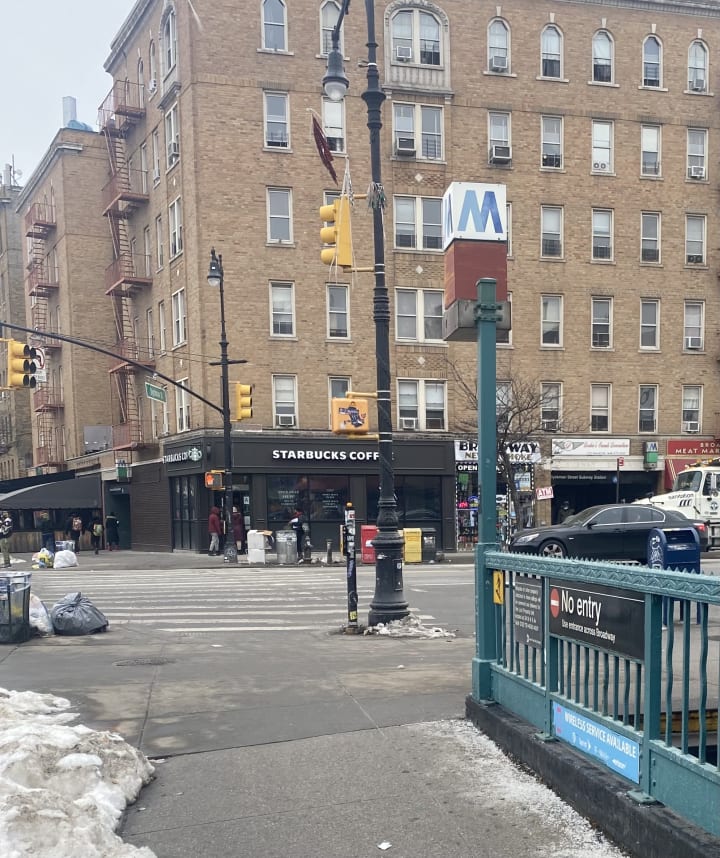 Our Mom and pops are being replaced by big chain storefronts and rent has skyrocketed. Minorities are being pushed out by the truckload due to rising costs. Non-people of color who have the background, resources, and education to earn way more money are swooping in to scoop up the vacant apartments. We are already in the beginning stages of a rezoning legislation and the very fabric of our community is changing: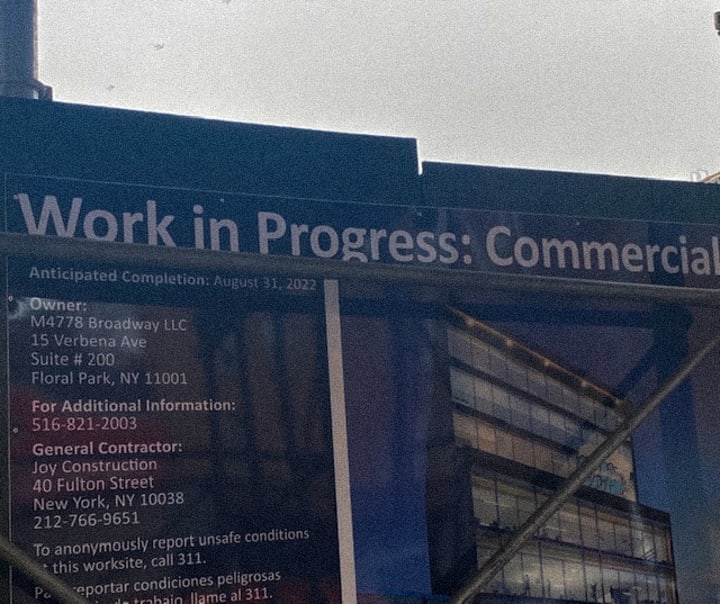 People who grew up and have some of life's most precious memories made here, are watching the foundations of them being stripped away only to be replaced with big chain stores.
Some newcomers have settled in quite nicely, while some – not so much. In the recent years our local precinct has reported an uptick in complaints of what would otherwise be non-emergency calls like people grilling on street corners, the noise Dirt bikes make when they pass by and other things that are basically part of our culture.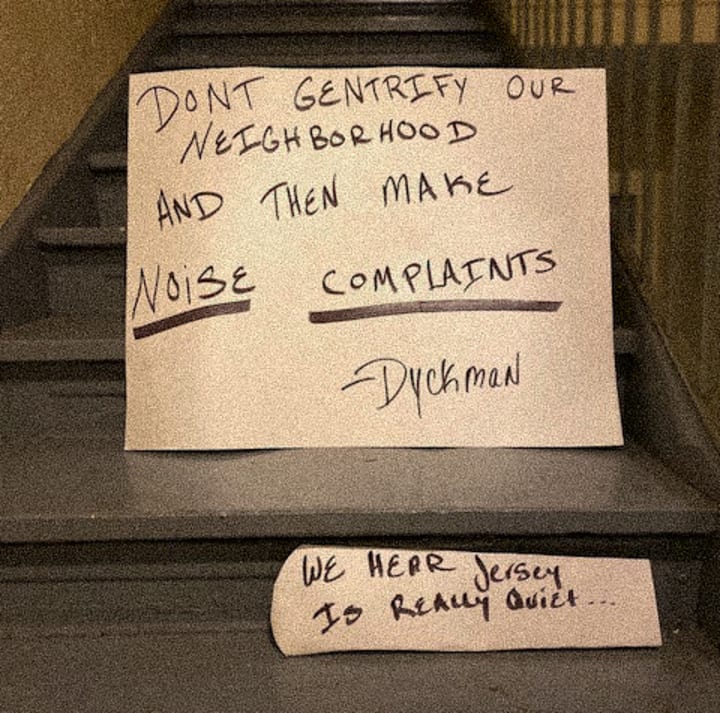 I find this community very welcoming. I've always had. I witness it every summer when just about everyone comes here. With that being said, we are extremely protective of what we have.
I encourage you to look at our almost official neighborhood Instagram page @DyckmanDiary where you'll see some awesome moments captured; like during last summer when there were lootings happening all over the country in an uprising against police brutality.
Men from almost every single block in Dyckman stayed out past the city-wide mandated curfew to make sure none of our small businesses, businesses in which we actually know the owners, were looted. It was televised: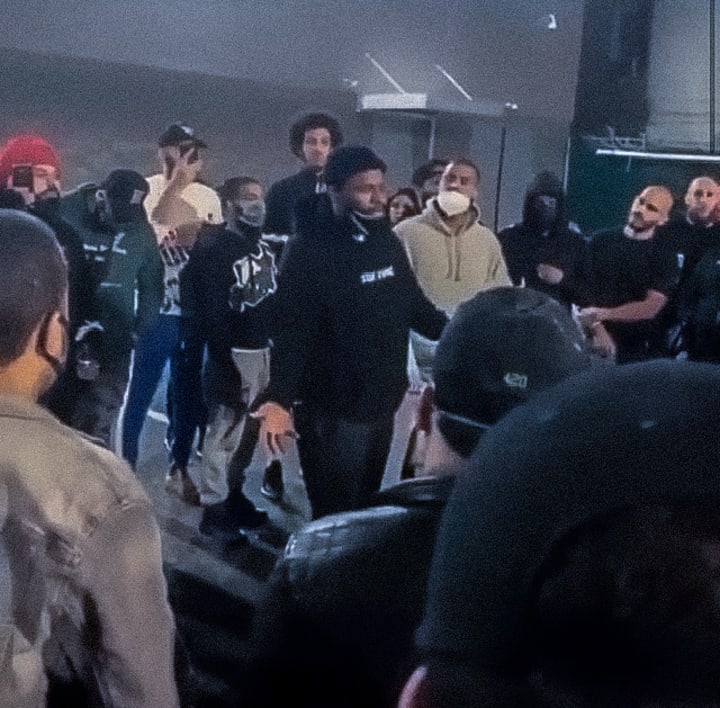 The thing about people who live here is … We do everything here. Supermarkets, salons, pharmacies, gyms, restaurants; "a night out on the town" is quite literally 2 blocks away. We hardly need to get on the train if we really don't want too.
While we were in agreement with the cause and the neighborhood stood in solidarity with BLM protests, our mom and pops and small businesses were simply off limits to looters.
After moving back to my "hometown" I feel so much better. More content y'know? I really do think that people who leave their hometown and come back do so to find that they now see it with new eyes and in different colors.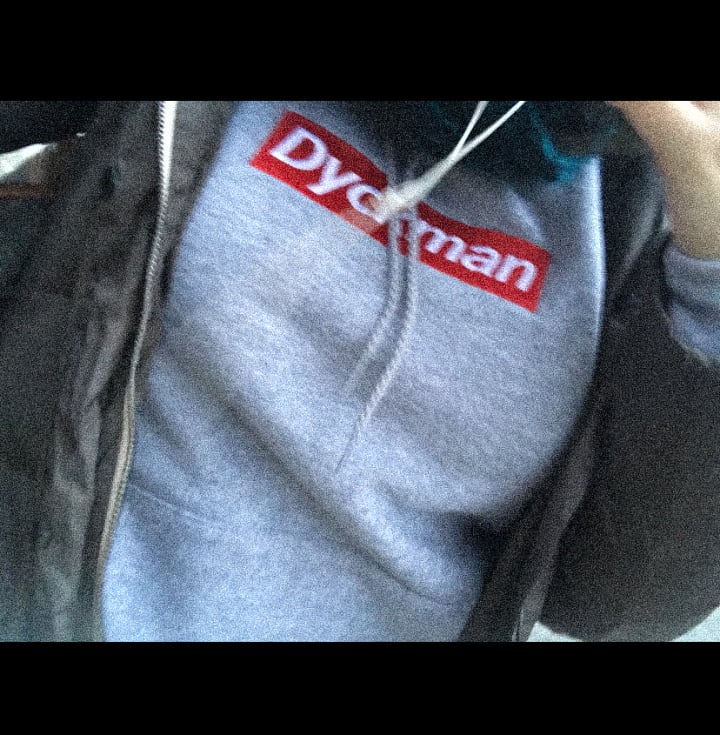 At the end of the day, coming back to where you started is not the same as never leaving. While yes, Sometimes the world may leave you in bruises (Its unfortunately designed to operate that way) Having somewhere to call home lessens the burden.
"But the trip back is never too hard, if you know you're going home"
- The Chofetz Chaim
So here it is! My Ode to my Hometown! Wanna know what the best part is ? I barely scratched the surface for you.
If you are ever in the area this summer, give me a shout. I'll be your friendly neighborhood guide!
I know, a friendly New Yorker??!
But Yeah, you read that right too.
photography
Just your regular girl from NYC.
Super Dominican and always kinda sleepy.
Keto Lover. Scar Kisser.
Please excuse any grammatical errors; Message most likely sent from my iphone.