The Sky's the Limit at Skyspace LA
Skyspace LA brings new heights to Los Angeles.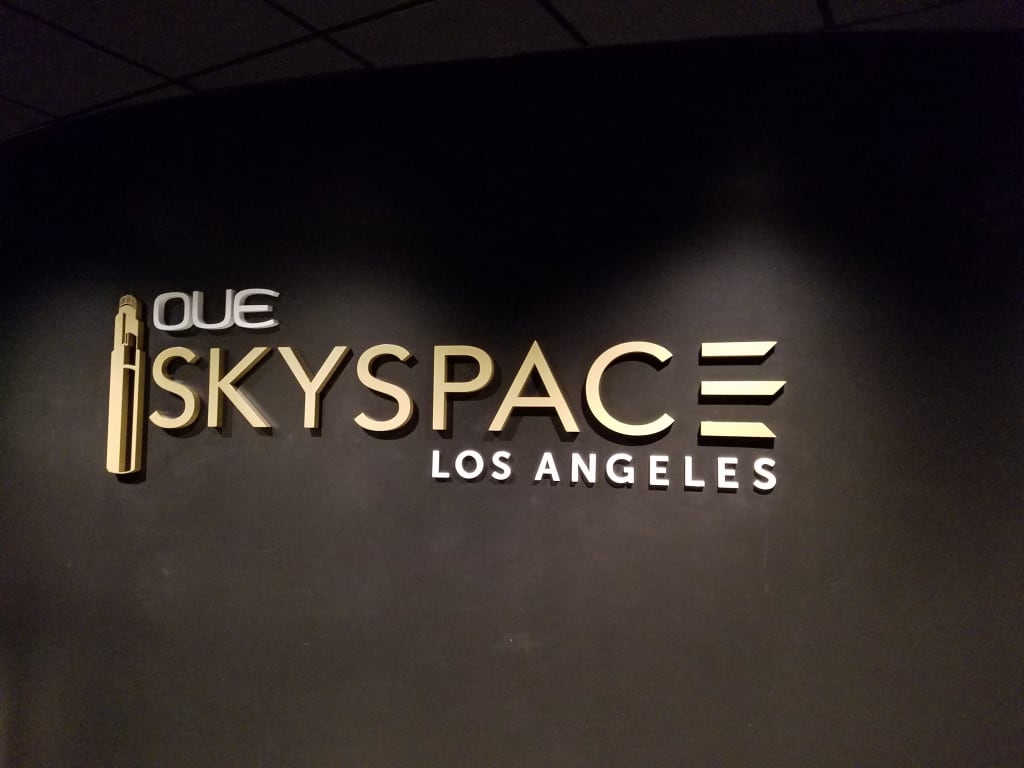 Skyspace LA (Photo credit: Yvette Cordova)
The Sky's the limit in Los Angeles and thanks to OUE Skyspace LA, they're giving Angelinos a bird's eye view of the City of Dreams. This is OUE's first attraction in Los Angeles and opened its doors on June 25, 2016—Its 1 year Anniversary is approaching in a couple of months, and what better way to celebrate?
Located in the heart of Los Angeles, the US Bank Tower is home to Skyspace LA. It stands precisely 70 stories above ground, but fear not if you're a little weak at heart, you can loosen up with a drink or two at the bar in 71Above Sky Lounge located on the 71st floor.
This is how you'll start the self tour:
Ascending in what feels like your own private elevator, your first stop is on the 54th floor, where you can explore the Interactive Room. OUE doesn't disappoint, as they use screens to give guests a panoramic view of LA. The Silhouette Wall is a prime example of how advanced we've come with technology as the lighted wall mirrors you're every movement. And speaking of mirrors, the bright Infinity Mirrors gives onlookers a lighted view down an old elevator shaft that keeps going and going and going.
Leaving the Interactive Room, guests take another ride in the elevator to the 70th floor where the event room greets them with a 360 degree view of Los Angeles. The view of LA is breathtaking and it literally sweeps you off your feet, no matter if it's day or night. And, if you're brave enough and ready to take the plunge, the Sky Slide is a must and a fun way down to the 69th floor to the open Observation Deck.
The Sky Slide is OUE's fun way of showing LA to visitors. Seriously, who doesn't enjoy slides? The 8,000 lb slide was built with safety in mind, and is even hurricane proof (though we're lucky to not have that many hurricanes in LA). Riders (or sliders) will start at the 70th floor and sit on a special mat where they'll hold on as they slide down the safe and secure slide to the 69th floor. The slide is ventilated and air conditioned for our hot Cali weather—just don't blink or you'll miss the view as you slide down. Please note that the slide was built with a ramp where those in wheel cheers can also enjoy the experience.
The open Observation Deck is where you'll want to be when the sun sets in LA and the nightlife begins. The on-hand Hi-Spy Viewing Machines that are on deck give guests a better view of Los Angeles and nearby surrounding cities.
Skyspace LA is a great place to host your next event, and comes ready with DJ setup and a bar. Admission and info can be found on the Skyspace LA site or by calling 213-894-9000. They strongly suggest that you book ahead of time, because this is a timed event.
Skyspace LA is located at 633 West 5th Street, Los Angeles, CA 90071