The Modern Inuk
Tradition through technology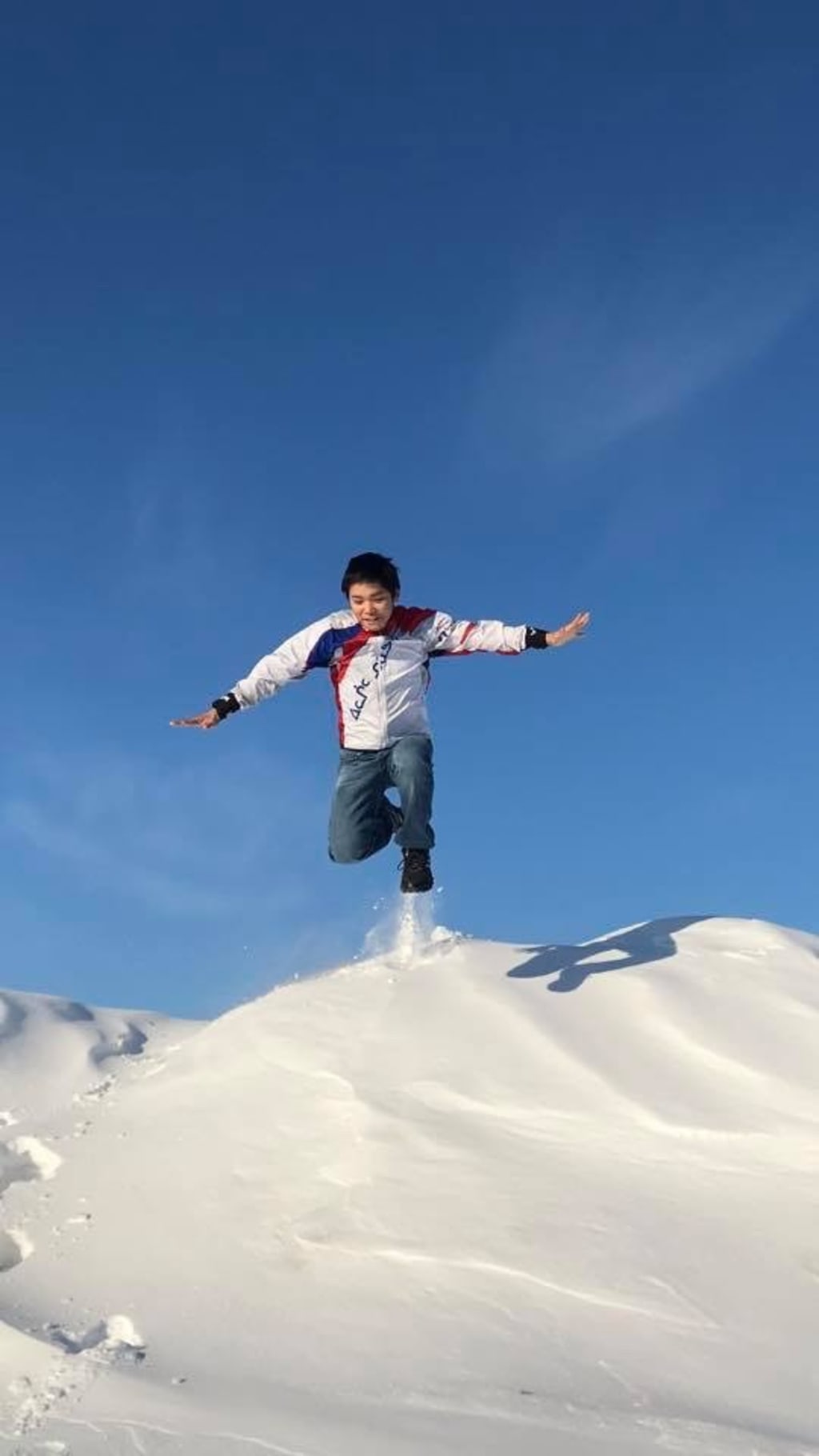 My friend's son leaping off a snow bank in Iglulik
Ever wanted to be a Super Saiyan? Well, Inuaraq does! An Inuk teen is ready to harness the power of Dragon Ball Z and Inuit skill, and soar through the Arctic. Or in other words, tradition meeting technology.
The Inuit are a very resourceful and resilient people who not only endure the harsh climate of the Arctic, but also the colonization of their land and culture. But technology has been adding strength to their culture by providing a more global voice and a platform to share.
While many communities are still using satellite internet, some communities have access to 3G or LTE connection. This not only helps with having wider access to the rest of the world, but it also helps build connections, and give Inuit a chance to share their own narratives directly onto the global stage.
My friend's son is one of the youth in the North who loves being connected; whether through gaming consoles or smart devices. Technology has opened up a whole world for him, and it helps inspire his artwork, and motivate him into pursuing education, specifically in coding.
While some have access to the internet now, many still do not; either due to the service provider, or due to financial reasons. Inuaraq is one of the lucky ones who is taking advantage of the access he has to learn more about all sorts of hobbies. And his friends love coming over and being exposed to the digital world too (they're always at his house playing Breath of the Wild).
While technology is quickly attracting many, especially the younger generations, others are seeing it as an assimilation tool that is taking priority over traditions. But while technology is finding its way into the classrooms and homes, the school and hamlet in Iglulik is advocating for stronger Inuit based education.
Igloo Building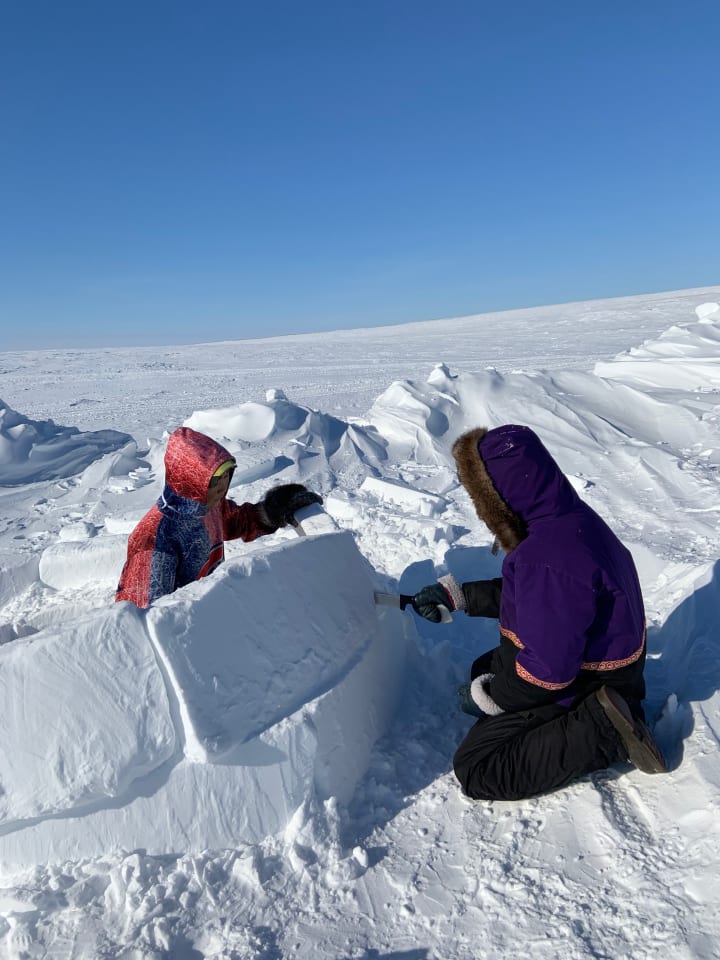 On April 4, my Grade seven students and I headed outside to meet with a guide, and an elder who showed us how to properly build an igloo. Equipped with a harpoon, two metal saws, and some long knives, they began to cut out thick rectangular blocks of snow. In the past, animal bones that were sharpened would be used as tools instead. Afterwards they began placing them around the area where they cut out the blocks. The blocks would be shaved off in a slanted fashion around the top so that the igloo was almost built in a spiral-like fashion. As the blocks were added, the elder showed us how they shave the sides to better piece everything together. The last block, which would be the "roof" piece would be placed, and it would have a hole in it to allow air and smoke to escape.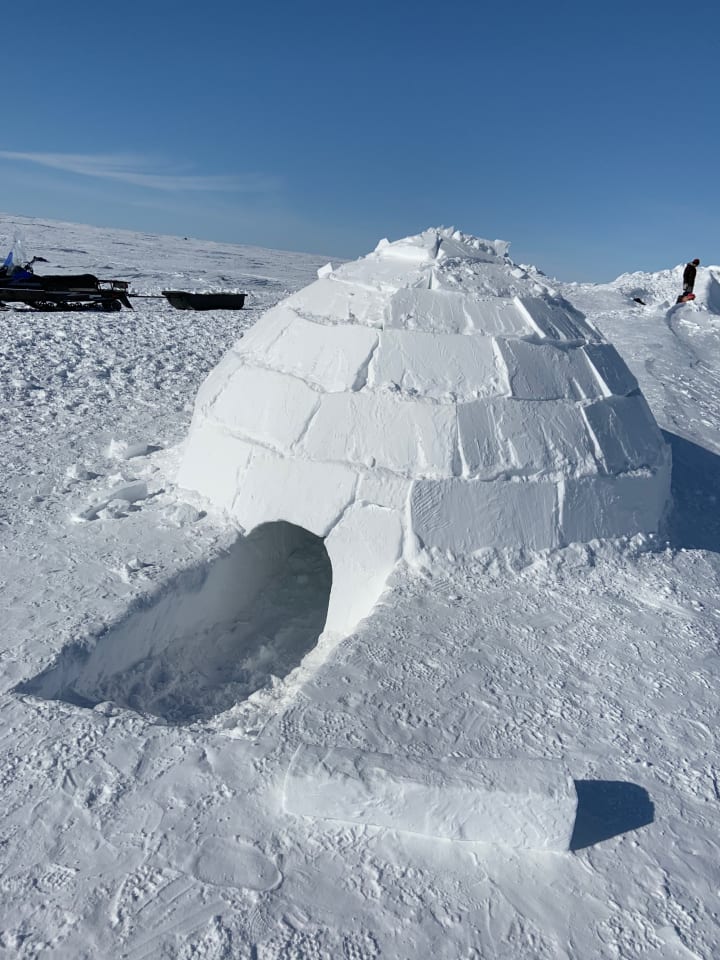 After letting the blocks freeze for a bit (and after taking a lunch break), powdered snow would be used to fill in the cracks between the blocks for better insolation. Within no time, the igloo was completed and looked more than sturdy and frozen. Time to go inside!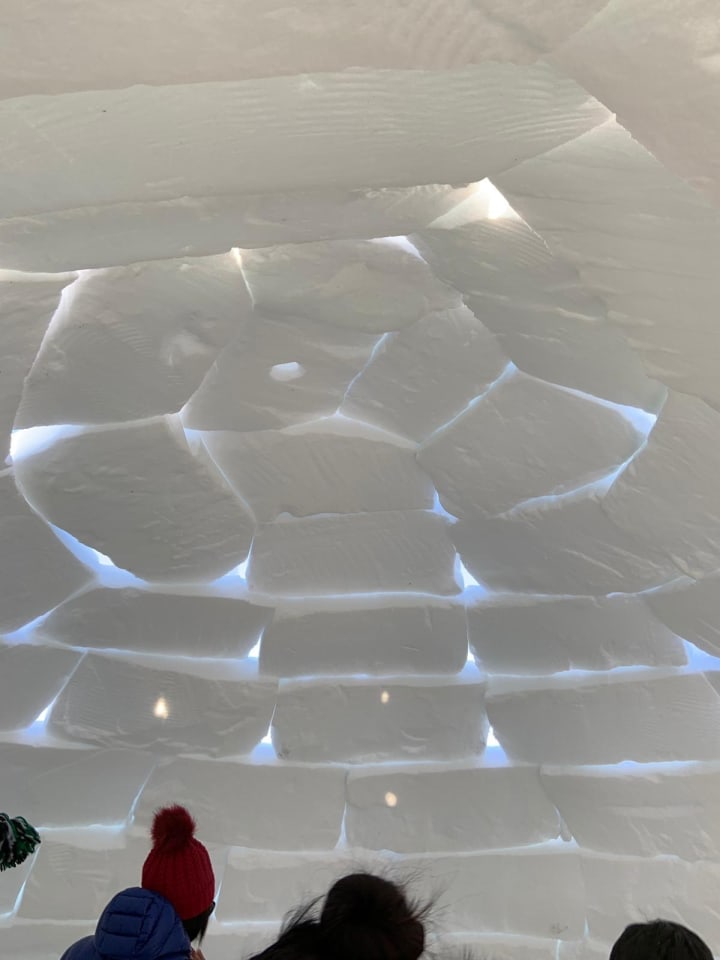 Once I actually entered the igloo I was taken aback by how spacious and warm it was. The north is a dry and frigid type of cold, and once you block out the wind, it's amazing how easy it is to store heat—at least in my experience. I was told that a 'qulliq'—a traditional heat lamp using seal oil and blubber—is used to warm the inside; while animal furs are used to line the ground to provide more heat.
The Igloo Village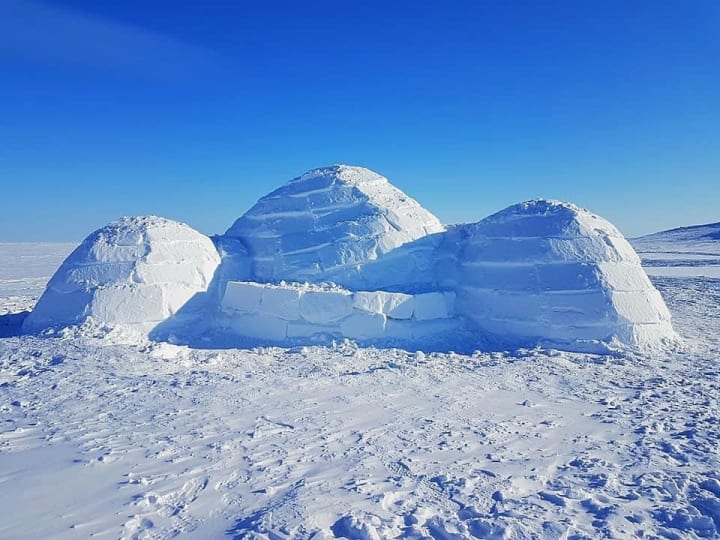 This year, the hamlet of Iglulik employed elders and community members, as well as invited high school students, to construct an igloo village. This would be used for cultural activities, education, and celebration.
When I first heard of this project, I thought it would be a few igloos built next to each other, and that it was a tourist-y thing. But when I saw it for the first time, I realized how my southern thinking was way off.
What you see in the picture above is four igloos (one is behind) built almost like a tripod, that are connected by the middle igloo. From the outside, it looks big. But from the inside... it was huge! The smaller, outer igloo pods would be used for sleeping and families, while the middle area would be a meeting/sharing space for food and gathering. It was so cool being inside! Once the construction and 'interior decorating' with furs and such was completed, the whole hamlet was invited for a celebration with traditional food, games, and different contests for prizes. There was a harpooning competition, bannock/paluga making, and storytelling by elders. And now with technology and smart devices, participants were able to photograph the event, and share it with family and others.
It is important to teach one's culture and celebrate it. It gives individuals a sense of place and community. Our identities matter, especially when they are presented from our own personal narratives. I felt honoured, and still do, that I was given the opportunity to experience and participate in the cultural activities of the Inuit in Iglulik. I have learned so much and hope to continue to do so.
ᖁᔭᓐᓇᒦᒃ - Thank you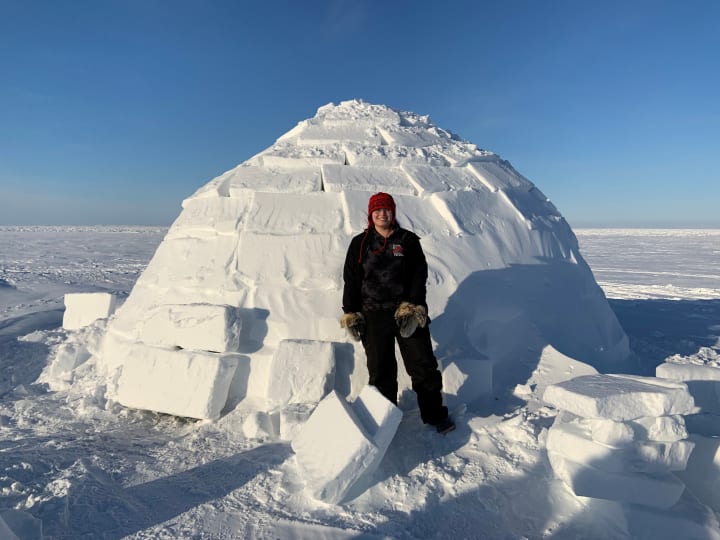 Reader insights
Outstanding
Excellent work. Looking forward to reading more!
Top insights
Expert insights and opinions

Arguments were carefully researched and presented

Eye opening

Niche topic & fresh perspectives

On-point and relevant

Writing reflected the title & theme
Add your insights