The MANY Advantages of Living Here in Costa Rica!
It won't take too long to realize that this lifestyle is good for you. .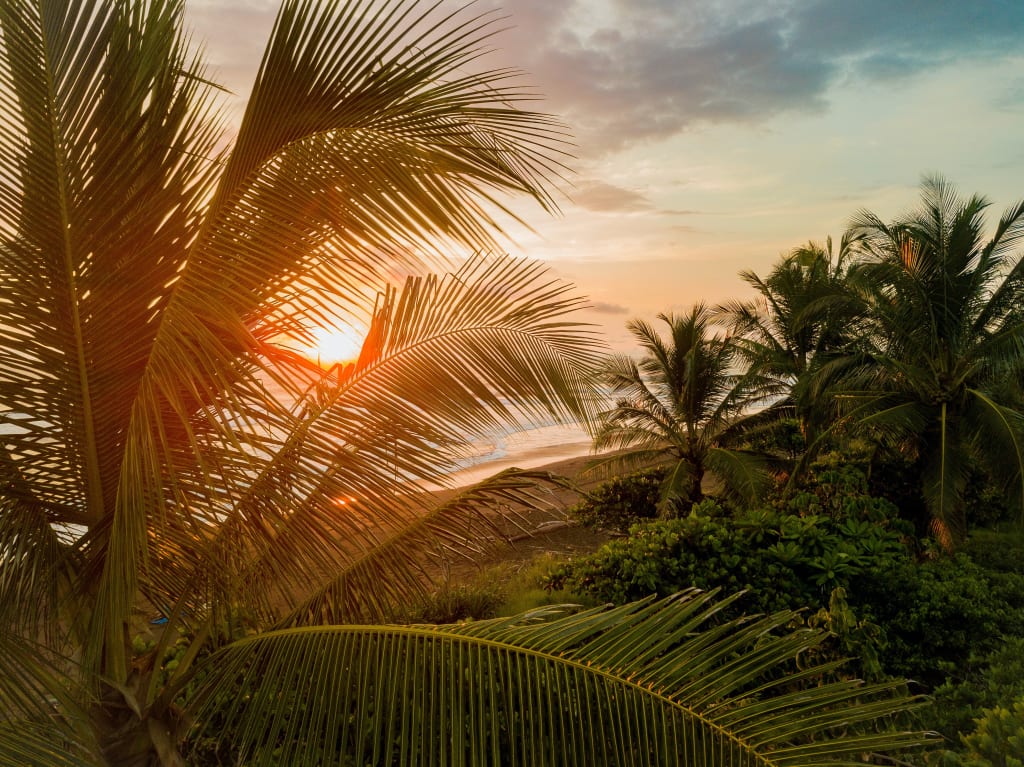 Everyday Starts Like This Here in One of the Happiest Countries on the Planet!
And there are so many. . where do we begin? Do we open with the fact that Costa Rica is always at the top of the list of "one of the happiest countries on the planet"? By the way, recently, Canada scored 85th out of 140 and the USA scored 103! Costa Rica is usually in the TOP 10 and has reached #1 a total of THREE times! Shouldn't this tell you something about a country the size of West Virginia? What secrets does this country have that makes it so amazing? Why should one contemplate a move to a third-world country when they seem to have it all wherever they're living now? Let's research just a little bit. .
Did you know that Costa Rica has no army. In the 1940's, they did away with their military forces. The good news is that all of the money that usually goes to funding a strong military instead goes to health care and education. What a splendid idea this is. And, it's paying off for all involved. In the past 20 years, hundreds of GLOBAL corporations have either moved to or have expanded into Costa Rica. One of the main reasons for this is that Costa Rica offers such an intelligent work force. With over a 98% literacy rate here, this country can offer businesses a huge, smart, bilingual employee pool that will represent their employers well. In fact, many of the universities in the United States are teaming up with Costa Rica to further offer opportunities to all who wish to better themselves through higher education. . the University of Minnesota, the University of Arizona and Stanford, to name just a few. .
The reason that all of this is important is because for those of us who are weighing the "pros" and the "cons" about moving to Costa Rica, we have another solid foundation with which to view as a "PRO". . the government is stepping up each and every year to make certain that when these companies expand into Costa Rica, that they have the infrastructure, the health care, the security and the transportation systems in place! Costa Rica is spending tens of millions of dollars in the improvement of life here. Better roads, repairing of the bridges, building new highways and of course, filling in all of the potholes! Life is getting better every day here in paradise, benefitting not only the global corporation expansion but also for the people who live here already.
Let's talk about health care. At last count, there are approximately 30,000 people from the USA with residency living in Costa Rica and about 6,000 from Canada. With that said, there are over 500,000 total foreigners living here. With those numbers, one must assume that health care has to be much more than adequate. And indeed it is. My suggestion would be for you to search online and make your own determination about where you will be buying your prescriptions, how the system works here, etc. When you feel comfortable that all is in order and that they are ready for you if you become sick or if an emergency arise, then you'll sleep better knowing that you're in the right place.
Medical tourism is a huge industry here. It is estimated that over 1.7 million visit Costa Rica every year to do everything from getting their teeth fixed to having open heart surgery performed. This solidifies the fact that they take their health care seriously here! CIMA, Hospital Mexico. . just a few of the many fine hospitals in Costa Rica.
Costa Rica is a tiny country. It is the size of West Virginia. One of the advantages of living here is that you can visit all points. . north, south, east & west, in a week or so! If you live in the Central Valley area (San Jose), the beach is about an hour away. . you have three volcanoes less than one hour away. . at least 10 coffee plantation tours within 45 minutes of your doorstep. Do you like national parks? Over 30 of them waiting for you to explore! Do you like deep-sea fishing, snorkeling, parasailing, horseback riding, birding? Do you love to hike? Do you enjoy the challenge of learning a new language? Do you think that the sloth is one of the cutest animals in the entire world? Well, if you said, "YES" to all of these questions, that the advantage is in YOUR COURT! Costa Rica boasts over 5% of the world's TOTAL BIODIVERSITY! This is Mother Nature's best work. And, living here, you'll be able to take advantage of all it has to offer.
Let's touch on your personal stress level at this moment in time. If you are in the USA, there are major changes occurring now. I challenge you to turn on the TV or radio. . open your laptop if you dare. . NOTHING BUT BAD NEWS! Does this have an effect on your life. . your future. . your health? Of course it does. Did you know that over 120,000 people in the USA die as a result of stress every year? And couple that with the fact that it has been determined that stress is the cause of over 60% of illnesses and diseases? Every year, over $500 Billion. . yes, that is with a "B". . in productivity is lost in the USA from stress-related illnesses. How important is it to you to reduce stress in your life? Do you think it could add a few years to your life? What are you going to do about it? Well, a great place to start is to simply learn all you can about the "PURA VIDA LIFESTYLE". .
It's a very simple concept. . yesterday has passed. . tomorrow never comes. . TODAY is the most important time frame to consider. Get through today with smiles, happiness, confidence, doing good things for others. . do this every day and then do it again in the next 24-hour period. . then you will have put together hundreds of amazing "TODAY'S". . if you do this, then the stress will melt away and life will be good. Your confidence level will rise and your quality of life will improve to levels that you never knew existed or were possible.
I submit to you that Costa Rica is a great landing strip for a new chapter of your life. There are many important advantages of living in this amazing country. In this setting, I have only touched the surface. In future writings, we will dig deeper into every reason why Costa Rica is one of the happiest countries on the planet and we'll thoroughly and without any doubts answer your question, "What are the advantages of living in Costa Rica"? For now, absorb what has been presented so far and start packing your bags. When we get through with you, you'll be here without hesitation. Pura Vida!
You're invited to visit our websites at www.costaricagoodnewsreport.com & www.costaricaimmigrationandmovingexperts.com
Also, please enjoy our over 1,700 episodes of our "Costa Rica Pura Vida Lifestyle Podcast Series". We are found on all major podcast venues, including iHeartRADIO, Spotify, Apple Podcasts, Google Podcasts, Radio FM, Anchor and many more. Here's our link: www.anchor.fm/costa-rica-pura-vida
About the Creator
Costa Rica is a magical place. Since November, 2002, when I first visited this country, I have been in love with the people, the culture, its biodiversity, the food. . everything about it makes me happy! Now I share my excitement with you!
Reader insights
Be the first to share your insights about this piece.
Add your insights