The Holy Dip
The Gangasagar Mela and Naga Sanyasis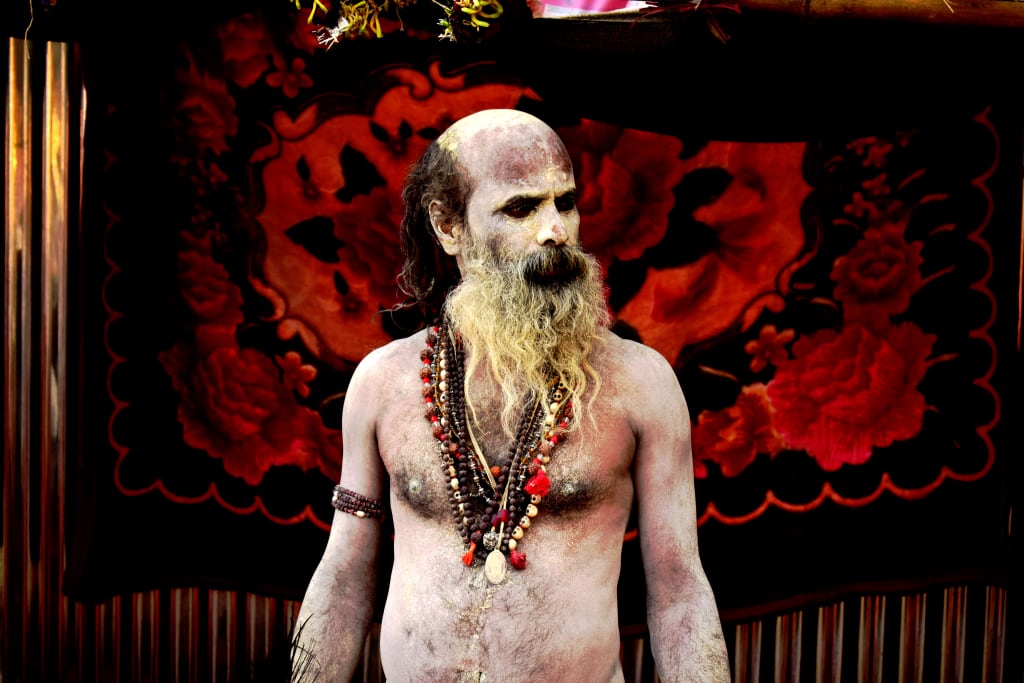 A Naga Sanyasi at the Gangasagar Transit camp set up in Babughat, Kolkata, India.
There's a saying in Hindi, "Sab Tirath Bar Bar, Gangasagar Ek Bar." Its english translation means "All pilgrimage can be done many times, but Gangasagar pilgrimage is an experience of a lifetime".
Gangasagar is a place located south of Kolkata in the Indian state of West Bengal. It was reachable only by waterways which had to be availed from Diamond Harbour but recently after the construction of a road bridge, it is also accessible by road.
The Mela which is held every year in the month of January is one of the biggest festivals celebrated in India. Thousands of people throng to this place every year mostly from the states of Uttar Pradesh, Bihar, Chattisgarh, Madhya Pradesh and Odisha to experience the holy dip.
In West Bengal, it is celebrated as Makar Sankranti. Similarly in Kerala, it is known as Makaravillaku Festival or Pongal popularly whereas the Sikhs celebrate this festival by the name of Lohri. This is the example of the rich cultural heritage that India possesses.
Due to this huge footfall, the mela becomes a major tourist attraction attracting people from various states of India as well as foreign tourists resulting in incoming of foreign exchange reserves from foreign visitors.
Besides the mela, there are many reasons for visiting the island. One such reason is the Ashram of Kapil Muni which has a very rich historical, religious and cultural value.
It is written in scriptures that he was part of Lord Vishnu. He was born to Kardam Muni and Debhayuti and was the only son after the birth of nine daughters in the family. It is said that as Kardam Muni was preparing to go to the forest for austerity, grandfather Brahma admonished him to go to the forest and said he would have a son, who is part of Lord Vishnu. After the birth of Kapil Muni, Kardam Muni went to the forest for austerities. Kapil Muni stayed with his mother and preached Saankhya Yog to her. Devahooti got Moksh after that preaching.
It is rumoured that once Kapil Muni was sitting in the tomb of his monastery, that 60,000 sons of King Sagar's came there in search of his father Yagya Horse, they tied it with a tree near it, so they thought that Kapil Muni had stolen it. Kapil Muni opened his eyes and looked at them and saw that they were all ashes. Actually, Indra had been stolen from King Sagar's and hid it in the shelter of Kapil Muni. When King agar could not find his Sons he sent his grandson Anusham to search for them and the Yagya Horse. He followed the footsteps of his uncle and appeared at Kapil Muni's Asaram. He saw a mound of shelter near his monastery. He quickly understood what had taken place before his arrival. He greeted Kapil Muni and asked how his uncle could get salvation. Kapil Muni asked him to bring the Ganges to Prithvi and organize his rituals there so that his water could release him.
In addition to this, the reason for an increasing number of visitors is the gathering of Naga Sadhus or Sanyasis as they are called in Hindi. In English, the term translates into Naked Monks. They are known for their fierce attitude towards the general public and are considered to have supernatural powers. Another interesting fact about the Sanyasis is that they move in clans and worship the Hindu Lord Shiva as their idol. They are usually extremists and carry the Trishul for protection and tend to attack people if they are disturbed. But some of them are friendly and also likes to chitchat with normal people but that is very rare as it depends on their mood. The sadhus live in the mountainous region of the Himalayas and are believed to feed on raw fruits and vegetables. They are believed to have attained moksha or enlightenment and are not bound by any worldly pleasures. Another fact is also known that in the process of becoming a naga sanyasi one has to do their own funeral before joining a clan.
The Gangasagar Mela is the Second most populous fair held in India after the Kumbh Mela. Every Year the holy dip is taken the waters of the Bay of Bengal on the eve of sunrise on the day of Makar Sankranti. Similarly, the Kumbh Mela is held at mainly four places namely Prayagraj, Haridwar, Ujjain and Trimbak - Nashik. The Kumbh Mela takes place every 6 years which is termed as Ardha Kumbh Mela, every 12 years which is termed as Purna Kumbh Mela and the Mahakumbh Mela which takes place after the completion of 12 Purna Kumbh Melas equalling to every 144 years.
Coming back to the topic of Naga Sanyasis, it is quite a surprise that some even come from remote villages. If someone tends to search about their lifestyle, they will come to the conclusion that most of the time they are intoxicated by consuming marijuana, smoking chillums and hookas. They like to cover their bodies in ash most of the times as it helps as an insulator keeping their body temperature normal during the harsh winter weather conditions.
If possible one should always try to attend these two festivals at least once or twice in their lifetime. The saying is really true and one who had experienced it before will agree to this statement.
One can reach Ganganagar by availing bus services from Dharmatala or Esplanade as it is now called or by train from Sealdah station to Diamond Harbour station and then availing ferry services. Water Ferry services are available twice in a day once in the morning and another at evening by use of steamer and launches. Those who want to come through the air, the nearest airport is Netaji Subhash Chandra Bose International and Domestic airport. Still after landing in Kolkata one has to avail the road transports.
All the Photographs have been captured in the Gangasagar Transit Camp set up at Babu Ghat, Kolkata, West Bengal, India.